Introduction
Have you ever thought about your basement's unrealized potential? The lower floor of a home is often overlooked, but it has a lot of potential. A basement bathroom is one of the most useful additions you can make. Exploring basement bathroom ideas is a great place to start if you want to make your basement more useful, add value to your home, or just make a cozy place to relax.
Considerations for Basement Bathrooms
Designing and building a basement bathroom requires careful planning and consideration due to the unique challenges and opportunities presented by below-ground spaces. Here are some essential considerations for basement bathrooms:
Plumbing and Drainage
Ensure that your basement has proper plumbing and drainage systems in place or can be modified to accommodate the new bathroom fixtures. Adequate drainage is crucial to prevent water damage and ensure efficient wastewater disposal.
Ventilation
Basements often lack natural ventilation, so you'll need to install an effective ventilation system to prevent moisture buildup and maintain air quality. Consider an exhaust fan to circulate fresh air and expel dampness.
Moisture Control
Basements are susceptible to moisture issues, so invest in waterproofing measures like sealing walls and floors, installing a moisture barrier, and using water-resistant materials. This will help prevent mold and mildew growth.
Permits and Regulations
Check local building codes and obtain the necessary permits for your basement bathroom project. Regulations may vary by location, but they typically cover issues like plumbing, electrical work, and safety features.
Space Planning
Determine the best location for your bathroom within the basement. Consider proximity to existing plumbing lines and the overall layout of the basement. Efficient space planning can maximize functionality.
Fixture Selection
Choose fixtures that are suitable for the basement environment. Low-flow toilets and water-saving faucets not only conserve water but also minimize strain on your plumbing system. Opt for fixtures that complement the style of your basement.
Lighting
Since natural light is limited in basements, invest in well-designed lighting to create a bright and welcoming atmosphere. Consider a mix of ambient, task, and accent lighting to meet different needs.
Heating
Basements can be colder than the rest of the house, so think about how to keep the bathroom comfortably warm. Radiant floor heating or a separate heating source can make a significant difference.
Accessibility
If you plan to use the basement bathroom regularly or want to future-proof your home, consider making it accessible. This might involve installing wider doorways, a barrier-free shower, and grab bars.
Aesthetics
Choose a design and color scheme that suits your personal style and complements the overall theme of your basement. Proper lighting, mirrors, and finishes can make the space feel inviting and visually appealing.
Budget
Determine your budget early in the planning process and stick to it. Basement bathroom projects can vary widely in cost, so knowing your financial limits is crucial.
By carefully considering these factors, you can ensure a successful basement bathroom project that not only adds convenience to your home but also enhances its value and functionality.
Basement Bathroom Design Ideas You Should Try
In this collection, we'll look at and useful ideas that can make your basement a stylish and comfortable place to hang out. Get ready to find out what's hiding under your feet and what you can do with a basement bathroom.
Industrial Elegance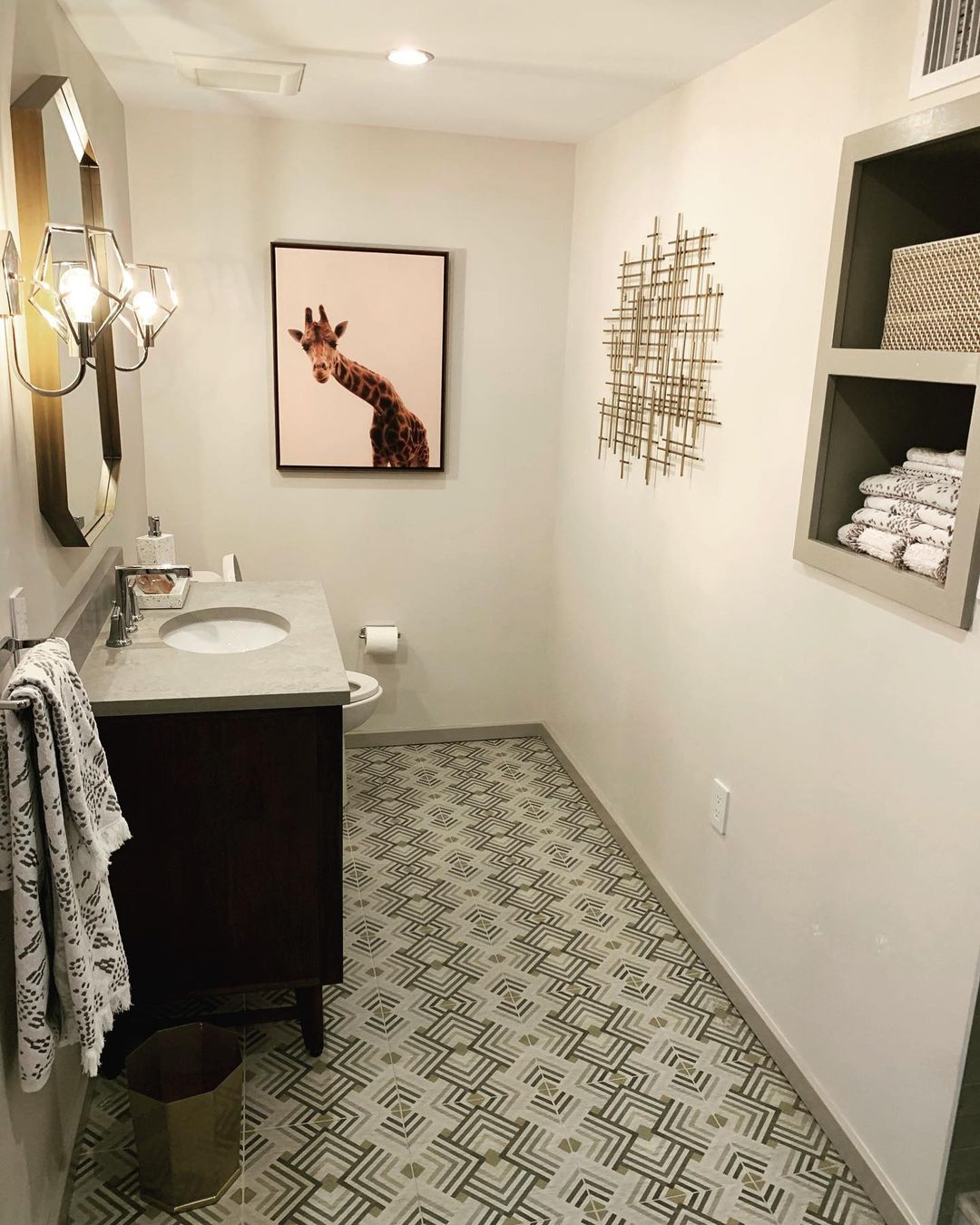 Add something elegant, like a crystal chandelier or a statement dresser, to balance out the rough industrial elements. This contrast makes for a stylish and unique basement bathroom that is both eye-catching and different.
Minimalist Design Concept
If you prefer clean lines and an uncluttered look, consider a minimalist design. With a focus on simplicity and functionality, this basement bathroom features a monochromatic color palette, sleek fixtures, and hidden storage solutions.
Monochrome Minimalist
While neutrals dominate the minimalist palette, you can elevate the design with a monochromatic color scheme. Use varying shades of a single color, such as different tones of gray or beige, to add depth and sophistication to the bathroom. This approach maintains the simplicity of minimalist design while adding visual interest.
Modern Minimalist
Opt for sleek lines, neutral colors, and minimalist fixtures for a contemporary basement bathroom design. This style emphasizes simplicity and functionality.
Beachy Vibes
Bring the coastal charm indoors with a beach-inspired basement bathroom. Use seafoam blue and sandy beige color schemes, paired with beach-themed decor like seashell accents and driftwood-inspired textures.
Vintage Charm
Infuse character into your basement bathroom with a vintage-inspired design. Classic subway tiles, porcelain pedestal sinks, and black-and-white checkerboard floors are iconic elements of this style.
Nature-Inspired Zen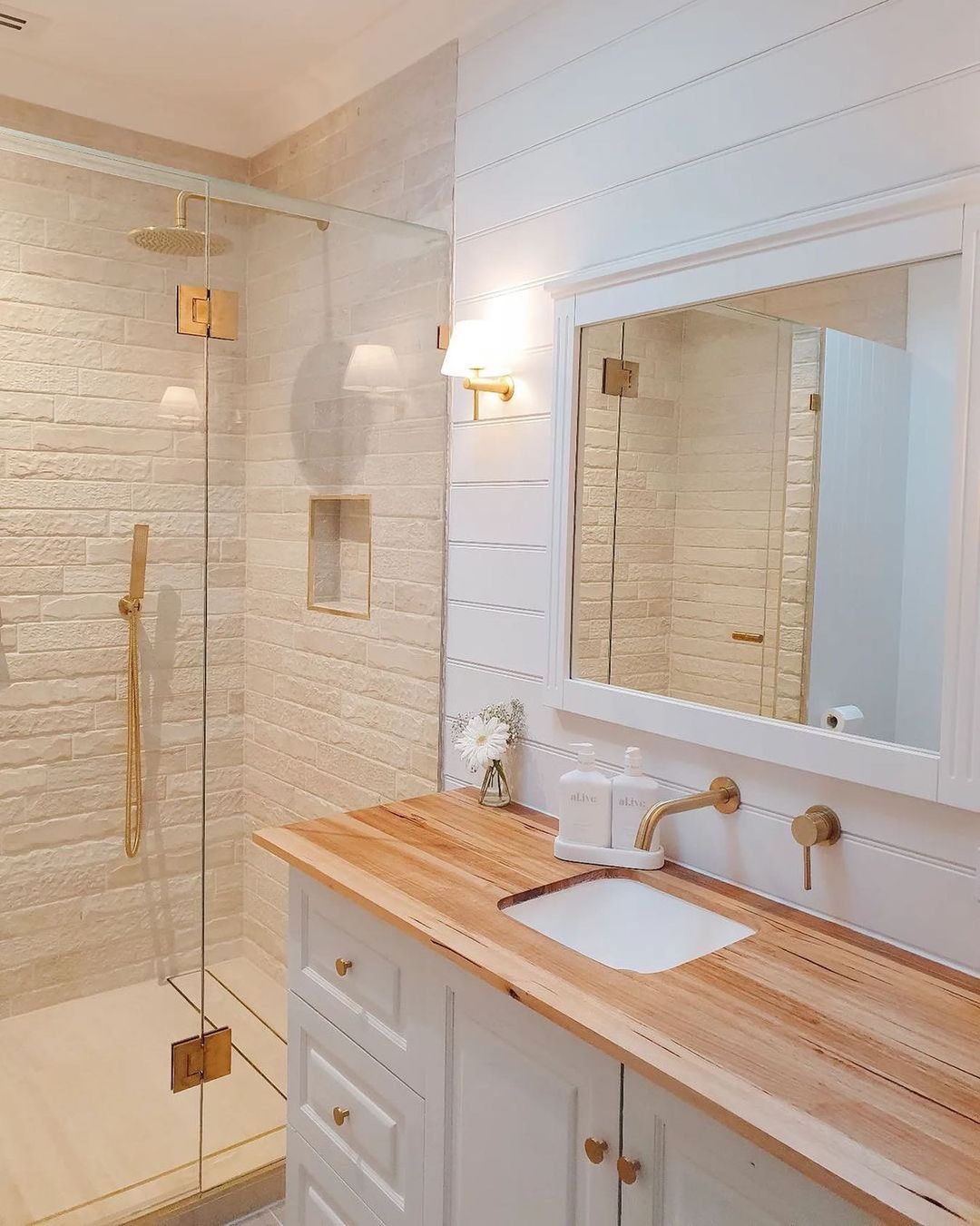 Foster a sense of serenity in your basement bathroom with nature-inspired elements. Use stone sinks, bamboo flooring, and earthy tones to bring the outdoors inside.
Spa Sanctuary
Turn your basement into a tranquil spa retreat where you can unwind after a long day. Luxurious features like a sleek glass shower enclosure, and marble or porcelain tiles in calming neutral tones set the tone for relaxation.
Understated Elegance
Achieve timeless sophistication with neutral tones, marble surfaces, and high-end finishes. A freestanding bathtub and crystal light fixtures add a touch of opulence.
Opulent Gold and White Basement Bathroom
Create a basement bathroom fit for royalty with a stunning gold and white color scheme. This opulent design combines the richness of gold with the purity of white to transform your underground space into a luxurious retreat.
Rustic Retreat
Create a cozy ambiance with reclaimed wood accents, stone tiles, and vintage fixtures for a charming, cabin-inspired basement bathroom. Natural elements and earthy tones evoke a sense of serenity.
Conclusion

In conclusion, there are many different and interesting ways to plan a bathroom in a basement. You can turn this often-overlooked space into a functional and visually pleasing sanctuary. These design ideas can help you make a basement bathroom that fits your style and needs, whether you want to relax or add a touch of glam.