When it comes to designing a farmhouse bathroom, you need to invest in the right kind of mirror that plays an imperative role in accentuating the charm of the space. Needless to say, a well-chosen mirror has the potential to create a focal point, amplify the aesthetics, and also deliver functionality. Through this article, we will shed light on various ideas and considerations for picking out the perfect farmhouse bathroom mirror. We will also answer some of the frequently asked questions along the way.
Why go for Farmhouse Bathroom Mirrors?
Farmhouse bathroom mirrors continue to remain in the spotlight for several reasons, including their potential to add rustic appeal, versatility, and reflective functionality to your bathroom. Additionally, they are available in a plethora of designs and finishes, ensuring you will be able to seal the deal on your favorite pick that will match your unique needs.
Key Considerations for Choosing the Perfect Farmhouse Bathroom Mirror
There are some factors to consider when choosing the perfect farmhouse bathroom mirror. Some of them include:
• Size and proportion
When selecting a farmhouse mirror, you need to take into account the dimensions of your bathroom so that it complements your space perfectly. While oversized mirrors have the potential to amplify your bathroom by making it more spacious, adding several smaller mirrors is a strategy to add a unique touch to it.
• Frame design
To enhance the overall appeal of your bathroom, opting for a farmhouse-style mirror frame makes sense. There are several options to choose from, including distressed wood frames, wrought iron accents, or vintage-inspired designs.
• Shape and style
Luckily, farmhouse mirrors are up for grabs in a variety of shapes, including rectangular, oval, round, or arched. You are privileged to pick out the one that goes well with the existing elements of your bathroom.
• Finish of the frame
For achieving a farmhouse vibe, the finish of the frame plays a critical role. You may consider options like weathered finishes, whitewashed wood, or distressed paint for an authentic look.
Creative Ideas for Farmhouse Bathroom Mirrors
If you intend to amplify the look of your bathroom, incorporating a farmhouse mirror is indisputably the best way to do so. Here are some ideas for achieving extra rustic beauty.
1. Black Metal Circular Mirror
Take your farmhouse-inspired bathroom to the next level by investing in a black metal circular mirror. Its sleek design amalgamates rustic charm and modern style with the intent of enhancing the aesthetics and adding elegance to your space.
2. Oversized Black Mirror with Matching Hardware
While you have several options to choose from, the fact that an oversized black mirror with matching hardware can elevate your bathroom's look is worth talking about. The presence of the mirror adds a strong focal point, while the coordinated hardware is meant to tie the entire space together. Overall, this combination helps to achieve a more cohesive and stylish ambience that you can brag about.
3. Weathered Wood Circular Mirror with Texture
By having this mirror in your bathroom, all eyes will be on it the moment someone steps in. Such is the amazing design of the mirror that brags about its textured details. Additionally, it is an ideal way to add rustic charm to your space.
4. Bathroom Mirror in an Antique Farmhouse Frame
This mirror, which has an antique frame, has the capability to replace the existing piece of art on your walls. And if your bathroom mirror is missing from this frame, consider adding it right away to create a farmhouse-type vibe.
5. Window Frame Mirrors over the Sinks and Double Vanity
If the intent is to add a distinctive architectural element to your farmhouse-inspired décor, investing in a window frame mirror will surely turn out to be your best bet. Placed over the sinks and double vanity, it fills your space with natural light.
6. Round Mirror for a Small Bathroom
A round mirror is indeed a great option for small bathrooms. All thanks to its compact size that maximizes the available space, while the rustic appeal adds character.
7. Thick Round Mirror in Black
If the thought of having a thick round mirror in black is on your mind, you must not wait any further. You can very well imagine how this initiative will give a new look to your space.
8. Charming Vanity Mirror
Are you considering a large mirror but unable to step forward due to the small space? If yes, this charming mirror would be a great option. It stretches all the way down to the sink but all thanks to the shape that doesn't make it look overwhelming.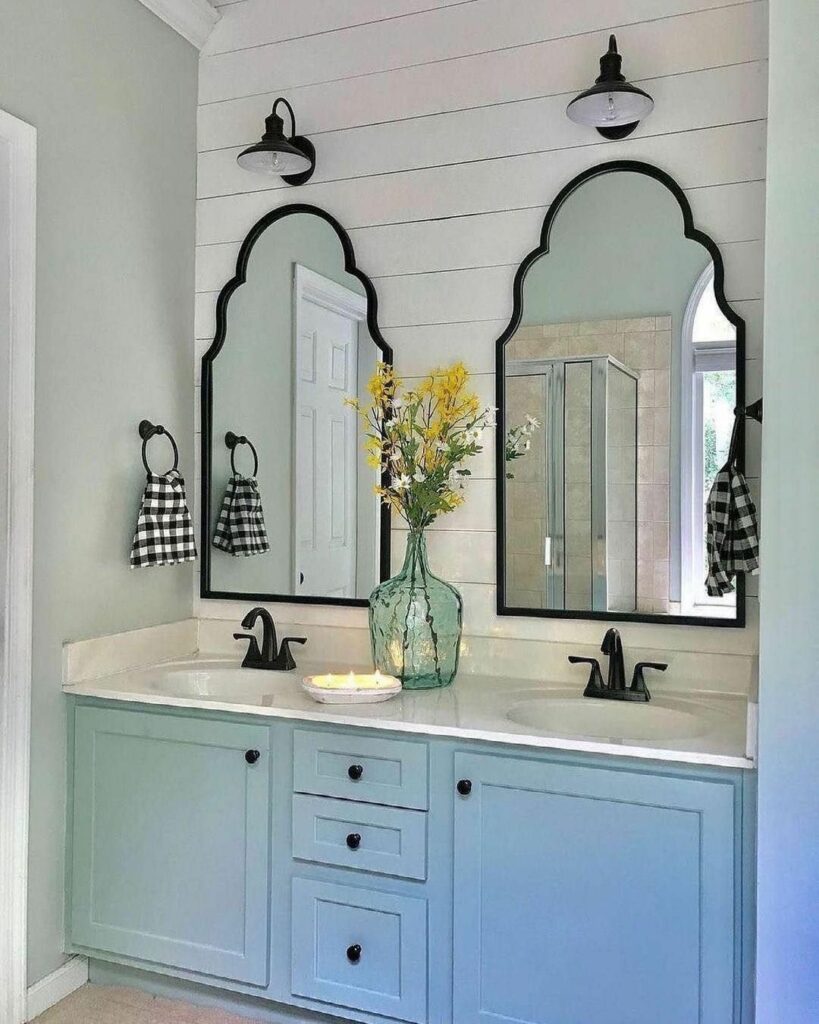 9. Slim and Oval Black Mirror
This mirror is the perfect example of the simplistic and minimalist approach to bathroom décor. Whether displayed individually or combined with black hardware, their elegant design serves the purpose of creating an aesthetic appeal.
What size mirror will be the ideal choice for my farmhouse bathroom?
First and foremost, you need to consider the dimensions of your bathroom and vanity. The ultimate objective is to choose a mirror that is proportionate to the space.
Also, larger mirrors can maximize a small bathroom to create a more spacious look. At the same time, the presence of multiple smaller mirrors is an approach towards creating a unique look.
What lighting would go well with my farmhouse bathroom mirror?
Our experts weigh on installing industrial-style pendant lights that can readily complement your farmhouse aesthetics. And if energy savings is at the top of your priority list, dimmable LED lights can turn out as your savior.
Is it possible to create a farmhouse look with a modern touch?
Yes, you can achieve this by opting for a mirror with a farmhouse-style antique frame while embracing sleek and modern fixtures and accessories. And by combining rustic elements with minimalistic designs, you seal the deal on a perfect balance.