A bright bathroom can be a game-changer because it adds life, personality, and energy to a room that is usually just used for its purpose. From soft pastels to bright, dramatic colors, these bathroom makeovers show how many ways color can be used in bathroom design. Find out how a well-chosen color scheme can give your bathroom a sense of space, light, and atmosphere, turning it into a stylish and comfortable haven.
Color Psychology You Should Know
Color psychology is an interesting field that looks at how colors affect our feelings, actions, and general health. When it comes to interior design, knowing how colors make us feel can be a strong tool, especially in places like the bathroom, where we start and end our days. Let's dive into the world of color psychology for the bathroom and find out how different colors can help create a mood-boosting oasis.
Serene Blues
The color blue is often thought of as peaceful, calm, and relaxing. It looks like water and the sky, which has a calming effect, so it's a great choice for bathroom walls or tiles. Lighter shades of blue can make a room feel like a spa, which is great for a bubble bath at the end of a long day. On the other hand, darker blues add depth and class to the room.
Energy Yellows
Yellow is a happy, sunny color that can give your bathroom a sense of energy and happiness. It's an excellent choice for bathrooms that lack natural light as it can mimic the warmth of the sun. But don't use it too much because too much yellow can be too much.
Dynamic Greens
Green is a color that reminds us of nature, growth, and rebirth. It's a great choice for bathrooms where you want to make a sense of balance and unity. Deeper greens can add a touch of wealth and opulence, while lighter greens can make you think of a lush garden.
Romantic Reds
Red is a passionate, dramatic color that can give your bathroom a feeling of love and closeness. It is often used as a pop of color in the form of accessories or tiles to add depth and energy to a room. But too much red can be too much, so use it in small amounts.
Calming Neutrals
Neutral colors like soft grays, warm beiges, and creamy whites make any bathroom look classic and classy. They make the room feel clean and simple, but you can still add color with decorations and accents.
Playful Pinks
Pink is a color that makes people think of love, care, and fun. It can be used to make a fun and playful bathroom for kids or a romantic and elegant bathroom for adults.
Royal Purples
Purple is often associated with wealth, creativity, and faith. It can make your bathroom feel rich when used in the right shades and with colors that go well with it.
Using color psychology when you design your bathroom can help you make a place that not only looks good but also makes you feel better overall. Think about the mood you want to create when picking colors, as well as how different colors can affect your daily life.
Whether you choose calming blues, energizing yellows, or any other color, your bathroom can become a happy place that helps you start and end your day on a good note.
Real Life Inspirations You Can Try
Bathrooms used to be boring, but not anymore! Imagine your bathroom as a colorful adventure, inspired by the world around you. From nature's beauty to travel memories, let's dive into the fun and exciting world of colorful bathroom design inspirations!
1. Pink Colorful Design
A pink and colorful bathroom design gives any new bathroom a lively and happy feel. It makes people feel better, goes with a lot of other colors, looks classic, and can be made more unique with accessories. Balance is important so you don't fill up the space, but when you get it right, it turns the bathroom into a lively oasis that makes you feel happy and relaxed.
2. Sage Green Scalloped Tiles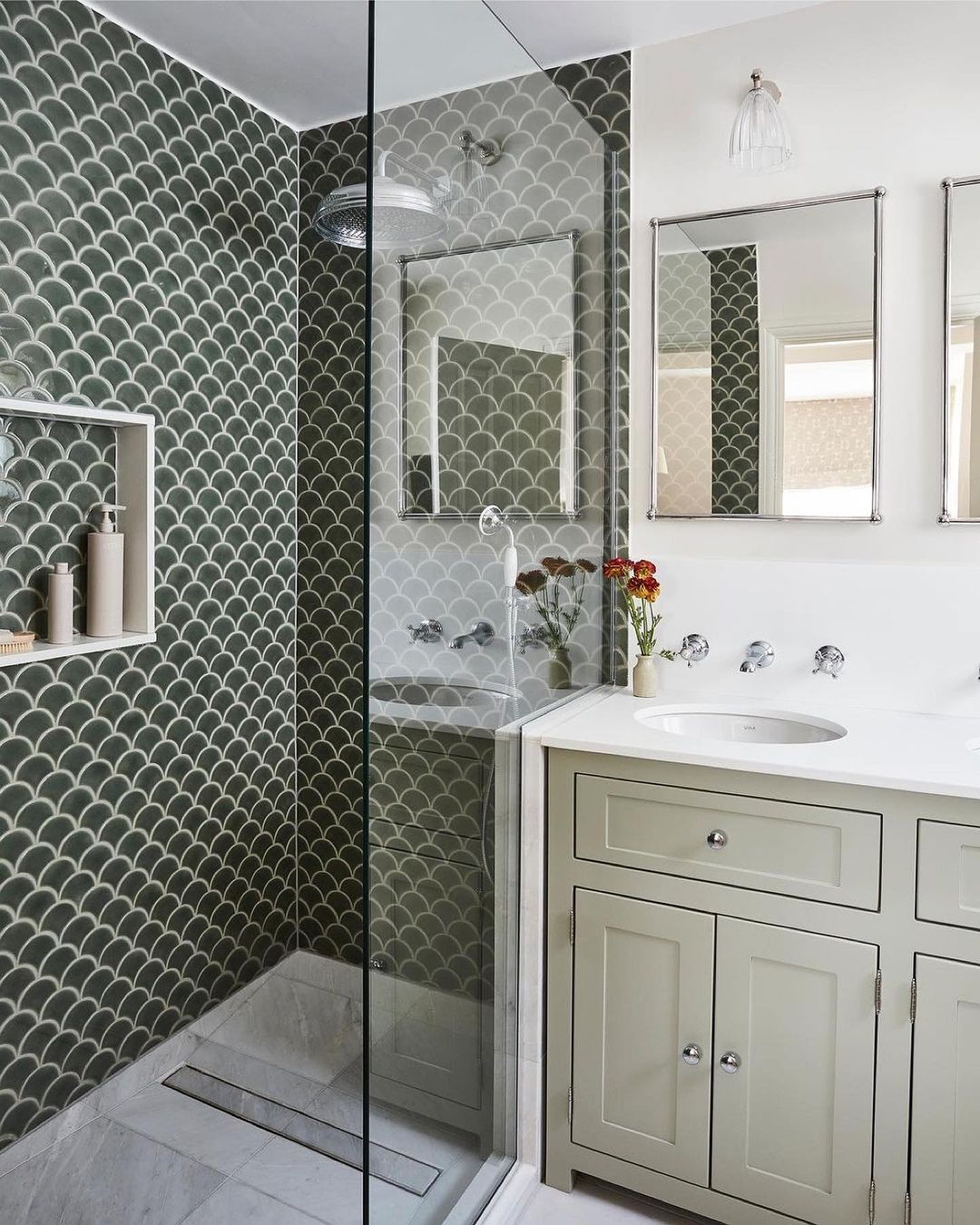 Sage green scallop tiles give a bathroom a sense of calm sophistication. The tiles' subtle green color is calming and evocative of nature's tranquility. The scalloped curve is both whimsical and elegant, setting this bathroom apart from others.
The sage green tiles can be a focal point on an accent wall or utilized to decorate just the space around a shower or tub. You can create a harmonious space by including white fixtures and furnishings or sticking to earthy tones like beige and light gray.
3. Use Colorful Mosaic Tiles
When renovating a bathroom, colorful mosaic tiles present a wealth of opportunities for both aesthetic and functional improvement. They let you to put your own stamp on your bathroom while adding color, texture, and longevity. Mosaic tiles can play a crucial role in creating any desired appearance, from a subtle pop of color to a dramatic makeover.
4. Pink Wall Checkered Tiles
A pink wall paired with checkered tiles adds a playful and stylish touch to any space. The pink wall, whether soft or bold, sets a warm and inviting tone. Combining it with checkered tiles in green and white, creates a classic yet vibrant contrast, adding visual interest and personality to your room.
5. Blue Heaven Bathroom
"Bluish Heaven" makes you think of a calm and peaceful place with shades of blue. It's a soothing and peaceful set of colors that can be used to make a room feel like a place to relax and get away. Whether you're arranging a bathroom, bedroom, or any other room, "Bluish Heaven" can make it feel calm and peaceful.
6. Mosaic Accent Wall Tiles
Mosaic accent wall tiles are visually striking and versatile. With diverse materials, shapes, and designs, they add depth and texture, turning any wall into functional art. Whether for a contemporary or traditional space, mosaic accent tiles create a captivating focal point.
7. Pink with Patterned Wall Design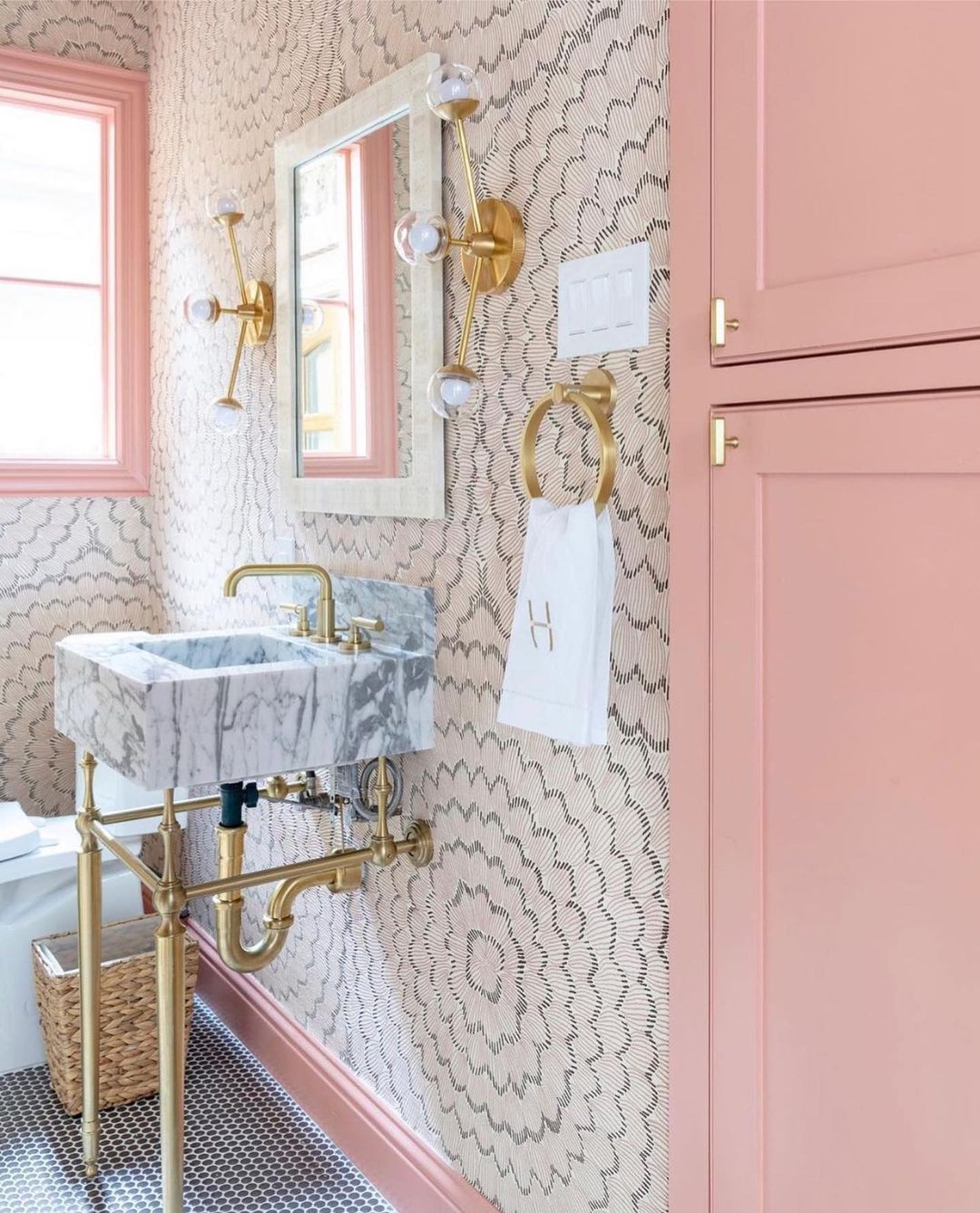 A cute and stylish addition to any room is a pink wall with a design on it. This design combines the warmth of pink with intricate patterns to make a place that is both interesting to look at and full of personality. You can choose from florals, geometric shapes, stripes, or even unique designs, so you can make the room feel just the way you like it.
8. Blue Bathroom with a Touch of Christmas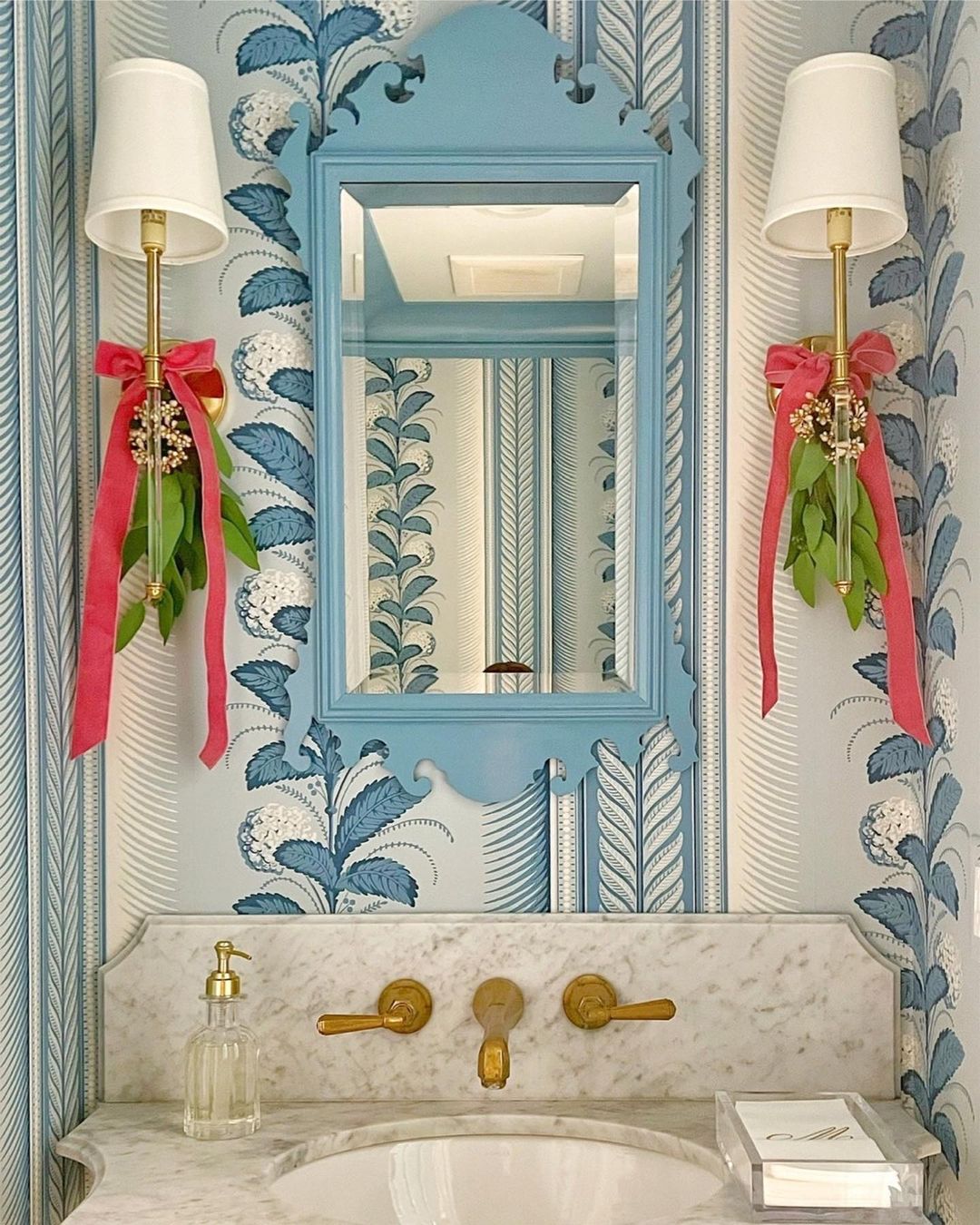 A Christmas touch bathroom design involves adding festive decor, using traditional holiday colors, cozy lighting, scents, playful towels, seasonal art, and winter-themed elements to create a cozy and inviting holiday atmosphere in your bathroom.
9. Tropical Art Wallpaper
With this tropical art wallpaper, you can turn your bathroom into a lively oasis.  Every time you walk in, you'll feel refreshed and energized. This burst of tropical inspiration will spice up your daily life.
10. Nature Inspired Green Bathroom
In this nature-inspired green bathroom design, you can feel the peace of nature. Soft shades of green and natural materials work together to make a relaxing, eco-friendly haven. Bring the outside in and refresh your senses in this peaceful haven.
11. Retro Vibes Bathroom
Embrace the nostalgia of yesteryears with bold colors, vintage fixtures, and funky patterns. Transport yourself to a bygone era while enjoying modern comfort. Retro never looked so cool!
12. Pink Accent Wall with Funky Mirror
The vibrant pink wall adds a pop of personality, while the unique mirror design adds a touch of contemporary flair. It's the perfect combination of fun and chic, making your bathroom truly stand out.
13. Deep Blue Color Vanity Mirror
With our deep blue colorful bathroom vanity, you can live in style. The rich, deep blue color makes your bathroom look more elegant and sophisticated. This bright dresser adds a touch of luxury to your space while keeping it warm and stylish.
14. Tropical Paradise Haven
Transform your space into a tropical getaway with lush greens and vibrant florals.
15. Mystical Forest Hideaway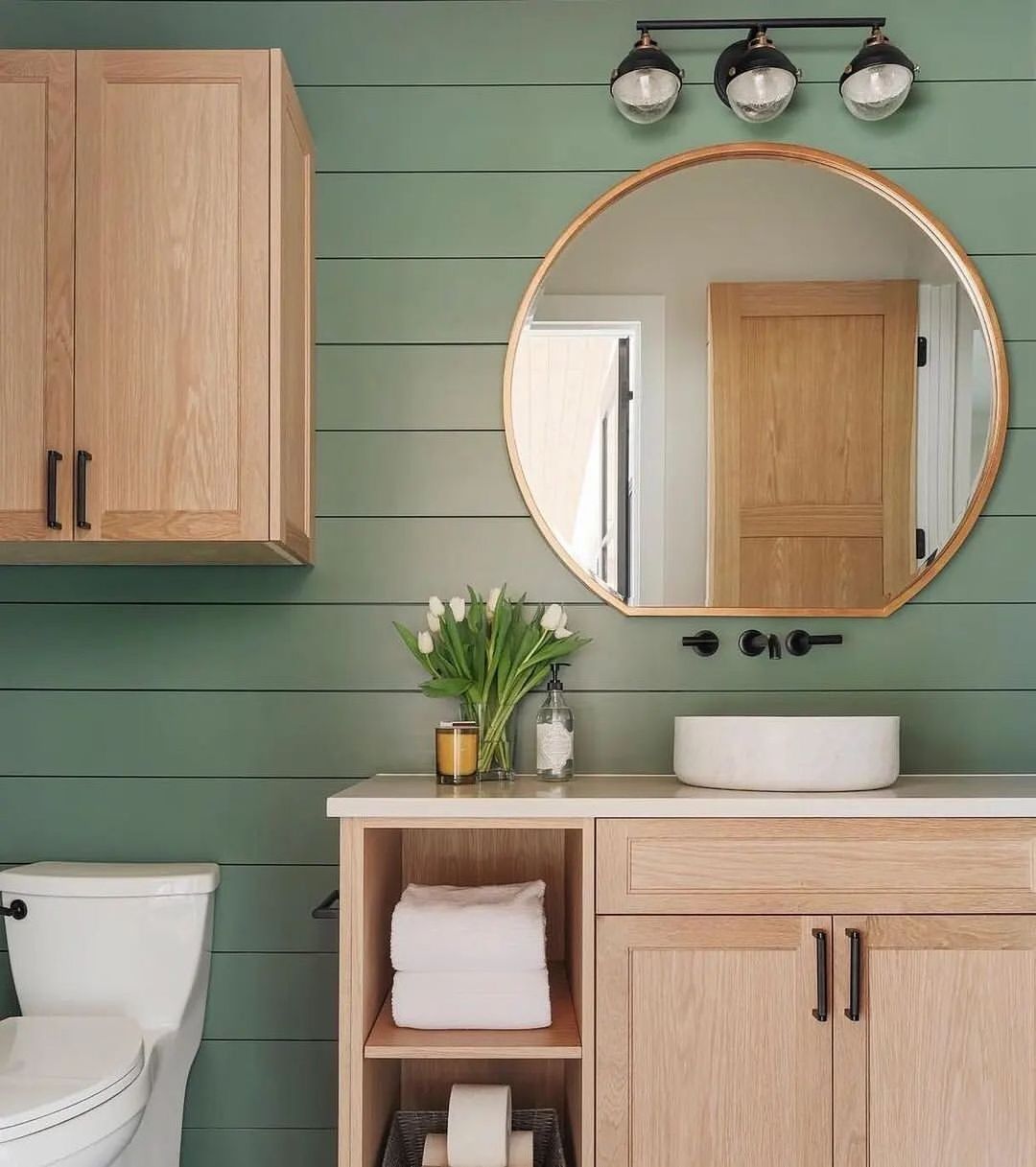 Bring the enchantment of the woods into your bathroom with deep greens and woodland elements.
16. Soothing Spa Oasis
Relax and unwind in your personal spa sanctuary with calming pastels and natural textures.
17. Industrial Chic Revival
Channel urban vibes with edgy grays and metallic accents for a modern, industrial look.
18. Art Deco Elegance
Step into a world of timeless glamour with bold geometric patterns and metallic finishes.
19. Vintage Hollywood Glamour
Transport yourself to old Hollywood with opulent golds, velvety textures, and vintage accents.
20. Global Eclectic Fusion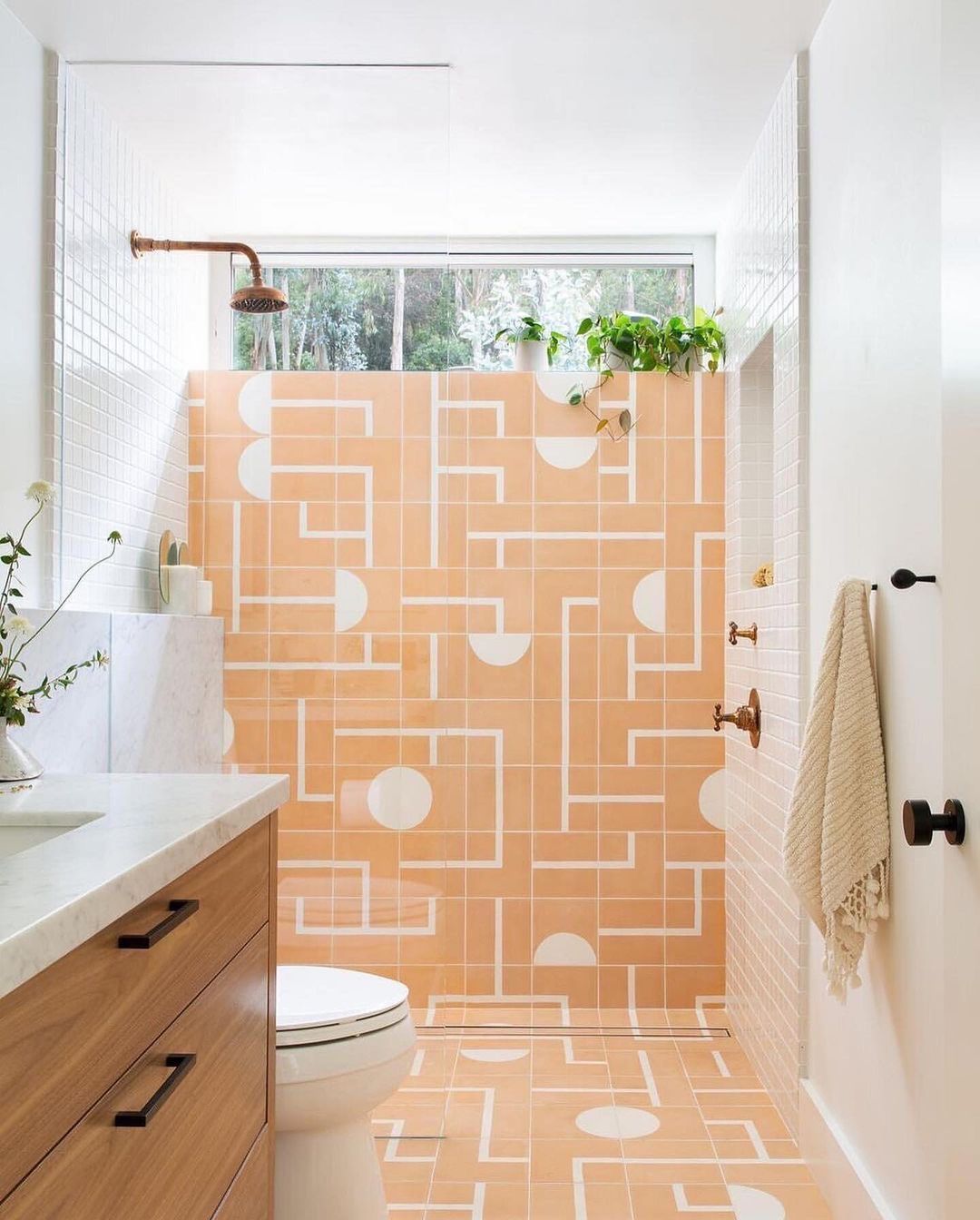 Combine eclectic elements from around the world for a colorful and vibrant bathroom.
21. Midcentury Modern Marvel
Capture the essence of the '50s and '60s with retro colors, sleek lines, and vintage charm.
22. Carnival of Colors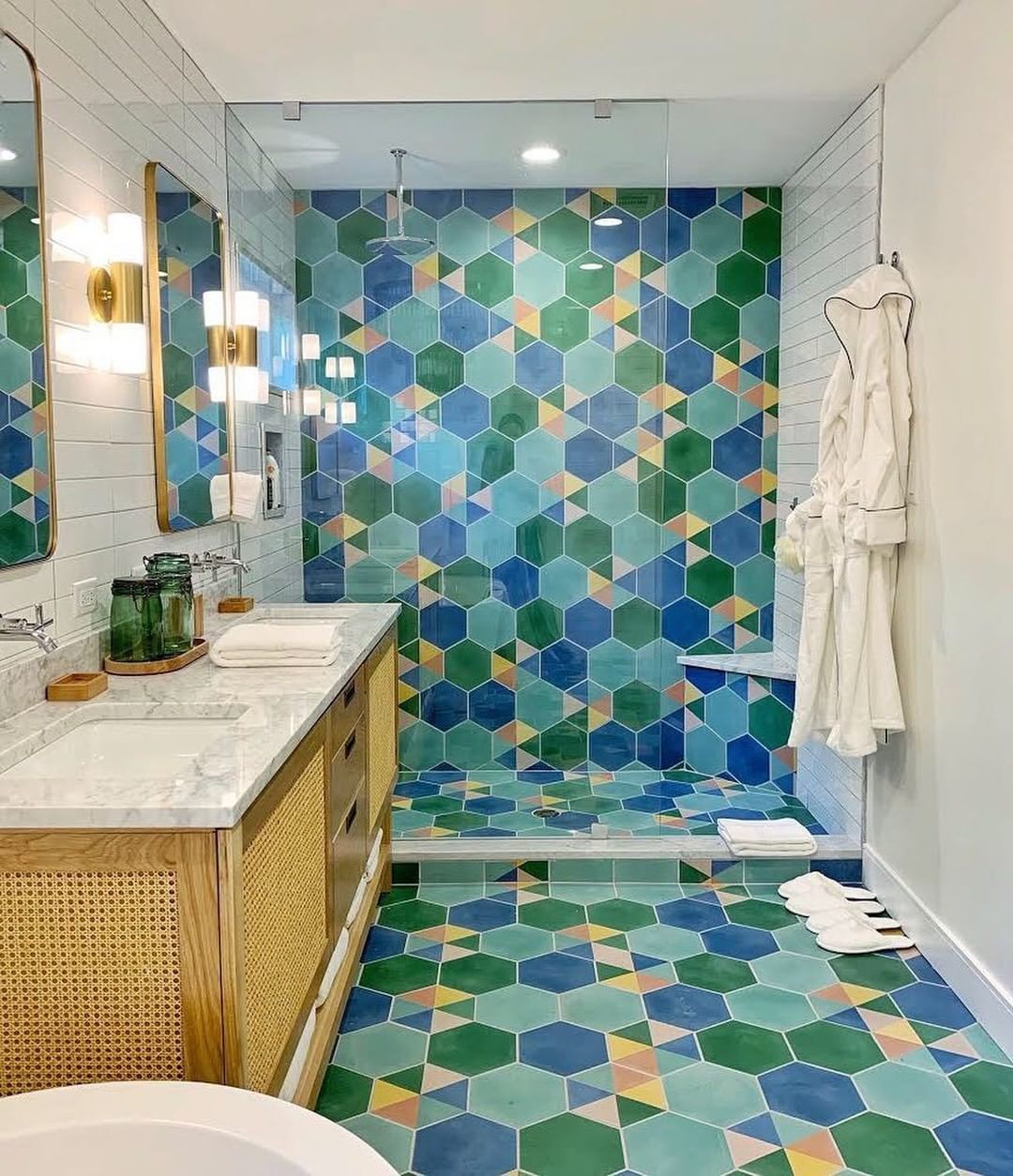 Celebrate the joy of life with a carnival-inspired bathroom bursting with vibrant colors.
23. Artistic Expressionist Escape
Express your creativity with bold, abstract designs and a splash of artistic flair.
24. Whimsical Wonderland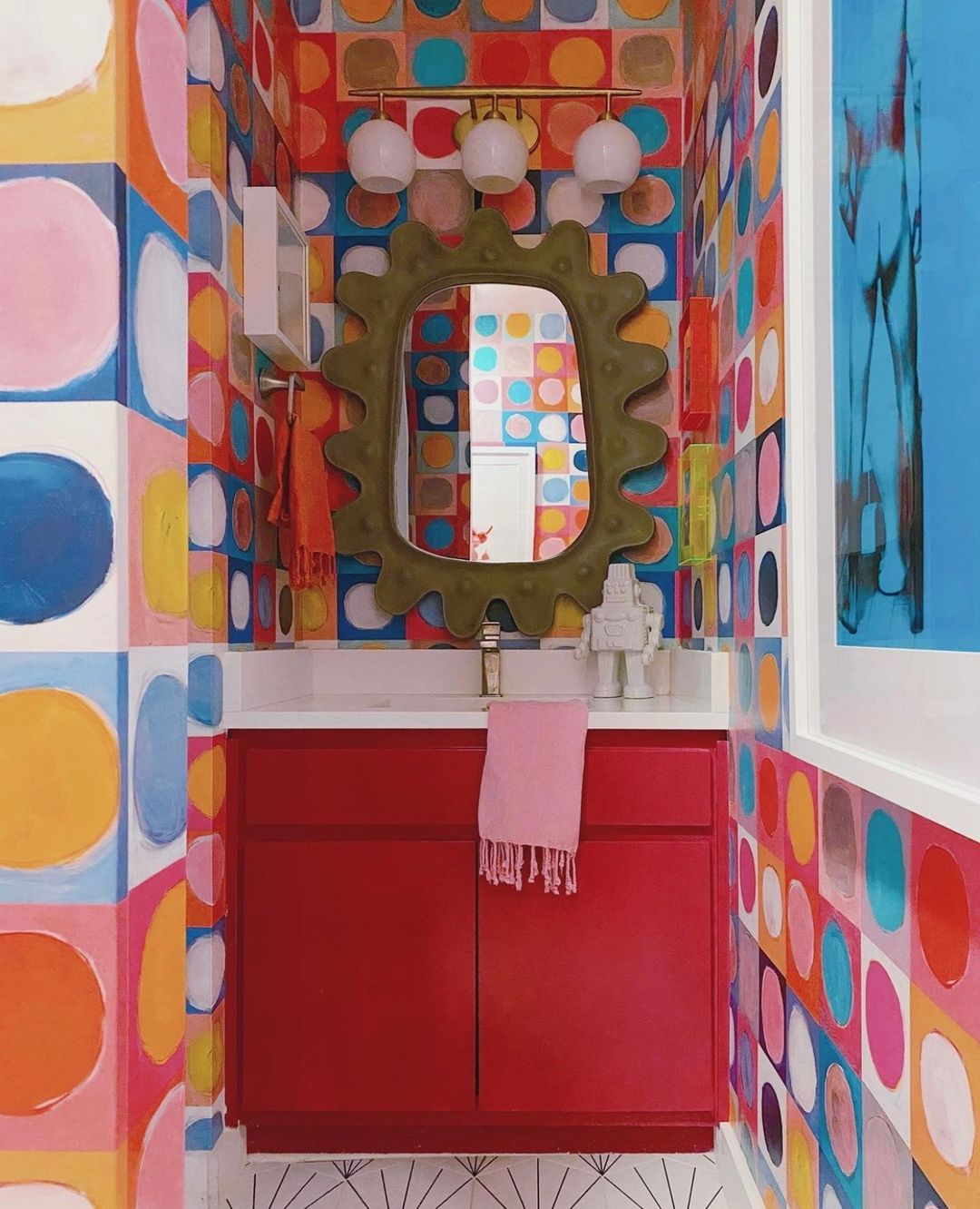 Create a magical space with playful colors, fairytale motifs, and dreamy decor.
25. Cottagecore Comfort
Experience the coziness of cottage living with floral prints, pastels, and rustic details.
26. Pretty in Pink Paradise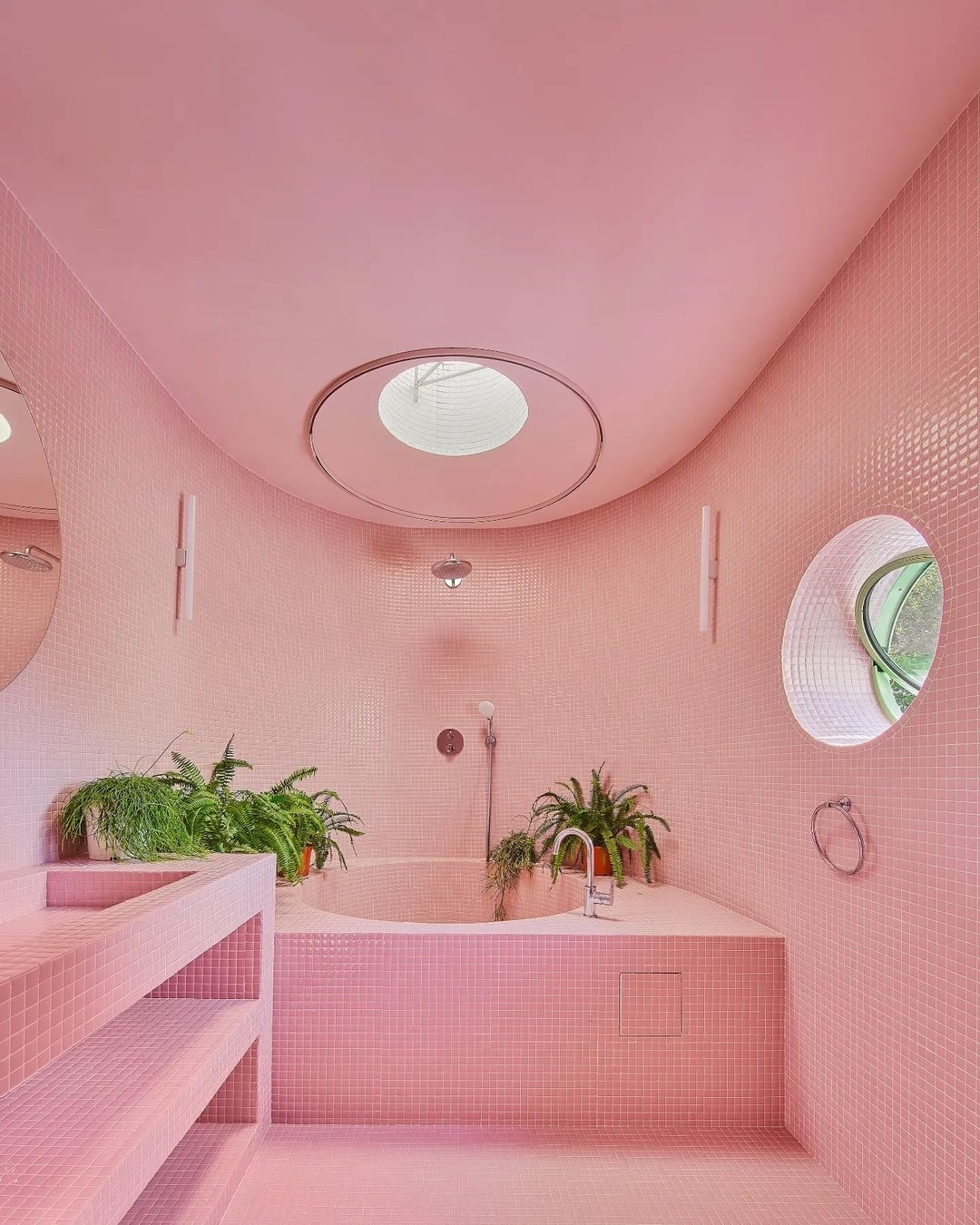 Embrace the timeless elegance of pink in your bathroom for a touch of romance.
Conclusion
I hope you enjoy the wide range of colorful bathroom designs that will blow your mind. These 26 colored bathroom show how creativity, style, and a lively mix of looks can make a bathroom look more beautiful than ever.