Your bathroom, which is often a place where you go to relax and take care of yourself, should be a place that shows off your style and makes your daily routine better. Even though we usually pay attention to big things like tubs and baths, we shouldn't forget about the bathroom sink. It's obvious that it's useful, but people often forget that it can also be a stylish focus point.
In this blog, we'll take you on a tour of the world of bathroom sink decorations. We'll look at ten creative ideas that can make your bathroom a place of elegance, functionality, and style. We have tips and ideas for every taste and budget, whether you want a sleek, modern look, a rural escape, or something in between.
10 Bathroom Sink Décor Ideas You'll Love
Here's a list of 10 creative ways to decorate your bathroom sink will make it look better. Find new ways to improve the functionality, style, and personality of this often-overlooked area. With these ideas, you can make your bathroom sink a work of art by adding things like a stylish tap or a unique way to store things.
Wooden Cabinet Vanity and Basin
Create a cozy escape with a wooden vanity and basin. The natural textures and warm tones infuse your bathroom with rustic charm while maintaining functionality. Incorporate elements like reclaimed wood or a live-edge countertop to amplify the organic ambiance. Pair with matte black fixtures for a striking contrast, and top it off with potted plants or woven baskets to achieve a harmonious balance between nature and design. This bathroom sink décor idea transforms your space into a welcoming haven reminiscent of a tranquil cabin retreat.
Industrial Chic: Concrete Sink
Achieve an urban industrial look with a concrete sink. Pair it with metal accents and open shelving for a trendy, loft-inspired bathroom. The raw and robust nature of concrete creates a striking contrast to more traditional bathroom materials. Enhance the ambiance further with Edison bulb lighting, exposed brick walls, and dark matte finishes. This bathroom sink décor idea brings the edginess of the city into your home, blending aesthetics with an industrial twist for a truly unique and bold statement.
Nature's Embrace: Stone Vessel Sink
Connect with nature in your bathroom by choosing a stone vessel sink. Crafted from natural materials like granite, marble, or river stone, these sinks bring the outdoors inside. Pair your stone vessel sink with a rustic vanity made from reclaimed wood and complement it with earthy tones and botanical decor.
Classic Elegance: Marble Vanity
Elevate your bathroom with timeless elegance by choosing a marble vanity. Marble's luxurious appearance and durability make it a classic choice for bathroom decor. Pair it with polished chrome fixtures, a clawfoot tub, and intricate molding for a touch of old-world charm. Add a statement mirror and dimming lighting to complete the look. This bathroom sink décor idea exudes sophistication and opulence, turning your bathroom into a lavish retreat.
Black Small Corner Bathroom Sink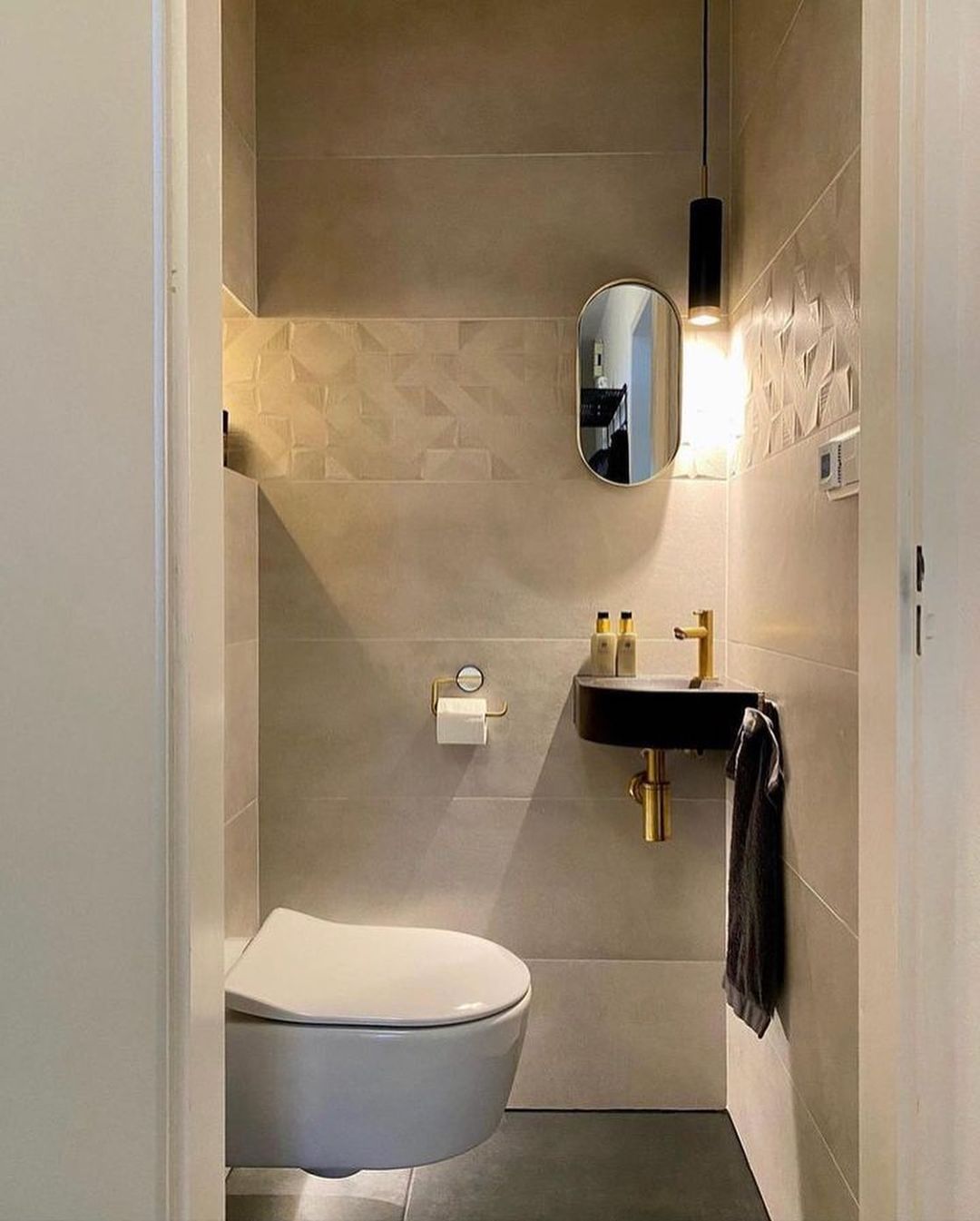 This chic and compact sink is the perfect addition to any bathroom with limited space, offering a modern and bold design statement. Crafted in a sleek black finish, it effortlessly blends into contemporary or minimalist bathroom decor. Despite its compact size, it provides ample room for washing while freeing up valuable floor space. Its unique placement in the corner maximizes the available area, making it ideal for smaller bathrooms or powder rooms. Upgrade your bathroom with this black small corner sink and redefine your space with sophistication and functionality.
White Small Bathroom Sink
White small bathroom sinks are a standard choice for small powder rooms and cozy bathrooms. This small sink looks good and works well. It has a clean white finish that goes with many different kinds of decor. Its small size makes it a great way to save space and make the most of a small bathroom plan. Even though it's small, it's useful and easy to use, giving you enough space to wash your hands and leaving room for other bathroom items.
Black and White Tiled Sink Minimalist Decor
Elevate your bathroom with the elegance of a white small bathroom sink complemented by a meticulously tiled backsplash. This combination exudes a timeless charm that suits various interior styles, from traditional to contemporary. The white sink's compact design optimizes space, making it ideal for cozy bathrooms, while the tiled backsplash adds a touch of sophistication.
Vintage Style Luxurious Sink Decor
Step back in time and infuse your bathroom with the charm of a vintage sink decor. This classic fixture brings an air of nostalgia and timeless elegance to any bathroom decor. With its unique character, antique finishes, and ornate details, our vintage sink decor becomes the focal point of your bathroom design.
White Marble Sink with Stylish Vinity Cabinet
With a white marble sink and a stylish vanity cabinet, you can make your bathroom look rich and simple. This set combines style and usefulness in a way that makes it a feature piece for any bathroom.
The natural veining and shiny finish of the white marble sink give it a classic elegance. When paired with a carefully made vanity cabinet, it gives you both storage space and desk space, making sure your bathroom stays clean and organized.
Black Marble Bathroom Sink
A black marble bathroom sink that looks like it's floating in your space is the height of modern luxury. This beautiful fixture is both stylish and functional, making it a show piece that changes the way modern bathrooms look.
The smooth surface and distinct veining of the black marble add an air of luxury to your bathroom and make a strong fashion statement. The floating placement not only adds a unique touch, but it also makes the most of the floor space, making it perfect for bathrooms with less room.
Conclusion
In the world of bathroom design, the sink isn't just a practical need; it's also a place to be creative and show off your style. These ten bathroom sink decorating ideas show you some of the many ways you can change your space. From simple masterpieces to classics from the past, your bathroom is waiting for your artistic touch.