For some it's important to find the perfect bathroom mirror. Whether you want it for functionality, a décor piece or to use for your daily hygiene regimen. It can be hard to shop for an LED mirror. Here we talk about the different designs, the type of mirrors you can get and just how to care for them.
Led Mirror Recommendations
Best Rectangular LED Mirror
These mirrors have some awesome features that are important. The anti-fog feature is the perfect addition to any bathroom giving you access to a fog-free reflection. Even after a hot bath the image of yourself is clear and sharp. The glass is durable with its special coating even after years of use.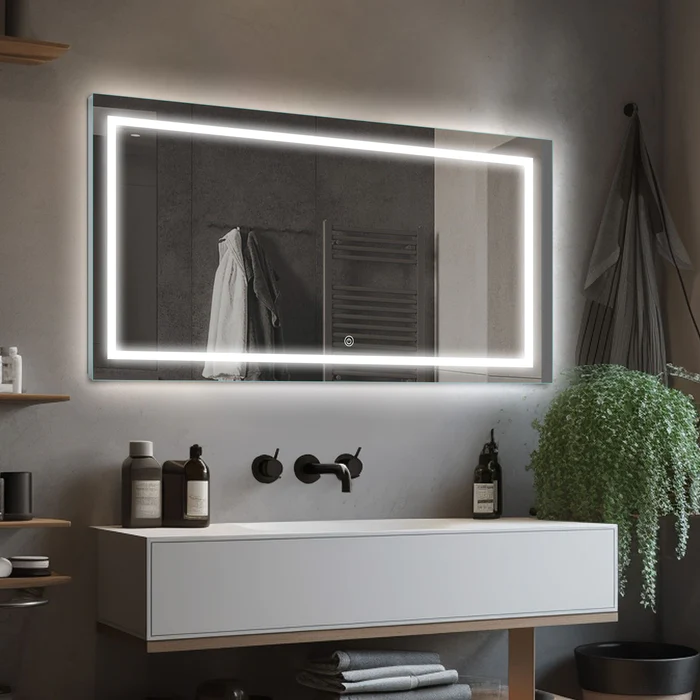 Along with perfect functions this style of mirror adds instant style to any room including the bathroom. The LED mirror fixtures give the room an illuminated feel to your bathroom. You can customize the vanity to match in with the mirror to complement the area from contemporary designs to the most modern.
Another design to opt for when it comes to the best LED mirror is to go with one that has inset lighting, strips or bulbs that are going around the sides. Another option for lighting your vanity mirror is to choose one with Inset lighting. This means that the LED bulbs or strips surround the sides or the face of the mirror. This can give the room a softer feel and the LED mirrors have a sleek design that makes it elegant.
Best Round LED Mirror
Round mirrors are an amazing addition to give your bathroom a soft and relaxed atmosphere. They work well with all types of vanities and don't take up much wall space but supply you with plenty of reflection space to take care of your routine. LED mirrored lights last for more than 40,000 hours making them efficient of replacement costs. The anti-fog features mean even with a hot shower it wont affect your reflection.
The LED mirrors with back light give off an even amount of light that illuminates the room and around the surface area. It doesn't matter what you are using the light for you are going to get an even amount of light from each side instead of the one area when dealing with wall mounted lights or sconces. The LED mirror has a dimming function which you can press for a long time to change the amount of brightness emitted. There is a built-in de-fogger, and this starts to work as soon as you turn the light on. It just looks flawless in this room.
Best Rounded LED Mirror
These mirrors give off a cool light that illuminates the room and your reflection perfectly. The rounded edges on the mirror allow for a soft look to the room and add a nice finish to the overall mirror. The on and off switch is a touch switch for easy access. Added Bluetooth speakers give you an enjoyable time in the shower.
Best Arched LED Mirror
Using one finger you can turn on the demister function to defog the mirror right away. It will also prevent it from fogging up anymore. You can check the time via the LED clock which is controlled by the touch controls. Arch mirrors add dimension to the room and give the atmosphere an airy feeling. Arches will help give the appearance of windows, so the room feels bright and more open.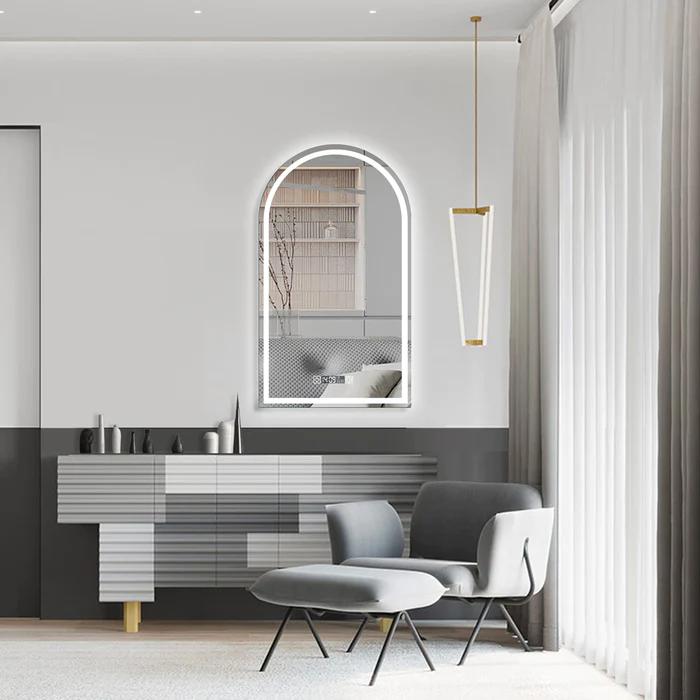 Best LED Mirror With Frame
Having the right mirror in your bathroom can make a huge difference when shaving or doing your hair. You need a clear view when carrying out your routine and this mirror can provide that. The mirror itself is attractive and will complement any bathroom whether modern or old-style. The option is affordable and adds style in the form of quality.
This vanity LED mirror is different from other lighted vanity mirrors. There is a beautiful, bold frame around the mirror which is surrounded by the illumination of LED light. It almost has a retro feel to it. There are three color temperatures and an anti-fog feature with a brightness dimmer. You can be sure your reflection is clear and free of fog and water.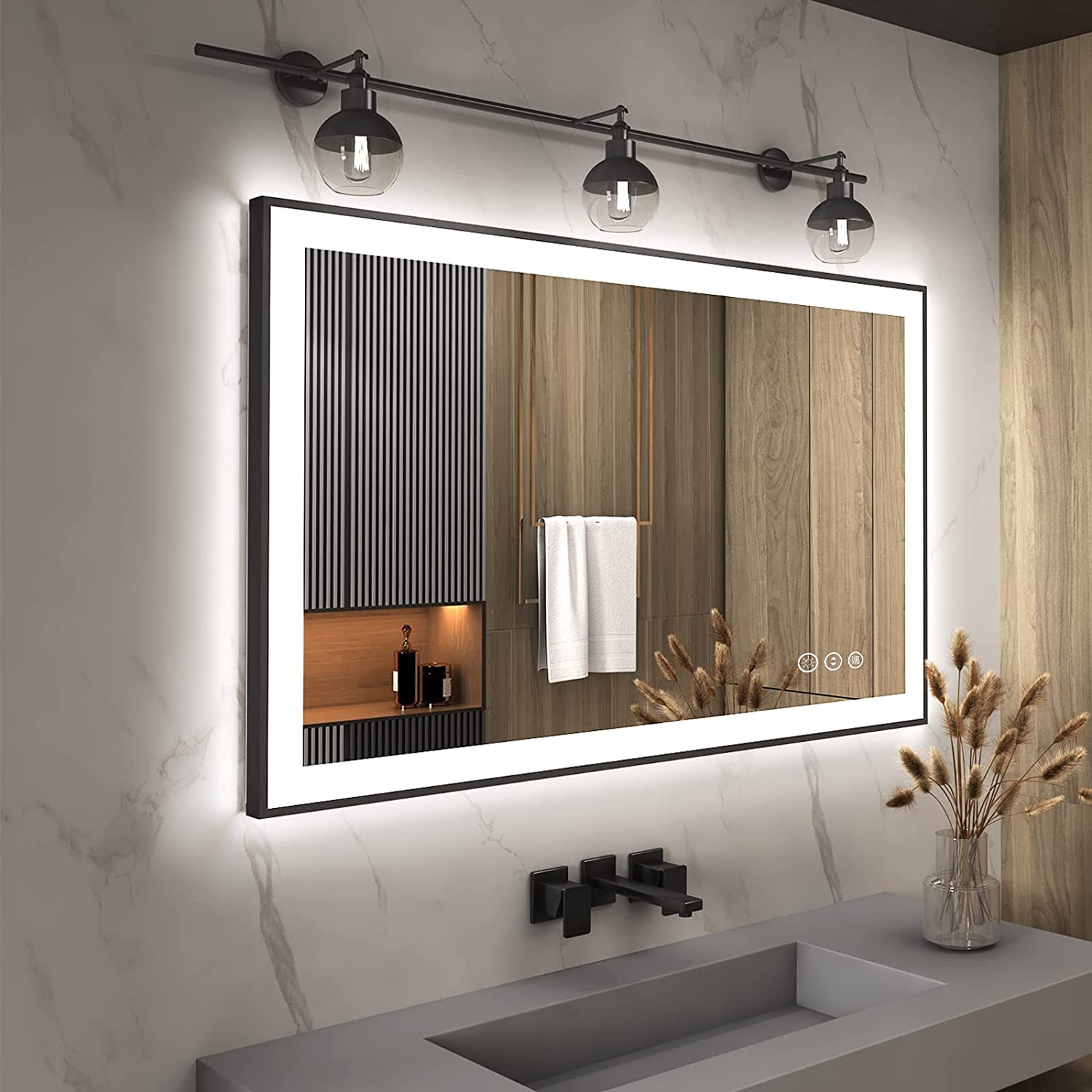 Best LED Mirror With Backlight
When it comes to lighting it's very important for mirrors. It adds convenience to your life when washing up, shaving or applying make-up. It comes with different color temperatures that create the perfect feeling in the room for the space you are creating. Even when you have a hot shower there won't be any blue reflections for you to worry about.
With two strong LED strips the mirror gives out a huge amount of light without concerns of shadows. It is a multifunctional mirror with touch functions to change the temperature from white and warm and change the brightness level to suit your needs. It has a memory feature that will remember the light setting and use it next time you turn it on.
Best Hollywood LED Mirror
This mirror comes in a desktop or wall mounted to suit your needs. An illumination switch on the side allows you to dim the light to suit the brightness you prefer. The mirror has temperature, time and date display for your convenience. The individual bulbs give the appearance of Hollywood.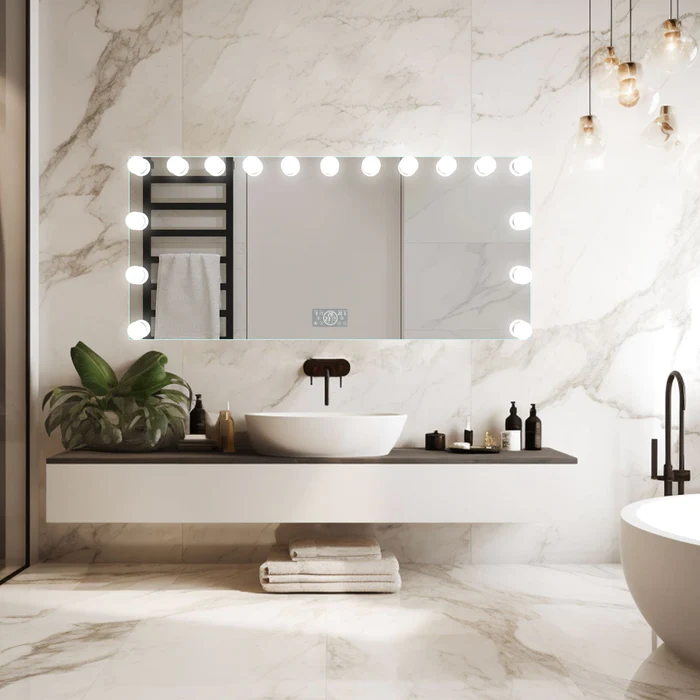 This vanity LED mirror has Bluetooth and is large enough to carry out all tasks that you need to do morning and night. Listen to your favorite podcasts, music or enjoy a hot bath while talking to friends with the Bluetooth speaker. There is a detachable base so it can be hung on the wall or used on the desktop.
Best LED Mirror With Demister Function
You need the perfect lighting for your mirror whether it is for the bathroom or living room. The different color temperatures allow you to change the mood of the room. The best function for this mirror is the demister function that allows you to remove any fog and prevent it from retuning while you are using the mirror.
Waterproof strip lights on each side offer color rendering in quality form. Without any flicker you are getting true presentation when doing your make-up. The soft light works for your everyday needs but also for just using as décor to lighten up a wall. Look how the light just blends the whole room together.
Best LED Mirror With Bluetooth Function
This mirror is perfect for your daily routine. This mirror can come with lights or without. The two strips on the side look elegant but functional when getting ready for your day. Frameless offers a seamless look perfect for minimalist mirror. The Bluetooth functions means you can answer calls or listen to your favorite tunes while showering or doing your make-up. Easy access with a touch of a button.
Best LED Mirror With Cool Light
One feature of this mirror that is nice is the round shape. It almost looks seamless but the best feature of all is the swipe action. You can turn the light on and off without even touching the mirror, which is perfect when your hands are covered in make-up. You can change the color and intensity of the mirror with ease. The cool light is perfect for doing your make-up or shaving as it gives you even light without shadows.
Best LED Mirror With Warm Light
This LED lighted mirror is a simple yet modern feature to any bathroom. The mirror has a slight texture feel to it and is able to help you with your make-up when you have low light in your bathroom. The backlight has a simple touch to on design and gives off the perfect light to relax. The warm light is perfect for adding some light to the room without overdoing it and adding the perfect ambiance to the room when taking a soak in the tub.
Best LED Mirror With RGB Light
Mirrors with RGB back lighting are a great choice for minimalist bathrooms as the lights are disclosed behind. You get a clean look while maintaining an elegant fashion piece. The mirror has a 0.2-inch glass panel surrounded with shatterproof framing that is both pretty and durable. This mirror gives you an eye catching décor piece while still being functional.
Best LED Mirror With Time Display
There is something about round mirrors they are timeless and seem to add some proportion to the room. The light display shows the time to make it easier when you are working on a deadline. The clock will light up when the power is on, and it's positioned in the bottom area of the mirror so it won't interfere with your reflection.
Using LED Mirror At Home
Using LED Mirror In Your Bathroom
LED mirrors are the latest trend, and it isn't going to disappear anytime soon. They can brighten a room, make getting ready easier and also serve as a beautiful piece in any bathroom. They can handle high levels of condensation and humidity which are common in bathrooms. Look how it brightens the room that would otherwise be dull with the shades of brown used.
Using LED Mirror In Your Living Room
Using Led mirrors in your living room helps keep the room lit, especially for those darker rooms. The LED Mirrors use light emitting diode advancements that gives you plenty of light without emitting any heat. With their long life span and energy efficiency they are perfect for the living room to create a homely feel.
Using LED Mirror In Your Hallway
LED mirrors add plenty of aesthetic to the room. They can easily be integrated into different spaces to give you an upscale design and luxurious feel. The styles and designs you can get are endless. Most can be mounted either horizontally or vertically giving you more options when placing the LED mirror. Hallways can be dark and pokey making it a perfect home for a new LED mirror.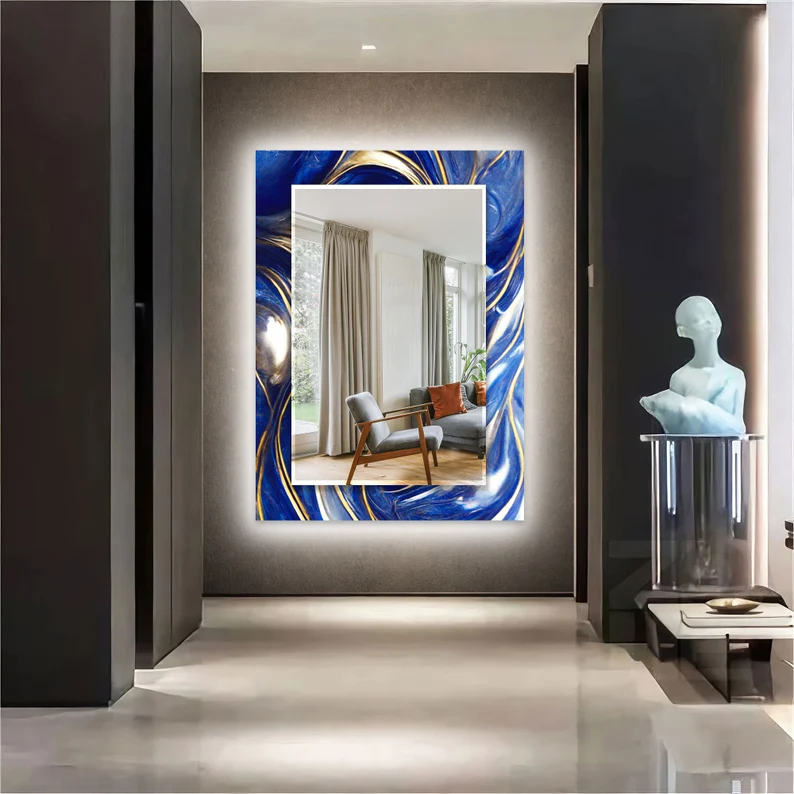 Using LED Mirror In Your Bedroom
This mirror is versatile. It gives you a quick space to touch up our hair or makeup while giving the room some ambiance that is gently and calming. It also serves as beautiful wall décor that creates a mood perfect for the bedroom.
How to Choose an LED Mirror?
Size: it's important to consider the size of your LED mirror as it needs to complement the area of the bathroom. If you have limited space in your bathroom then opt for a larger sized mirror, it will give you the appearance of the room is bigger.
Functionality: Work out the needs of the area and how much light you need and whether you want swipe touch or button touch.
Style: Add personality and elegance to the room with the LED mirror. Mirrors will add a bold statement to the space so keep this in mind when adding the mirror to ensure it matches with the décor, wall color and surroundings.
How to Maintain My LED Mirror?
To keep the integrity of the LED mirror it's best not to use any glass cleaners or spray cleaners as this can cause damage to the surface of the mirror. Clean the surface of the mirror with isopropyl alcohol 30% and water 70%. This will make the mirror sparkle and streak free.
Conclusion
There is no doubt that there are many LED mirrors which can be added to whichever rooms you want, from living room, bathroom and even the bedroom. With so many features there is bound to be a style and design that suits your room.