Why Do You Need an LED Mirror for Your Bathroom Décor Ideas?
LED mirrors in bathrooms have grown in popularity in recent years. Are you considering whether to invest in an LED bathroom mirror? These mirrors are an excellent investment as they give subtle but sufficient lighting whenever a well-lit reflection is needed.
Also, LED bathroom mirrors come in various color temperatures and lumens, shapes, sizes, and functions like anti-fog. If you are looking for an LED mirror bathroom idea, you've come to the right place. Below are 10 top LED mirror bathroom ideas to add a touch of modernity to your space.
Top 10 LED Mirror Bathroom Ideas to Spruce up the Space
1. Backlit LED Rectangular Bathroom Mirror
The rectangular mirror is the most common type of bathroom mirror. Getting a frameless rectangular mirror with built-in lighting creates a diffused and soft glow. The backlit LED of this mirror eliminates harsh shadows by providing illumination that enhances your bathroom's ambiance.
Whether you mount the mirror vertically or horizontally, a rectangular bathroom mirror complements your interior décor gracefully. Also, the practical and contemporary design of the rectangular bathroom mirror contributes to its versatility.
2. LED Round Bathroom Mirror
Another common bathroom mirror is the rounded mirror. Getting a backlit LED round mirror is a stunning addition combining modern elegance and functionality. The design of this mirror, where the LED forms the mirror's frame, casts a soft and diffused light that illuminates the surrounding. And if you are looking for an item to decorate your vanity to make a beautiful statement, this mirror is ideal. It's perfect for creating an inviting and soothing atmosphere in your bathroom.
3. Backlit Semi-Circle Bathroom Mirror
Do you have a small bathroom but want a full-sized mirror? A large semi-circle bathroom mirror with a backlit might be the perfect choice. This mirror stretches from the top of your bathroom ceiling to the flooring. It's versatile and can be mounted above and below a floating vanity or as a standalone piece to create a unique, eye-catching focal point in your bathroom. The curve design and backlight create a gentle, flowing aesthetic that expands the visual perception of the bathroom.
4. Backlit LED Oval Bathroom Mirror
A multifunctional oval bathroom mirror with on-mirror and backlit LED lighting options brings a touch of sophistication to your space. The oval shape of this mirror is versatile, making it ideal for both small and large bathrooms. You can mount it vertically or horizontally, depending on the appropriate orientation for your bathroom.
Also, the lighting options on this mirror provide ample illumination. Its backlit effect adds visual and depth interest, creating a stunning effect each time you walk into the bathroom. This mirror is perfect for adding a contemporary element to your bathroom.
5. Backlit Irregular Bathroom Mirror
Sometimes, all your space needs is a bit of unconventional beauty. Adding an irregularly shaped backlit mirror to your bathroom creates a unique and eye-catching ambiance. This touch of artistic flair in your bathroom, whether freeform or asymmetrical silhouette, homogenizes function and form. And when paired with the brilliant backlit, this irregular bathroom mirror lights up your space with a mesmerizing and modern glow.
With this mirror design idea, you can add two or three mirrors depending on the number of wash basins you have, and you won't go wrong.
6. Frameless LED Baroque Bathroom Mirror
Most LED mirrors are frameless, but what's unique about this design idea is that it comes with a baroque style. The absence of the frame makes the intricate details of the motifs more visible, creating a captivating visual display.
In this mirror design, the edges have been cut with such skilled craftsmanship that it effortlessly becomes the centerpiece in any bathroom. The LED lighting embedded within the mirror provides optimal lighting and a touch of glamor. And the soft and warm glow of the backlit enhances the intricate curves embellishing the baroque patterns.
7. Pivoting Table Standing LED Bathroom Mirror
Do you want to avoid going through the hassle of mounting an LED bathroom mirror? You can easily get this pivoting table-standing LED bathroom mirror. Its innovative design combines the convenience of a table stands with the brilliance of LED lighting. You can keep the mirror anywhere in your bathroom, from beside the wash basin to the countertop, with other decorations like a flower vase. The pivoting design with LED light around the edge of the frame and backlit boasts a modern and sleek design that enhances your bathroom's aesthetics.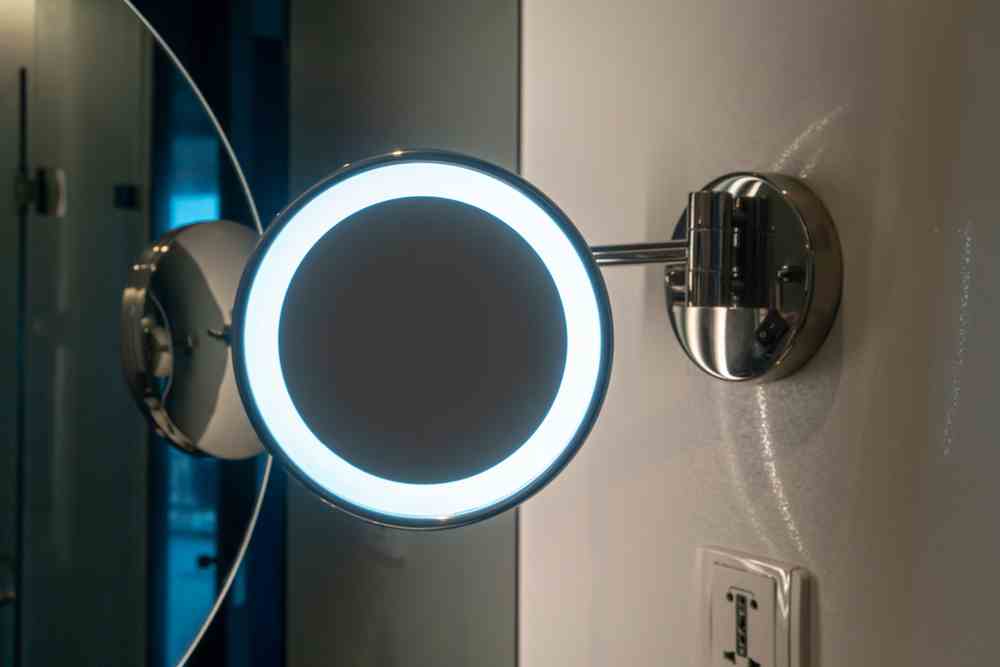 8. Standalone Round LED Bathroom Mirror
All your bathroom may need might be a standalone round LED bathroom mirror. This sleek circular mirror design effortlessly enhances the aesthetic of your bathroom. It may come with multiple built-in LED lights encircling the mirror to create an illusion of multiple mirrors each other. As a standalone mirror, it doesn't need any sophisticated mounting process. However, using this LED mirror idea in a large bathroom is best.
9. Smart LED Bathroom Mirror
A smart LED bathroom mirror is another excellent design idea to add a touch of modernity to your space. This innovative marvel comes with many functionality that makes it a great choice. Some smart LED bathroom mirrors have a touchscreen interface, Wi-Fi, voice control, weather, play music, and more. Additionally, you may get functions like anti-fogging technology, crystal-clear reflection, and so much more.
Upgrading the mirror in your bathroom to a smart LED bathroom streamlines your routine, helping you stay connected in a perfect ambiance.
10. Decorative Art with Light Bathroom Mirror
Finally, you can consider several decorative arts on LED bathroom mirrors. This decorative bathroom mirror transcends beauty and functionality. Some of these LED mirrors are frameless, with carefully crafted shapes to create a visual spectacle. In contrast, some of these mirrors are embedded in a sophisticated frame to add a touch of glamor. Most decorative mirrors come with various customizable options, such as color-changing modes.