We all have a little witch inside of us and it is waiting there to be unleashed! Inspired by the witchery practices of medieval Europe, the witch bathroom aesthetic focuses on witch-related things, such as magic books, potion bottles, and animal bones. Of course, there are many other things involved in witch bathroom decor, and we will talk about them below!
Color Scheme
When it comes to the witch color scheme, tv shows and movies often picture the dark and medieval side of the craft, mainly through the use of black walls and rustic features. However, you actually got a lot of color scheme options that can bring the enigmatic atmosphere without being overly dark.
Black
As was mentioned earlier, the use of black walls is very common in witch room design, whether it is in the bedroom, living room, or bathroom. This color is great because it not only immediately brings a mysterious atmosphere but it will also hide many imperfections on the walls and decor pieces.
No, you don't have to go black with everything. In fact, it is probably not the best thing to do, especially in a small bathroom because it will make it appear claustrophobic. Instead, you can try combining it with other monochromatic colors like dark grey and ash to make the room appear more engaging.
Deep Blue
Deep blue is a great color option if you want your witch-themed bathroom to appear more luxurious without losing its mysterious appeal. In fact, deep blue has been used in many traditional and classical homes, so you should never run out of inspiration about how to use it in a bathroom.
The problem with using a blue color scheme is that it comes in a very wide range of shades and variations. For this reason, you have to carefully consider the kind of deep blue color you want to use and how it works together with the rest of the room.
Green
Green is also a great color alternative for a modernized witch bathroom design. But, just like the deep blue color scheme, green comes in a lot of shade variations, which is why it also demands careful consideration from its users for it to work well in a bathroom.
Luckily, regardless of which green color you choose, it will emit a calming effect for anyone who sees it. Every time we see a green-colored room, our mind will be taken back to a very natural place that offers us peace and relaxation. Still, you want to make sure the green color you use goes well with other elements in the room.
Gold
This one is probably the best color scheme option for you, extravagant witches! This color has been long synonymized with success and wealth, which is why it is a great option to show how great you are at your craft.
No, you don't have to spend a fortune to buy gold-infused wall paint and gold-etched cabinetry. With a decent amount of determination and clever DIY tricks, you should be able to turn your walls and witch decor pieces into gold-colored masterpieces.
Depending on the style of your home, you are allowed to choose how gold you want your bathroom to be. The most important thing here is to use high-quality products because not all gold colors and paints are the same.
Metallics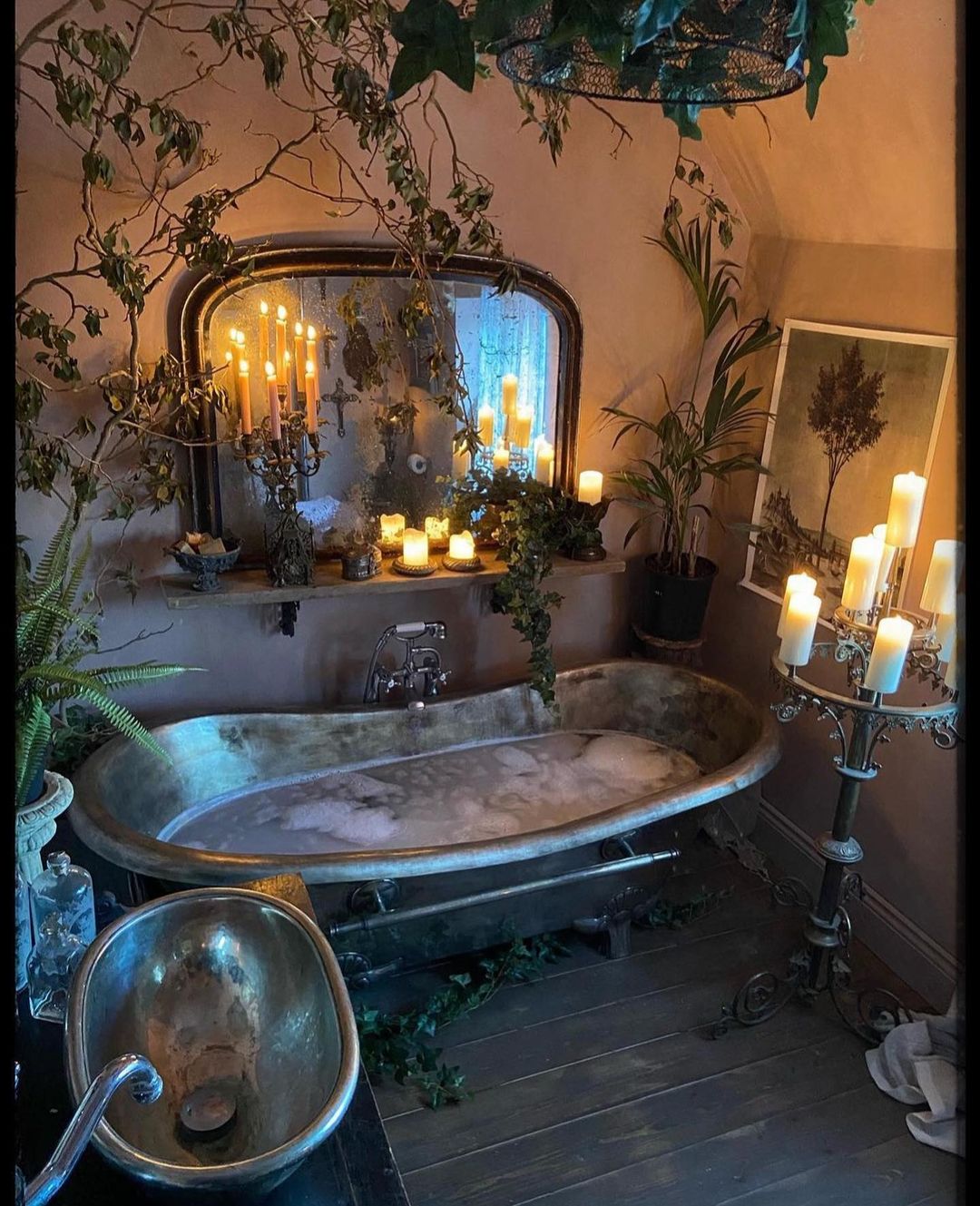 If you have been into witchcraft for long enough, you would know that metals are actually an important element in many recipes and rituals. Iron, for example, is believed for its repelling capabilities. Copper, on the other hand, is often transformed into amulets.
For this reason, metallic color schemes can also be used in your witch bathroom design. While it may not be a good idea to paint the whole room with a metallic color, you can incorporate it through the use of metallic furniture and decor pieces.
Materials and Textures
Use Natural Materials
Due to its medieval and rustic nature, a witch bathroom design often incorporates the use of natural materials. It does not stop with wooden cabinetry and furniture, but also the use of animal bones and furs as decoration pieces.
Add Plants & Greenery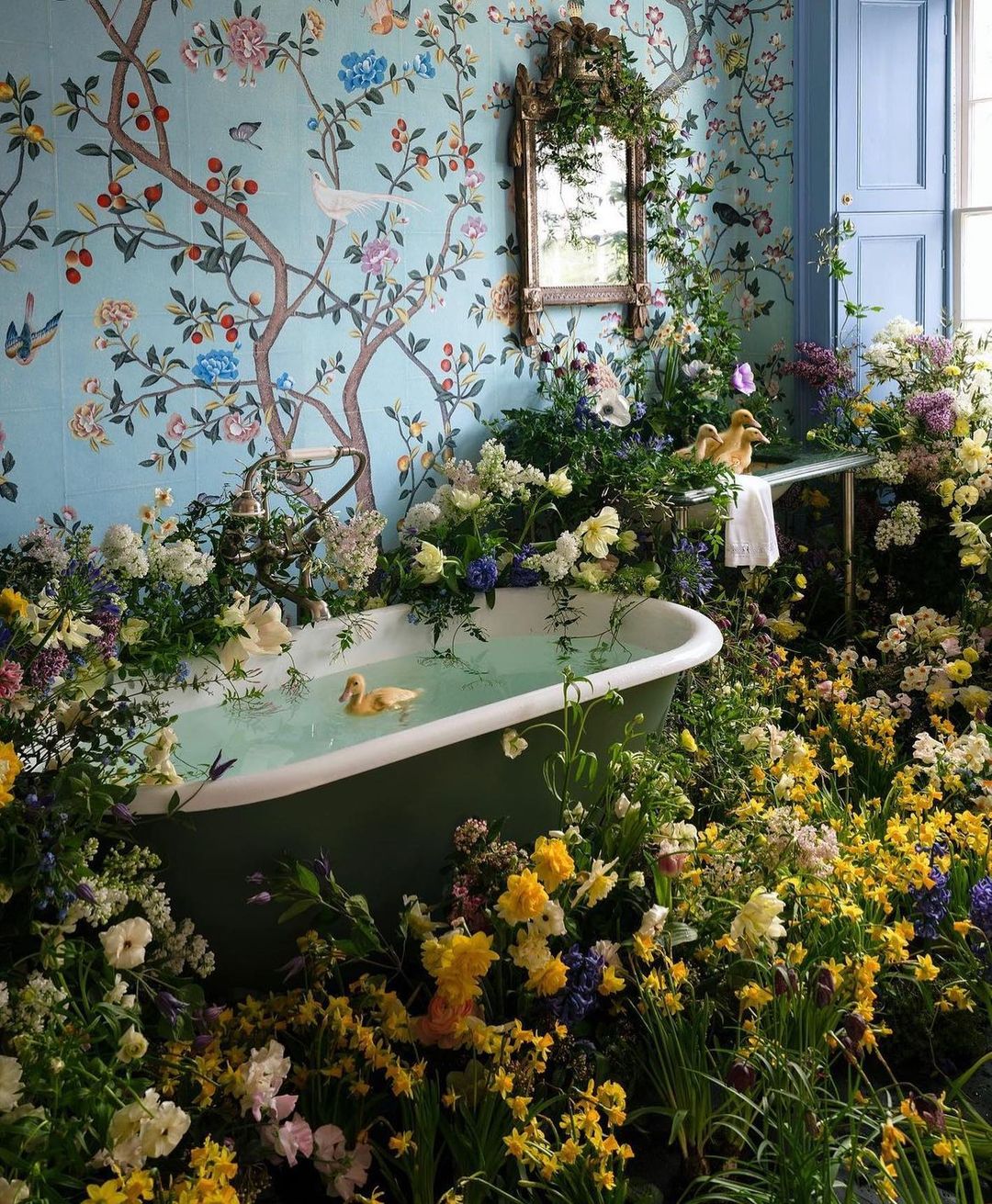 It is also common to include plants in such a bathroom. No, you don't have to turn the area into a mini forest like what you see in the photo. Simply place several flower pots and they should add a sense of nature to the room.
Combine Different Textures
You should also not forget to use different textures in your witch bathroom. You can, for example, use a certain kind of textured wallpaper to enhance the rustic ambiance. You can also incorporate different textures by using more varied materials.
Bathroom Accessories
Ritual Candles
The witch room design is all about bringing that enigmatic atmosphere into your bathroom, which is why you will find a lot of cryptic accessories in it. Ritual candles are the most common ones. And, some homeowners also use fake animals in their bathrooms.
Vintage-Looking Portrait
If you want to make the room appear less crowded, you can also use a painting or photo print. Who knows, maybe you can get a vintage-looking portrait of a royal family from a quick trip to the nearest antique store.
Carved Mirror
You can also use a carved mirror frame like the above to achieve the witch bathroom aesthetic. Combine it with some animal prints and you should get a unique look immediately.
Grey – Colored Ornament
If you want to keep things elegant, you can take inspiration from the bathroom above. The white and grey color scheme combines nicely with the antique decor pieces.
Bohemian Bathroom Decor
Bohemian decor pieces can also be included in a witch bathroom space. As you can see above, it offers a different kind of witch atmosphere that is more relaxed than the previous examples.
Bathroom Lighting Ideas
Dimly Lit Bathroom
Besides color schemes and accessories, lighting also plays a crucial role in achieving the witch bathroom look. It does not always have to be dimly lit. The point here is to still be functional without appearing too bright.
Gothic Chandelier
A chandelier is the best way to create a gothic and elegant look. However, it must be proportionate to the room's dimensions.
Vintage Chandeliers & Candles
A combination of chandeliers and candles is another great way to achieve that mysterious charm while still being functional. If possible, use vintage furniture to wrap up the whole look.
Safety Precautions You should Know
From the points above, you may conclude that candles do play an important role in a witch bathroom design. Unfortunately, the use of candles comes with its own set of risks. The most obvious ones are fire hazards. So, to address this issue, it is wise to use flameless candles. They look just as good as the traditional ones and offer more safety for your bathroom.
Takeaway
For many of us, witchery is a fascinating idea that not only relates to myths and mystiques but also a tradition that has been existing for so long.
With a very long history behind it, witchery has been facing a lot of ups and downs. There was a time when people were so afraid they hunted down those they suspected to be involved in witchery practices. Luckily, today, the time has changed and it has become more of a hobby thing for some of us.
Today we have something we call witchcore, which involves adopting witch-related things to many aspects of our life. It is also applicable in our home decor, and, if you want to embrace the quaintness that surrounds this aesthetic in your bathroom, you can use the guide above and see what works best for your situation and preferences.