Do you want to turn your bathroom into a haven of style and peace? If so, you've come to the right place if you're looking for ideas and inspiration for a bathroom makeover.
White bathrooms are classic, elegant, and flexible, and they can be used as a blank slate for imagination and personalization. Whether you prefer a minimalist Zen retreat, a charming farmhouse-inspired haven, or a glamorous spa-like sanctuary, we have gathered 15 design concepts that showcase the beauty and potential of white bathrooms. Prepare to dive into a world of pure luxury and find out what you can do to make your dream white bathroom.
1.Industrial Style Design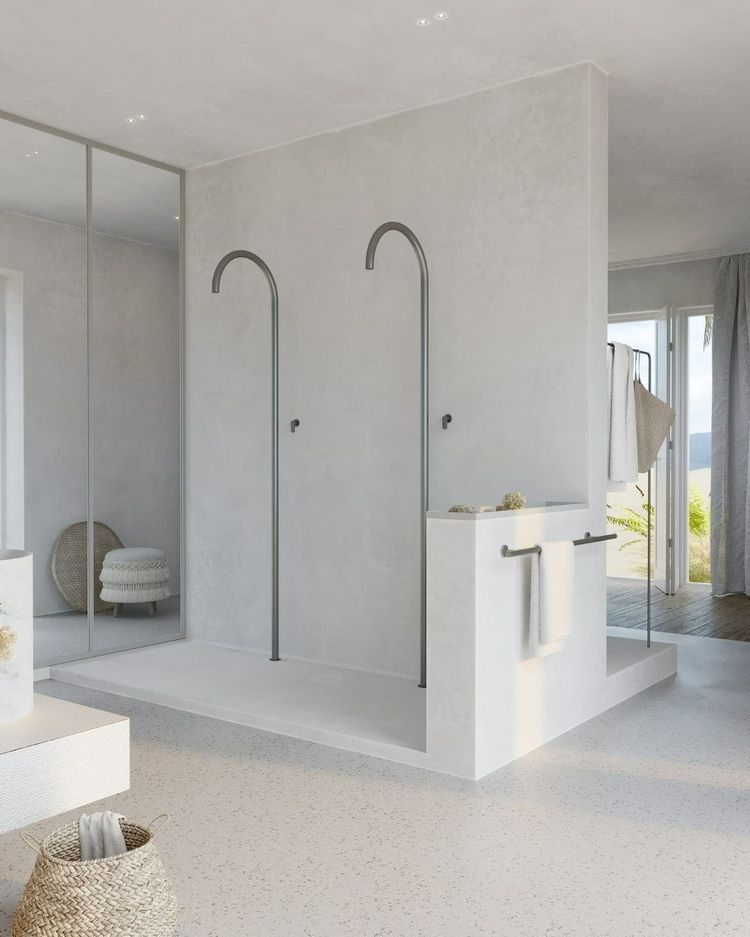 For a trendy and edgy look, give your white bathroom an industrial look by mixing rough textures, exposed materials, and simple fixtures. For an industrial look, go with white subway tiles or concrete walls.
For a bit of industrial charm, put in a shower fixture with exposed pipes or a rain showerhead made of stainless steel. Light fixtures, towel racks, and mirrors are all good ways to add metal details. Use things made from repurposed wood, like a floating shelf or a vanity top, to add warmth and contrast.
2.High Contrast Drama
You can make a dramatic statement in your white bathroom by adding high-contrast elements like black highlights and bold patterns. This will give your bathroom a striking look. As a clean background, use white subway tiles or white walls. Add a pop of color, like yellow or black, to your fittings for a strong contrast. With this idea, you can make a bathroom that feels dramatic and elegant, making a strong design statement.
3.Modern Zen
You can make your bathroom feel peaceful and harmonious by using clean lines, natural materials, and a white color scheme that helps you relax and be more aware. With a modern Zen design, your bathroom can be a peaceful place to get away from the chaos of daily life. Choose white features that are simple and sleek, like a vanity with a smooth top. Adopt the idea of simplicity and clear out the space to create a calm, uncluttered area that helps you feel at peace with yourself.
4.Contemporary Elegance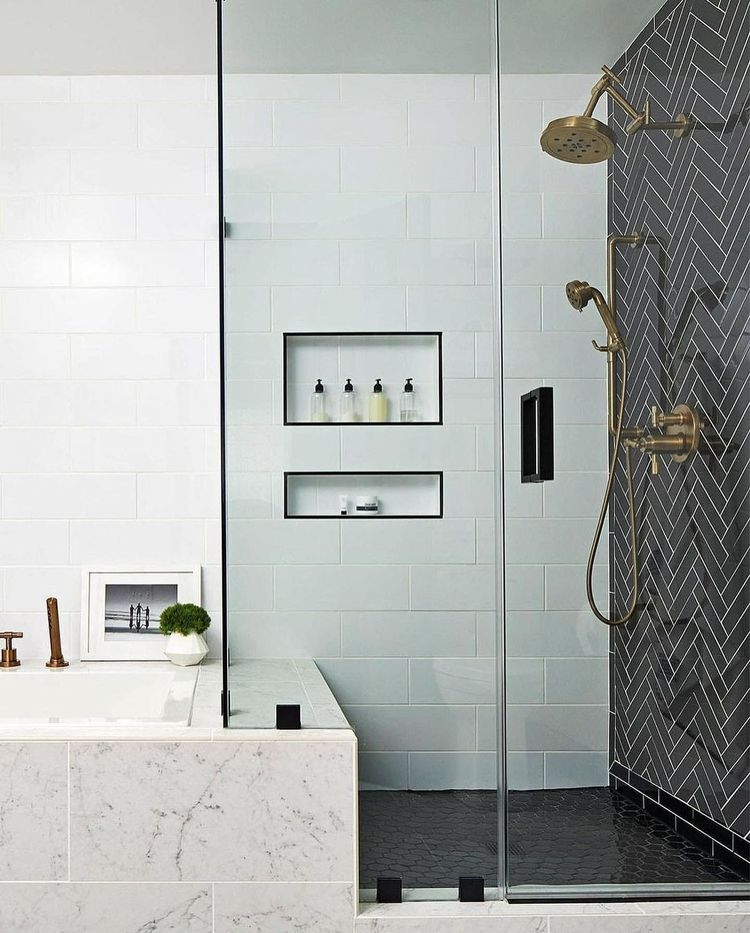 Add class and style to your bathroom by putting in sleek white fixtures, polished surfaces, and bold geometric patterns. This will make the room feel modern and elegant. For a sleek and expensive look, choose a white vanity with clean lines and a quartz or marble base. Install a frameless glass shower surround to show off the beautiful tilework inside.
5.Urban Industrial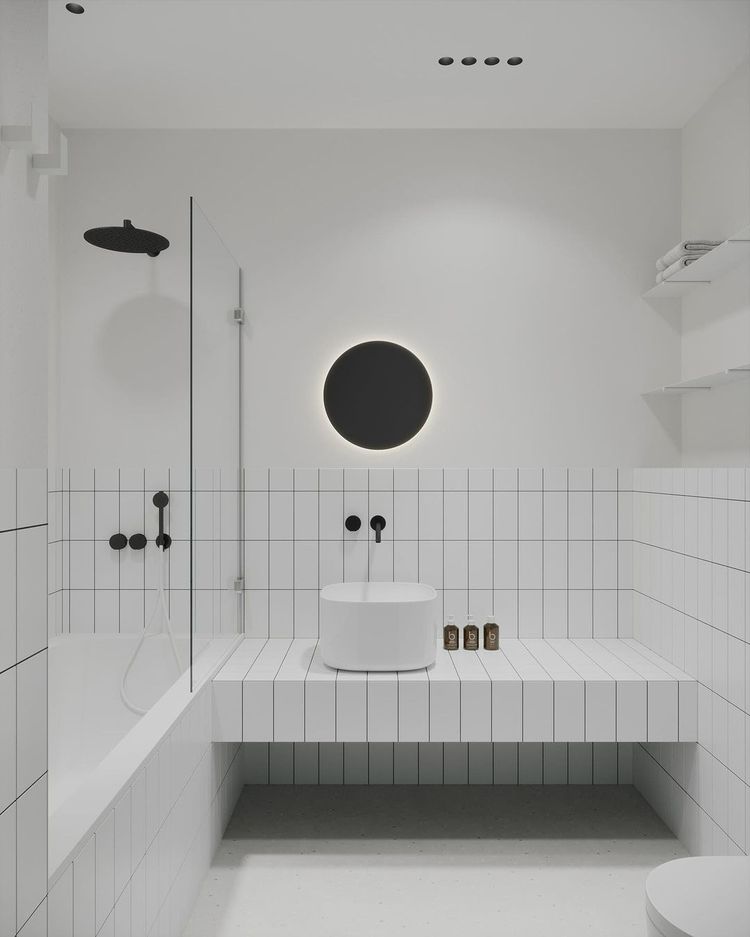 Adopt an urban-industrial style in your white bathroom by mixing sleek and minimalist design with rough and edgy elements. For an industrial look, use white subway tiles or concrete walls. For a modern and industrial touch, put in a black steel-framed shower cubicle or a concrete trough sink.
6.Scandinavian Simplicity
Use the warmth and simplicity of Scandinavian style in your white bathroom to make it feel cozy and welcoming. Neutral colors like white, light gray, and wood tones should be used for the color scheme. With this idea, you can make a bathroom that makes you feel hygge, which is a Danish word for happiness and well-being.
7.Play with Patterns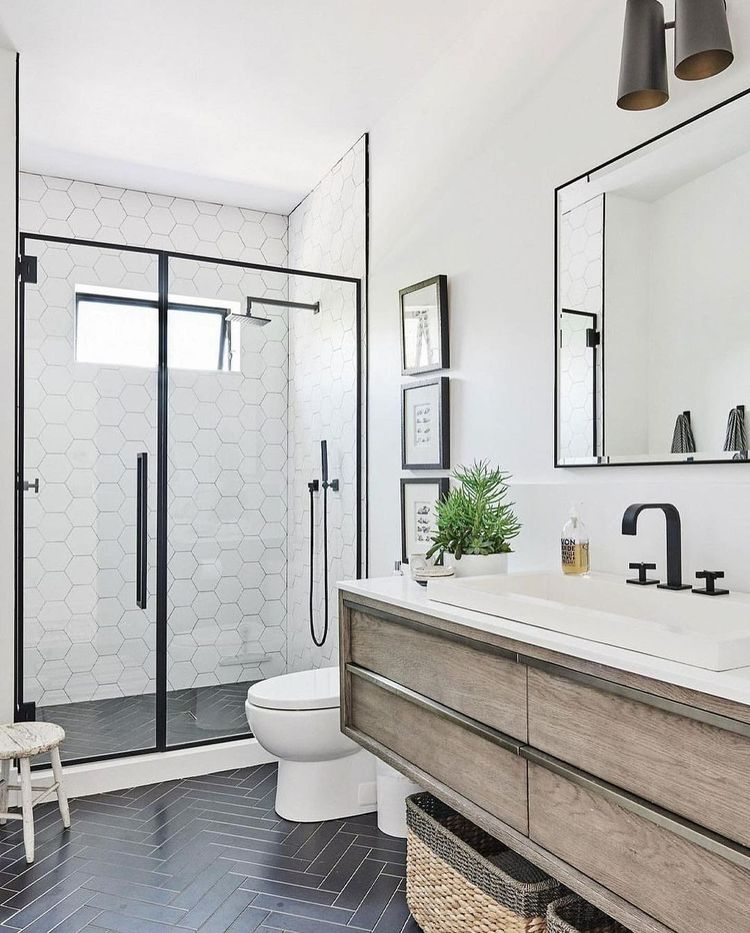 Unleash your creativity and blend different design elements in your white bathroom, combining vintage accessories, eclectic patterns, and vibrant pops of color for a unique and captivating look. Combine different textures, such as a woven rug, metallic accents, or textured wallpaper, to create an eclectic and visually stimulating space. This concept allows you to showcase your personality and create a one-of-a-kind bathroom that sparks joy and interest.
8.Bright and Airy
Use sheer curtains, mirrors, and light-colored items to make the most of natural light and create an open, airy feel in your white bathroom. This will make the room feel bigger and more refreshing. Choose white window coverings that let in natural light without letting anyone see in. With this design idea, you can make a bathroom that is friendly and makes you feel good.
9.Nature's Embrace
Bring the outdoors in by decorating your white bathroom with natural textures, plants, and earthy elements. This will create a fresh and energizing space that is inspired by the beauty of nature. Choose floors, tables, and accent pieces made of wood, bamboo, or natural stone. This idea produces a peaceful, natural environment that makes people feel calm and in touch with nature.
10.Spa Retreat
Make your bathroom feel like a luxurious spa with white marble surfaces, soft lighting, and soft towels. This will give you a place to relax and unwind after a long day. With white marble or tiles that look like marble on the floors and walls, you can make a room feel rich and elegant.
11.Timeless Grace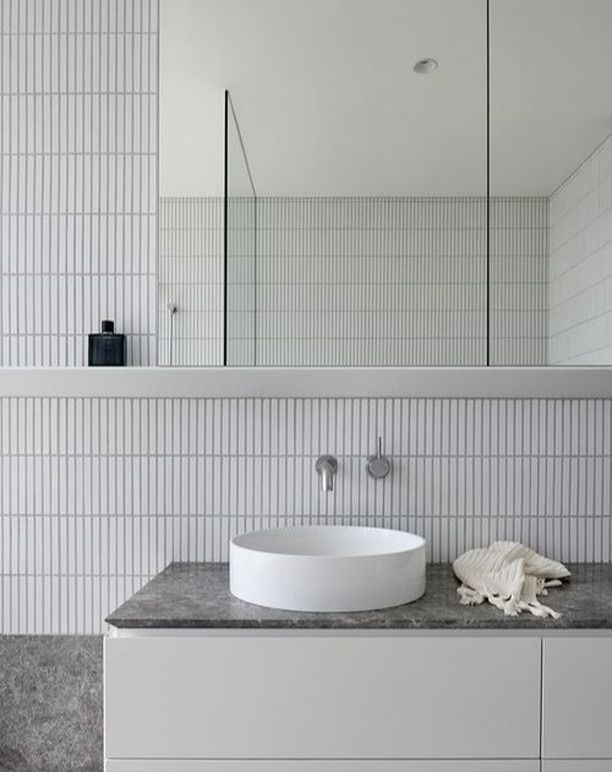 You can give your bathroom a timeless, classic look with white subway tiles and elegant details that give off a sense of grace and polish. This will give you a design that will never go out of style. Install white subway tiles in a brick design on the walls to make a clean, classic background. This idea gives off a sense of refinement and grace, which makes for a bathroom that will last.
12.Coastal Style
Bring the relaxing vibes of the beach into your bathroom with a white color scheme and accents that look like they came from the coast. White tiles or beadboard panels on the walls will make the room feel light and airy. With this idea, you can make a bathroom that makes you feel like you're in a beach paradise, away from the busyness of everyday life.
13.Rustic Retreat
Bring the charm of a rustic retreat into your white bathroom by mixing natural elements, warm textures, and cozy accents to create a warm and inviting space. With this idea, you can make your bathroom feel like a cozy cabin where you can relax and unwind.
14.Bohemian Oasis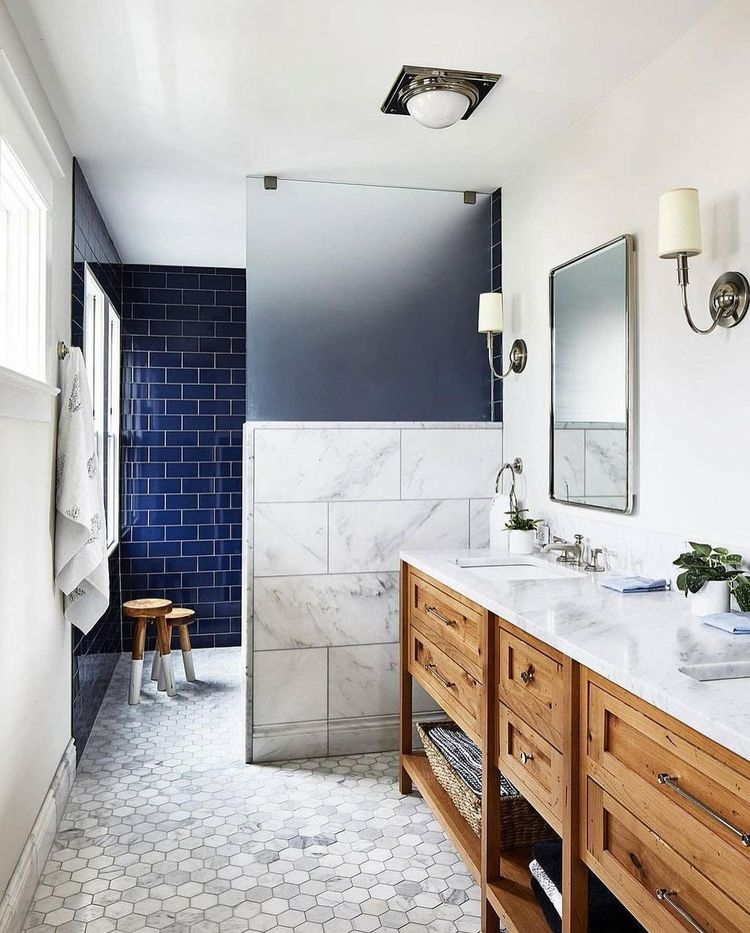 Make your white bathroom feel like a bohemian retreat by decorating it with natural textures, colorful patterns, and oddball accessories. As a blank canvas, white tiles or whitewashed walls are perfect. With this idea, you may design a bathroom that is as unique and comfortable as you are.
15.Farmhouse Style White Bathroom
Make your daily routine feel more like a trip to the country by decorating your bathroom with white shiplap walls, vintage fixtures, and lovely farmhouse-inspired decorations. The farmhouse fresh aesthetic fuses the charming simplicity of white with the warmth of classic rustic details.