Do you enjoy the style and atmosphere of the Old West? Do you wish to infuse your lavatory with some of that natural allure and cowboy spirit? If so, you are fortunate! Western bathroom decor is an excellent way to add character and style to your bathroom.
The décor of a Western bathroom can include rustic wood and metal accents, vibrant textiles and designs, whimsical accessories, and wall art.
In this article, we will share some of the finest designs for Western bathroom decor that you can easily recreate at home. Prepare to transform your bathroom using these Western bathroom decor ideas!
Color Palette of the Western Bathroom Décor Designs
Western bathroom décor designs are home to many warm earthy tones that can create a cozy and inviting atmosphere. Considering this, we will be covering several colored designs that will give you a better peak into the Western world:
Brown
Brown is an appropriate color palette for Western bathroom décor since it captures the warmth and earthiness of rocky terrain. For a vintage feel, include wooden features such as barn wood vanities or reclaimed wood shelving combined with copper or bronze lighting. For a real Western feel, add woven baskets or horseshoe-inspired décor.
Beige
Beige adds a sense of calm and modest beauty to Western bathroom décor. Use it as a background for accessories like worn stone or distressed wood.
Use textured tiles like tumbled travertine to include beige, and add warmth with wooden accents. For a unified Western aesthetic, complement the palette with subdued earth tones.
Tan
Tan in Western bathroom décor offers warmth with neutral adaptability. Make a tranquil setting for old fixtures, cowhide carpets, or Native American-inspired motifs.
Natural materials such as jute or rattan can be used in woven baskets or window blinds. Add elements of leather or aged metals to the Western style.
Materials for Western Bathroom Décor
Incorporating natural materials into the mix is an excellent idea. Here are some material suggestions to make your bathroom more Western than ever:
Wood
Regarding Western bathroom design, nothing beats wood's classic look and feel. Barnwood vanities, reclaimed wood bookcases, and wooden wall paneling are all great ways to bring this rustic, Western aesthetic into your home.
Stone
Stone is a great material in a Western-style bathroom for a rustic or natural look. For a touch of rustic elegance, you can install stone tiles with weathered finishes on the floor or as an accent wall, or use stone sinks and countertops.
The combination of this material's authenticity and durability makes it ideal for conveying the spirit of the Western environment.
Leather
If you want your bathroom to have a rustic, Western feel, leather is a great material. To add a bit of Western flair, replace the fabric on your vanity chair with leather straps.
Use wastebaskets and tissue box covers with leather textures to provide a touch of toughness and an homage to the classic cowboy aesthetic.
Accessories for Western Bathroom Décor
Here are some eye-catching ideas for incorporating some accessories into the Western bathroom décor:
Horse Artwork
Horse artwork in your Western bathroom décor gives a touch of equestrian beauty while also paying respect to the Western way of life.
Framed images or paintings of beautiful horses can be hung on the walls, or a statement item like a metal horse sculpture can be used as a focal point.
These creative components will instill the feeling of the Wild West in your bathroom.
Towels
Towels with Western-inspired designs or patterns, such as horseshoes, cowboy hats, or Native American themes, are ideal. Use earthy tones such as brown, beige, or tan to compliment the general Western concept.
For a useful and elegant addition to your bathroom, hang these towels on a rustic towel rack or wrap them up in a colorful basket.
Rustic Signs
Rustic signage with Western-inspired sayings or phrases can be a lovely addition to your bathroom décor.
Look for wooden signs like "Welcome to the Wild West" or "Home on the Range" to create a fun and welcoming ambiance. As ornamental elements, hang them on the walls, shelves, or worktops.
Towel Holder
Choose a towel holder with elaborate artistry with a Western look, such as wrought iron or cast iron. Look for patterns that include horseshoes, cowboy boots, or star motifs for a genuine touch.
These towel holders not only serve as a functional storage solution but also complement your bathroom's Western motif.
Desert Plants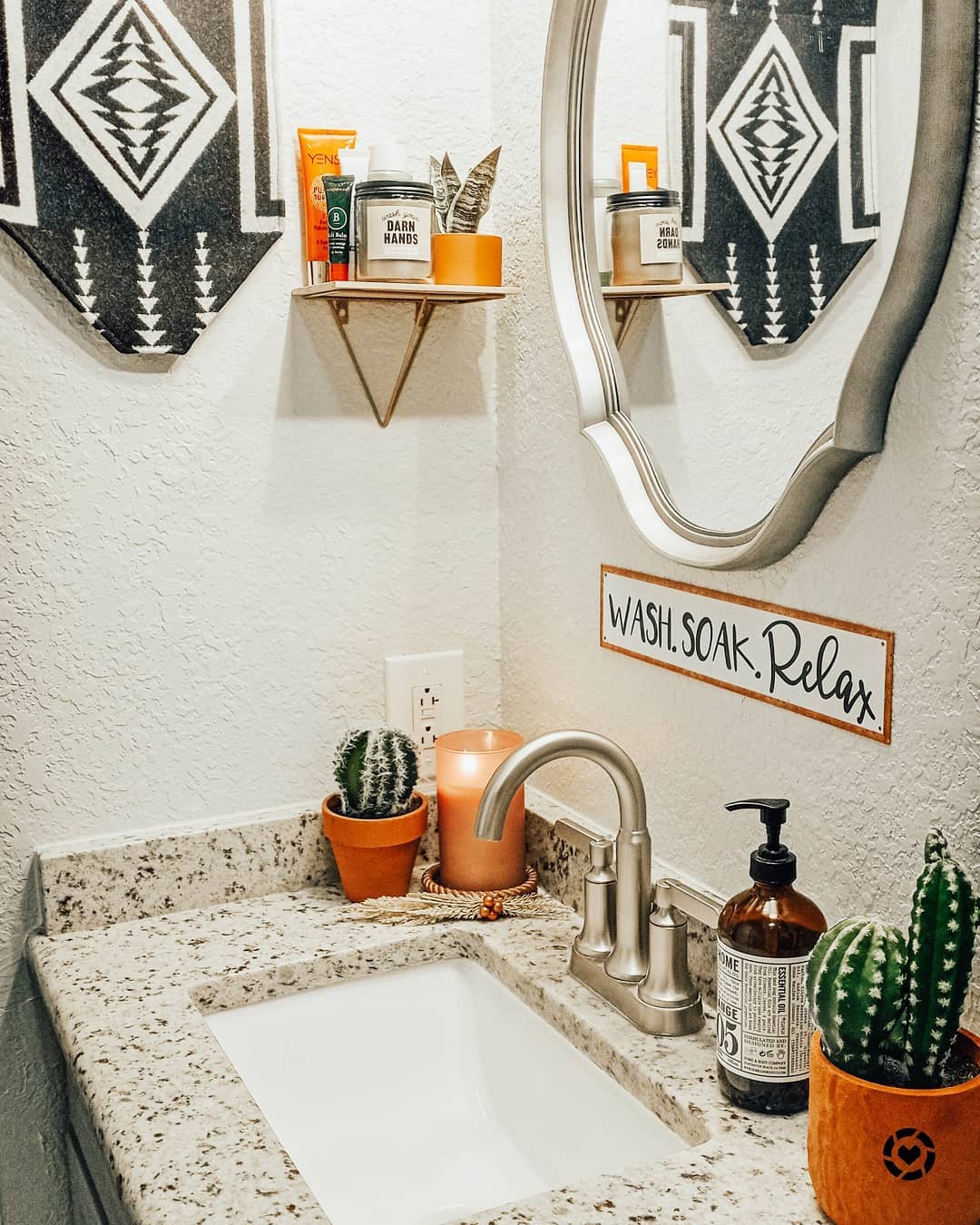 Desert plants, such as cactus or succulents, will add a touch of the arid West to your bathroom.
Place a natural aspect and a flash of greenery in attractive pots or planters on shelves, worktops, or windowsills.
These low-maintenance plants add to the Western concept and provide a visually pleasing contrast to other rustic features in your bathroom.
Lighting for Western Bathroom Décor
Without appropriate lighting, your Western-themed bathroom décor would feel incomplete. Here are some tips to help you:
Wrought Iron Sconces
Wrought iron sconces will add a touch of class to your Western bathroom. These wall-mounted fixtures with complex patterns and rustic finishes provide a sense of authenticity.
Install them on each side of the vanity mirror for a warm, ambient light that adds a touch of old-world elegance to your Western-themed decor.
Lanterns
Use lanterns to add rustic appeal to your Western bathroom design. Use lantern-style pendant lights or wall-mounted lantern fixtures to create an appealing and homey ambiance.
Hang them over the bathtub or near the vanity for a nostalgic touch and a glorious light evocative of cowboy campfires beneath a starry sky.
LED Mirrors
LED mirrors will modernize your Western bathroom while keeping the theme. These mirrors include built-in LED lighting around the edges, which adds practicality and aesthetics.
To mix current lighting technology with the rustic style of the Wild West, use a mirror with a distressed or reclaimed wood frame.
The LED lights provide gentle, steady lighting that is great for grooming and adding a sense of refinement to your Western-style bathroom.
Storage for Western Bathroom Décor
We all want to keep our bathrooms neat and clean. If you desire organization in the place, here are some suggestions to help you with:
Wooden Cabinets
You can have plenty of storage and keep the Western feel in your bathroom by installing wooden cabinets.
If you want your cabinets to seem vintage, go for ones with a soft finish or barn wood accents.
Towels, soaps, and other bathroom necessities can be neatly stacked in these cupboards.
Wooden Shelves
Wooden shelves can serve as both aesthetic accents and practical storage in a bathroom decorated in a Western style.
Put them up on the walls to show off your collection of rustic jars, cowboy-themed accessories, or other Western-themed décor.
The wood's natural beauty and texture add to its appeal while making it a practical storage option.
Woven Baskets
Woven baskets can provide a rustic touch and storage space to a modern bathroom in the West.
Towels, toilet paper, and other bathroom necessities can be stored on open shelves or in a drawer beneath the vanity.
The woven pattern enhances the bag's aesthetic value while keeping your necessities secure and well-organized.
Finishing Touches for Western Bathroom Décor
Once done with everything, here's how you can add some enticing finishing touches to your Western bathroom:
Cowhide Rugs
A cowhide rug will complete the Western vibe of your bathroom. Please place it in front of the vanity or near the bathtub to give texture and realism.
The cowhide rug's natural pattern and earthy tones provide rustic character to the decor while offering a snug and comfortable underfoot sensation.
Western-Themed Shower Curtains
A shower curtain with Western patterns or designs will complement your Western bathroom décor. To capture the mood of the Wild West, look for shower curtains featuring cowboy boots, horseshoes, or Western landscapes.
With their distinctive and eye-catching designs, these themed shower curtains create a focal point of the bathroom and bring together the Western concept.
Conclusion
Incorporating Western bathroom decor can transport you to the untamed and alluring landscapes of the Old West. From the warm shades of brown to the natural materials such as wood and stone, every component combines to form an authentic Western oasis.
Adding cowhide rugs and Western-themed shower curtains will transform your bathroom into an authentic homage to the spirit of the Wild West. Embrace the frontier spirit and embark on a journey of style and adventure with your very own Western-inspired lavatory.