Have you ever considered how to take your bathroom back in time without making it look outdated? Get ready to dive into the world of vintage bathroom decor, where old-fashioned charm meets modern ease.
This essential guide for vintage bathrooms is your ticket to turning your boring bathroom into a charming oasis that makes you feel like you're in a different time and place. From clawfoot tubs that make you want to take a bubble bath to mirrors with detailed designs that tell stories of the past, we'll show you how to use retro fixtures, color schemes, and accessories. Let's go on a trip to update the bathroom with a mix of old-fashioned charm and modern style!
Vintage Bathroom Decor Themes
Vintage bathroom decor includes a wide range of cute themes that capture the spirit of different times and styles. Here are some common ideas for vintage bathroom decor:
Art Deco Elegance
With Art Deco bathroom art, you can step back in time to the rich 1920s. This style is glamorous and sophisticated because it has geometric shapes, clean lines, and high-end materials like marble and brass.
Victorian Charm
A bathroom with intricate details and ornate accents will bring you back to the beauty of the Victorian era. Victorian bathrooms have beautiful clawfoot tubs, floral-patterned wallpaper, and rich, dark wood vanities.
Mid-Century Modern Style
With mid-century modern bathroom furniture, you can get the clean, simple look of the middle of the 20th century. This style is made up of clean lines, organic shapes, and a mix of natural and artificial materials.
Cottage or Farmhouse Aesthetics
With cottage or farmhouse bathroom decor, you can escape to the quiet of the country. This style is all about country charm and natural beauty.
Essential Elements of Vintage Bathroom Décor
From ornate fixtures that remind us of a bygone era to color palettes that make us feel nostalgic, the most important parts of vintage bathroom decor can take us back to a more elegant and refined time.  Whether you like the opulence of the Victorian era or the simplicity of mid-century design, the following elements can help you create places that celebrate the beauty of the past while embracing the comforts of the present.
Vintage-Style Bathtub and Sink
Bathtubs and sinks in a vintage style are important parts of vintage bathroom decor because their classic shapes and detailed details take you back in time right away. Clawfoot bathtubs or pedestal sinks bring back the feeling of old-fashioned luxury and add a touch of grace to the room. Their craftsmanship and design pay homage to times gone by, making them the main points of your bathroom's vintage style.
Retro Tile Designs and Patterns
Retro tile designs and patterns are an important part of retro bathroom decor because they bring a sense of nostalgia and life to the room. Whether they're subway tiles, square patterns, or small mosaics, these tiles come from different design eras and let you capture the style of a certain time. These tiles can be used on walls, floors, or even as ornaments to give a room a charming, old-fashioned look.
Antique Mirrors and Vanity Units
Antique mirrors and vanity units give old bathroom decor an air of sophistication. Mirrors with ornate, gilded frames or frames made of worn-out wood give off an old-world feel, and antique vanity units with detailed carvings and details are both useful and beautiful. These pieces are not only useful, but they also add a feeling of history and refined elegance to the bathroom.
Traditional Lighting Fixtures
Traditional light fixtures are a key part of making a room feel like it's from the past. Chandeliers, sconces, and pendant lights with intricate designs and warm finishes provide ambient lighting that improves the bathroom's general atmosphere. These pieces look like lights from different times, which adds to the real vintage feel of the room.
Vintage-Inspired Faucets and Showerheads
Faucets and showerheads that look like they came from the past are the finishing touches that tie the whole vintage bathroom decor together. Cross-handle taps, shower systems with exposed pipes, and fixtures with a lot of details make people feel nostalgic and real. These pieces are not only useful, but they also add to the general look of the bathroom, making it look more vintage.
Accessories and Accents for Vintage Bathrooms
Accessories and accents are the finishing touches that give a vintage bathroom decor a sense of depth and personality, making it into a place that feels warm and nostalgic. These things are from different times and give the place a sense of history and elegance. Here are some important items and accents that can give your bathroom a vintage feel:
Vintage Artwork and Prints
Vintage bathroom décor includes real artwork and prints. These artworks can be framed and displayed on walls to create focal points that take you back in time and add artistic charm.
Antique or Vintage-Inspired Mirrors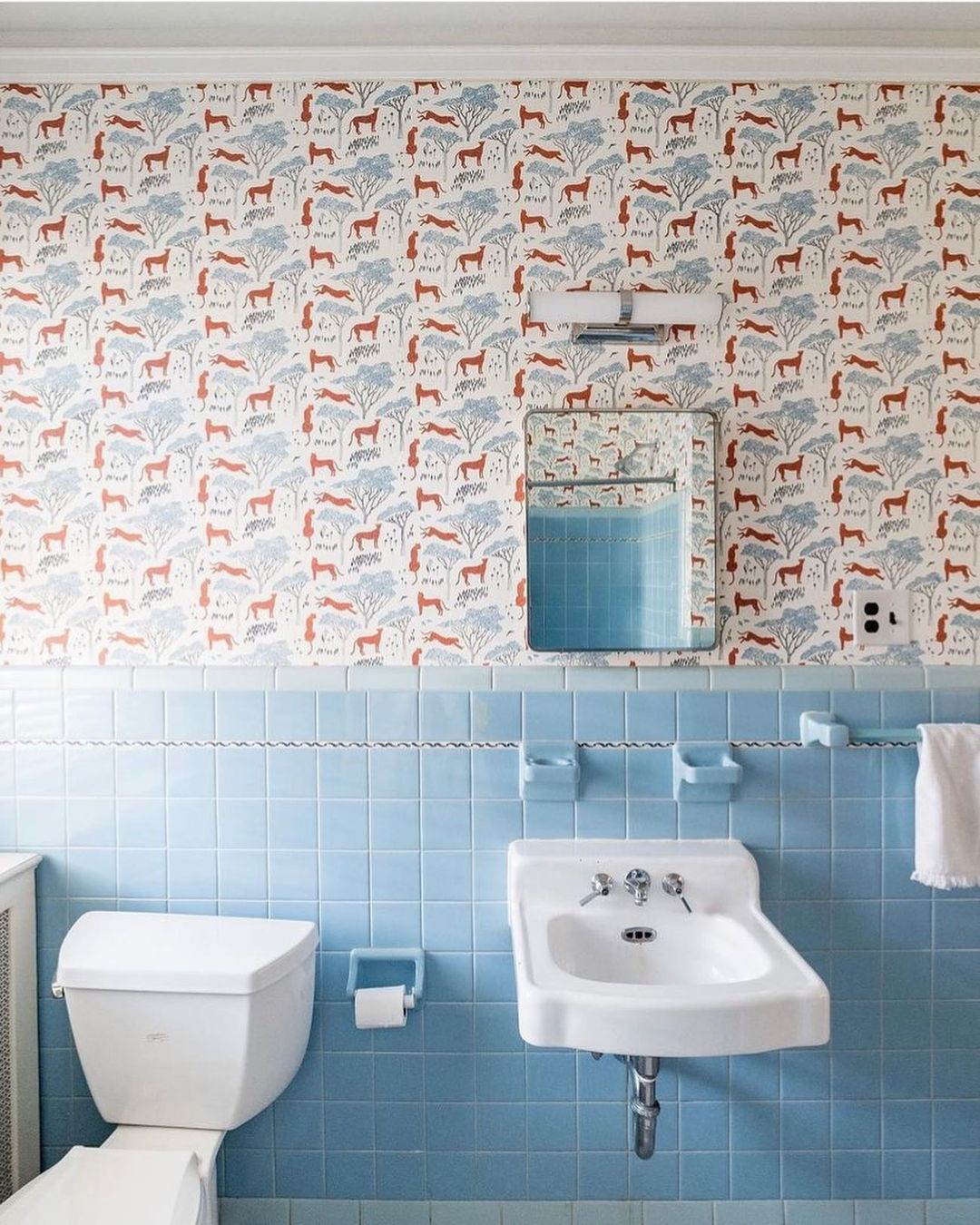 Antique mirrors or vintage-inspired mirrors are exceptional accessories for vintage bathrooms. Place them strategically to add to the old vibe.
Classic Towel Racks and Hooks
They're practical and nostalgic. Choose Victorian or Edwardian-style designs. These towel hooks fit the old decor and are practical.
Vintage-Style Shower Curtains and Bathmats
Vintage-style shower curtains and bathmats tie the bathroom together. Florals, damasks, and geometric motifs evoke the past. These linens can make showers and floors more comfortable and vintage-looking.
Maintenance and Care for Vintage Bathroom Décor
To keep the charming appeal of old bathroom decor, you have to take good care of it. Find out what you need to know and do to make sure your space keeps its charm and beauty over time.
Cleaning and Preserving Antique Fixtures
For antique features to keep their charm, they need to be handled with care. Use gentle, non-abrasive cleaners to gently remove dirt and tarnish without hurting the patina. Use a protection wax to keep them from getting worse and to keep their original shine.
Repairing and Refinishing Vintage Pieces
Restore vintage pieces with care. Repair minor damages using appropriate materials and techniques, ensuring the integrity of the design. Refinish surfaces with paints or stains from the same time period, which will keep them looking original while protecting them from wear.
Preventing Water Damage to Old Materials
Protect old things from water damage by making sure they are properly sealed. Wood and plaster are porous, so you need to put waterproof coats on them. Check the grout and caulking often and fix it if it needs it to stop leaks that could damage old pieces.
Where to Find Vintage Bathroom Décor
The hunt for vintage bathroom décor can be a thrilling treasure hunt, offering one-of-a-kind pieces that give your area a classic and enduring air of sophistication. The following are some potential paths that can be pursued:
Antique Shops and Flea Markets
There is a world of vintage bathroom furniture to be found in antique shops and busy flea markets. You can find old mirrors, porcelain sinks, and fancy features in the charming stalls. Each piece has a story to tell, giving your place a bit of history that makes it unique. With an eye to the past, these places offer one-of-a-kind finds that bring back memories and show off the skill of times gone by.
Online Vintage Marketplaces
Take advantage of how easy it is to buy and sell antique items on sites like Etsy and eBay. With just a few clicks, you can look at a wide range of vintage bathroom decor, from antique tubs to delicate tiles. With detailed statements and pictures, you can make an informed choice, and seller reviews make sure you can trust them. The online world links you to sellers all over the world, making it a treasure trove for people looking for unique and original pieces to add timeless charm to their bathrooms.
Specialty Home Decor Stores
Visit specialty stores for home decor that focus on vintage beauty. These havens have carefully chosen bathroom decorations that make you feel like you've stepped back in time. The shelves are filled with delicate porcelain, elegant mirrors, and cute items that will appeal to fans of real vintage style. The staff's knowledge makes shopping more fun and helps you find classic pieces that blend the past and the present well.
Conclusion
In this blog, we have talked about antique pieces, old-style tiles, and classic items when talking about vintage bathroom decor. You can make your bathroom look like it's from the past by putting up old art and keeping old things.
Mixing history and style to make a charming old-fashioned bathroom is like putting the two together. Keep old things safe, give them your own touch, and make them remind you of good times. By putting together things from the past and the present, you can make a unique bathroom that feels both old and new.