Color is one of the most important parts of creating the perfect bathroom because it sets the mood and tone. There are a lot of colors to choose from, but navy blue stands out as a classic and useful one. It can add class, style, and a touch of coastal charm to any room. You have come to the right place if you want to turn your bathroom into a stylish and creative haven.
With its rich and beautiful color, navy blue can be used for a lot of different kinds of designs. Navy blue can be the right color for the background of any bathroom, whether you want it to look traditional, modern, or eclectic. This blog post will show you a variety of creative navy blue bathroom design ideas, from the traditional to the cutting edge.
Get ready to be captivated by the magic of navy blue. It's time to immerse yourself in the deep and dreamy world of creative navy blue bathroom design ideas. Whether you're planning a full-scale renovation or a simple update, this blog will be your source of inspiration and guidance. So, let's begin this journey and turn your bathroom into a work of art!
19 Navy Blue Bathroom Ideas You'll Like
With its deep and rich tones, navy blue has an air of grandeur that never goes out of style. The color navy blue can easily fit into any bathroom design style, whether it's traditional, modern, or experimental. This color never goes out of style, so people who like the better things in life will always choose it.
Let's take a look at navy blue bathrooms. This blog has many ideas to help you make your bathroom a place of beauty, functionality, and peace, whether you're planning a big renovation or a simple makeover. Come with me on this artistic journey to make your bathroom a place that really shows off your style and personality.
Modern Navy Minimalism
Achieve a sleek and modern look by incorporating navy blue into your bathroom design. Opt for navy blue cabinetry or vanity units paired with grey marble countertops for a clean, elegant aesthetic. Add minimalist fixtures, such as sleek faucets and simple, unadorned mirrors, to complete the contemporary look. This design creates a sense of luxury and sophistication with a touch of minimalism, perfect for those who appreciate simplicity and functionality.
Rainbow Splash in Navy Blue
For those who crave a burst of color and energy in their bathroom, consider a rainbow-themed design with navy blue as the grounding element.
This design concept is perfect for adding a playful and lively atmosphere to your bathroom. It allows you to express your personality through a diverse array of colors while keeping the calming influence of navy blue as a constant. Whether you're aiming for a kid-friendly bathroom or simply want to infuse your mornings with a dose of cheerfulness, the rainbow with navy blue design provides a unique and captivating look.
Farmhouse Navy Blue Retreat
Create a cozy and inviting bathroom with a farmhouse touch by incorporating navy blue into the design. Start by using shiplap or beadboard wainscoting on the walls, painted in a crisp white. Then, apply a rich navy blue paint to the other part of the bathroom. This combination adds depth and texture to the room while maintaining a fresh, airy feel.
The farmhouse navy blue bathroom offers a perfect balance of sophistication and rustic charm, creating a welcoming and comfortable space for your daily routine.
Rustic Navy Retreat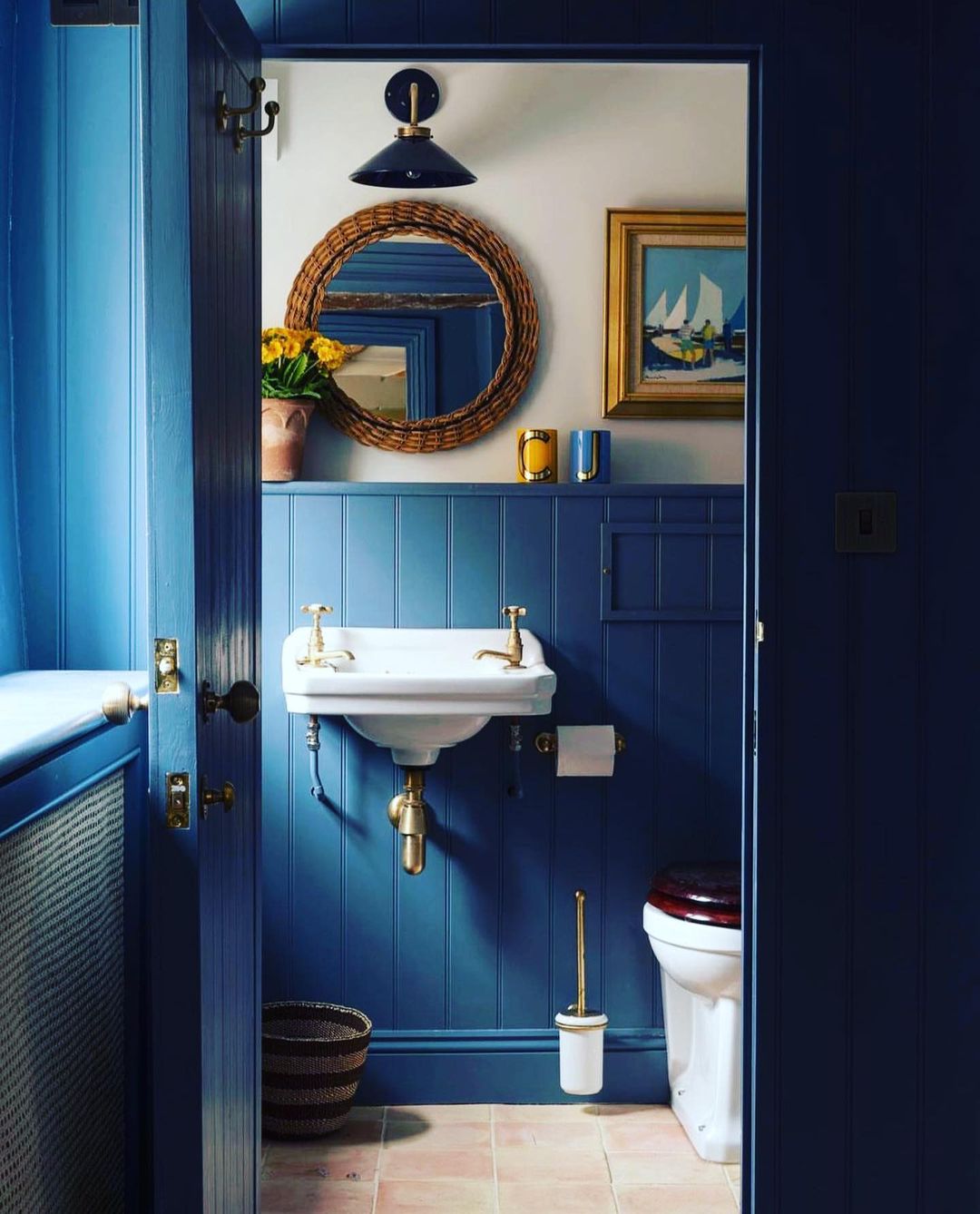 Create a rustic and cozy atmosphere in your bathroom by combining navy blue with wood accents. Incorporate vanities, open shelving, and a distressed wood-framed mirror. The navy blue backdrop adds a touch of modernity to the rustic elements, making for a warm and inviting space.
Navy Blue Accent Wall
For those who want to make a bold statement with navy blue while maintaining a sense of balance, consider an accent wall. Choose one wall in the bathroom to be painted in deep navy blue, while keeping the other walls in lighter shades like white or soft gray. This design technique creates a striking focal point that draws the eye and adds depth to the space, all while preventing the room from feeling too overwhelming with color.
Navy Blue and Subway Tiles
Achieve a timeless and versatile look with navy blue subway tiles with light metal framed mirrors. This classic combination brings a sense of sophistication to the bathroom. Add chrome fixtures and flower accents for a touch of contrast, making the design both fresh and enduring.
Timeless Navy and White Harmony
Achieve a serene and elegant bathroom with a navy and white color palette. Start with white walls and trim to create a clean and bright backdrop. Incorporate navy blue in a variety of ways to add depth and contrast. For instance, choose navy blue accent tile wall or vanity units as a focal point.
Navy Blue and Subway Tiles Elegance
For a timeless and sophisticated bathroom design, consider the combination of navy blue and subway tiles. Start by using classic white subway tiles for the walls, particularly in the shower or as a wainscotting around the room. These tiles create a clean and timeless backdrop, adding a touch of traditional charm to the space.
Navy and Airy White Tranquility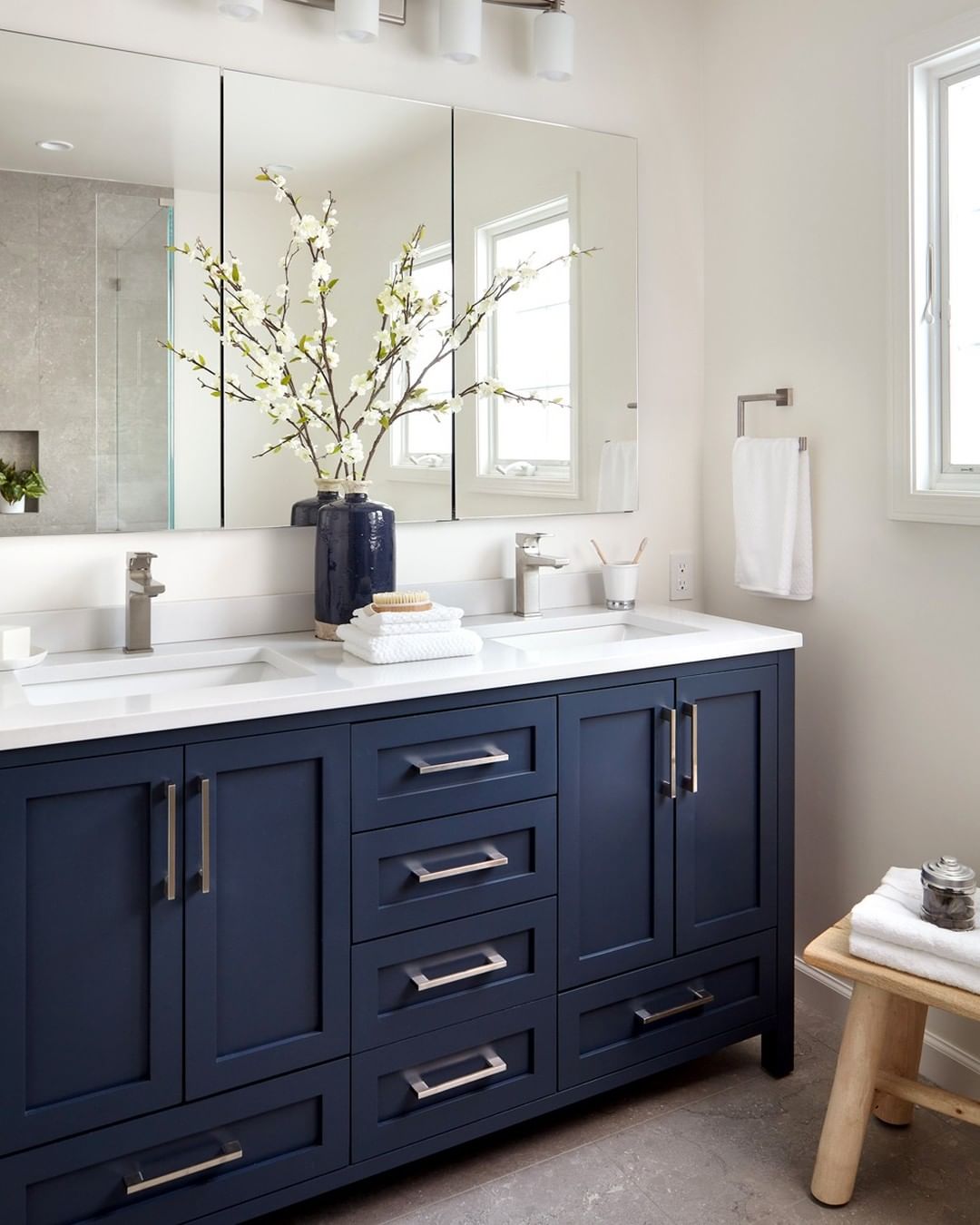 Create a bathroom that's both calming and invigorating by blending the deep allure of navy blue with the freshness of airy white. Paint the majority of the bathroom in a bright white to maximize the feeling of space and light. This will also serve as a clean canvas for your navy blue elements.
This design choice is perfect for those who appreciate a sense of tranquility and modern elegance in their bathroom space.
Navy Blue Coastal Retreat
Transform your bathroom into a coastal retreat with this nautical-inspired design. Adorn the vanity with a soothing navy blue paint that emulates the deep sea. Complement this base with anchor towel, rudder fixtures, and boltrope framed mirror . The result is a bathroom that evokes the tranquil feeling of a day at the beach, where the refreshing ocean breeze and the sound of the waves come to life within your own space.
Navy Blue Cabinets and Luxury Mirror
Enjoy elegance and style in your bathroom with navy blue cabinets and a large mirror. Choose navy blue cabinetry or vanity units as the room's center feature. Deep blue gives depth and richness to the area.
Install a huge, frameless mirror across the vanity area to accentuate the look. This enormous mirror makes the area feel open and brighter by reflecting light. It adds style and functionality with a sleek, modern design.
Navy Blue and White Elegance
Create a timeless, elegant bathroom by pairing navy blue with crisp white. Add a touch of warmth with wooden framed mirror or a vanity. This combination exudes sophistication and complements various design styles, from traditional to coastal.
Charcoal Navy and Gold Accents
For a bathroom with a touch of drama and opulence, opt for a combination of charcoal navy and gold accents. Incorporate decorative elements such as gold-framed mirrors and elegant light fixtures. This design creates a rich, moody ambiance that's perfect for a sophisticated, high-end look.
Navy Blue and Weathered Wood
Create a cozy and inviting bathroom with a rustic charm by pairing navy blue with weathered wood. Paint your walls in a deep navy shade and incorporate wooden elements like a weathered wood vanity, open shelving or wooden light. Add texture with natural fiber towels and wicker baskets.
Navy Blue and Stainless Steel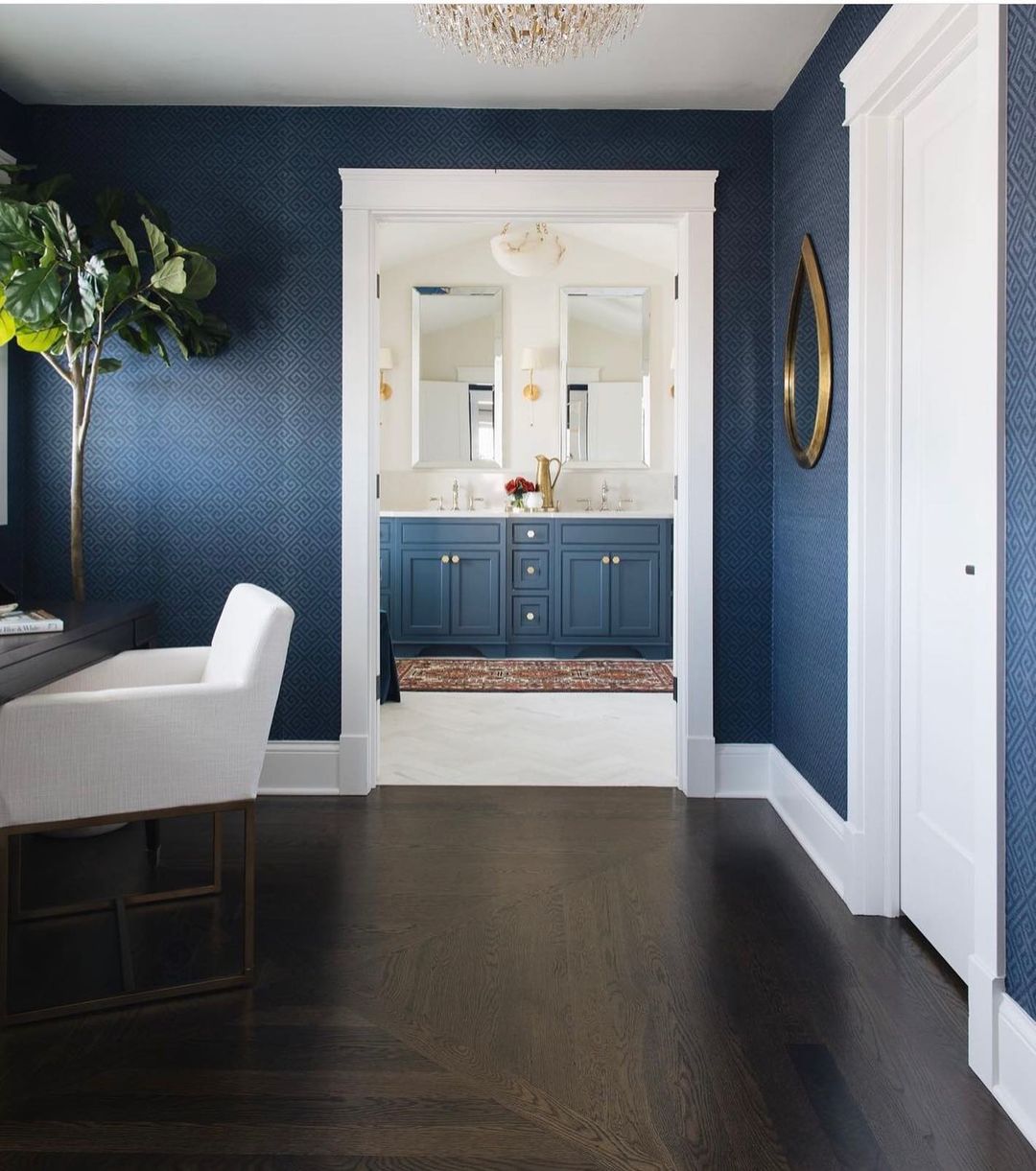 Create a sleek and modern maritime-inspired bathroom by combining navy blue with stainless steel accents. Paint your walls in navy blue and incorporate stainless steel fixtures like faucets, showerheads, and towel bars. Use stainless steel-framed mirrors and add maritime-themed decor, such as ship wheels or nautical maps.
Navy Blue and Gilded Glamour
Evoke opulence and timeless elegance by pairing navy blue with gilded gold accents in your bathroom. Start by painting the tub in a rich, deep navy blue that exudes sophistication. Then, bring in the allure of gold with fixtures, hardware, and accessories. Opt for gold faucets, drawer pulls, and towel bars to create a luxurious contrast against the navy backdrop.
Navy Blue Tropical Wallpaper
Bring the beauty of the outdoors into your bathroom with blue forest wallpaper. This design creates a bathroom that feels like a tranquil retreat in the heart of the forest, perfect for nature lovers and those seeking relaxation in a natural setting.
Navy Blue and Natural Stone
Bring the natural beauty of the outdoors inside by combining navy blue with natural stone elements. This bathroom style exudes a soothing and organic ambiance, perfect for relaxation.
Vintage Navy Floral Wallpaper
Bring a touch of vintage charm to your bathroom by adorning the walls with blue floral wallpaper. Select a wallpaper with a classic floral pattern featuring shades of blue and white. This design pairs well with vintage-inspired fixtures and decor.
Conclusion
Incorporating navy blue into bathroom design offers a diverse range of possibilities, from classic elegance to modern minimalism and even bohemian charm. Whether paired with gold accents, rustic wood, or striking wallpapers, navy blue brings a sense of sophistication and versatility that can transform any bathroom into a stylish and personalized sanctuary.