Do you wish to have contemporary elegance and timeless sophistication in your bathroom design? Are you looking for a serene sanctuary that is both stylish and elegant?
Incorporating modern beige bathroom ideas is the best way to create that calm and serene atmosphere in your bathroom. 
Designers typically consider the color beige as a canvas on which different design elements can be incorporated. Whether you want to provide a minimalistic look or an opulent oasis, it is possible by including beige in modern bathroom design. 
Modern beige bathroom ideas for that ultimate look
Believe it or not, beige is a beautiful color for bathroom decor. But too much beige can make the bathroom look dull as it is a neutral color. Thus, striking the right balance between beige and other design elements is very important to provide a sophisticated look to the bathroom.  
Here are a few interesting ways you can incorporate beige without making the bathroom look dull. 
1. Team up with marble
Are you looking for a refined look in your bathroom? Then, teaming up marble and beige shade is a perfect option. If marble is expensive, you can use ceramic or porcelain along with beige shades. 
A marble sink and countertop against a beige-colored wall provide a stunning look. Similarly, bathtubs in marble finish with beige-colored tiles also provide an elegant look to the bathroom. The refined look of marble and the subtle shade of beige helps create a cozy feel in the bathroom.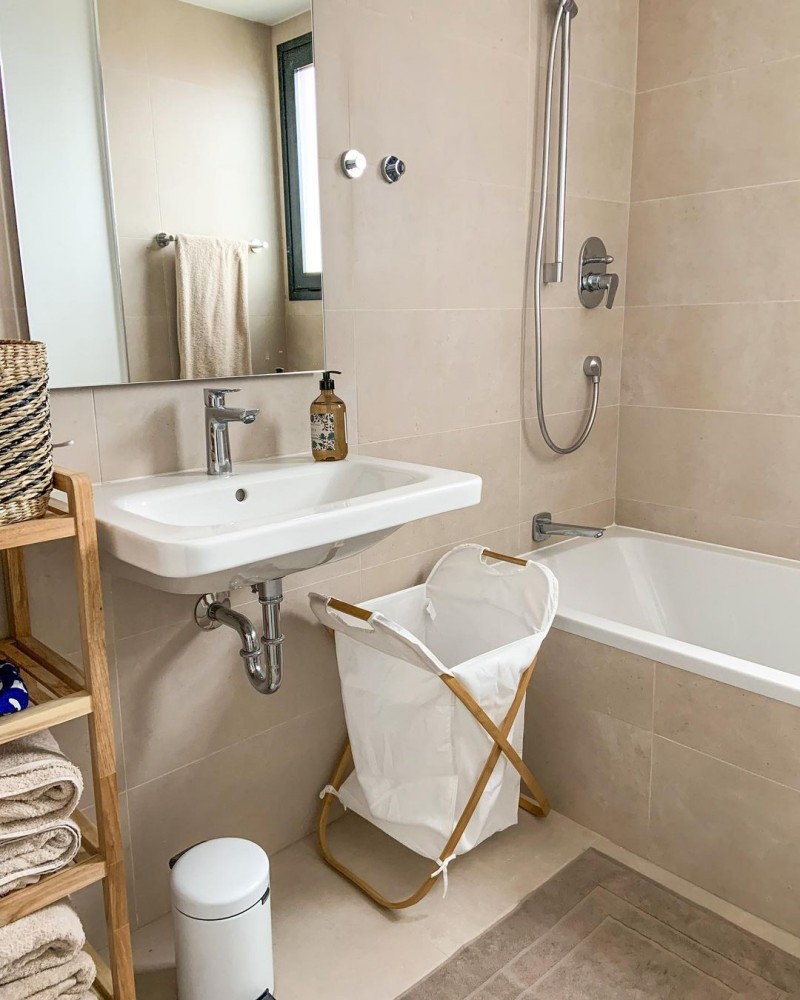 2. Incorporate greenery
Do you enjoy having nature indoors? Incorporating greenery in the form of indoor plants is another way to pep up a modern beige bathroom. 
Besides adding a dash of color, indoor plants offer several other advantages. Indoor plants in the bathroom can absorb moisture and act as a natural dehumidifier. It also helps purify the indoor air and keep it fresh. 
You can place a large plant like Devil's Eye on the corner of the bathroom or small plants like a snake plant on the sink countertop. Alternatively, you can hang plants like ivy from the vanity for that ultimate look. 
3. Use wood to mix shades of beige
Beige is no more a shade of brown. Different shades of beige are now available in the market to transform the look of your interiors. 
Are you planning to use shades of beige in your bathroom? Then, it is a good idea to incorporate wood into the decor. However, you should pay attention to the undertone and finish of the wood to get a sophisticated look. 
You can use wood as a bathtub frame, floating vanity, or on the sides of the window. Placing a freestanding bathtub on a wooden platform is another exciting way to incorporate wood into the decor.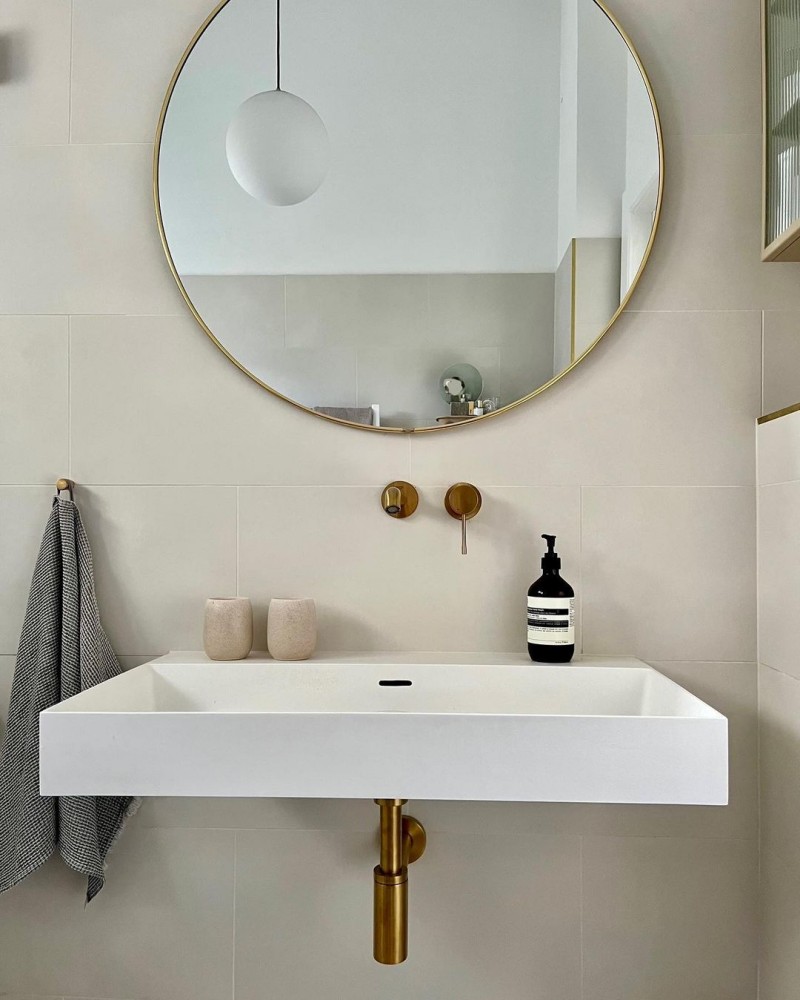 4. Add decor panels
Plain beige tiles on the wall can sometimes look monotonous. Try to break the monotony and create a focal point by incorporating decor panels. 
You can go for a mosaic panel of the same shade but with a different pattern. This is particularly so for shower areas where the wall space is more. You can use the same panels in other areas of the bathroom, like the vanity unit. This helps tie together the design elements and provide an elegant look to the bathroom. 
5. Use wallpapers to beautify the wall
Can patterns and prints break the monotony of beige decor? The answer is yes. The best way to incorporate patterns and prints is through wallpapers.
If you have a freestanding bathtub, you can stick the wallpaper on the side wall. Or if you have a vacant wall when you walk into the bathroom, you can stick the paper on that wall. 
The design and pattern of the wallpaper is purely a personal choice. If you have any colored decor pieces in the bathroom, it would be a good idea to match the wallpaper with the color of the decor element.
6. Introduce patterned blinds
Does your bathroom have less scope to introduce wallpapers? Do not worry, as blinds are another great option. 
If you have windows in the bathroom, you can go for patterned blinds as a cover. This provides much-needed privacy and acts as a design element. But you should ensure that the blind selected matches the subtle hue of beige shade.  
7. Go for beige bathroom fixtures
How about having beige bathroom fixtures instead of plain white or black? Well, it can be interesting, provided you team it up with elegant shades like gray and white. 
You can pick up bathroom fixtures in a beige shade or go for bathroom accessories in this subtle hue. Beige fixtures help create a contemporary look without compromising on the style factor. 
8. Install warm lighting
Beige is a cozy color. The primary purpose of using beige in a bathroom is to provide a warm and comfortable setting. To complement this, you should go for warm lighting in the corner of the bathroom. This also adds to the overall ambiance of the bathroom. 
In addition to this, you can also go for task lighting for grooming purposes.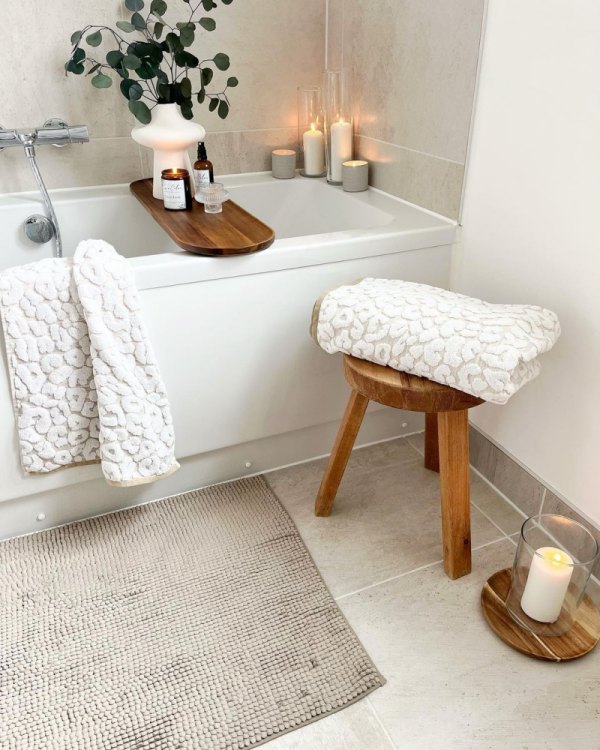 Conclusion
By now, you would have realized that beige is a subtle yet versatile shade with endless design possibilities. From a minimalist look to a warm and inviting feel, beige can make any bathroom look sophisticated. You can achieve the ultimate look in your bathroom by incorporating beige with contemporary design elements and materials. 
However, personalization is the key when designing your bathroom. If you have a green thumb and want to bring in nature, you can opt for indoor plants like ivy and snake plants. For a pop of color, you can go for bright decor elements along with the beige-colored wall. Through careful planning, you can make your beige bathroom a stylish yet functional space. 
FAQ
What color goes with beige in a bathroom?
This question has no definite answer as it depends on your personal choice. If you want a minimalistic look and keep a neutral color palette, you should go for shades like brown and grey. On the other hand, if you want a pop of color, you can go for bold shades like blue, green, and orange.    
How do you modernize a beige bathroom?
The best way to modernize a beige bathroom is by going for decor panels in the same shade. You can also add a pop of color in the form of accessories or use wallpaper. Using modern lighting is another way to add a modern touch to a beige bathroom. 
What color looks best with beige tiles?
The white color looks best with beige tiles. White provides a crisp and clean look and blends in well with the subtle shade of beige. It provides a spa-like look in the bathroom. 
Is beige a good wall color for modern bathrooms?
Yes, beige is a good wall color for modern bathrooms as it is versatile. Being a warm color it blends in well with all other colors, whether bold or pastel shade.  
What colors brighten a beige bathroom?
Beige and gold are an excellent combination to provide a classic look to the bathroom. To give a touch of nature, beige, and lime green or beige and teal make good combinations. If you want to create a bold style statement, beige and blue are the perfect choice.