Today's mirrors are made to take your space to a whole new level. Modern bathroom mirrors are changing the way we go about our daily lives with their sleek designs, new features, and cutting-edge technology.
These mirrors are more than just a way to look at yourself. They are a statement piece that turns your bathroom into a place of beauty. The options are endless, from built-in LED lighting that creates a relaxing atmosphere to smart mirrors that connect to your devices. Modern bathroom mirrors come in a wide range of shapes, sizes, and finishes to fit your personal style, whether you want a simple design or a bold, eye-catching focus point.
Now it's time to choose the one that fits your style and makes your daily life easier. Get ready to enjoy the beauty and usefulness of these beautiful mirrors, and enjoy the new charm they add to your bathroom.
Modern Bathroom Mirrors Ideas
Modern bathroom mirror ideas that are both stylish and useful can help you make your bathroom look brand new. From simple, sleek designs to sparkling mirrors with LED lights built in, these ideas change the way we think about how mirrors should look.
Explore different shapes, like frameless mirrors for a light, airy look or vintage-inspired mirrors for a touch of beauty that won't go out of style. Adjustable lights, smart technology, and places to put things are useful and easy to use. Whether you want a frame that makes a statement or a touchless mirror with cutting-edge features, these modern bathroom mirror ideas will give you a lot of ways to make your bathroom a beautiful and sophisticated place to relax.
1.Vintage Inspired Bathroom Mirror
Find contemporary mirrors for your bathroom that have been designed in a style that is reminiscent of bygone eras. These mirrors give your bathroom a feeling of yesteryear while also adding a touch of classic beauty, thanks to their elaborate frames and worn finishes.
2.Illuminated LED Mirror
Explore a selection of contemporary bathroom mirrors that have LED lights built right in. These mirrors provide not just practical illumination but also a dash of elegance. These mirrors offer the ideal lighting solution for your daily grooming routines, whether you choose a gentle ambient lighting or one that allows you to control the level of brightness.
3.Unique Shapes & Designs Bathroom Mirror
Your bathroom will look like it was designed by an artist when you decorate it with contemporary mirrors that have unusual contours and patterns. These mirrors transform into dramatic focal points that elevate the overall look of your home. They feature distinctive geometric patterns and eye-catching asymmetrical frames, respectively.
4.Statement-Making Frames Mirror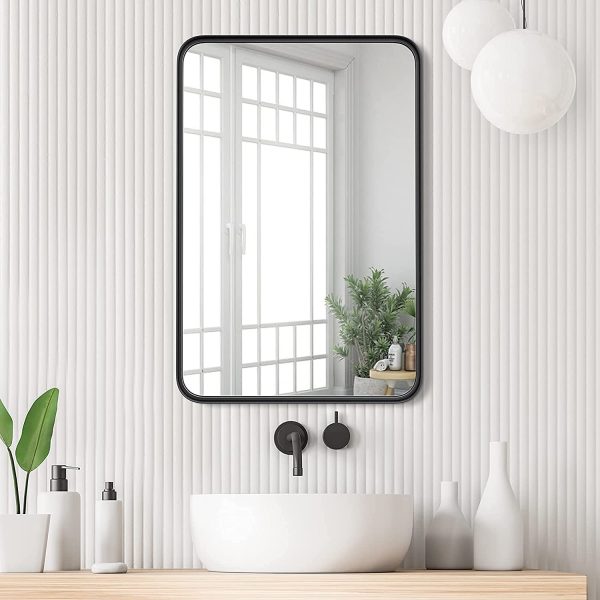 You can take the decor of your bathroom to the next level by installing contemporary mirrors that have frames that make a statement. These mirrors become works of art because to their sleek metal frames, elaborate designs, and beautiful patterns. They are sure to draw attention to your space while also imparting a sense of personality into the design.
5.Adjustable Magnification Bathroom Mirror
You can attain precision and accuracy by using contemporary bathroom mirrors that come with a magnification level that can be adjusted. These mirrors can be adjusted to meet your particular requirements, whether you need a more detailed view for certain chores or a more general perspective for general grooming.
6.Geometric Statement Framed Mirrors
Make a bold statement with modern bathroom mirrors featuring geometric shapes and patterns. From hexagons to circles to intricate geometric frames, these mirrors bring a contemporary and artistic touch to your bathroom decor.
7.Sleek & Minimalist Mirrors
Discover a range of contemporary bathroom mirrors that embrace clean lines and minimalist designs, thereby giving a touch of simplicity and elegance to your space. These mirrors can be found in a collection that can be found here. These mirrors are able to simply mix with any design style, resulting in an environment that is sleek and sophisticated.
8.Wood Framed Mirror
Introduce warmth and natural beauty to your bathroom with the timeless appeal of wood-framed mirrors. These mirrors blend seamlessly with various decor styles, adding a touch of organic elegance to your space. The wooden frames bring a sense of warmth, texture, and depth, creating a cozy and inviting atmosphere. Whether you prefer a rustic, farmhouse-inspired look or a sleek, modern aesthetic, wood-framed mirrors offer versatility and charm.
9.Gold Framed Mirrors
The classic appeal of mirrors with gold frames can bring out the beauty and sophistication of any bathroom. A touch of luxury may be brought into any room with the help of these mirrors, which give off an air of refined luxury and elegance. The gold frames lend your bathroom a stately and elegant air, which contributes to an overall improvement in the atmosphere within.
10.Black Framed Mirror
A black-framed mirror will add a touch of modern elegance to your bathroom. The bold difference between the black frame and the shiny surface makes a strong visual statement. This modern design choice gives any bathroom a feeling of sleekness and grace. Black-framed mirrors can have either a simple rectangular frame or a more ornate and detailed design to fit your style.
11.Bathroom Mirrors with Bluetooth Connectivity
Modern bathroom mirrors that are integrated with Bluetooth connectivity provide users with an experience that is fully immersive. You may wirelessly connect your devices to the speakers that are embedded into the mirror, giving you the ability to listen to your preferred music, podcasts, or audiobooks while you get ready in the morning.
12.White Framed Farmhouse Style Modern Mirror
Bring a touch of rustic charm to your bathroom with a white framed farmhouse-style modern mirror. This combination of farmhouse aesthetics with a sleek white frame creates a unique and inviting look. The white frame adds a clean and fresh touch, while the farmhouse-inspired design elements provide a cozy and nostalgic feel. Whether you prefer a distressed or a more polished finish, the white frame beautifully complements a range of bathroom decor styles