Remember the golden days of design in the 1950s and 1960s? That's the soul of the Mid-century modern bathroom.
So, whether you're dreaming of a remodel or designing a new space, let's transport you back in time while keeping one foot firmly in the present! But let's first tackle the roots of Mid-Century Modern Design.
Roots of Mid-Century Modern Design
The design we adore today originated in a post-war era when an aesthetic appeal was desired, but functionality was prioritized. Maurice Greenberg first used the phrase "mid-century modern" in the 1950s to refer to a post-World War II architectural, interior, industrial, and graphic design style.
Post-War Simplicity Meets Style
With the world transitioning from war, there was a move towards designs that embraced simplicity and easy manufacturing while not compromising on beauty.
Influences and Inspirations
This design movement, although American in its popularization, borrowed heavily from the Bauhaus movement and Scandinavian designs, making it a beautiful combination of international influences.
Now that you already have a brief idea about the origin of this style, let's dive into 20 beautiful mid-century modern makeover ideas for your bathroom.
20 Mid-Century Modern Bathroom Ideas
1. Vintage Vanities
Choosing a mid-century modern bathroom vanity is a game-changer. Wooden vanities, with their rich grains, especially those in teak or walnut, capture authenticity. Opting for a floating design makes the space appear larger. Pair this with a signature Mid-Century Modern Bathroom mirror, and you're already on track.
2. Terrific Tiles
Tiles define the era's aesthetic. Experiment with mid-century modern bathroom tiles like hexagons, scallops, or penny designs. Geometric patterns on wall tiles and perhaps a terrazzo or fish scale design on the floor can create texture and color vibrancy. This ensures a perfect blending of retro and chic.
3. Luminous Lighting
Lighting in the mid-century era was functional and artistic. Choosing mid-century modern bathroom lighting, like globe wall sconces or saucer pendants, can help create that nostalgic ambiance. Don't forget to include unique light fixtures that not only illuminate but elevate the space's overall aesthetics.
4. Faucet Fixations
Incorporate sleek, angular faucets, ideally in chrome, brass, or gold, to make an undeniable mid-century statement. A mid-century modern bathroom faucet isn't just about utility; it's a blend of design and function, making handwashing a trip back in time.
5. Signature Sconce
Lighting isn't limited to the ceiling. Sconces, especially those with globe designs, placed near mirrors not only light up the vanity area but also add layers to the bathroom's lighting scheme. Consider a Mid-Century Modern Bathroom sconce in brass or matte finishes for that added touch of elegance.
6. Accessorize aesthetically
It's all in the details. A ceramic soap dispenser, a teakwood tray, or even some mid-century modern bathroom art can make a world of difference. These accessories might seem small, but they paint a larger picture of the era.
7. Statement Showers
Gone are the days of plain showers. Opt for a mid-century modern bathroom shower with frameless designs, clear glass, and bold-patterned tiles. Consider adding features like brass fixtures or a terrazzo bench inside for a unique touch.
8. Color Chronicles
The mid-century design saw a beautiful balance of muted earthy tones and vibrant splashes. Integrate color schemes like olive greens with sunny yellows or powdery blues with stark whites for an inviting aura.
Photo by Max Rahubovskiy
9. Extend the Essence
The mid-century charm needn't be restricted to the bathroom. Let the design spill into other spaces, be it a mid-century modern bedroom with teak furniture or a kitchen with geometric backsplash tiles.
10. Harmonious Hardware
Every piece of hardware, from drawer pulls to towel holders, should resonate with mid-century charm. Opt for finishes like brass, chrome, or even matte black for a modern twist.
11. Bathtub Bliss
A bathtub, especially a standalone one with gentle curves, can serve as the bathroom's centerpiece. Surround it with geometric tiles and perhaps a couple of potted plants for an oasis-like feel.
12. Terrazzo Touches
This composite material adds a dash of luxury and vintage charm. Introducing terrazzo countertops or even a feature wall can be a nod to the past while ensuring durability.
13. Wallpaper Wonders
Opt for wallpapers with geometric or organic patterns, which can either adorn a feature wall or the entire space, to envelop the bathroom in the era's aesthetic.
14. Sleek Storage
Storage from this era combines functionality with aesthetics. Think wooden cabinets with slender legs, floating shelves, and even in-built niches in the shower for products.
15. Textured Touchpoints
For partitions or shower enclosures, consider textured glass. It provides an element of intrigue and privacy while maintaining the bathroom's open feel.
16. Open Shelving
The mid-century design embraced openness. Wooden shelves, possibly in walnut, are perfect for displaying decorative items or even essentials like plush towels.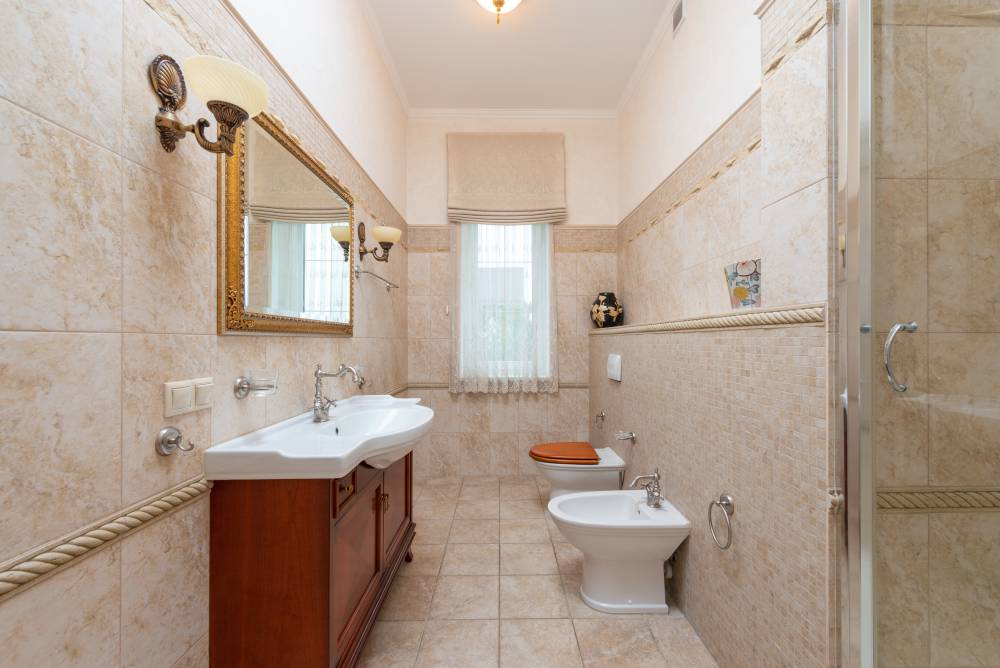 17. Artful Accents
Choose art pieces that encapsulate the era, perhaps an abstract piece in pastel tones or a print that mirrors the geometric obsession of the times.
18. Refined Rugs
Plush rugs, especially in geometric patterns or soft colors, not only offer warmth underfoot but also stitch together the design elements in the bathroom.
19. Mix and Match
Pure mid-century is a style, but your bathroom is a personal space. Blend foundational elements like geometric tiles with a few post-modern or Scandinavian touches for a unique aesthetic.
20. Gorgeous Green
Plants have a way of refreshing any space. Whether it's a tall snake plant in a corner or hanging golden pothos near the window, the splash of green complements the wooden accents, rounding off the design.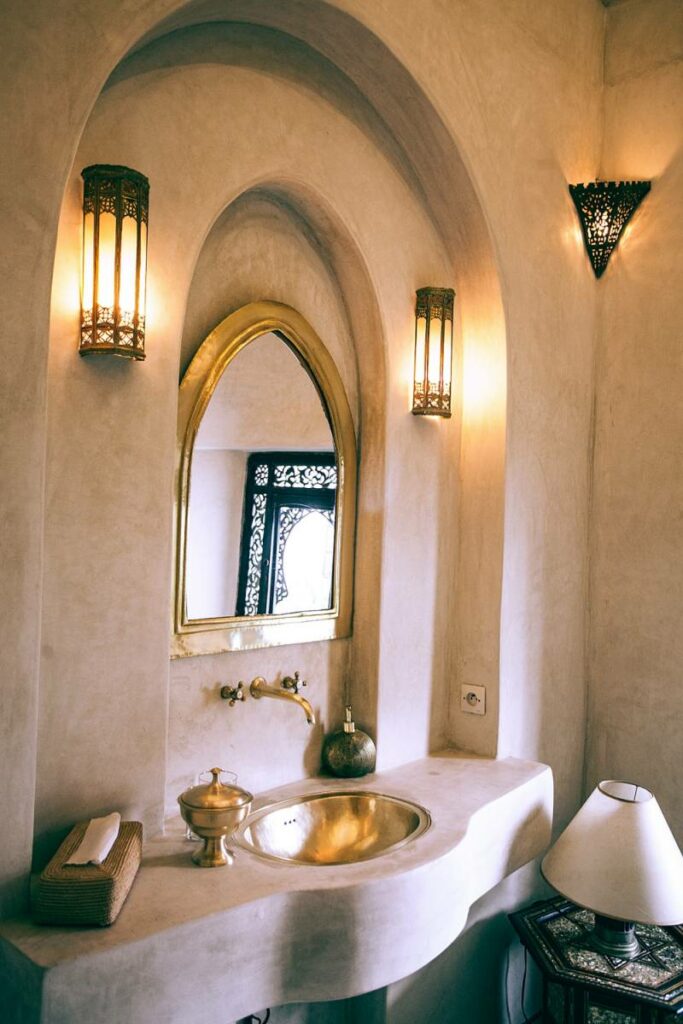 Decoding the Mid-Century Palette
From neutral shades to vibrant splashes, the color journey in Mid-century modern design is worth exploring. Ensure your choices balance nostalgia with contemporary tastes.
Image from Wikimedia Commons
Frequently Asked Questions (FAQs)
What's the allure of mid-century modern design?
It captures an era's essence, blending past charm with modern functionality.
How do you strike a balance between mid-century and current designs?
Incorporate foundational mid-century elements but pepper in modern amenities and technology for a seamless blend.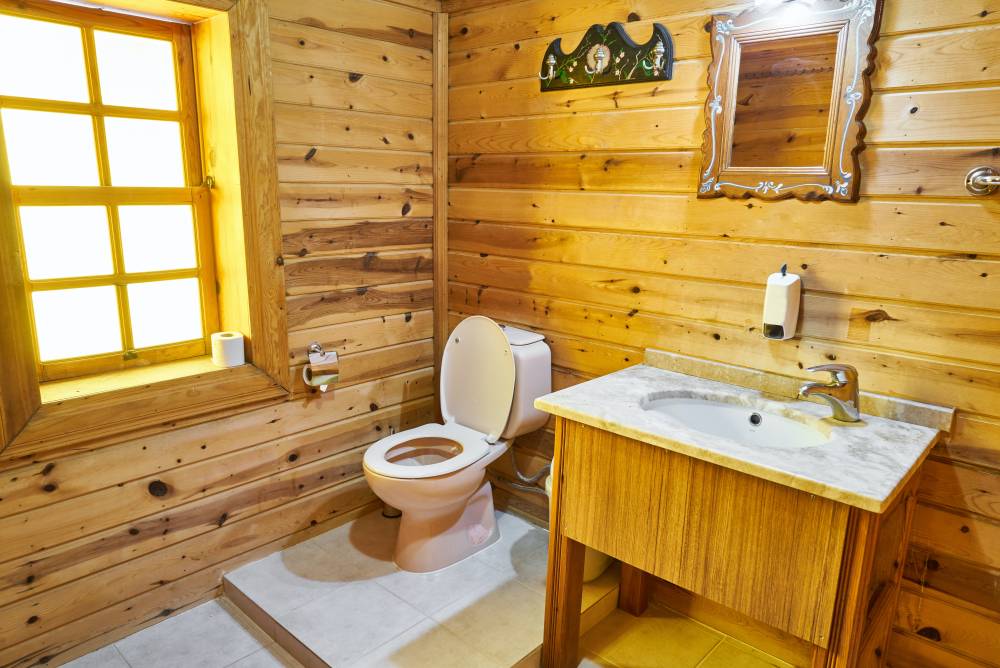 Why choose this style for bathrooms specifically?
The style's inherent focus on functionality, blended with aesthetics, makes it perfect for spaces like bathrooms that prioritize utility.
How is this design environmentally conscious?
The use of natural materials and emphasis on natural lighting make it sustainable at its core.
Can this design cater to compact spaces?
Absolutely! Its focus on maximizing utility makes it perfect for smaller spaces, ensuring every inch counts.
Conclusion
Embracing the mid-century modern style for your bathroom is about celebrating an era, its design innovations, and its timeless charm. Each tile, color choice, and fixture weaves a tale from a bygone era.
Ready to make history in your home? Dive into this transformative design journey, and remember, our specialized design services are always here to help. Embark, design, and revel!