A Mediterranean-inspired bathroom design is often characterized by the presence of terracotta, olive wood, marble, vibrant hues, and summery decors. As a result of the warm, calming, yet uplifting look, many homeowners fall in love with this bathroom style.
So, are you one of those who are looking for tips and references for applying the Mediterranean style in a bathroom? If so, read on to learn some of the best ways to do so.
Earthy Color Palette
Earthy color palettes have been proven to be some of the most adaptable color options homeowners can use, and they can also be very beneficial when it comes to Mediterranean-style bathrooms. They exude a gentle warm ambiance in a room, making them great for relaxation.
Sandy Beige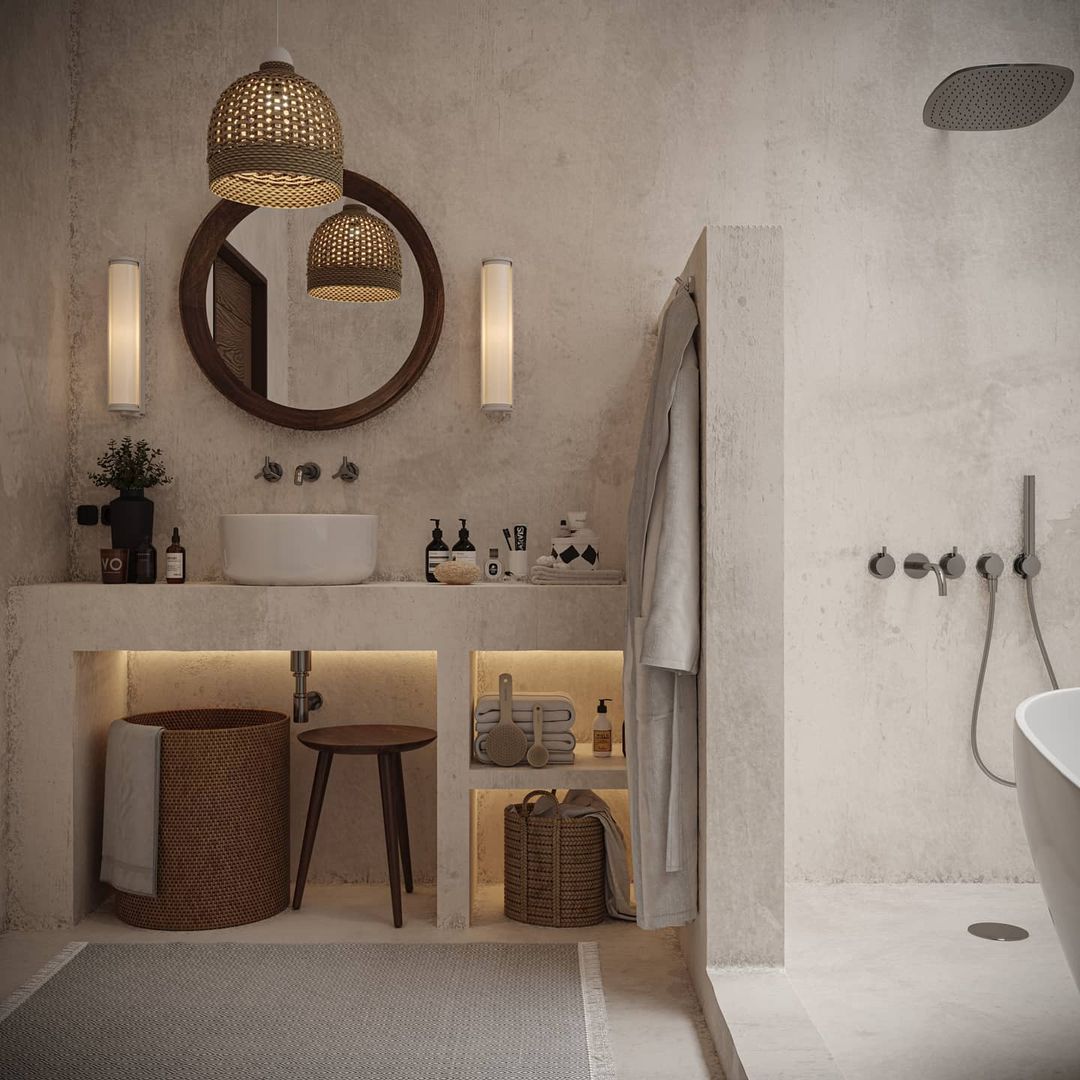 Beige is the color that works best to create a warm, cozy environment. Thus, you can choose to incorporate sandy beige or cream tones to decorate your bathroom walls, sinks, or even bathtub. It pairs beautifully with white furniture, providing you with the ultimate Mediterranean atmosphere.
Besides making the room appear brighter, beige can also be a very forgiving color. Thankfully, it is not hard to find wall paints and furniture pieces in this color. If you want to go this way, it should be easy for you to have the Mediterranean bathroom of your dreams without making too many modifications.
Terracotta
It is easy to notice how timeless and classic this color option is, making it a go-to color for those looking for minimalist and vintage aesthetics. You will immediately get a clean and tranquil look if you choose the terracotta style.
Yes, it can be a bit challenging to find the right shade for your bathroom. But, the good news is that you can feature traditional terracotta tiles in your countertops, sink tops, cabinets, and many other areas of the shower room.
Soft Blues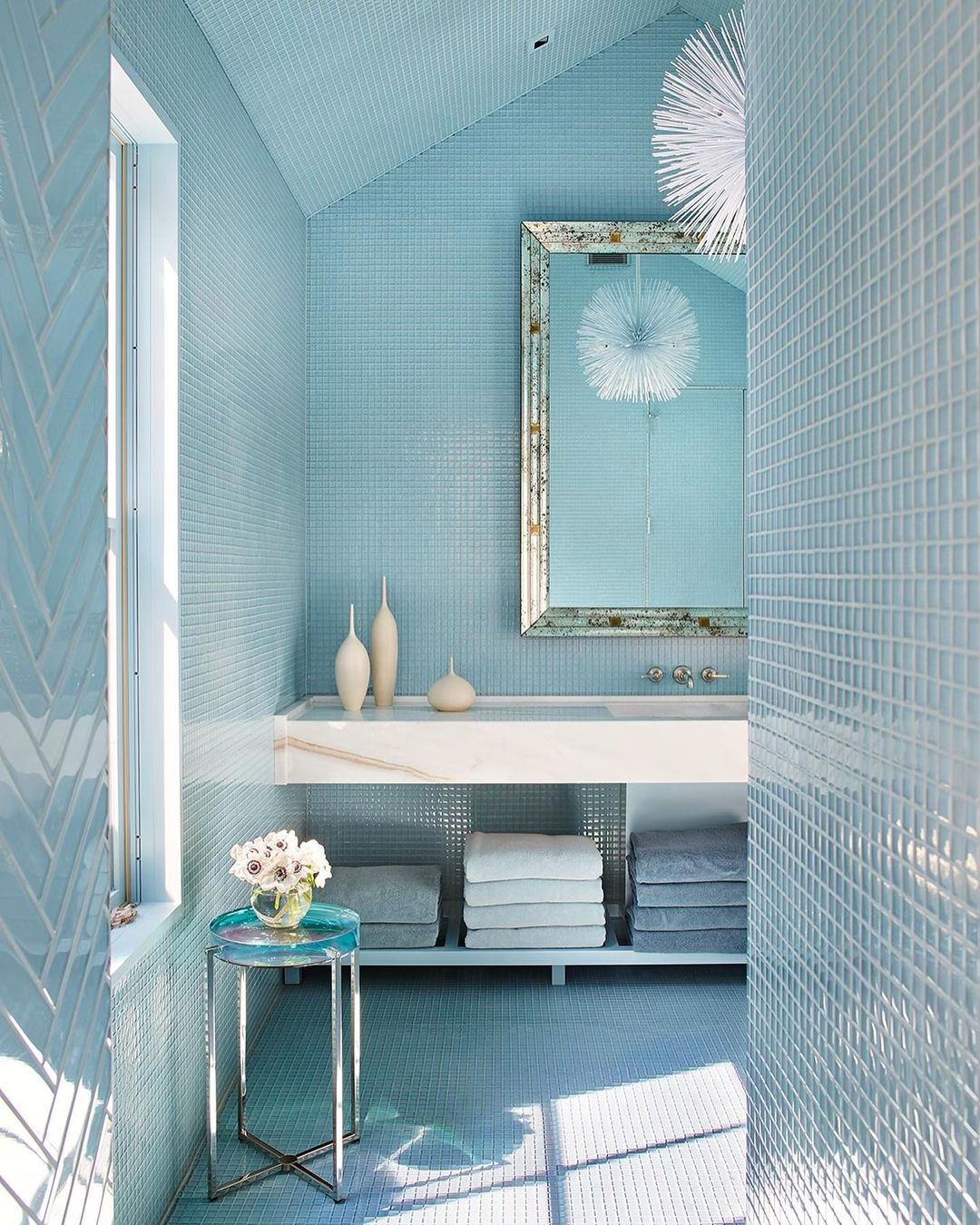 Blue is unquestionably the color that best represents the Mediterranean. The soft blue color is quite calming and will give your bathtub a unique touch. It will make you think of the water and you can incorporate it into ornamental accents, textiles, and bathtubs.
Sea Greens
Whenever you see this color, it would be hard for you to not envision the scenic and agricultural regions of the Mediterranean. Thanks to its powerful effects, you can achieve a modern, calming look without spending a fortune and undergoing extensive renovations.
Natural Materials
The use of natural materials like wood benches, chairs, and cabinets is a great way of bringing a relaxed and cozy atmosphere to a bathroom. It can also evoke a vibrant and reviving ambiance in your bathroom's overall look.
You can also items that have natural weathering to evoke a more raw and casual unpretentious feel. While it is common that you see these materials in their natural form, you can also choose to get them coated or painted in different colors.
Limestone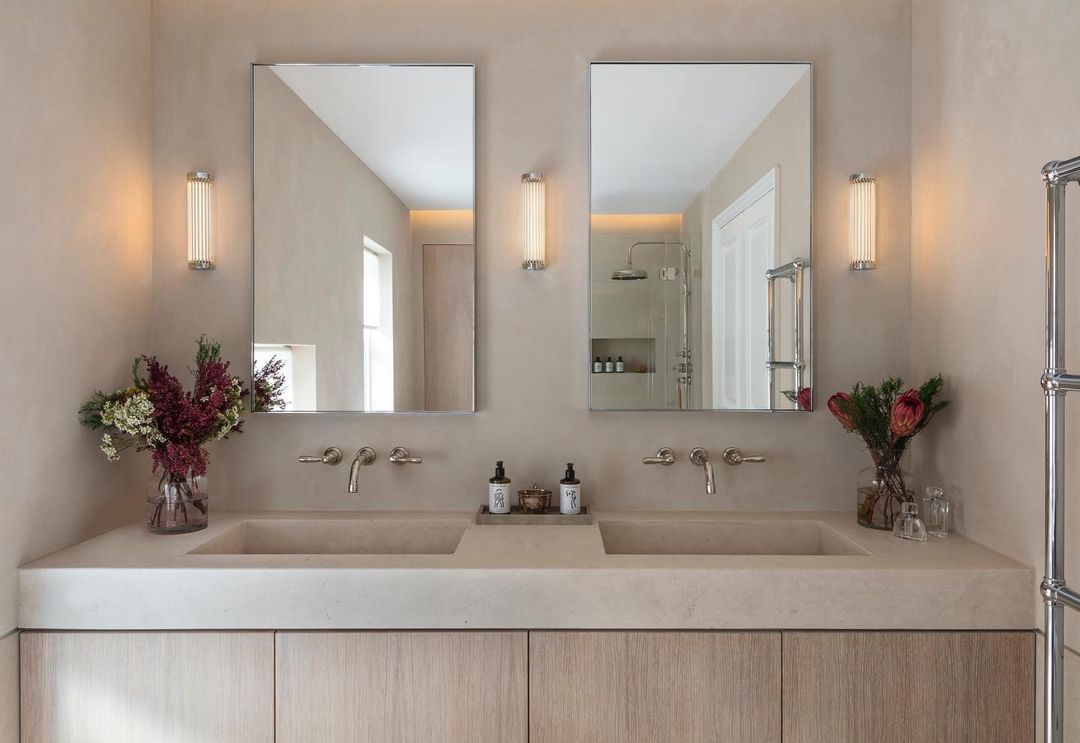 This material is renowned for its elegant and stunning appearance, which is why interior designers frequently use limestone in their projects. As you can see above, the Mediterranean aesthetic is reflected through the modern design and the use of the materials in the cabinetry.
Of course, the use of Limestone goes beyond the example above. It  is well-suited for flooring, decorative walls, bathroom linings, and other interior elements. The various colors and textures available make it easy for you to foster intimacy and coziness with this material.
Travertine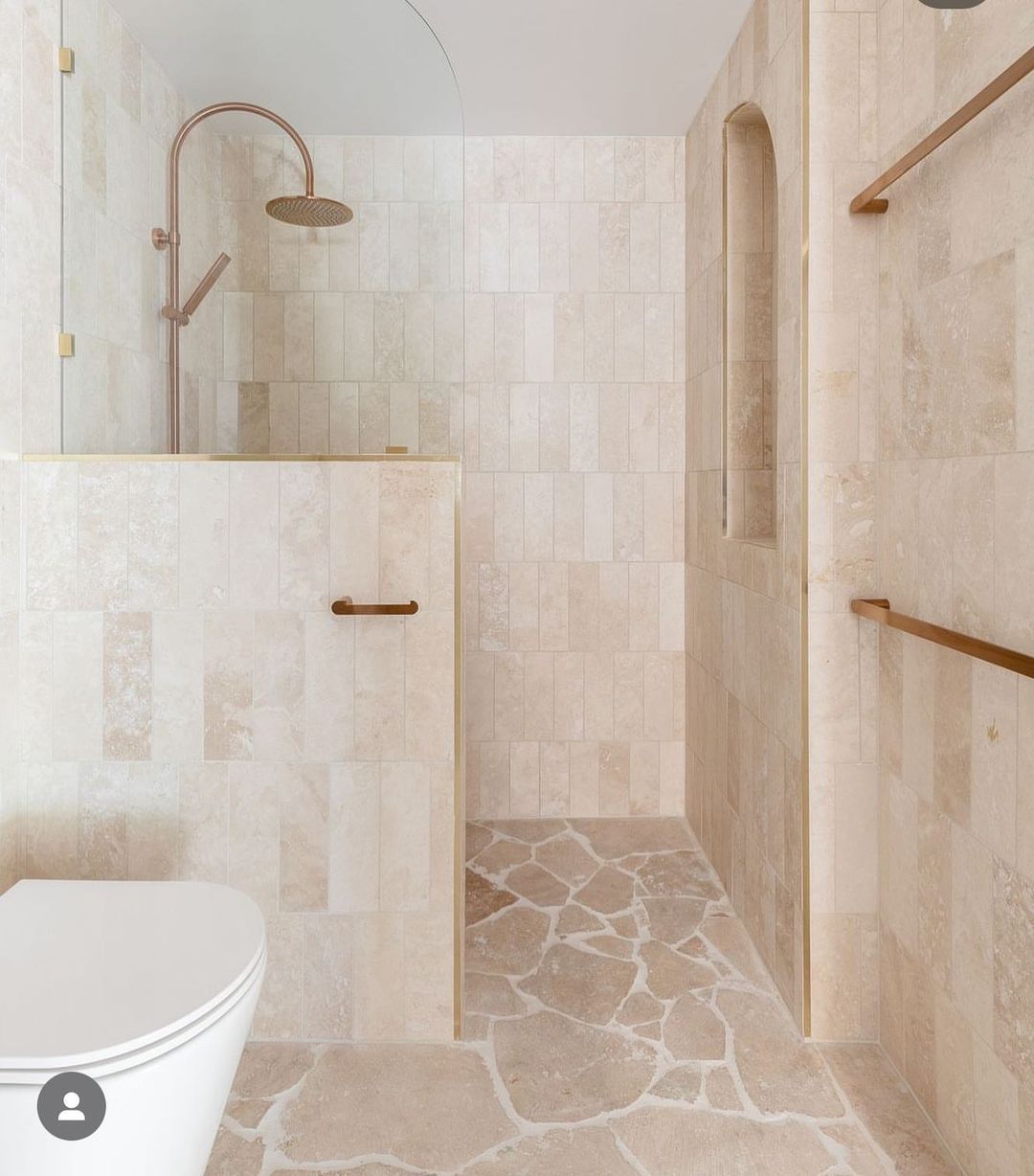 The travertine can create a gorgeous Mediterranean bathroom design since it has the ability to add natural warmth and beauty to a space. The exquisite natural veining can match the decor nicely and provide a contemporary touch, making it a great material for statement pieces.
Unlike porcelain, this material will bring a rustic yet sophisticated feel to your Mediterranean bathroom through wear and tear. Also, it blends with other metal materials. When you use it in a space, it should not be hard for you to achieve a unique and personalized look.
Mosaic Backsplashes
This kind of backsplash brings a distinct ambiance by providing a variety of colors and textures to a specific area in a bathroom. The best part is that you can have different mosaic backsplash products to complement your bathroom's design, including ceramic, paint, glass, and marble.
Generally speaking, the patterns and motifs of the backsplash give a space a genuine and warm atmosphere. As shown by the picture, the mosaic element adds a certain kind of depth and complexity to an otherwise mundane white bathroom.
Decorative tiles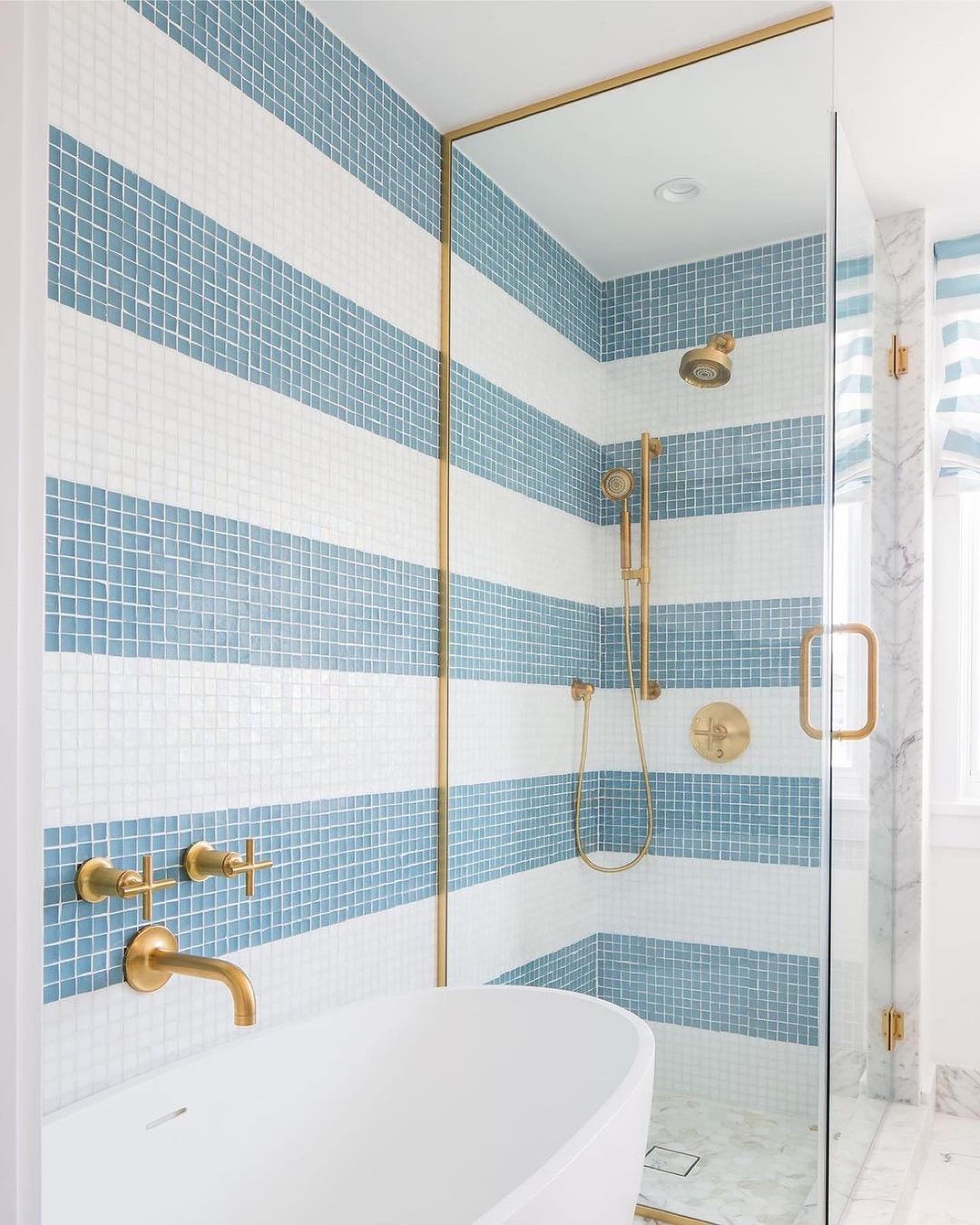 Just like what the mosaic backsplash does, the stunning tilework on this bathroom envelops a certain kind of ambiance and provides an impressive focal point. Thanks to the blue tones of the walls and classy golden appliances, this Mediterranean bathroom looks fun and classy at the same time.
Arched Doorways and Windows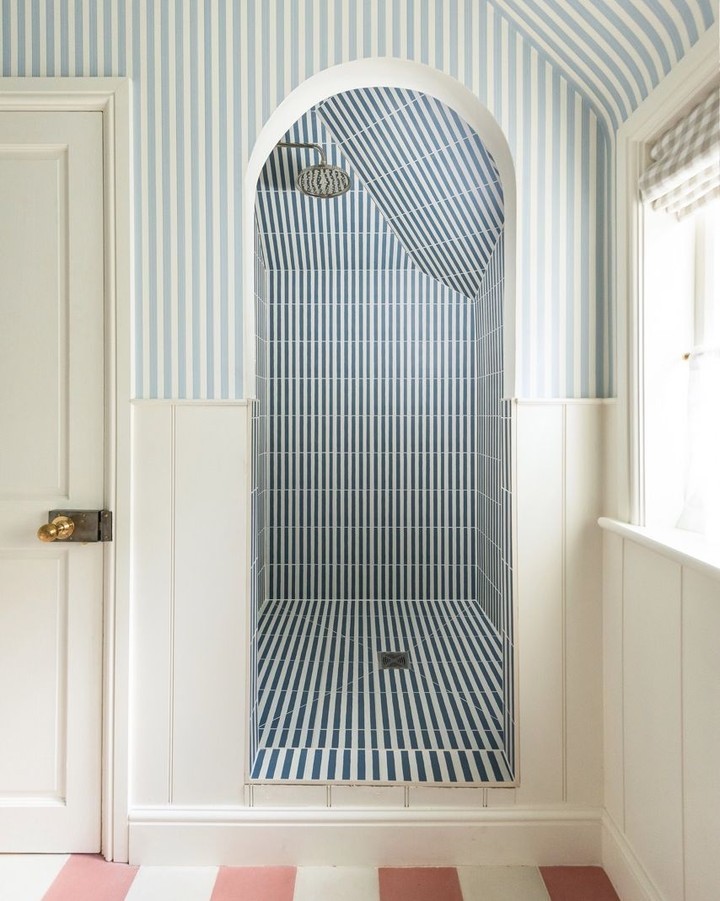 Besides the use of earthy color tones and natural materials, Mediterranean bathrooms are also characterized by the use of arched doorways and windows. These structural elements go back to Roman times. Their main goals are to strengthen the wall structure and reduce the overall weight of the building.
Mediterranean-Inspired Fixtures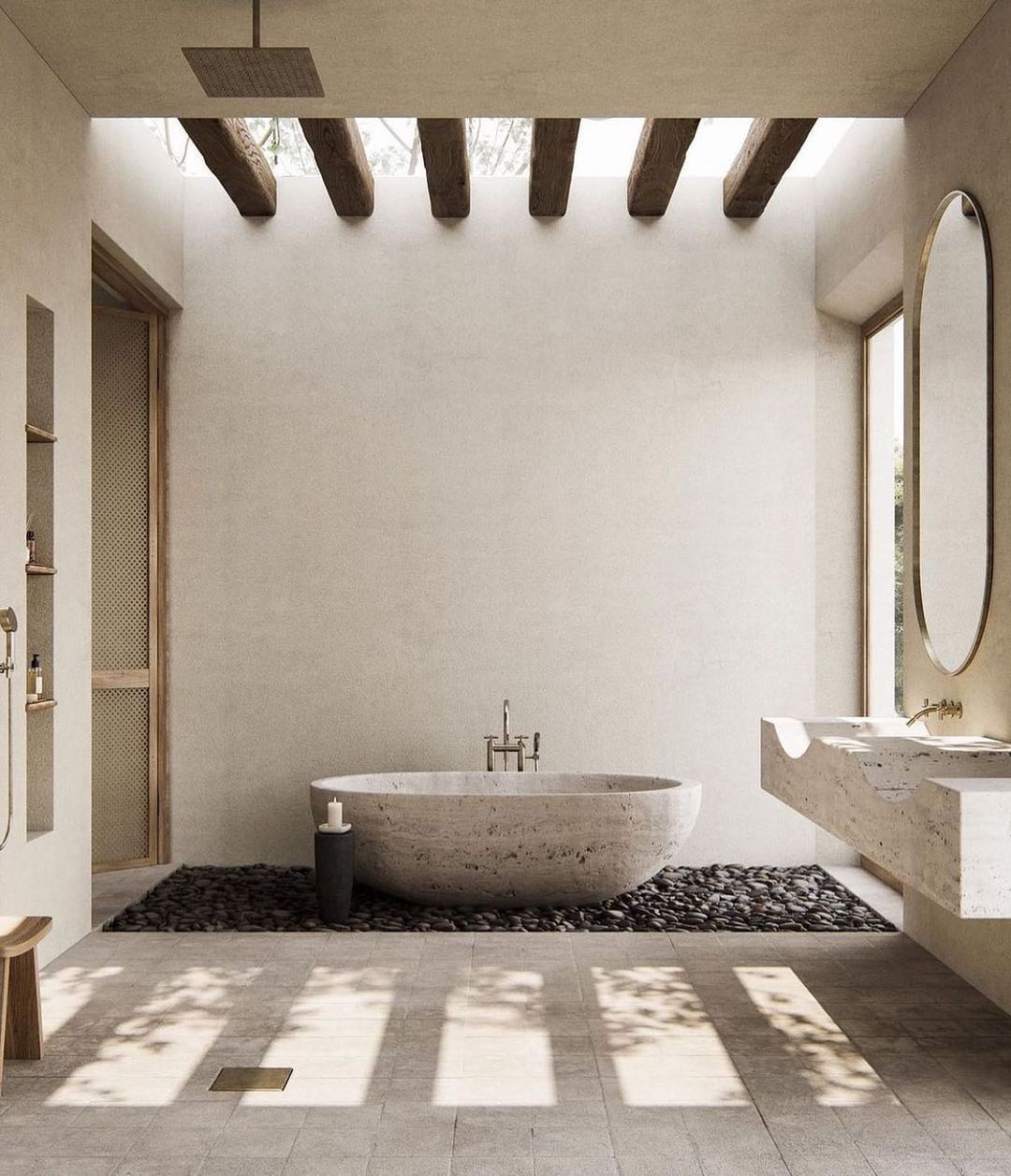 A Mediterranean-styled bathroom will not be complete without the use of the right fixtures. Considering that this style dates back to ancient Europe, it is a great idea to include the use of clawfoot bathtubs with ornate legs in your bathroom.
Yes, this style is somewhat influenced by the lavish lifestyle of the royals.  So, if possible, you can get yourself a ceramic or porcelain basin with hand-painted patterns as a sink. To complete the look, use vintage bronze or brass faucets and showerheads.
Natural Light and Greenery
Natural lighting is the best decor in a Mediterranean home. So, to best replicate the look, it is wise to let in as much sunlight as possible. Obviously, one of the best ways to do so in your bathroom is by using wide and tall windows.
It is also not a bad idea to bring some greenery to the area. It will add a unique touch to the room and give you something to take care of. If you are not a green thumb, remember to go with a plant that is easy to look after.
Incorporate Rustic Accessories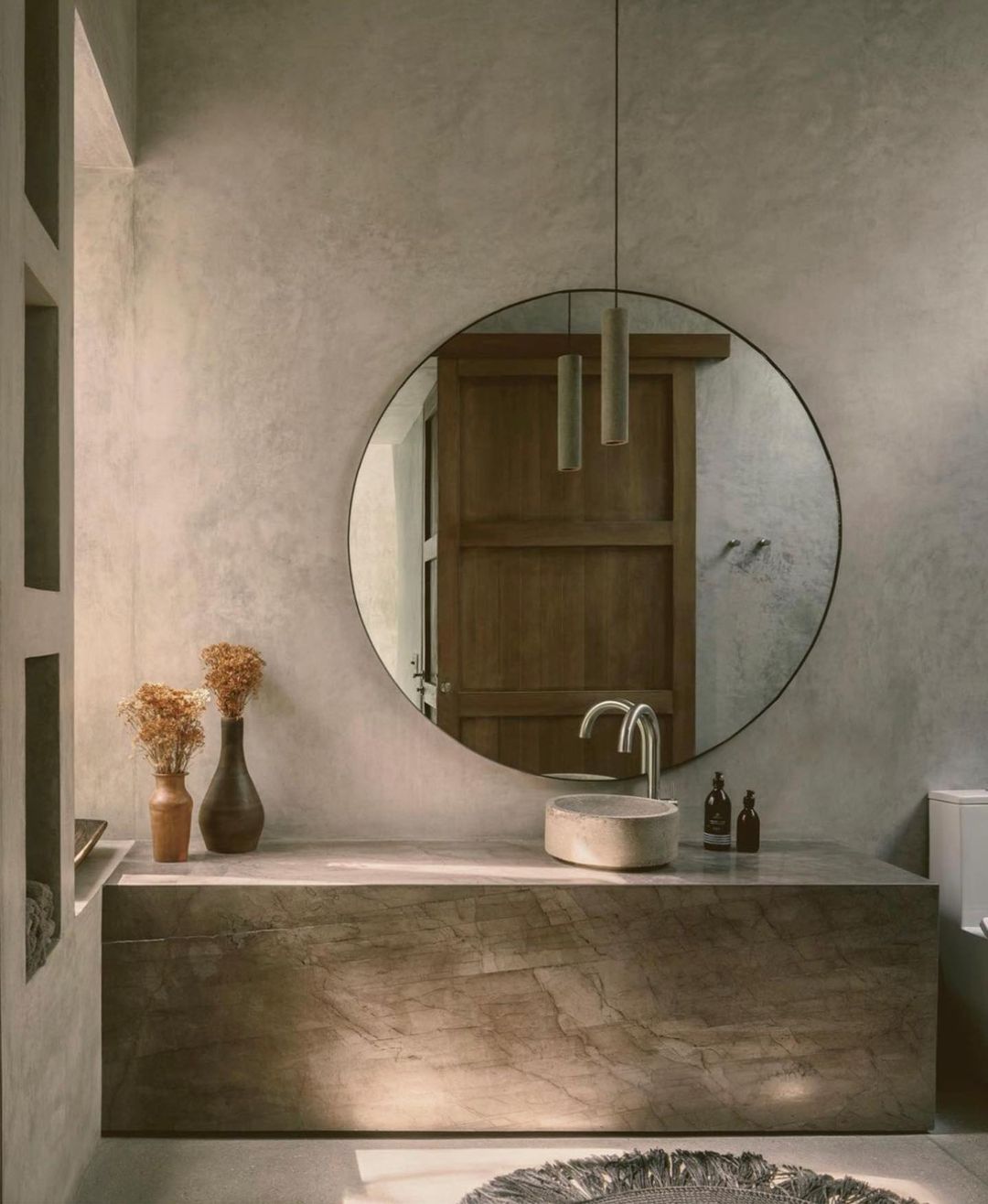 And, because Mediterranean style is all about the natural and non-pretentious look, it is easy to achieve that look through the use of rustic  decor elements. One great way to do so is by using woven baskets. While you may see it for aesthetic purposes only, it can also be useful in storing many of your bathroom items.
You can also play around with different sconces and light fixtures. Wrought iron or brass are perfect materials for them. Ultimately, you can add a final touch by adding a wooden or rattan stool in front of the vanity mirror.
Use the Mediterranean-Inspired Artwork
While not everyone considers artwork as a must-have item for a bathroom, it never hurts to have one. You don't need a big Mediterranean Sea painting or a human-sized macrame hanging on your bathroom wall. Instead, a tiny framed image of the coastline landscape should be sufficient to serve as a reminder of the region.
Conclusion
This guideline offers information and ideas to get you ready to build a lively, refreshing, and bright bathroom decor in your home with the Mediterranean style. Don't hesitate to play with colors, textures, and materials to get the look you want. After all, it all comes down to your personal style and preferences.