Marble is hard to resist because of how well it combines strength and beauty, drawing attention while giving off a sense of calm. It has been valued for hundreds of years and has been used to decorate the grandest buildings and most expensive homes. And now it's time to bring some of that regal beauty into your own bathroom.
Imagine walking into a room where smooth, polished surfaces meet fine veining and every touch and look feels like a moment of luxury. Marble baths make you feel like you're in a world of quiet and luxury.
In this blog, we'll look at a lot of beautiful ways to use marble in bathrooms. Find out how to use this beautiful material in a variety of design styles, discover new ways to use it, and learn how to keep its timeless beauty.
1.Modern Simplicity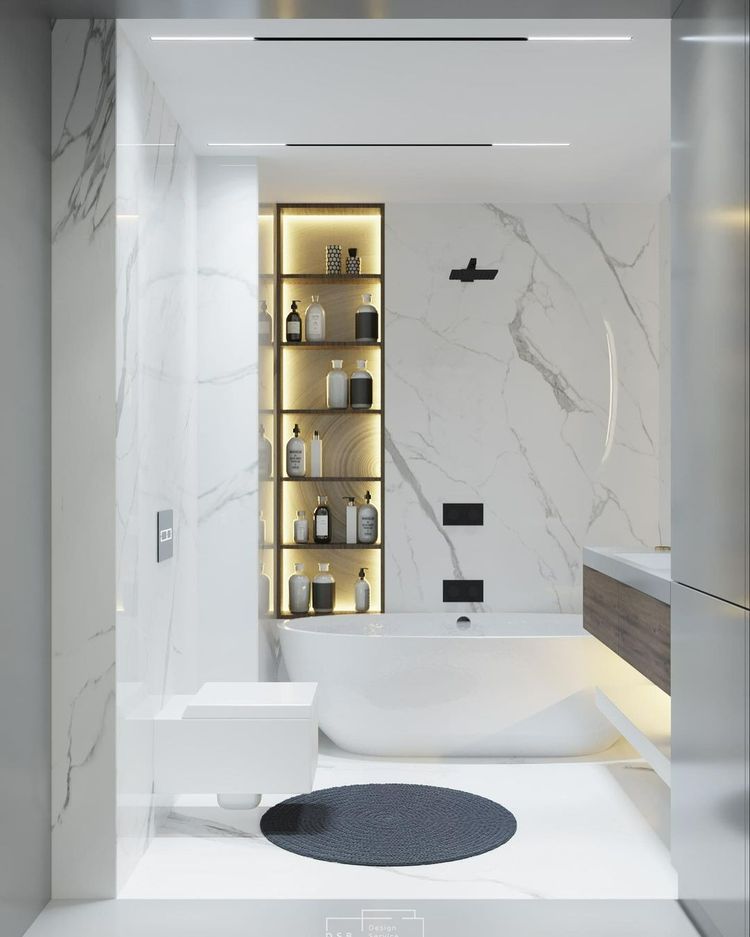 Embrace the beauty of minimalism with a marble bathroom design that embodies sleekness and contemporary style. Clean lines and a minimalist aesthetic create a space that feels effortlessly chic and uncluttered. The smooth marble surfaces provide a sense of continuity and serenity, while the simplicity of the design allows the natural beauty of the material to take center stage.
2.Futuristic Design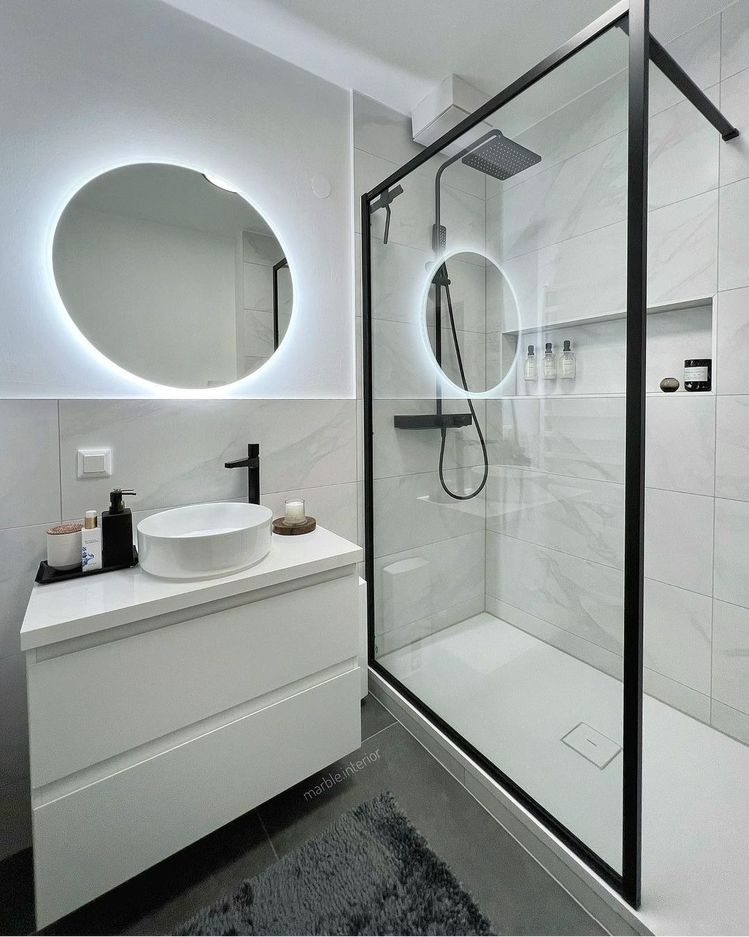 Envision a mirror that doubles as a touch-screen control panel, a smart shower system, and a secret storage area. The polished and futuristic look of the marble sets the stage for these cutting-edge additions, resulting in a bathroom that is both practical and beautiful.
3.Timeless Elegance
Step into a bathroom that epitomizes timeless elegance with a classic white and grayish brown marble palette. This enduring color combination creates a sense of serenity and sophistication, offering a bathroom design that will never go out of style.
4.Contemporary Zen
This modern room with a Zen vibe is all about simplicity and balance, making it a peaceful place to relax and think. The smooth marble surfaces make you feel calm, and the lack of mess and other things to look at lets you focus on the present.
5.Seamless Serenity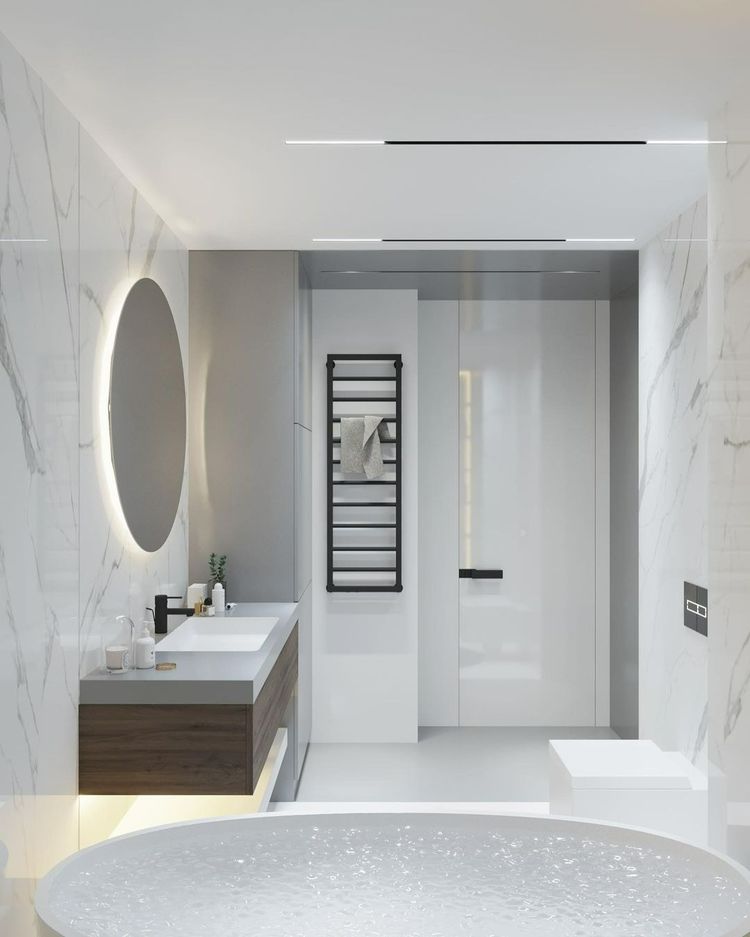 Take a simple approach and design a marble bathroom that is the picture of calm. A feeling of calm and tranquility is created by hidden storage, clean lines, and a simple design. The smooth and unbroken look of the marble surfaces makes for a peaceful place to relax. This simple marble bathroom design lets you focus on what's important and gets rid of the rest. It's a place where you can relax and find peace in the simple things.
6.Sophisticated Monochrome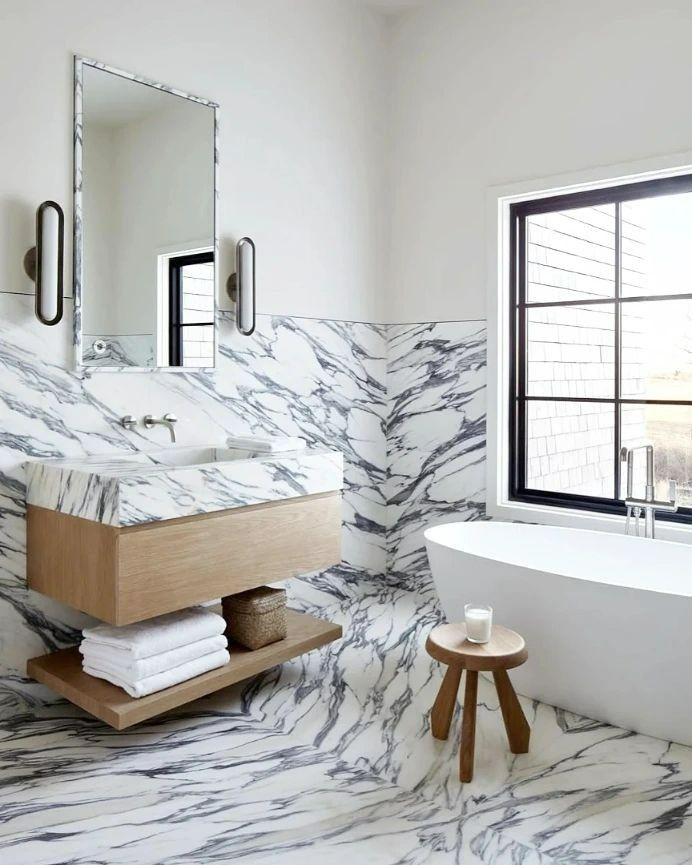 Unleash the power of monochromatic design with a marble bathroom that combines different shades of marble for a sophisticated and cohesive aesthetic. From white and gray to black and charcoal, the seamless blend of tones creates a harmonious visual experience. Whether it's a white and gray combination or a play with black and charcoal tones, the monochrome palette brings a sense of harmony and sophistication to every corner.
7.Nature's Retreat
With a marble bathroom that has natural elements and earthy colors, you can feel like you're in the warm hug of nature. This bathroom design makes a relaxing oasis that takes the outdoors inside. This lets you get back in touch with nature while enjoying the comfort and luxury of a spa-like room.
As you step into this tranquil retreat, you are greeted by the gentle hues and textures of the marble, which mimic the natural beauty of the outdoors. The marble accents, whether in the form of countertops, shower walls, or flooring, blend harmoniously with elements like soft earth-inspired color palettes
8.Glamorous Escape
Gold accents, from faucets to intricate detailing, add a touch of decadence and elevate the glamorous aesthetic. This glamorous escape is a sanctuary that invites you to revel in luxury and pamper yourself. Whether you're preparing for a special event or simply seeking a daily dose of extravagance, this marble bathroom is a lavish haven that will make you feel like royalty.
9.Effortless Luxury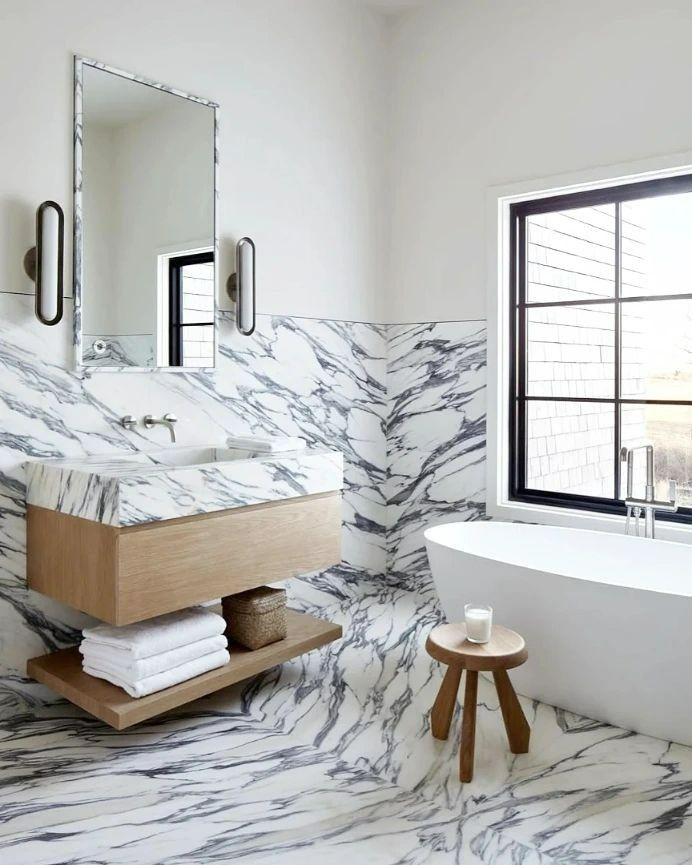 With a marble bathroom design that includes clean countertops, a vanity that stands alone, and glamorous lighting fixtures, you can feel like you're in a world of easy luxury. The smooth marble surfaces and high-end fixtures and accessories give off an air of sophistication and grace. Every little thing has been carefully chosen to make a stylish and luxurious bathroom.
10.Modern Luxury Bathroom
Create a modern and luxurious marble bathroom by pairing it with sleek and contemporary gold fixtures. The clean lines and geometric shapes of the fixtures add a touch of modernity, while the radiant gold finish brings a sense of opulence and sophistication. From sleek faucets to minimalist showerheads, the combination of gold and marble forms a striking visual contrast that is both eye-catching and refined.
11.Sleek Style
With a minimalist marble bathroom, you can enjoy how well sleek design and a calm atmosphere go together. A monochromatic color scheme, smooth surfaces, and clean lines give a room a feeling of calm and sophistication. The marble adds a touch of luxury, and the clean area makes it easy to think clearly.
Keep clutter to a minimum and focus on creating an open and airy atmosphere. With its tranquil ambiance and minimalist sensibility, this sleek style marble bathroom is perfect for those seeking a calming retreat that promotes relaxation and clarity.
12.Bold Statement
Make a bold statement with a marble bathroom that dares to be different. Incorporate vibrant marble patterns, unique color combinations, and striking fixtures to create a bathroom that exudes personality and individuality. From geometric shapes to unexpected accents, this design is a celebration of creativity and self-expression.
13.Rustic Charm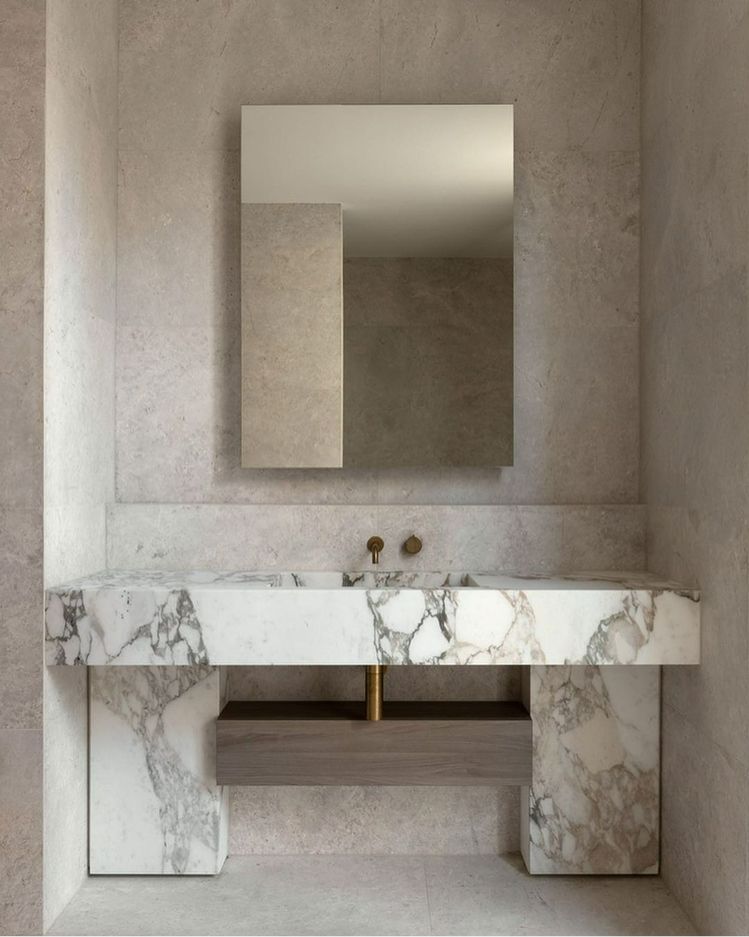 The natural beauty of the marble harmonizes with the earthy tones and textures, creating a cozy and inviting ambiance. This rustic charm bathroom design is perfect for those who appreciate the fusion of old-world charm and modern luxury.
The intricate patterns and classic color combos make you feel both old and classy. Indulge in the luxurious comforts of this rustic charm bathroom while enjoying the natural beauty of marble.