Industrial-style bathrooms are a trend that combines the rustic charm of old factories and warehouses with modern comfort and functionality. They feature exposed pipes, metal fixtures, wood accents, concrete surfaces, and vintage accessories. Industrial-style bathrooms are perfect for those wanting to add character and personality to their space.
In this article, we'll show you some industrial bathroom ideas that inspire you to renovate your bathroom. We'll cover topics such as the right colors, materials, and lighting for your industrial bathroom, how to mix and match different styles and textures, etc. Let's dive right into it!
Industrial Design Elements – Ideas for Functionality and Aesthetics
Exposed pipelines are one of the most distinctive characteristics of industrial-style restrooms. Exposed pipelines can add great visual interest, texture, and contrast to your bathroom's clean and streamlined surfaces.
You can leave the pipes unpainted or paint them to complement your theme. Additionally, exposed pipelines can serve as a base for installing cabinets, hangers, and lighting fixtures.
Using natural materials, such as concrete and masonry, is a crucial component of industrial-style restrooms. These materials can create a robust and distinct appearance and be durable and simple to maintain. Concrete and brick can be used for walls, floors, countertops, and toilets.
Industrial Color Schemes – Rustic charm with a Modern Flair
Apart from knowing the right design elements, it's also vital to understand the right color schemes to help you design the perfect industrial bathroom of your dreams.
Neutral Colors
Effective color schemes in bathroom design can greatly impact the overall ambience and style of the space. Neutral colors, such as grey, brown, black, and white, are widely used and highly effective in creating a timeless and sophisticated bathroom design.
For example, pairing white walls with black accents creates a classic and elegant look, while using shades of grey and brown can evoke a sense of warmth and tranquillity.
Bold Accents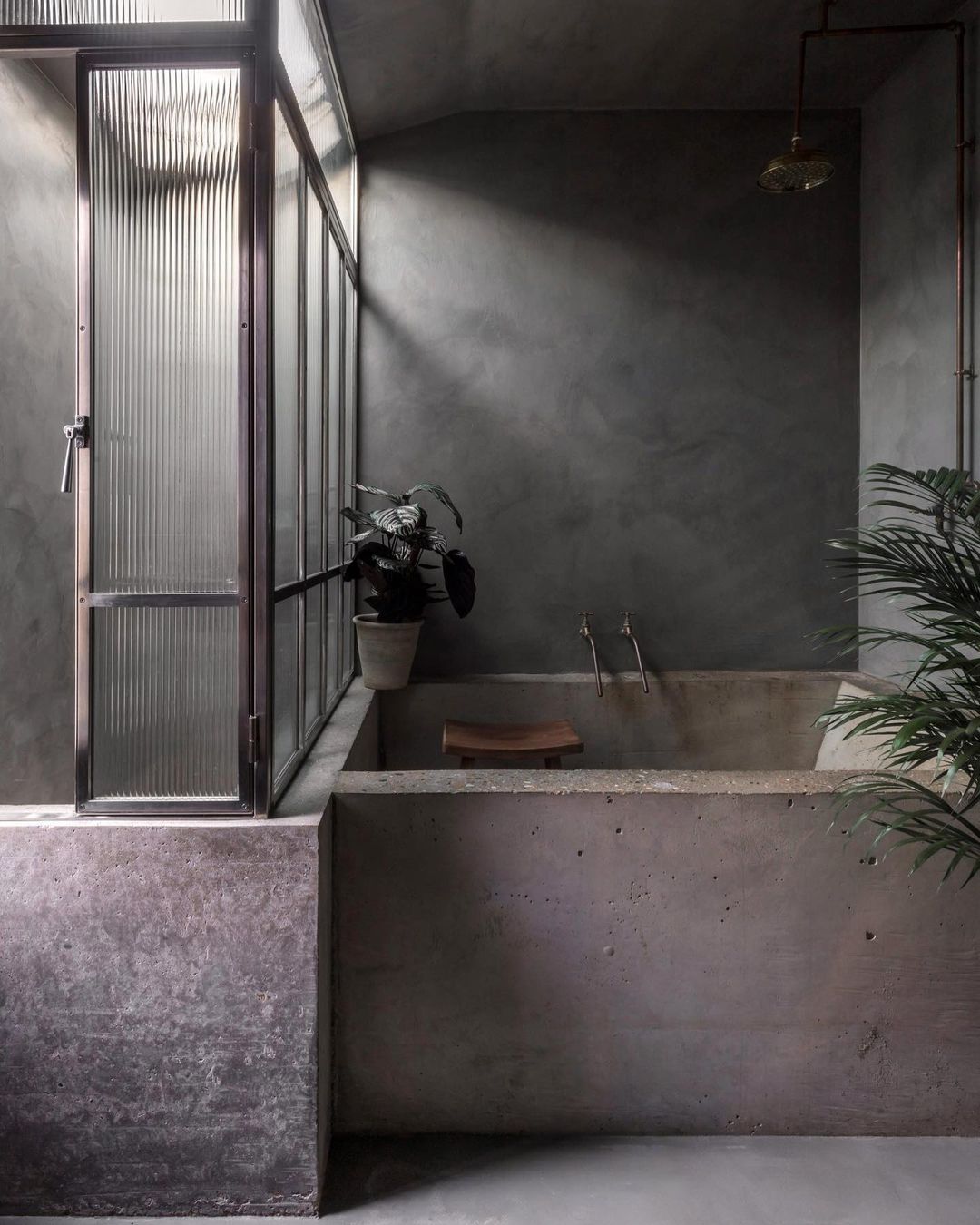 Bold accent colors like red, blue, or green can inject energy and personality into bathroom design. It's important to balance creating a vibrant focal point and maintaining a cohesive look when using bold accents.
For example, incorporating a pop of red through accessories like towels or a statement piece, such as a bold red vanity, can create a striking and modern design.
Natural Tones
Natural tones, specifically those derived from wood or stone, can create a soothing and organic atmosphere in bathroom design. Incorporating these natural elements adds warmth, texture, and a sense of authenticity to the space.
For example, using wooden or stone elements like a vanity, shelving, or a wooden accent wall can bring a touch of rustic charm and a connection to nature.
Industrial Lighting Ideas – Enjoy the Delightful Ambiance
Practical lighting fixtures are essential in bathroom design to ensure functionality and create the right ambience. Examples of practical lighting fixtures include vanity lights, recessed ceiling lights, and wall sconces.
Industrial Lighting Option 1
A bathroom with a brown sink and faucet is shown. The sink has a sleek, round form. As for the lights, there are LED bulbs hanging from the top to the front of the mirror to give a shiny look. To the right, a metal cabinet holds towels and other supplies. Exposed masonry under the sink gives this space an industrial character.
Industrial Lighting Option 2
This bathroom shows brown covering the floor and light grey walls. A bathtub, sink, and mirror are in the room's central alcove. White LED bulbs attached to the wall on the top of the mirror make the bathroom look shining, relaxing.
Industrial Lighting Option 3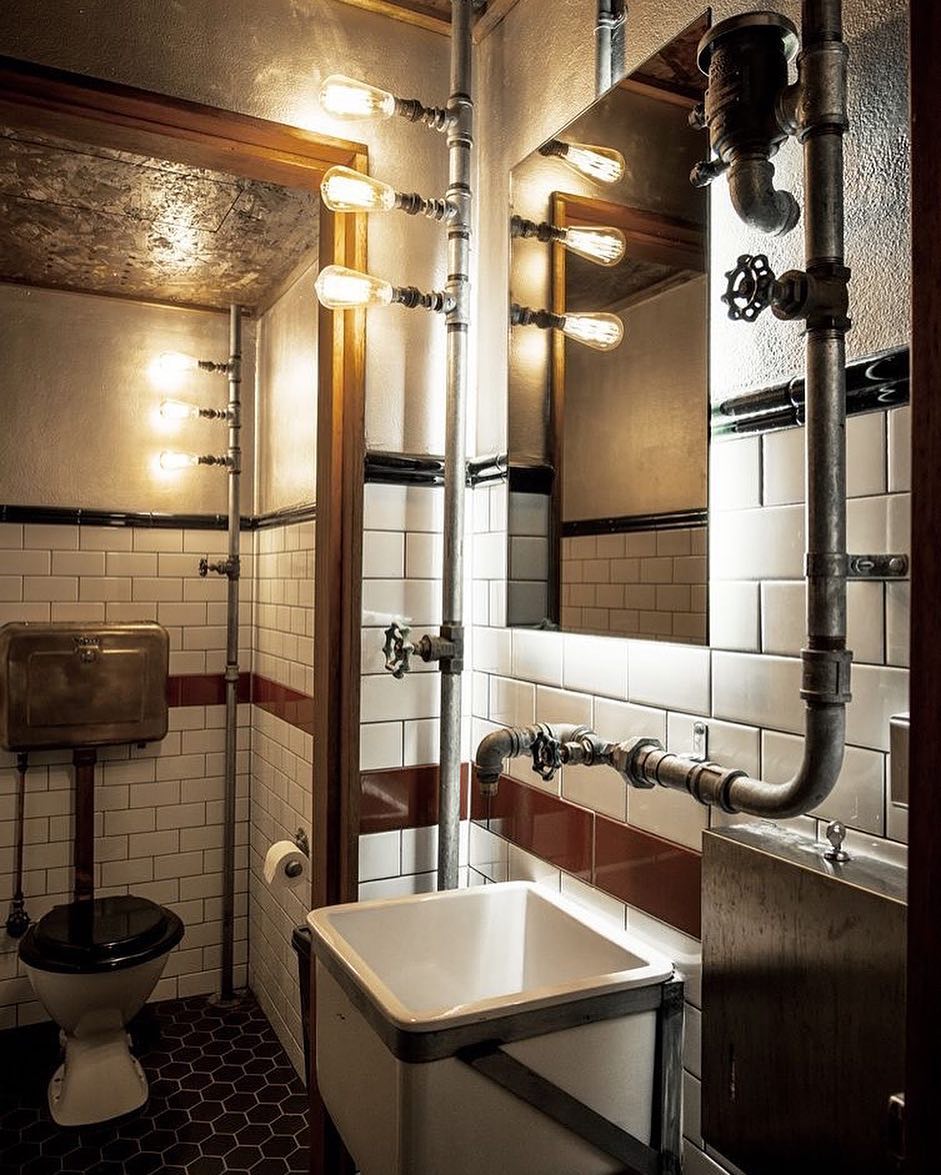 This design shows the dark brown or blackish floors with white tiled walls — a great combination. A white porcelain and chrome corner sink sits in the middle of the bathroom. An elegant mirror with warm bulbs that produce excellent illumination makes it worthy to look at.
Industrial Materials – Give Your Bathroom Character and Texture
Concrete, brick, metal, and wood may give bathrooms character and texture. Concrete walls, flooring, and counters seem contemporary. Brick walls and backsplashes provide rustic character.
Faucets, fixtures, and stainless steel or copper accessories offer an industrial touch. Wood vanities, shelves, and floors provide warmth and nature. Let's look at some examples to understand better.
Industrial Material Option 1
This bathroom has a white bathtub in the middle. The grey floor and brick walls are tiled. A huge mirror on one wall reflects light from outside.
A potted decorative plant adds greenery to this bland setting. A stack of candles and spa products on one side of the tub creates a relaxing ambience.
Industrial Material Option 2
The bathroom features a white bathtub, a wooden beam ceiling, and light brown plaster walls. A white coat hangs from a swinger, and an old ladder is leaning against the wall— giving a classic old look to the bathroom. Next to the bathtub, there is a metal box with two levers to control water pressure and temperature.
Industrial Material Option 3
In this modern industrial bathroom, some black toilet accessories are attached to the walls, and light brown textured concrete cover the floor and walls. A black-framed spherical mirror accompanies a white sink. To the left is a modern black toilet, and to the right, a vase with dried flowers adds a touch of nature.
Industrial Fixtures and Fittings – Enhance Your Industrial Bathroom's Beauty
For usefulness and beauty, bathroom fixtures and fittings must be selected. Faucets, showerheads, toilets, and baths are useful. Sustainability requires high-quality, water-efficient fixtures.
Towel bars, toilet paper holders, and robe hooks provide flair and organization. Consider design, durability, and bathroom suitability when choosing fixtures and fittings.
Industrial Fixture and Fitting Option 1
The industrial bathroom features a white sink and shower with black and white tiled walls. The sink's right wall showcases a two-handled copper faucet, while a circular mirror is mounted.
Industrial Fixture and Fitting Option 2
This bathroom has a wide sink and two spherical mirrors. The floor is light grey concrete, and the walls are light brown. What's noteworthy here is the tap fittings that emerge from the roof and go down to the sink. Hanging warm lights with greenery in the bottom gives this bathroom a cosy look.
Industrial Fixture and Fitting Option 3
The contemporary bathroom features a grey tiled floor and concrete walls. In the middle, there is a large white sink with silver pipes. Along one wall, a glass shower cubicle with metal pipes is present. The bathroom also includes a window overlooking a green space.
Storage and Organization – Make Your Industrial Bathroom Super-Functional
Industrial bathrooms need good storage and organizing to maintain their beauty and function. Raw materials and exposed components require effective storage to minimize clutter. Industrial shelves hold towels, toiletries, and decorations. Recessed or floating vanities with drawers help manage space. Wire or woven baskets or bins conceal smaller items and provide texture.
Bathroom storage depends on appearance and function. Ceiling-high shelves or cupboards enhance vertical space. Over-the-toilet or bathtub storage. Wall hook towels and robes. To maintain minimalism, use industrial-style metal or wood storage. Clear often and prioritize necessities.
Storage and Organization Option 1
The luxury bathroom showcases stone arches and a striking black-and-white striped mat on the floor. The room includes a huge bathtub with a sink and a seat. Storage and organization items represent the small cabinets that can be seen on the right side of the image, where bathroom users can store their toiletries. This enhanced organization gives this bathroom a neat look.
Storage and Organization Option 2
This grey metal sink features a tap and faucet. A huge mirror and metal items hang below the sink for storing items, such as a rug, cleaning items, etc. You can also organize more items in the bottom space to make it look organized.
Storage and Organization Option 3
Modern bathroom with two sinks and two mirrors. A countertop with two sinks on the left contains a tap and plumbing fixture. Two warm yellow light fixtures illuminate the area above. For storing, users can utilize a lot of space underneath the sinks to arrange their bathroom items.
Accents and Accessories – Improve Your Bathroom's Décor
Accents and accessories may improve a bathroom's decor and usefulness. Mirrors, carpets, towels, soap dispensers, and artwork are useful additions. Use mirrors with metal frames, industrial-inspired rugs with jute or woven textures, and towels in neutral or bright colors for an industrial-style bathroom.
Accent and Accessory Option 1
In this bathroom, white-grey walls set the backdrop for an elegant framless wall mirror over a concrete sink. The mirror gives a modern vibe as a bathroom accessory here. The sink features chrome faucets, adding a functional and stylish accent to the space.
Accent and Accessory Option 2
In this modern industrial bathroom, a green sink has a white shelf underneath holding bottles and towels. The sink is in a green rectangle shape with black pipes, while a spherical mirror with potted plants adds a decorative touch. Light green lampshades hanging in the middle add to the beauty.
Accent and Accessory Option 3
A pink door stands out amidst the neglected surroundings in this abandoned-looking but classy restroom. The light grey tiled wall features a countertop with metal cabinets below it. All the accessories are placed quite perfectly, adding to the bathroom's old-style look.
Maintenance and Upkeep Tips for Industrial Bathrooms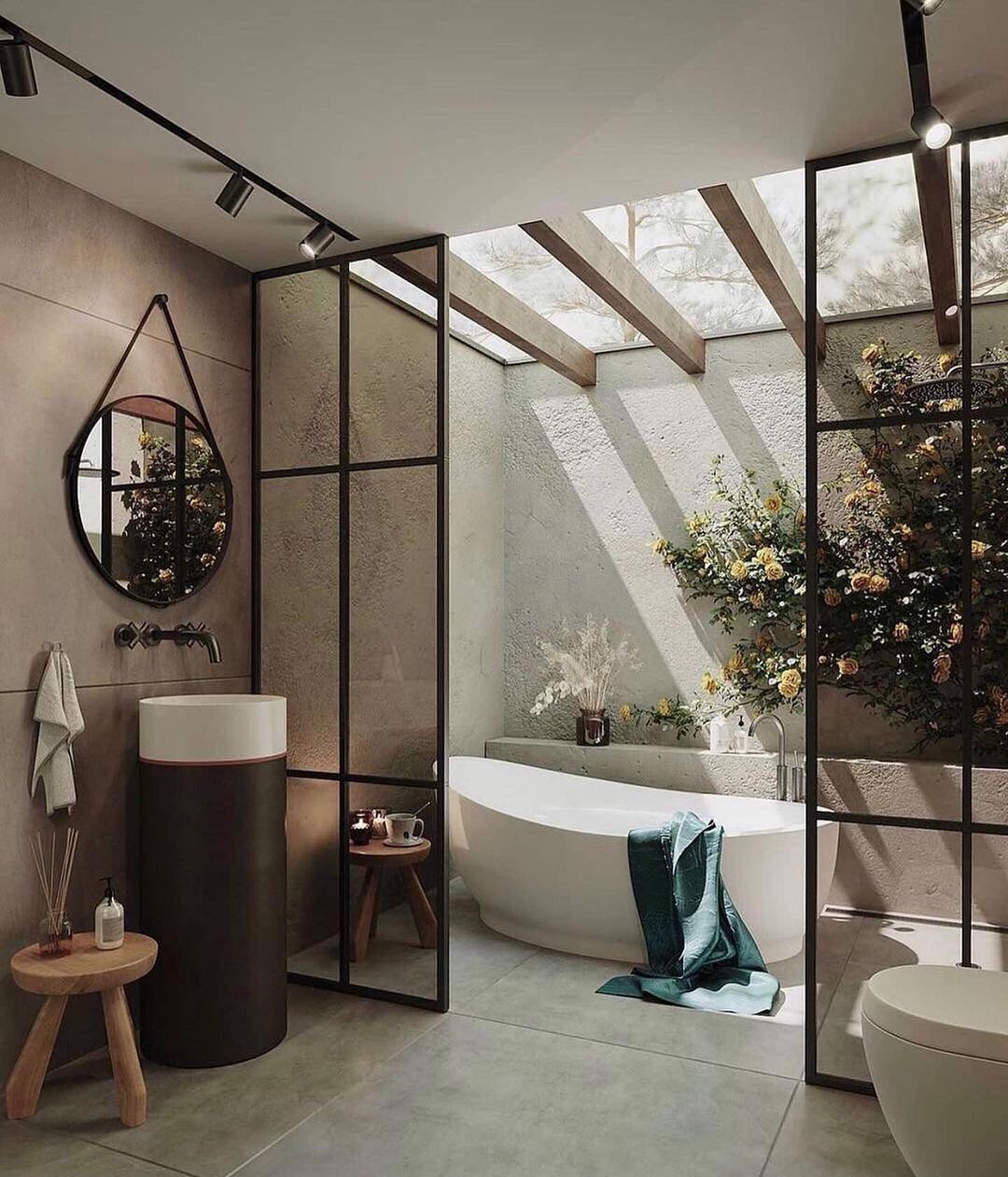 While all this is great and luxurious, maintaining an industrial-style bathroom can be tricky. Here are a few tips to help you with:
Regularly clean and dry surfaces to prevent moisture buildup.
Use non-abrasive cleaners to maintain the integrity of raw materials like concrete and brick.
Apply a protective sealant to concrete surfaces to prevent staining and make cleaning easier.
Keep metal fixtures dry and use rust-resistant products to prevent corrosion.
Clean exposed pipes and fittings with mild detergent to remove dust and grime.
Inspect and fix any leaks promptly to avoid water damage.
Regularly dust and wipe down accessories to prevent the buildup of dirt and debris.
Maintain proper ventilation to reduce humidity and prevent mould or mildew growth.
Use mats or rugs near water-prone areas to protect flooring and absorb excess moisture.
Periodically check and tighten any loose fittings or fixtures to ensure stability.
Conclusion
Color schemes, lighting, fixtures, storage solutions, and upkeep are all important factors to consider when building an industrial-style bathroom, besides the obvious components like exposed pipes, raw materials, and metal finishes.
An industrial-style bathroom may be a one-of-a-kind and aesthetically pleasing area that highlights the beauty of industrial design while still being useful and pleasant thanks to the careful balance of the harsh and practical look with utility and aesthetics.