It's no secret that most homeowners crave a serene environment. As such, gray is a popular choice to transform your bathroom into a soothing retreat. This color is more desirable due to its adaptability and flexibility.
You can effortlessly blend timeless designs with sleek modernism using gray tones as your foundation. However, creating that perfect gray ambiance requires paying close attention to several details. For example, the hue of the floor and wall, texture of fittings, shadows created by a light source, and not forgetting incorporation of natural elements are vital. Depending on your preferences, finding harmony with all these elements is crucial. If you're a fan of modern bathrooms, you could also check modern bathroom ideas here.
This guide offers expert tips and advice on achieving balance and creating a natural tone with gray in your bathroom.
1. Gray and white bathroom ideas
Gray and white are a timeless color combo that blends well. One design idea is using white fixtures against smooth gray walls. And if you desire to add a touch of luxury to your bathroom using this color combo, then a gray marble accent will do the trick. Adding a sleek chrome finish with a plush white towel enhances the space.
2. Blue and gray bathroom ideas
Blue and gray is a captivating blend that creates a serene ambiance. Painting your bathroom wall with a soft, muted gray that harmonizes effortlessly with blue accents. Another idea is incorporating blue mosaic tiles around the shower area. Or, if you want a statement piece in your bathroom, a blue cabinet or vanity infuses a touch of vibrancy.
3. Gray and gold bathroom ideas
Gold has always been a color people use to add a touch of opulence. Using a blend of gray and gold can transform your bathroom into a lavish retreat. Try painting the walls with a smooth shade of gray to create a serene backdrop while adding accents of shimmering gold. Also, consider opting for a luxurious gold framing mirror, gliding accessories, and gleaming fixtures to develop a sense of glamor.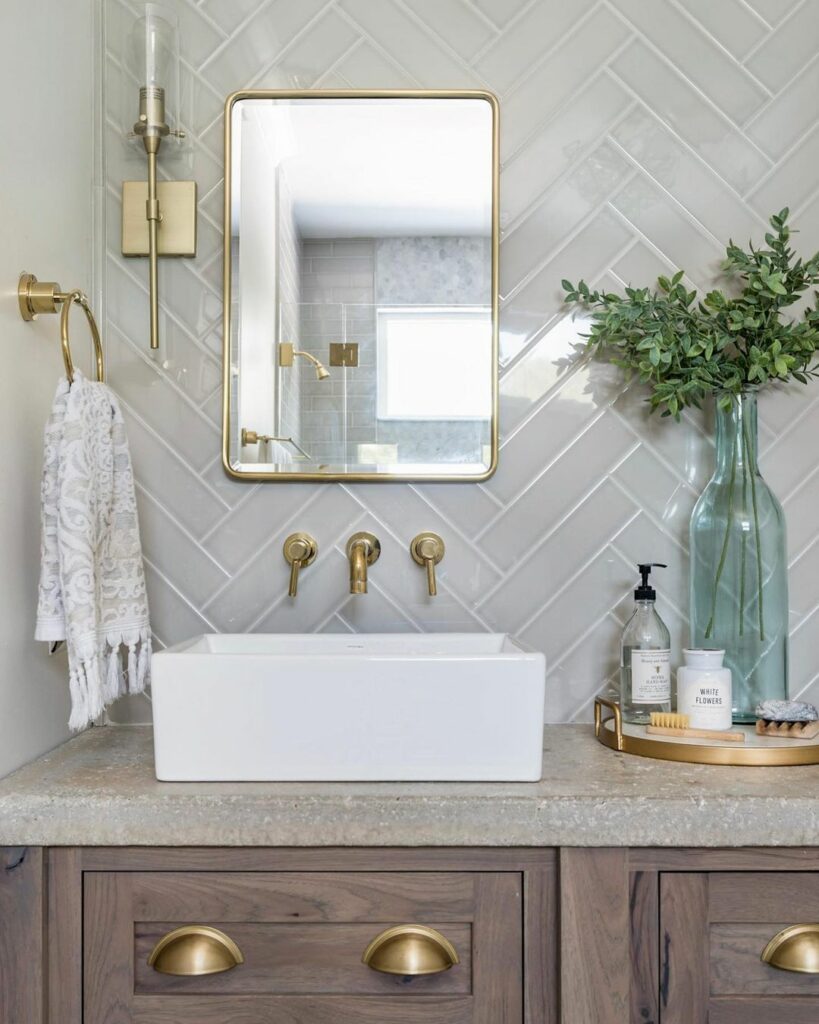 4. Light gray bathroom ideas
A lighter gray hue also makes an excellent choice for bathroom design. You can keep things simple by using only light gray on the walls and floor to keep things designed chic. Or you can combine a light gray wall with white fixtures for a timeless and clean look. To add warmth, consider incorporating wooden accents like shelving and vanity. And incorporating a pop of colors through accessories like plants or towels will help complete the look.
5. Dark gray bathroom ideas
If you prefer a darker hue of gray, you can embrace the alluring sophistication it offers in several ways. A full dark gray wall is an option you can consider. This dark hue contrasts elegantly with sleek white fixtures and accents. And to enhance the ambiance, consider incorporating warm, soft lighting and reflective surfaces, which helps create a sense of depth.
6. Pink and gray bathroom ideas
Blending pink and gray is a brilliant way to infuse femininity and warmth into your bathroom. Using a soft pink color on the wall and incorporating gray accents using rugs and other accessories gives a sophisticated vibe. Adding statement pieces like gray vanity with rose gold for fixtures will also help harmonize the colors. This color combo is charming and a perfect choice to style a bathroom that excludes contemporary charm.
7. Gray vanity bathroom ideas
Incorporating gray vanity in the bathroom is an excellent way to balance sophistication with tranquility. Adding a gray vanity as a centerpiece in your bathroom is a great idea. And using a gray marble countertop adds luxury to the ambiance. Also, using light gray walls helps create the perfect tone of a calm atmosphere. An accent of chrome and white is ideal for adding a touch of modernity.
8. Gray bathroom tile ideas
Using gray tiles is a perfect way to transform a bathroom into a modern oasis. Mainly when you use large-format, sleek gray tiles on the walls, floors, or both, it creates a spacious and seamless feel. Metallic fixtures are also ideal for creating a crisp and sophisticated accent. To complete the look, adding a pop of color like lush green plants or vibrant accessories helps create a stunning contrast.
9. Small gray bathroom ideas
There are several small gray items that you can include in the bathroom to make it pop. A good example is using a shade of gray on the varnish. You can even mix mirrors with subtle lighting to create a serene and inviting atmosphere. Gray basins or curtains are also great options to add a touch of warmth. Gray-on-earthy accessories like plant verse, woven baskets, or towels create a modern oasis.
10. Gray bathroom ideas photo gallery
Including a photo in your bathroom is a design idea growing in popularity these days. Adding the right shade of a picture can create a beautiful space. It's always best to draw inspiration from your space to find what best suits it. But adding a large photo in black and white creates a rustic chic feature in your bathroom. And when you combine that with weathered gray wood, it suits the taste of most people.
11. Gray bathroom paint ideas
Gray painting is also an excellent idea to consider adding to your bathroom. Adding paint to your bathroom lets you showcase diverse shades from soft to deep gray. With paintings, you can stick with accent walls, delightful contrast, or monochromatic schemes. When it comes to painting, the trick to getting it right is to let your creativity flow.
12. Gray bathroom tile floor ideas
Using gray tiles works every time, allowing you to experience the epitome of contemporary elegance. With large-format gray tiles, you can create a sleek, sophisticated space anyone will adorn. You can complement the look with a warm wood accent like floating shelves or vanities. And to complete the look, consider chrome fixtures and minimalist accessories.
Conclusion
Designing your bathroom with gray is excellent, as it lets you create an effortlessly stylish and visually stunning space. The shade is vast as it blends smoothly with several colors. As long as the color combo you chose harmonizes perfectly, you will end up with a calm and invigorating space.