Gothic style is often characterized by dark shades, detailed ornaments, and a vintage atmosphere. Despite the popular belief that not all homes can have this decor style, it can actually be applied to various aspects of interior design, including the bathroom.
Yes, no one should stop you from getting a spooky bathroom! For anyone who wants to create a unique yet dramatic space, this kind of bathroom can be an exciting thing to have. So, to get you inspired and guide you for your gothic bathroom makeover, here are some stylish ideas!
Choosing The Right Gothic Bathroom Color Scheme
Without a suitable color scheme, you will never be able to create a genuine Gothic-themed bathroom.
Dark colors in a grotesque bathroom can create a contrast and, when combined with lighting and decorations, will make your bathroom stand out even more.
Furthermore, dark colors can create an elegant, sophisticated, and enigmatic ambiance. While many people believe that dark colors make a room appear smaller, they can help you immerse yourself in a pleasant and private setting in your bathroom, especially if you prefer such a mood.
Deep Grey
The combination of a grey wall and wooden floor can add some depth and contrast to the bathroom. The neutral and calming backdrop is also suitable for anyone who loves a sophisticated yet simple look.
Black & White
The black tile wall and white bathtub in this bathroom instantly create a striking and glamorous atmosphere. The tiles can add some shine and sparkle to the bathroom, further enhancing the spooky style.
Dark Purple
The dark purple wall of this bathroom can add a certain mood and the rich and royal look of the black wooden floor can accentuate the gothic style.
Bloody Red
The bloody-red wall and black wooden mirror frames combo will easily create a spooky atmosphere in your bathroom. The bold and eye-catching look will also make the space unforgettable for your guests.
Spooky White  
It seems that using a monochrome wall and white furnishings is the safest way to achieve a gothic style. The color scheme creates a refined atmosphere and the spooky-themed decor adds a subtle medieval touch.
Knowing What Fixtures and Accessories to Install
The fixtures and accessories are key aspects in achieving a cohesive gothic look. They will add some personality and flair to the space, while also enhancing the functionality and comfort of it. However, it is important to avoid creating a cluttered and mismatched look.
You can also mix and match different fixtures and accessories to create a unique overall look. Still, you should be careful with your choices and only use items that match your functionality needs.
Black Mirror Frames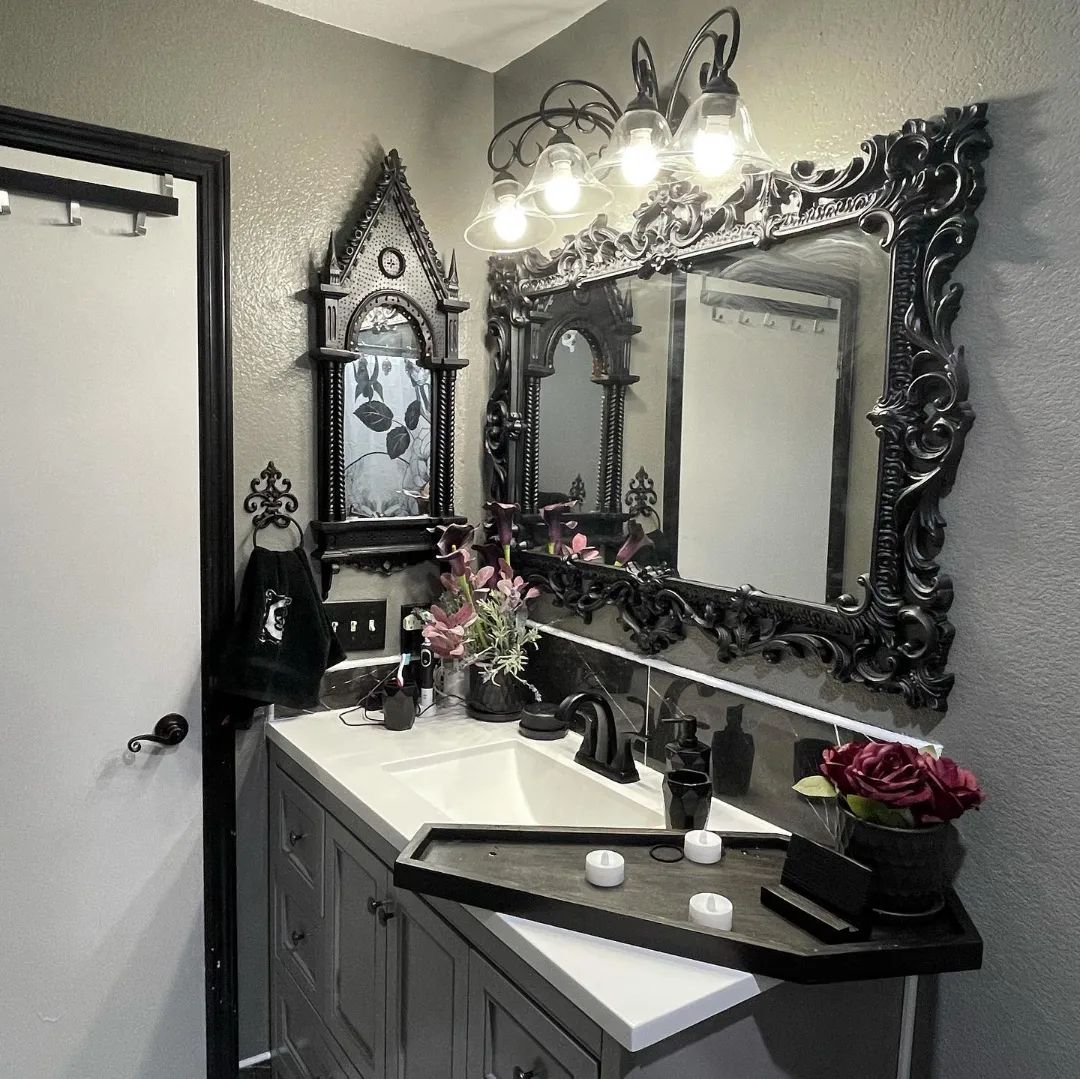 One sure thing black mirror frames do is they add some contrast and drama to a bathroom. When placed against a light backdrop, the frames will make the mirrors stand out more.
Dark-Themed Signs
To break the monotony of the spooky style, use a dark-themed wooden sign. You can also use the wooden sign to add some humor and fun to the area.
Coffin Bath Board
Besides some functionality and convenience to the bathroom, this bath board can add some edginess to the space.
Ornate Flower Vase
Do you notice the medieval flower vase tucked away at the corner of the bathroom above? Its ornate design is well-suited to the sophisticated theme.
Golden-Framed Vintage Mirror
A gold-painted mirror frame can make the bathroom more elegant and sophisticated. It will also accentuate the gothic style.
Setting Up the Lighting
Setting up the lighting for a gothic bathroom is another important step because it will greatly affect the mood of your space. And, if you know how to set it up cleverly, you can highlight certain features of your bathroom to further enhance the dark ambiance.
You can use dimmers to create a soft and cozy glow, or elegant chandeliers to add some glamour and sophistication to your gothic bathroom. If you don't mind a little bit of a hassle, you can use candles. They will add some warmth and create a romantic yet mysterious vibe.
Candle Light
Because they can produce some shadows and contrast, black candle holder and white candles can add a sense of ritual in your bathroom.
Fake Fireplace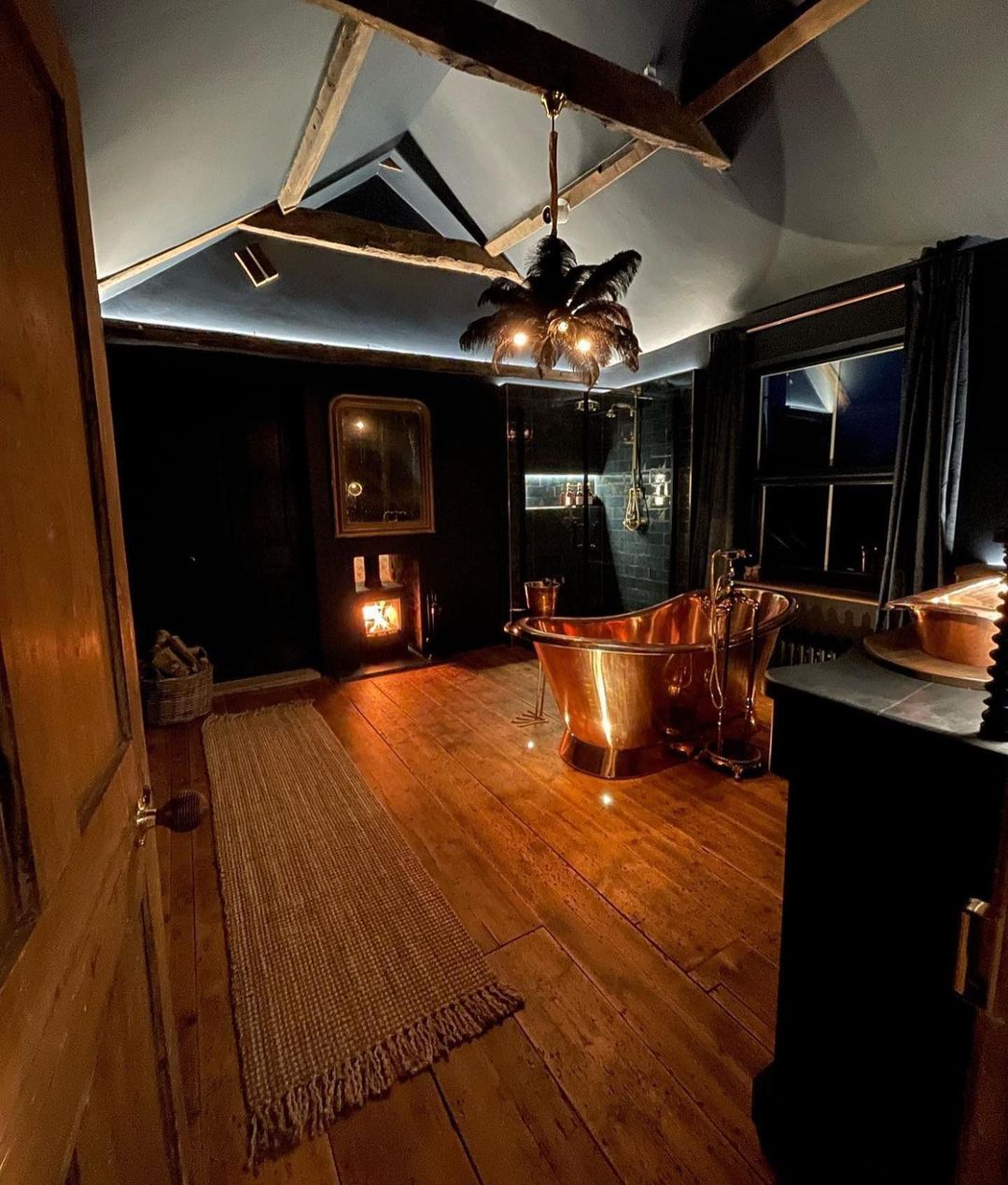 Besides creating a ritual atmosphere, a fireplace can also create a dramatic and stylish effect.
Use Chandelier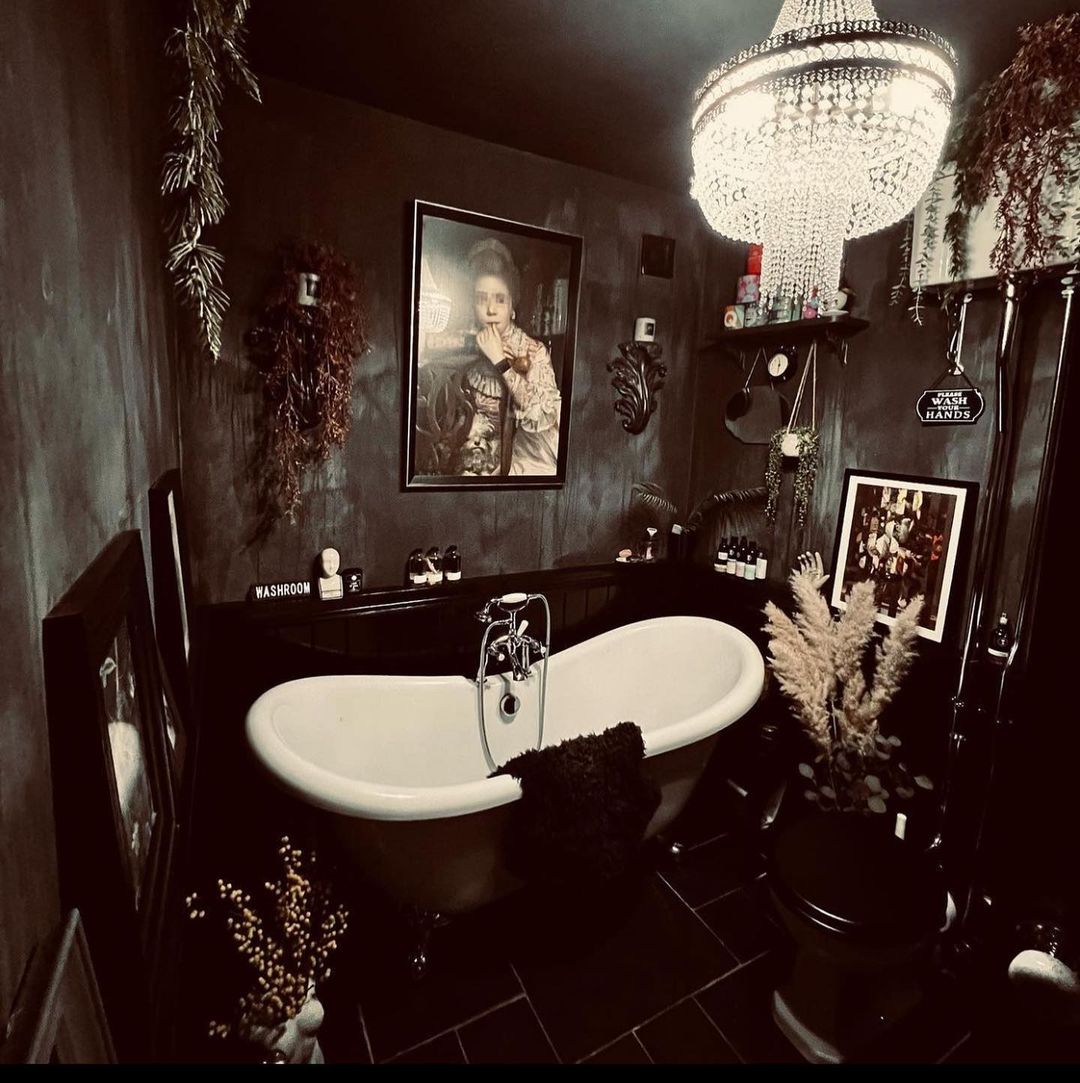 Unlike other lighting methods, a small chandelier can create a certain perspective in the bathroom. It will also make your gothic bathroom feel more sophisticated and refined.
Wall Sconces
You can also rely on lavish Mediterranean styling wall sconces to create a special touch to your gothic bathroom.
Must-Have Gothic Accents for A Gothic Bathroom
Another way to create a gothic vibe in your bathroom is by adding some gothic accents. You don't have to buy a massive gargoyle statue. Instead, these accents can just be small and simple items that will add some personality to the room.
Besides their functionalities, mirrors are great for a gothic bathroom since many of them come with ornate details and you can customize them with dark colors. They will also create visual illumination that adds a special touch to the surroundings.
You can also use rugs to add a gothic element while also enhancing the comfort of your bathroom. You can also go the extra mile. To can enhance the gothic vibe, make sure that you only use black and red towels day to day.
Half-Moon Cabinet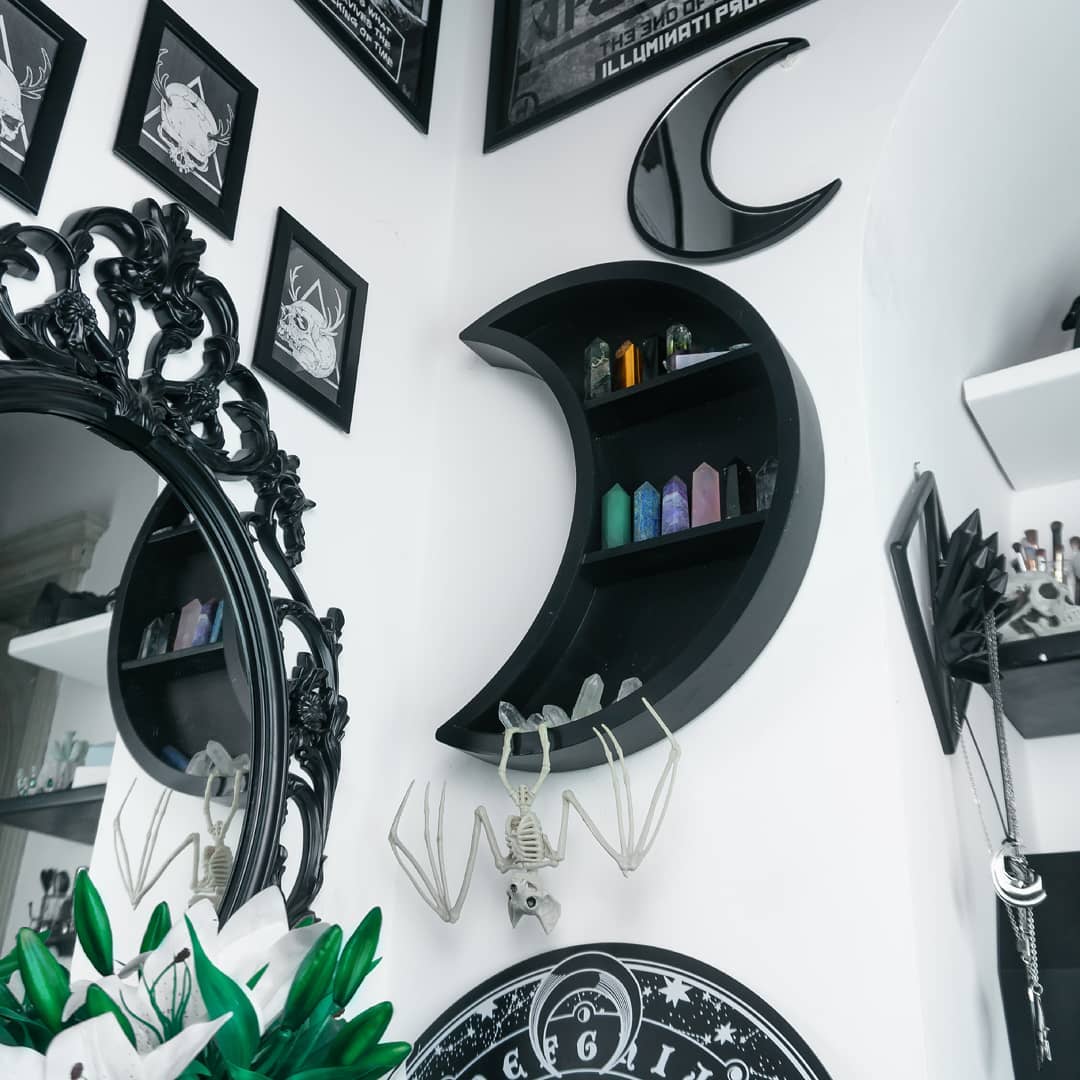 The moon is often associated with mysticism, which is why it makes sense that you put a moon-shaped wooden shelf in your gothic bathroom.
Medieval Curtain
A medieval curtain can also greatly enhance the gothicness of your bathroom. Place it near a window and it will create a unique silhouette.
Gothic Bath Curtain
A skull-printed bath curtain is another easy way to achieve a gothic bathroom look.
Coffin Shelf
Probably the best item to pair the bath board mentioned earlier is a coffin-shaped bathroom shelf. To make it even more gothic-looking, place skulls, candles, and potions on it.
The Maintenance and Cleaning of A Gothic Bathroom
Without a doubt, a gothic bathroom is a beautiful and impressive space. However, it must be kept looking at its best at all times. Otherwise, due to the many ornate details that easily gather dust and mold, your bathroom can quickly become dirty.
The number one thing you must do in your gothic bathroom maintenance routine is dust it regularly. Dust accumulation is the source of many bathroom problems, so grab your feather duster and carefully remove any dust buildup.
Next, to prevent mold from growing, you should provide enough ventilation for your gothic bathroom. If you don't think there is not enough ventilation, you can install an exhaust fan. Don't forget to paint the fan black to ensure an unbroken gothic theme!
Takeaway
Being versatile and very customizable, a gothic theme can be a great way to turn a bathroom into a stunning and unique space. If you are interested in creating a gothic bathroom, try out the simple tips above. You will then see how they can help you make a space that suits your taste and style!