The ocean-themed bathroom is currently gaining popularity because of the ambiance and the memory of a beach's relaxing atmosphere that it creates. The design often features coastal living elements which evoke a sense of tranquility, relaxation, and being in one with nature, providing a place for homeowners to catch a break from their daily activities.
Here are various ways in which you can incorporate the coastal elements into your bathroom and make it a rejuvenating space for anyone that lives in your place.
Coastal Chic: Choosing the Right Color Scheme
If you want to create a beach-inspired and smooth atmosphere for your coastal bathroom, choose the right color theme. The color palette is responsible for evoking emotions of serenity, coastal charm, and freshness. Here is an overview of the best color combinations.
Blue and White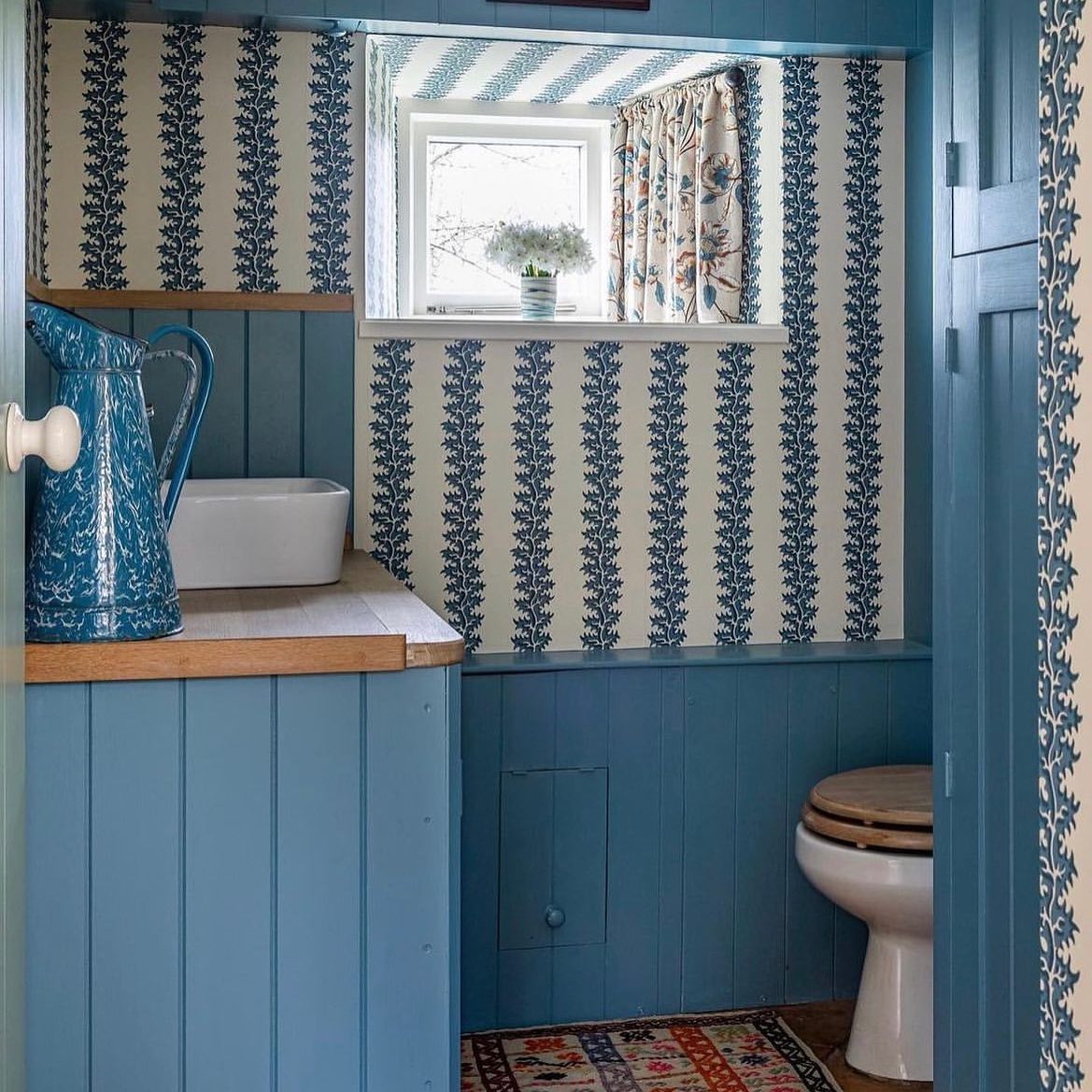 Shades of blue and white create a breezy atmosphere that will mimic the color of the ocean and the clouds. It is a beautiful coastal theme that brings a classic feel. You can choose shades of blue such as sky blue, aqua, and seafoam, and combine them with crisp white.
Green and White
A combination of green and white elicits a sense of the lush coastal vegetation and tropical serenity. You can pair white accents and shades of green such as soft sea green or lush palm green to bring the magical touch of coastal nature into your bathroom.
Blue and Beige
A combination of blue and beige will mimic the blue ocean waters and the sandy beaches of the coast. Combining shades of warm beige tones and hues of blue will be awe-inspiring and will bring about an inviting and serene atmosphere.
Tips for Choosing The Right Colors
All the above choices can work out well, but that will depend on the color scheme of your overall space. Here are some tips to help you make the right choice of coastal bathroom colors.
Size of the bathroom – White colors will make your bathroom appear bigger and spacious while darker tones will add depth and coziness to the space.
Lighting – Colors will appear differently in artificial or natural light. Consider the type of light that you will be using in your bathroom to help you apply the right color.
Embrace nature – Elements of nature are essential elements in coastal bathrooms. Sandy beige, drift brown or seagrass green are good examples that will add texture and warmth to the space.
Accent colors – Accent colors such as sunny yellow, turquoise, and coral will add a pop of vibrancy and create visual interest. You do not have to stick to the blue, green, and beige colors which are believed to be the foundations of the coastal bathrooms.
Layering Textures and Materials: Create a Coastal-Themed Space with Depth
When designing a coastal bathroom, you have to consider the material and textures to use to create a coastal aesthetic space that will serve you well. Coastal bathrooms usually feature a blend of natural materials and textures that will elicit a feeling of beachside living. Here are some of the materials and textures that will be handy for a functional and aesthetic coastal bathroom.
Natural Wood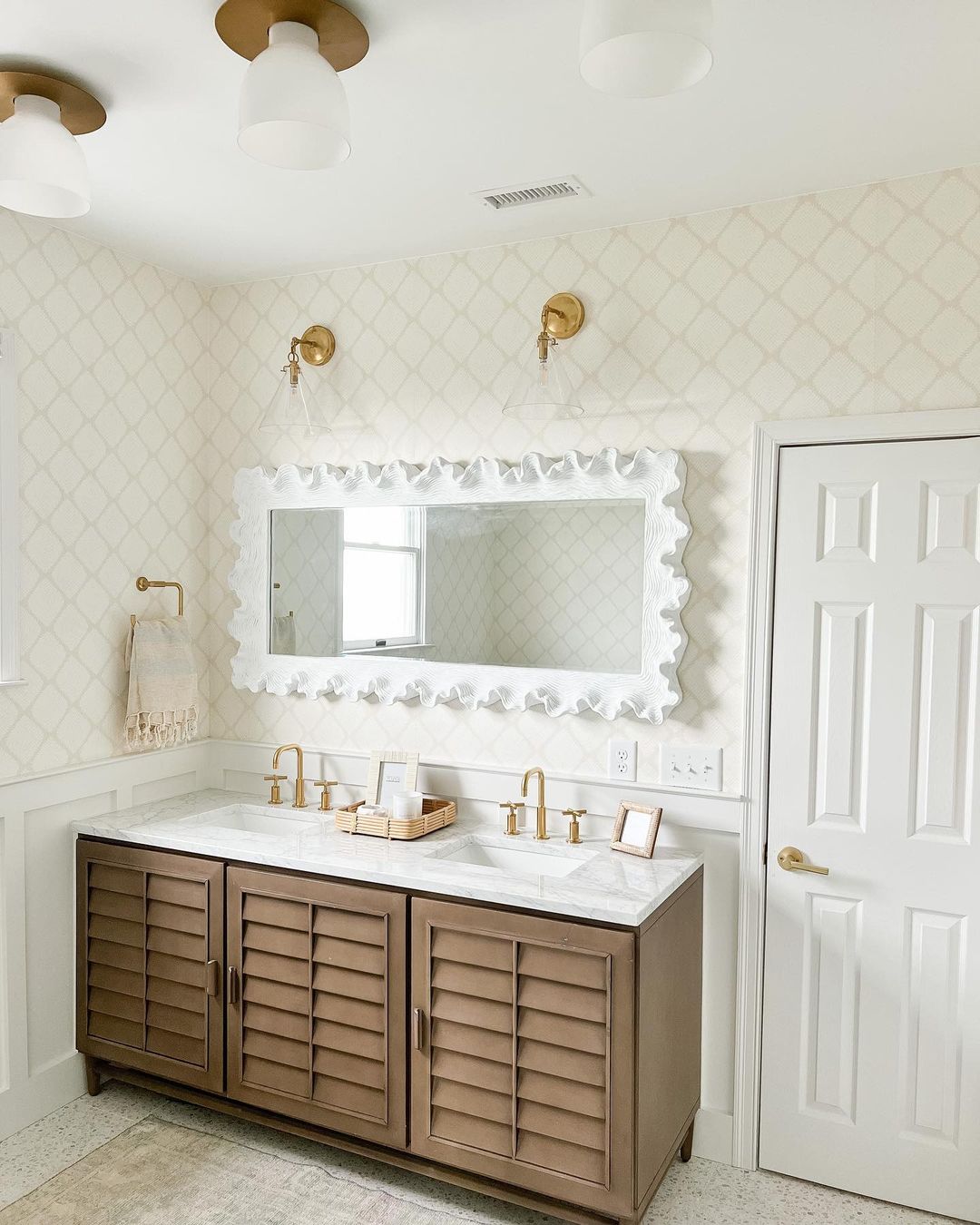 Natural wood will introduce an organic charm and warmth to your coastal bathroom. You can incorporate natural wood in elements such as shelving, mirrors, wooden vanities, and cabinets. Such an element will give a natural texture and grain of wood which will contribute a touch of coastal authenticity.
Shiplap
Shiplap is synonymous with coastal décor because of its casual beach aesthetic and clean lines. A good way of incorporating this element into your coastal bathroom is using shiplap on ceilings or walls.
Textured Wallpaper
A textured coastal bathroom wallpaper especially one with a subtle grasscloth-like texture will add a visual interest to your bathroom space. It will be essential in mimicking the texture of ocean waves and sand dunes and overall promoting the coastal atmosphere.
Tips for Using Materials and Textures Effectively
If you want to integrate a sense of coastal ambiance into your bathroom while using materials and texture, follow these tips:
Balance materials – Strike a balance between different materials and textures in the space. You can combine smooth surfaces with textured elements to create visual contrast and depth. For instance, polished surfaces can be complemented using a shiplap.
Durability is key – A bathroom is a space that is used often and faces challenging conditions such as moisture and humidity. So, when selecting materials, go for those that are moisture-resistant. For instance, treated wood and water-resistant paints will be an ideal choice that will contribute to durability.
Keep it simple but classy – Coastal designs are characterized by simplicity and a relaxed atmosphere. Avoid overwhelming the bathroom space with too many textures and materials. Select a few but ensure that they are fine-tuned to shine and function well.
Don't forget about practicality – Although you need an appealing space, also consider the practicality of the materials chosen in terms of maintenance and cleaning. Choose those that are easy to maintain and clean.
Make a Splash: Using Accessories to Add Personality to Your Coastal Decor
Bathroom accessories will add finishing touches and improve the coastal ambiance of the space. When it comes to accessories, you are allowed to add a personal style and reinforce the coastal theme. Here are the most commonly used accessories for coastal bathrooms.
Driftwood Toilet Roll Holder
A driftwood toilet roll holder will add a natural and beachy touch to the space. The earthy tones and weathered texture will ensure that the coastal aesthetic is well incorporated.
Sea Creature Décor
You can complement the bathroom space with a collection of decorative items such as sea creatures. For instance, seashell bathroom décor and coral-shaped accessories will evoke the wonders of the ocean and contribute to the beach-inspired ambiance.
Coastal Artwork
You can add a coastal feeling to the bathroom by hanging coastal artwork such as marine life paintings and beach landscapes to infuse the space with a coastal charm. Natural scenes and light-colored artwork will be a great idea.
Woven baskets
Woven baskets can be functional and aesthetic pieces. You can store your toiletries or towels here and also create a beach feeling in the space.
Beachy Shower Curtains
If you like shower curtains in your bathroom, you can choose coastal bathroom curtains that feature coastal motifs such as waves and nautical patterns. Go for breezy and light fabrics to enhance the coastal theme.
Blue Bath Linens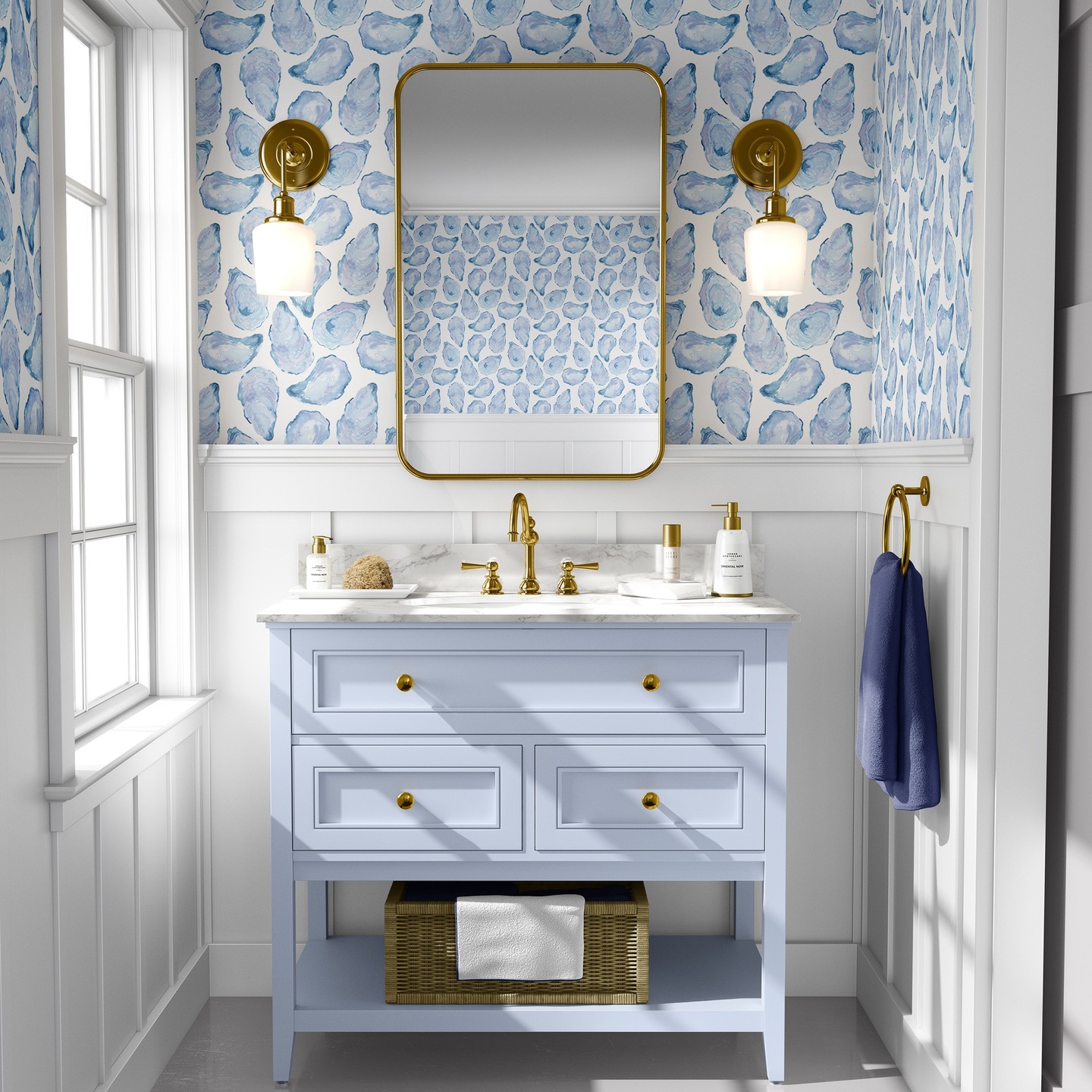 To add a pop of color to the coastal theme in your bathroom, you can introduce soft blue bath towels or coastal bathroom rugs. If you want to elicit a calming presence of the ocean, go for light shades of blue.
Rope Accents
Ropes elements are good in adding a nautical bathroom décor to the space. You can do this by incorporating accessories like cabinet handles, mirror frames, and coastal bathroom curtain ties to give the space a maritime sensation.
Tips for Choosing The Right Accessories
Always prioritize cohesiveness by ensuring that the chosen accessories align with the coastal theme.
Maintain a balance by matching the right size proportions of the accessories in relation to the bathroom space.
Choose accessories that are both aesthetic and functional.
Infuse your personal style by choosing accessories that appeal to you
Let There Be Light: Use Lighting to Enhance Your Beachy Decor
Proper coastal bathroom lighting enhances the overall design of your bathroom by creating a warm ambiance. Here are some of the coastal bathroom fixtures and techniques that you should try out for a coastal bathroom.
Pendant lights
Pendant lights with shades of natural materials such as woven fibers, seagrass, and rattan will add a touch of coastal charm.
Sconces
You can opt to mount sconces on the sides of the mirrors or along your bathroom walls to create an inviting glow to the space. Go for sconces with nautical-inspired designs such as ship lights.
Rope Lighting
Rope lighting can go well especially when installed along the base of the coastal bathroom vanities or under the cabinets. This type of lighting creates a warm cozy and relaxing atmosphere that mimics coastal cottages.
LED Mirror
LED coastal bathroom mirrors are both aesthetic and functional. Look for ones with adjustable brightness settings.
Tips for Using Lighting Effectively In A Coastal Bathroom
Consider installing layered lighting because of its ability to combine different types of fixtures.
Make use of natural lighting to enhance coastal aesthetics in your bathroom.
Create a versatile lighting setup with dimmers to adjust the light intensity in the space.
Maximize the use of coast-inspired shades such as lampshades, rattan shades, or those with marine motifs.
Opt for energy-efficient lighting systems such as LED lighting to minimize energy consumption.
From Cluttered to Coastal: Ideas for Effective Organization and Storage
Organization and storage in a bathroom setup ensure that the area is clutter free and offers a serene and relaxed atmosphere. it will help essentials stay within reach and provide an overall coastal aesthetic. Here are some of the storage options that you can implement for beach bathroom ideas.
Seashell Jars and Containers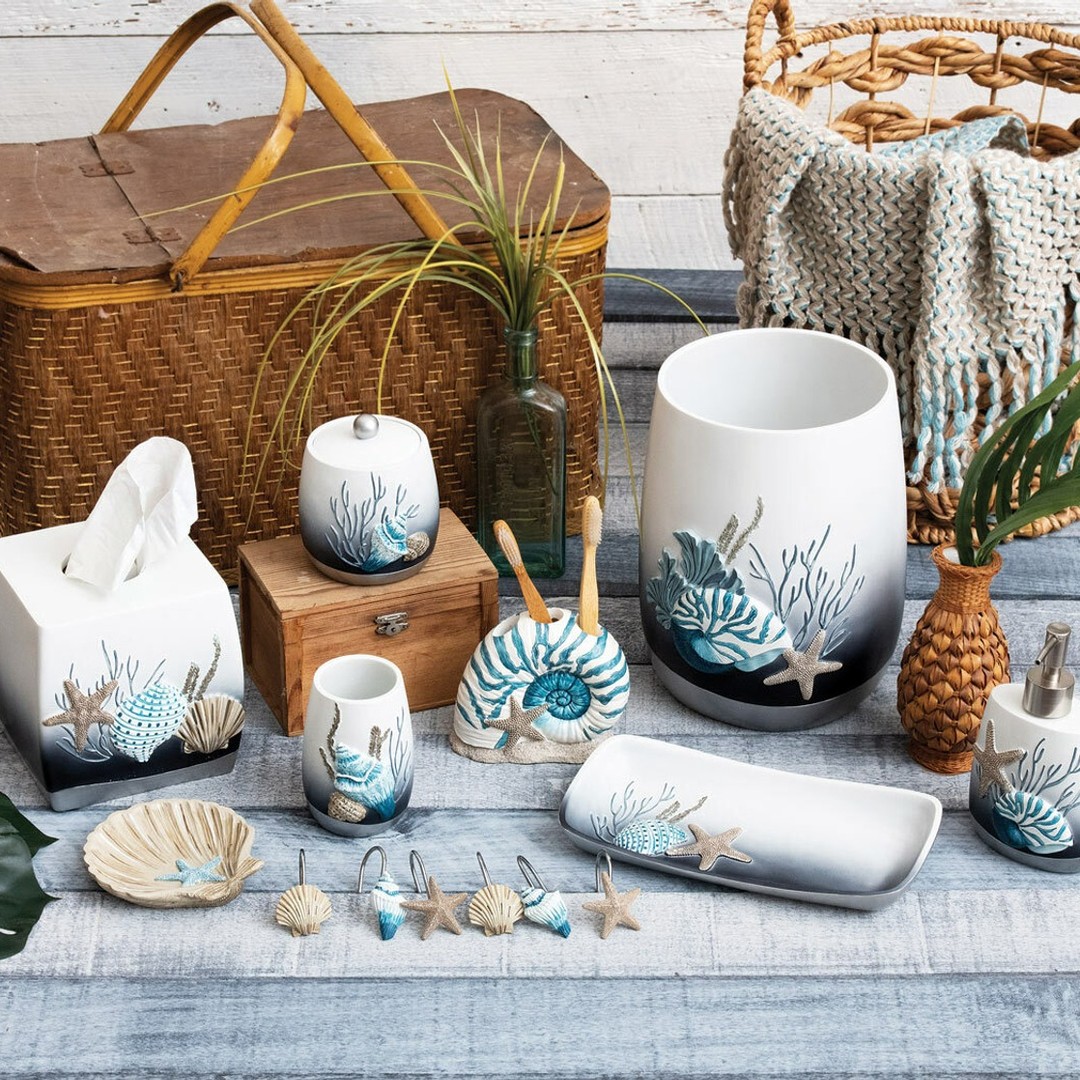 You can opt for clear glass jars and containers filled with sand, beach glass, or seashells and store essentials such as bath salts to bring a coastal feel.
Ladder Towel Racks
A ladder-style towel rack ensures that you have enough space to store your towels and also adds visual interest and a beachy vibe to the space.
Driftwood Shelving
You can have floating or wall-mounted driftwood shelves to store toiletries and also showcase a coastal vibe.
Beachy Trays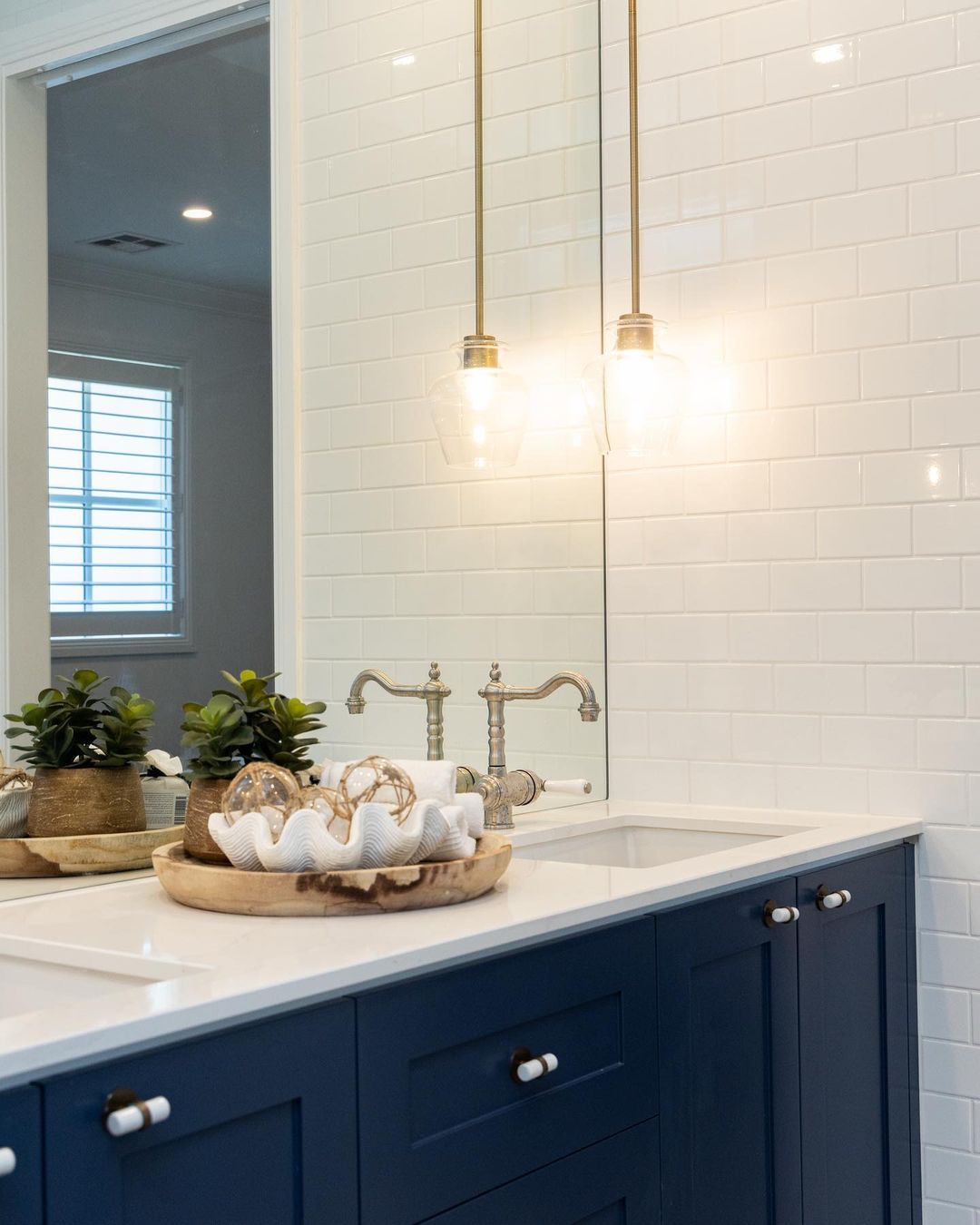 Beach-inspired trays on vanity surfaces are ideal for an organized coastal bathroom. You can choose the ones made from seagrass, woven materials, or with coastal colors to promote the coastal theme.
Tips for Maximizing Coastal Bathroom Storage in A Small Bathroom
Maximize the vertical space by installing shelves to keep the coastal bathroom tiles space decluttered.
Over-the-door solutions are good for storing some bathroom essentials.
Choose multi-functional furniture to serve dual purposes for a streamlined look.
Consider using drawer dividers to keep your bathroom items organized and accessible.
Declutter often to create a more efficient and organized space.
Clean and Serene: Keep Your Coastal Bathroom Looking and Feeling Beachy
If you want to keep your coastal bathroom looking aesthetic and fresh, you must adhere to proper maintenance and cleaning techniques. Here are the most common problems that face coastal bathrooms and ways of addressing them.
Mold and Mildew
The problem of mold and mildew is a result of high humidity levels in the bathroom. Ensure that the space is highly ventilated or incorporates the use of fans and opening windows. Clean the affected surfaces regularly with a mildew-resistant cleaner.
Corrosion by Saltwater
Metal surfaces can easily be corroded due to salt water. You can mitigate this by applying a layer of car wax or metal protectant. Always wipe dry metal surfaces to avoid more corrosion.
Hard Water Stains
Hard water leaves mineral deposits on sinks and faucets. Use a mixture of water and vinegar while cleaning and wipe the surfaces dry after cleaning.
Tips for Keeping A Coastal Bathroom Looking Fresh and Clean
Clean regularly – You need to establish a cleaning routine for the bathroom. Ensure that all parts of the bathroom are cleaned on a weekly basis and pay more attention to high moisture areas.
Maintain the grout – The grout lines of a coastal bathroom can develop mildew or become discolored over time. Clean and seal the grout line to avoid mold growth and staining.
Proper ventilation – A fresh coastal bathroom needs to stay ventilated. You can run fans after showers to reduce the humidity levels or rather install a dehumidifier to control the level of moisture in the space.
Safe cleaners – Use the right cleaning agents that are safe. Avoid harsh chemicals and opt for environmentally friendly cleaners like vinegar and baking soda.
Inspect regularly – Inspect your coastal bathroom and check for any signs of leaks and damage. Address them promptly to avoid further damage.
Final Thoughts
Coastal bathroom ideas provide you with a chance of incorporating the coastal touch into your home. when you incorporate seaside elements you can create a space that exudes tranquility and coastal charm. By paying attention to coastal bathroom accessories, lighting, color themes, and organization you can transform your bathroom into a coastal haven.