Are you ready to bring Christmas cheer into every room of your house, even the ones you wouldn't expect? As the holidays get closer, it's time to decorate more than just the living room and kitchen. It's time to try something new: the bathroom!
We don't pay much attention to this area, but there's no reason why it shouldn't also be sparkling with holiday cheer. By being creative and getting ideas, you can make your bathroom look like a winter wonderland. This blog post will talk about some great Christmas bathroom decor ideas that will make your daily tasks feel like a holiday party. Get ready to be inspired this holiday season!
22 Christmas Bathroom Decor Ideas
Create your Christmas bathroom decor style with flair! Choose from classic elegance with red and gold accents, rustic charm with wooden decorations, or modern chic with silver and white elements. Whatever your preference, infuse your bathroom with the holiday spirit to suit your unique style and taste with these holiday bathroom décor ideas!
Candy Cane Lane
Infuse your bathroom with whimsy by incorporating a red and white color scheme, candy cane accessories, and sweet-scented candles. This fun and playful decor will turn your bathroom into a merry space reminiscent of a delightful stroll down a candy cane-lined street.
Woodland Retreat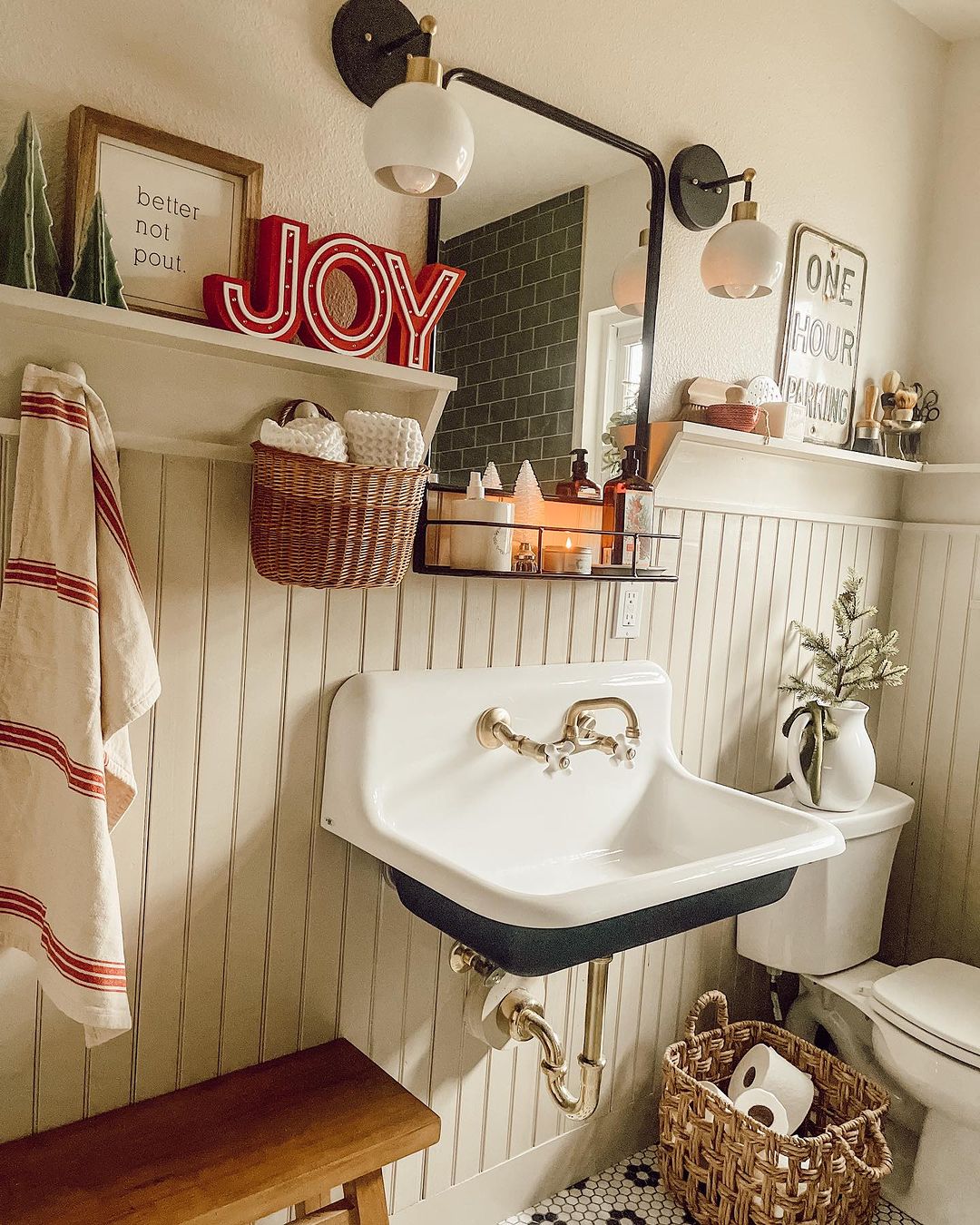 Channel the cozy charm of a rustic Christmas by bringing the outdoors in. Wooden elements, pinecones, and faux fur touches will create a warm and inviting bathroom that captures the essence of a woodland retreat.
Poinsettia Paradise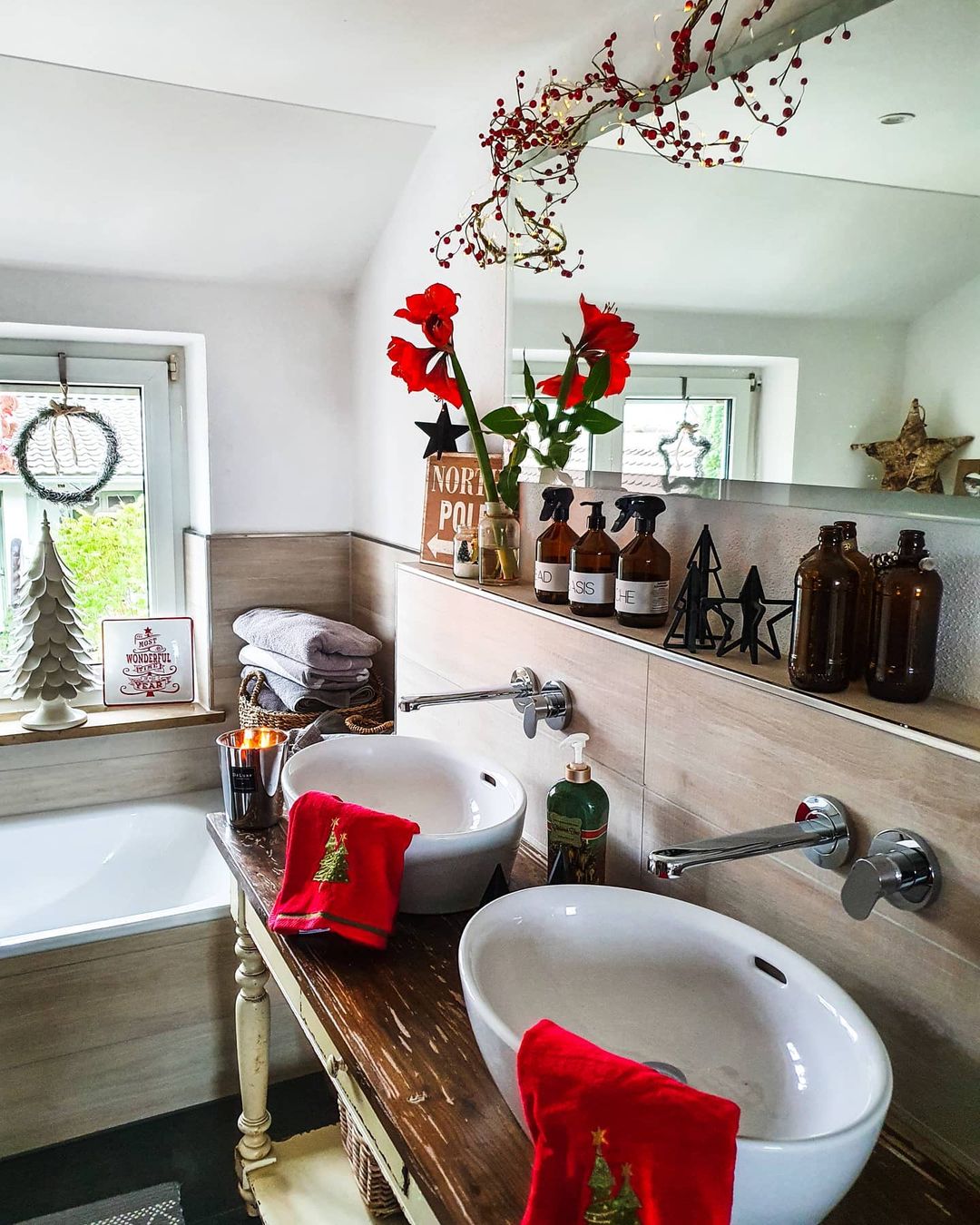 Fill your bathroom with the vibrant reds and greens of poinsettia flowers. Decorate with floral arrangements, botanical prints, and poinsettia-themed accessories to create a botanical wonderland in your bathroom.
Pine Tree Christmas Holiday
Extend the enchanting allure of pine trees to your bathroom's Christmas holiday decor. Begin with a pine wreath, scaled to suit the bathroom door, mirror, or wall. These wreaths not only exude a refreshing woodland scent but also bring a touch of nature indoors. Adorn your bathroom vanity with pinecone-shaped soap dispensers, rustic wooden trays, and pine-scented candles.
Red Gingham Plaid Bathroom Decor
Red gingham plaid bathroom decor infuses your space with a timeless, cozy charm. This classic pattern, reminiscent of rustic farmhouses and picnics, brings a warm and inviting atmosphere to your bathroom for Christmas. This bathroom decor transforms your daily routine into a comforting and nostalgic experience for the holidays!
Farmhouse Christmas Bathroom Decor Idea
Farmhouse Christmas bathroom decor brings the rustic charm of the countryside into your home for the holiday season. Start by using natural materials like wood and galvanized metal for accents. Incorporate vintage-style ornaments and decorations with a distressed finish, evoking a sense of nostalgia. This decor creates a warm and welcoming bathroom space, perfect for enjoying the holidays in classic farmhouse style.
Holiday Bathroom Christmas Decoration Overload
This bathroom style is all about going over-the-top with holiday decorations. Think colorful and extravagant, with an array of ornaments, tinsel, lights, and garlands covering every available surface. Every nook and cranny becomes an opportunity for holiday cheer, from the toilet tank to the faucet handles. It's a fun and lively approach that lets you fully immerse yourself in the holiday spirit, even in the most unexpected of places – your bathroom.
Ready for Christmas Modern Bathroom Decor
A modern bathroom can become a chic Christmas retreat with a minimalist approach. Stick to a white and silver color scheme to maintain a sleek and contemporary feel. Decorate with simple and elegant Christmas ornaments, and add metallic accents. Hang a minimalistic wreath on the bathroom mirror, and complete the look with scented candles for a modern, yet festive atmosphere.
Scandinavian Holiday Bathroom Decor Idea
Transform your bathroom into a serene Scandinavian holiday retreat with a soothing neutral color palette of whites, light grays, and soft blues. Incorporate natural elements like wooden accents, pinecones, and evergreen sprigs for an organic touch. Keep the decorations simple with wooden or ceramic ornaments, plain white candles, and woven baskets to capture the minimalist and calming Scandinavian holiday aesthetic. This decor style infuses your bathroom with a sense of tranquility and simplicity, making it a perfect sanctuary during the festive season.
Golden Glam
Add a touch of luxury to your bathroom with opulent gold accents, golden ornaments, and shimmering metallic finishes. Transform your bathroom into a lavish and glamorous space that radiates the splendor of the holiday season.
Snowy Serenity
Create a serene and tranquil winter escape in your bathroom by incorporating white decor, frosted glass accessories, and winter landscape motifs. Your bathroom will become a peaceful and soothing retreat during the holiday season.
Industrial Style Bathroom Holiday Decor
Industrial-style bathrooms can incorporate a contemporary Christmas twist. Use metal and industrial-style accessories while maintaining a minimalist and modern feel. Opt for sleek metallic Christmas decorations and modern wreaths that complement the bathroom's design. This approach allows for a harmonious blend of industrial aesthetics with the holiday spirit.
Dark Holiday Christmas Bathroom Decor
Dark Holiday Christmas Bathroom Decor takes a unique and unconventional approach to holiday decorating by embracing rich, dark color schemes and an elegant, moody atmosphere. This style is all about incorporating deep, velvety shades like dark reds, greens, blues, or even black into your bathroom decor. This style is a departure from the traditional bright and cheery holiday decor, instead opting for a more opulent and luxurious Christmas experience in your bathroom.
Black and White Bathroom Holiday Decor
With black and white furniture, you can turn your bathroom into a modern and classy vacation spot. Enjoy the classiness of this one-color scheme, which keeps the overall look clean and modern.  Pick small, understated black and white holiday decorations like black baubles or white bows to keep the look simple and classy. This style of decorating gives your bathroom a classic and stylish holiday vibe, perfect for people who like to keep the holiday spirit more understated and classy.
Vintage Bathroom Holiday Decor
Vintage bathrooms offer the perfect canvas for a classic Christmas makeover. Embrace the bathroom's timeless charm with a palette of classic red and green. Incorporate retro ornaments, antique mirrors, and framed vintage holiday prints to evoke a sense of nostalgia. Consider using old-fashioned holiday accessories such as mercury glass ornaments or vintage-style soap dispensers.
Put A Christmas Tree On It!
Incorporating a Christmas tree into your bathroom decor is a whimsical and delightful way to spread the holiday cheer throughout your home. The tree's twinkling lights can create a cozy and festive atmosphere, turning your bathroom into a unique and joyful space for celebrating the holiday season.
Playful Christmas Decor
Inject a playful and fun atmosphere into your bathroom with whimsical décor with vibrant patterns like a colorful wreath! Your bathroom will become a lively and cheerful wonderland of holiday joy.
Rustic Bathroom Christmas Décor Idea
Rustic bathrooms can be transformed into warm and inviting Christmas spaces. Embrace the bathroom's natural beauty with a palette of wooden and earthy tones. Decorate with burlap ribbons, pinecone accents, and twine-wrapped ornaments to create a cozy, rustic atmosphere.
Simple Wreath Holiday Decor
Embrace the beauty of simplicity with a simple wreath holiday decor theme. Hang a classic wreath on the bathroom door or mirror, featuring a minimalist design with a few select elements like pine branches, pinecones, and a festive ribbon. This understated decoration captures the essence of the holiday season without overwhelming your bathroom. It creates a warm and inviting atmosphere, ensuring that every visit to your bathroom during the holidays feels like a delightful and elegant escape into the spirit of the season.
Bathroom Hanging Decors with Red Ribbon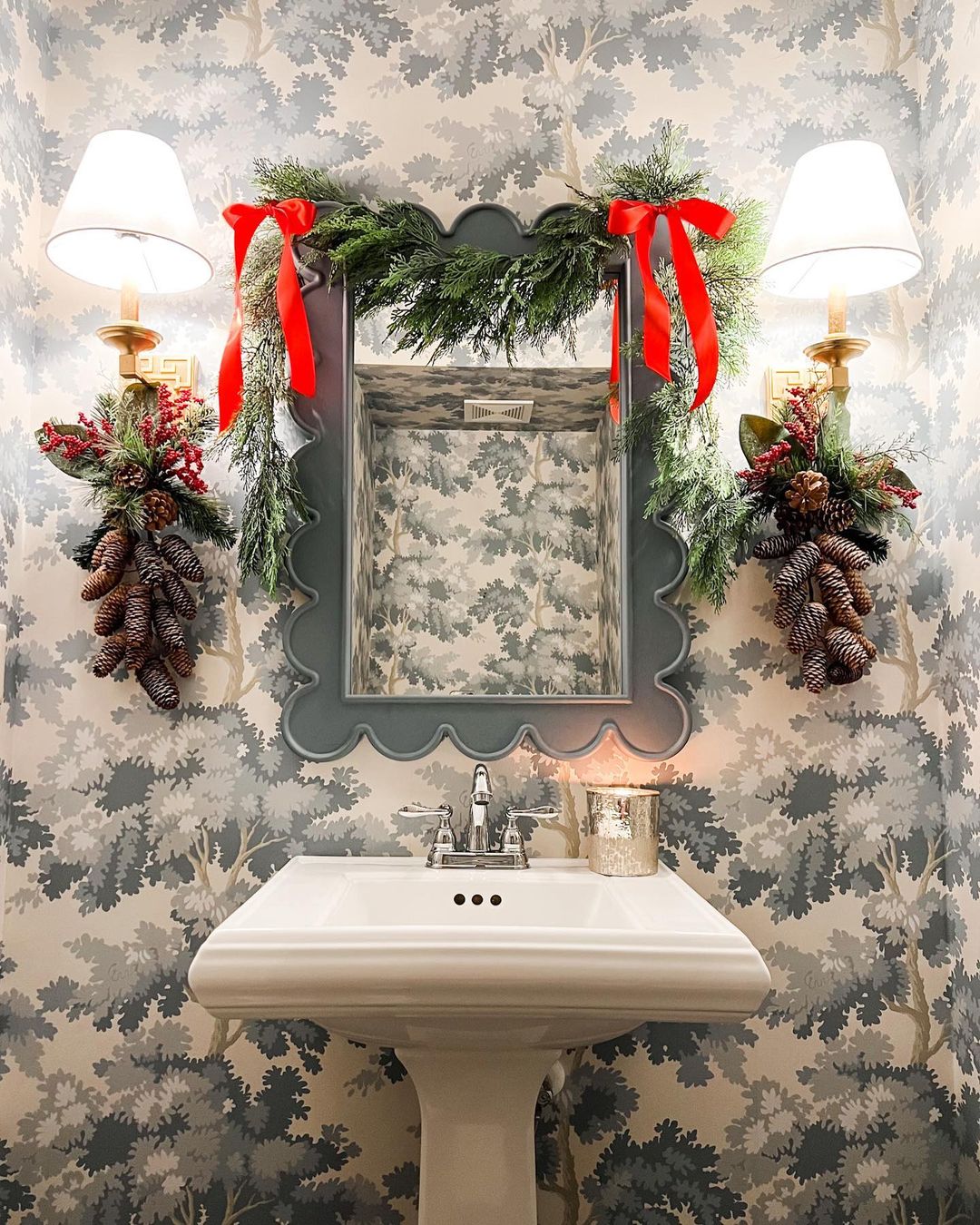 Incorporating hanging decors with red ribbons is a charming way to infuse your bathroom with a festive spirit during the holiday season. Hang red ribbon-adorned wreaths on the bathroom door or mirror, adding a touch of holiday cheer to the space.
Infused Red Patterns In The Bathroom
Infusing red patterns into your bathroom decor is a bold and festive approach to embrace the holiday spirit. Consider incorporating red-patterned elements such as shower curtains, towels, and bath mats featuring classic designs like plaid, stripes, or cheerful holiday motifs. The color red exudes warmth and energy, creating an inviting and vibrant atmosphere.
Classic Red and Green Holiday Bathroom Decor
Putting red and green decorations in your bathroom is a classic holiday choice that will never go out of style. Choose shower curtains, towels, and bath mats that are a mix of red and green. When used together, these two traditional holiday colors make the room feel happy and bright, just like Christmas. Add red and green ornaments, candles, and other items to the decor to make it look complete and festive.
Conclusion
Adding Christmas decorations to your bathroom is a fun way to get your whole house in the holiday spirit. There are a lot of creative ways to add holiday cheer to your bathroom, from traditional red and green themes to less traditional ones. This holiday season, make every trip to the bathroom a happy and special one.