Introduction
If you have boys in your life, have you ever thought about how to make a simple bathroom into a place that fits their adventurous spirit and unique interests? No need to look any further, we have a list of great ideas for boys' bathrooms that will help you make the whole experience great and unique for your kids. You can make a bathroom that boys will love by following these steps: fun themes, useful design tips, and construction. Today we're going to talk about boys' bathroom design and how to make this space show who they are and what they like.
13 Creative Boys' Bathroom Ideas He Will Like
Are you prepared to transform your son's bathroom into a room that is both creative and useful? We look at creative themes and designs in this collection of boys' bathroom ideas to help you make a bathroom that not only meets their needs but also shows who they are.
Navy and Wood Combination Boy Bathroom Idea
This design concept that combines the cool and calming essence of blue with the warm and rugged charm of wood. In this theme, deep, muted shades of blue, such as navy or slate, create a strong and masculine backdrop, while the addition of wood elements adds a sense of grounding and natural authenticity to the space.
Honeybear Theme Bathroom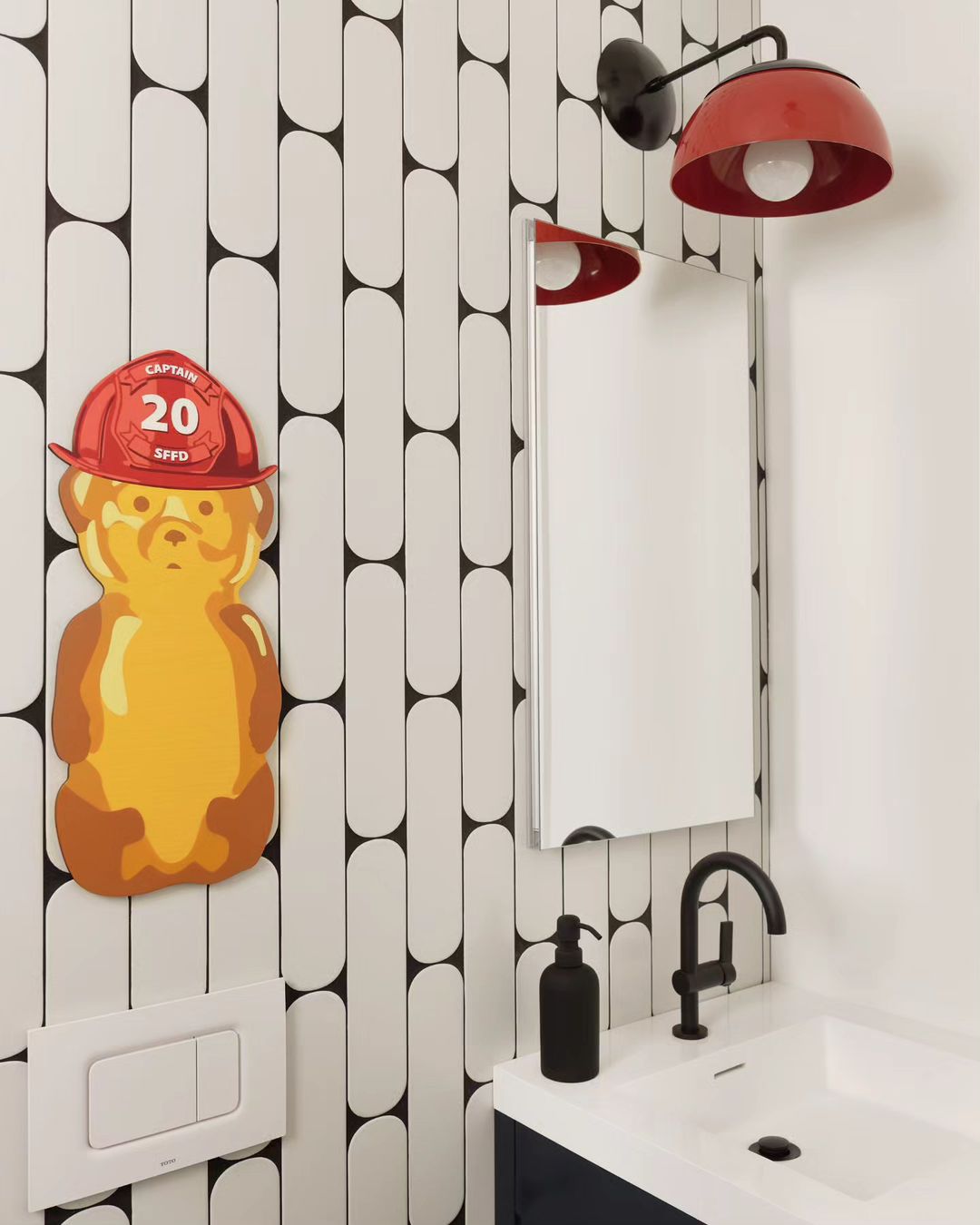 Step into a whimsical world of sweetness and charm with a Honeybear theme bathroom. Designed to delight and captivate young boys, this enchanting bathroom concept brings together elements that evoke a sense of adventure, playfulness, and nature's wonders.
Nature Embrace Look Bathroom
Transform your boy's bathroom into a serene oasis inspired by nature by incorporating earthy colors into the decor. By selecting hues like khaki and deep greens, you can create a calming and organic atmosphere that brings the beauty of the outdoors inside.
Black and White Monochrome Bathroom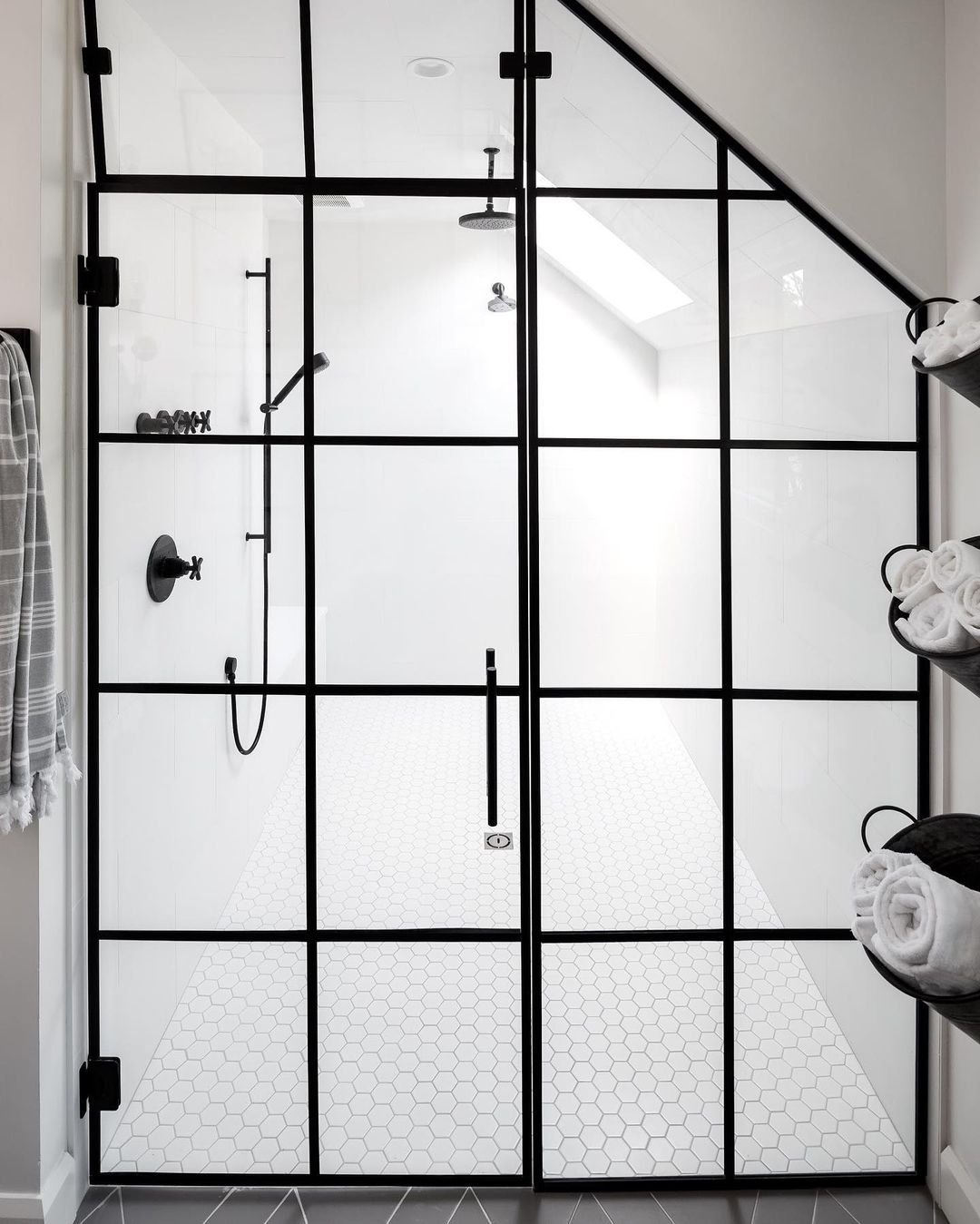 Create a sleek and sophisticated bathroom with a black and white monochrome theme. Start with white walls and add high-contrast black and white patterned floor tiles. Choose minimalist fixtures in matte black or polished chrome, complemented by frameless mirrors and black or white pendant lights.  The result is a modern, timeless space that combines elegance with a touch of individuality, making it a striking and inviting bathroom.
Retro Boy Bathroom Design
Embrace nostalgia and create a charming Retro Boy's Bathroom that harkens back to the styles of yesteryears. Incorporate a palette of bold primary colors like red, blue, and yellow, evoking a sense of youthful energy. Vintage subway tiles or checkerboard patterns on the floor bring a timeless feel. Classic fixtures with brass accents, such as a pedestal sink, add an air of authenticity. Adorn the walls with framed vintage comic book covers or retro sports memorabilia, sparking your child's imagination. Complete the look with retro-style towel racks and accessories for a bathroom that's not just functional but a fun trip down memory lane.
Graffiti Walls Boy Bathroom
Designing a graffiti walls bathroom for a boy offers a classic, versatile, and stylish space. The monochromatic color scheme exudes a timeless charm that can adapt to various themes and ages. This design provides a clean, modern canvas for your boy's bathroom, allowing for easy updates as his preferences evolve.
Gray Neutral Bathroom
Design a stylish and gender-neutral gray bathroom for your boy that exudes sophistication. Gray serves as a versatile backdrop, creating a modern and elegant atmosphere. Choose various shades of gray for walls and accents, like floor tiles and cabinetry, to add depth. White fixtures and accessories provide a crisp contrast. To infuse personality, introduce pops of color through towels, bath mats, and wall art. This gray bathroom design is timeless, making it adaptable to your boy's changing tastes and ensuring a contemporary and classy space for him to enjoy.
White and Red Boy Bathroom
Design an energetic white and red boy's bathroom with a bold and captivating aesthetic. Incorporate black and white walls and fixtures, adding vibrant red accents through cabinets and mirror frame. This dynamic color scheme stimulates creativity and creates a spirited space that your young one will love.
Modern Style Boy Bathroom
Create a stylish and sophisticated boy's bathroom with double big rectangular mirrors, a navy cabinet, marble floors, and a luxurious marble tub. This combination of elements will result in a sleek and modern space that exudes elegance and masculinity.
Rustic White Boy Bathroom
Craft a calming and rustic retreat for your boy by focusing on a white-themed bathroom design. Start with whitewashed walls or white subway tiles to create a bright and airy backdrop. Incorporate rustic elements such as distressed wood vanities, wooden-framed mirrors, and antique-style fixtures. Add warmth with woven baskets for storage and natural materials like stone or wood for countertops.
Timeless White and Black Boy Bathroom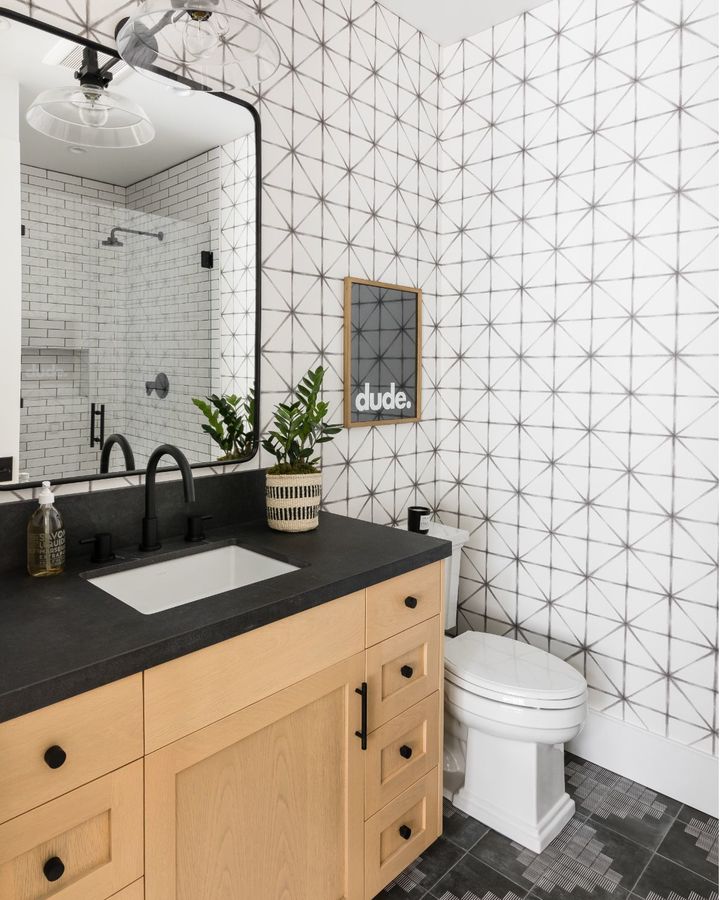 A classic black and white color plan will make any boy's bathroom look great for years to come. The clean and airy feel comes from the white walls and fixtures, while the sophistication comes from the black accents like tiles, cabinets, and accessories. This classic style is a good choice because it can be changed to fit your child's tastes as they grow. Add personal touches like colored towels, wall art, and other decorations to make the room more lively and unique. The black and white boy's bathroom is a classic blank slate that can be styled and used in a variety of ways that change as your kid does.
Safari Theme Boy Bathroom
Embark on an exciting journey with a safari-themed boy's bathroom that ignites the spirit of exploration. . Let your young explorer's imagination run wild with a bathroom that captures the essence of the great outdoors, providing a playful and educational ambiance.
Halloween Themed Boy Bathroom
Infuse the Halloween spirit into your boy's bathroom with a playful twist, using a unique color palette of white and yellow. White walls create a bright backdrop, while yellow accents add a vibrant, fun touch.
Conclusion
In conclusion, these top 13 boys' bathroom ideas provide a wealth of inspiration for creating a stylish and functional space that caters to the unique needs of young boys. From playful themes to sophisticated designs, these ideas offer a range of options to transform a boys' bathroom into a delightful and practical environment.