Black and gold, when combined, create a timeless, fancy look that never gets old. We've explored lots of ways to use these colors in your bathroom, from fancy fixtures to cool tiles and decor. Whether you're redoing your whole bathroom or just want to add a bit of glamour, these Black and Gold Bathroom Ideas will give you loads of inspiration. Get ready to make your bathroom shine with a touch of black and gold!
11 Black and Gold Bathroom Ideas You Must Try
Have you ever wished that your bathroom could be a place of luxury and style? If so, you're in for a nice surprise! Check out our 11 beautiful collection of Black and Gold Bathroom Ideas to see how this classic color scheme can add a bit of luxury and sophistication to your home.
Gilded Mirror Magic
Elevate the ambiance of your bathroom with a gilded or gold-framed mirror positioned above your vanity. This classic addition not only serves a practical purpose but also makes a bold style statement. The gilded frame catches and reflects light, making your bathroom appear more spacious and inviting. It becomes a captivating focal point, enhancing the overall design. With a gilded mirror, your daily routines become moments of luxury, and your bathroom becomes a haven of timeless elegance and sophistication.
Artistic Wallpaper Drama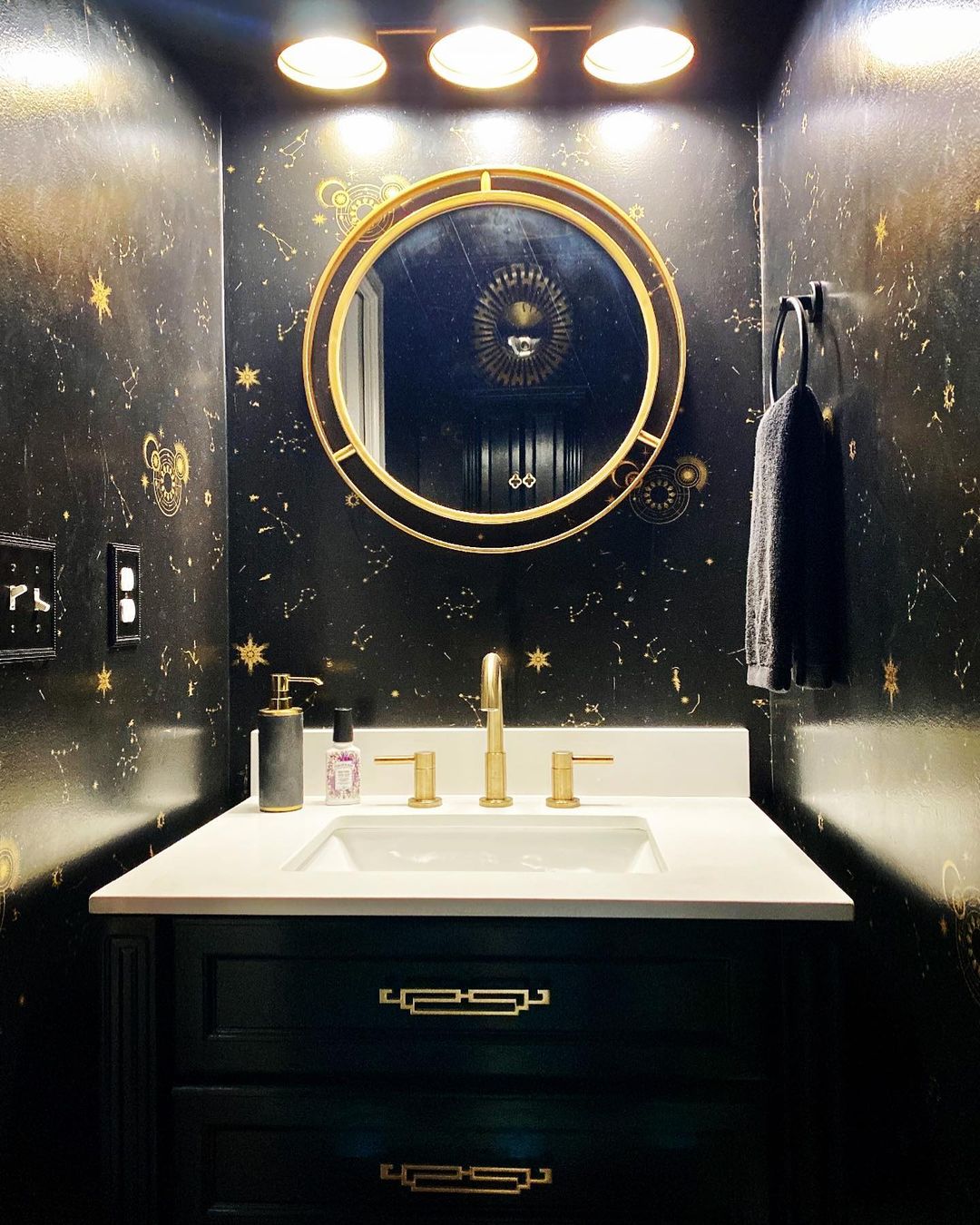 Turn your bathroom into a captivating artistic space with black and gold-themed wallpaper featuring intricate patterns or designs. Wallpaper adds depth, texture, and personality to your bathroom's walls, creating a unique and personalized atmosphere. The combination of black and gold creates a sense of opulence and drama that is both modern and enduring.
Gold-Trimmed Mirrored Cabinetry
Upgrade your bathroom storage with gold-trimmed mirrored cabinetry. These cabinets not only offer functional storage but also create an illusion of spaciousness by reflecting light and space. The gold trim adds a touch of luxury and sophistication, making your bathroom feel like a high-end spa retreat.
Gold-Embellished Mirror Wall
Create a captivating feature wall by adorning it with multiple gold-framed mirrors. This arrangement not only adds visual interest but also reflects light, making your bathroom feel more spacious and inviting. The gold frames infuse a sense of opulence into the design.
Timeless Black and Gold Marble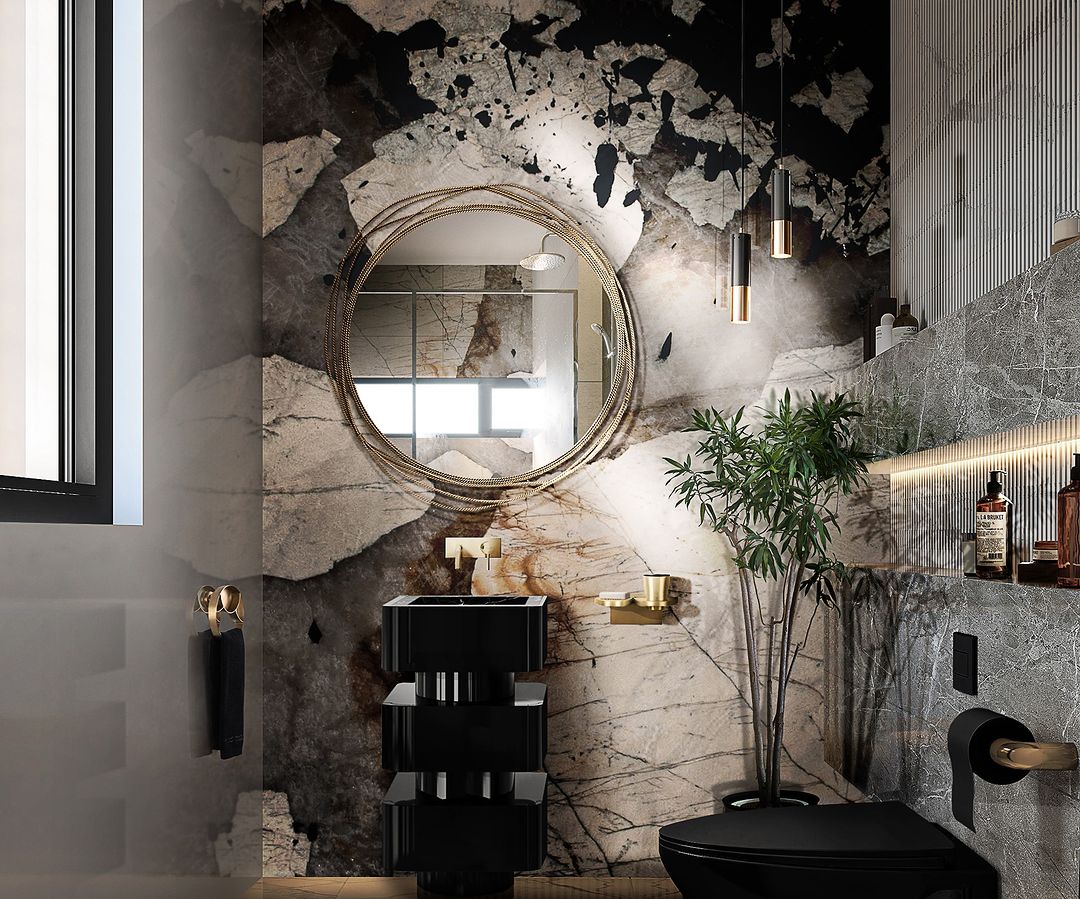 Create a luxurious bathroom with black and gold marble tiles. The rich veining of black marble complemented by gold accents adds timeless elegance to your bathroom. This classic choice exudes opulence and sophistication, turning your bathroom into a lavish retreat.
Monochromatic Modern Chic
This design choice gives the room a sleek, simple, and glamorous look. The black and gold look gives your bathroom a feeling of high fashion and sophistication.
Golden Hardware Elegance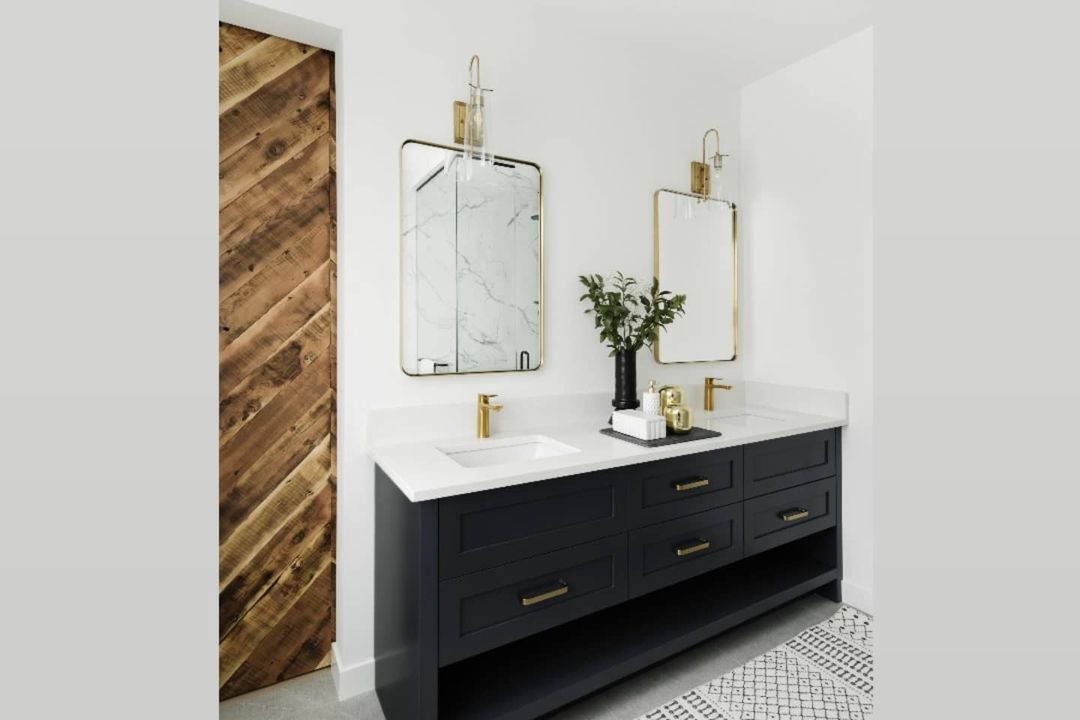 Elevate your bathroom's aesthetic by swapping out standard fixtures for sleek, gold-toned faucets, showerheads, and cabinet handles. These small but significant changes instantly infuse your space with a touch of luxury and sophistication. The gleaming golden accents catch the light and create a captivating contrast against a black or dark backdrop, making your bathroom feel more opulent and inviting. With these elegant touches, your daily routine becomes a moment of indulgence in a space that's as stylish as it is functional.
Gold and Black Geometric Patterns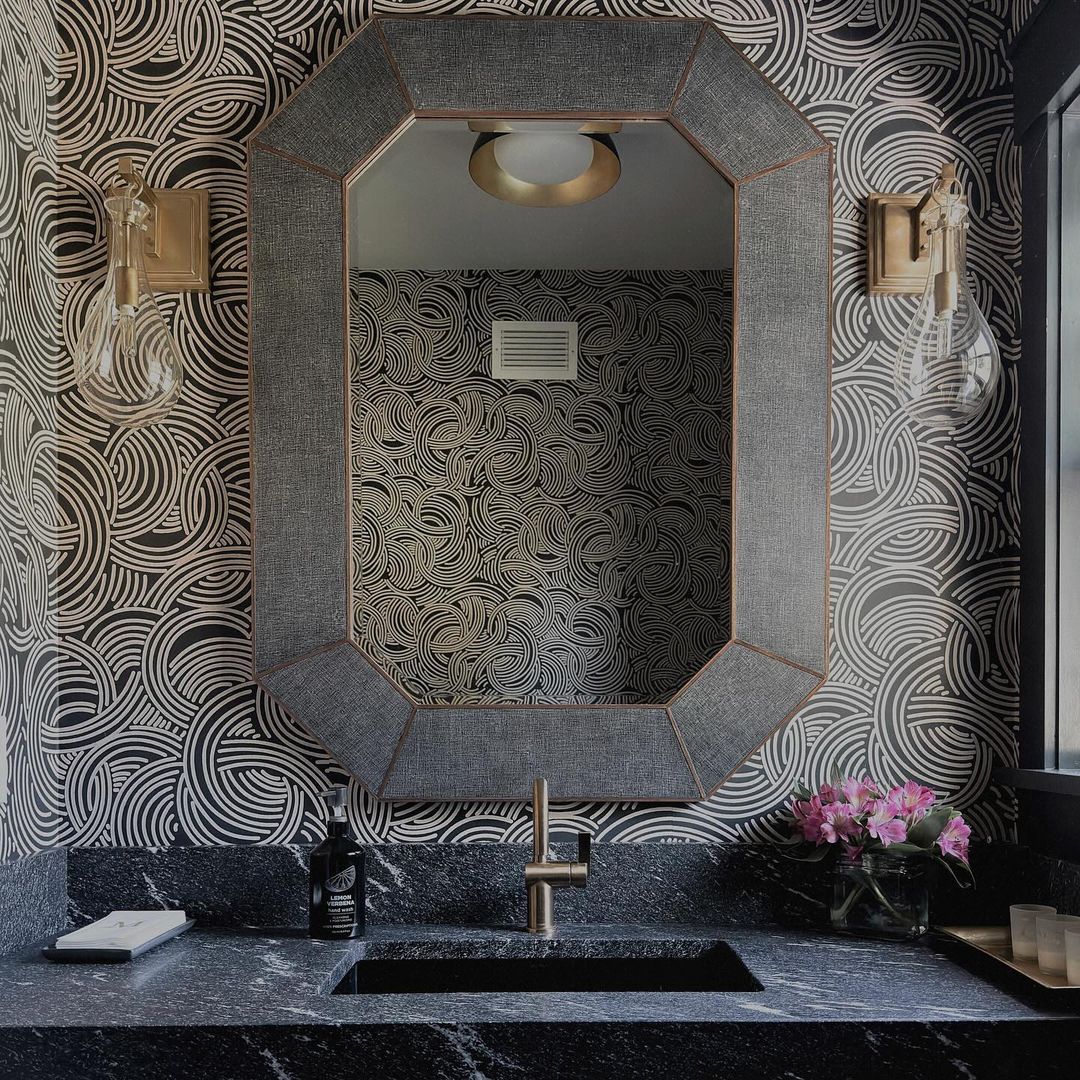 Gold and black geometric shapes will make your bathroom look more elegant. You can put these on floors, shower curtains, and even towels. Geometric patterns add depth and visual interest to a room, making it look modern and lively, which is both stylish and welcoming. Whether you choose honeycomb tiles or hexagonal designs, these geometric elements add a sense of style and order to your bathroom, making it a more pleasant place to do your daily tasks.
Black and Gold Mosaic Backsplash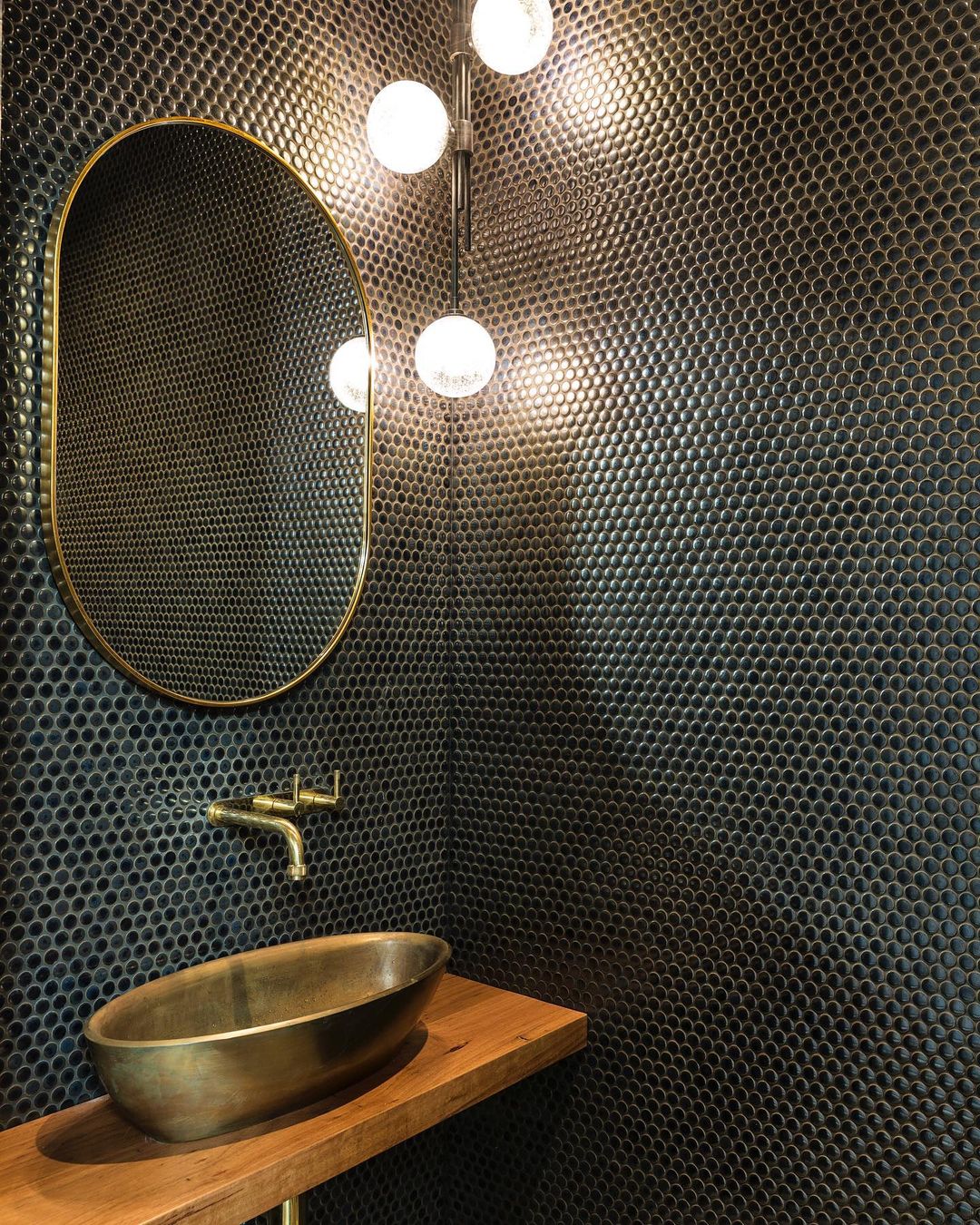 Add a touch of artistic flair to your bathroom by incorporating a black and gold mosaic backsplash behind your vanity or bathtub. Mosaic tiles allow for intricate patterns and designs, and the black and gold combination enhances the elegance and charm of your space. The shimmering mosaic reflects light and adds depth to your bathroom's design, making it a focal point that captivates the eye and complements your overall aesthetic.
Black and Gold Tiled Accent Wall
Add a touch of drama with a black and gold tiled accent wall in your shower or behind the bathtub. This design choice becomes a striking focal point, creating a sense of luxury and sophistication in your bathroom.
Gold-Embossed Tiles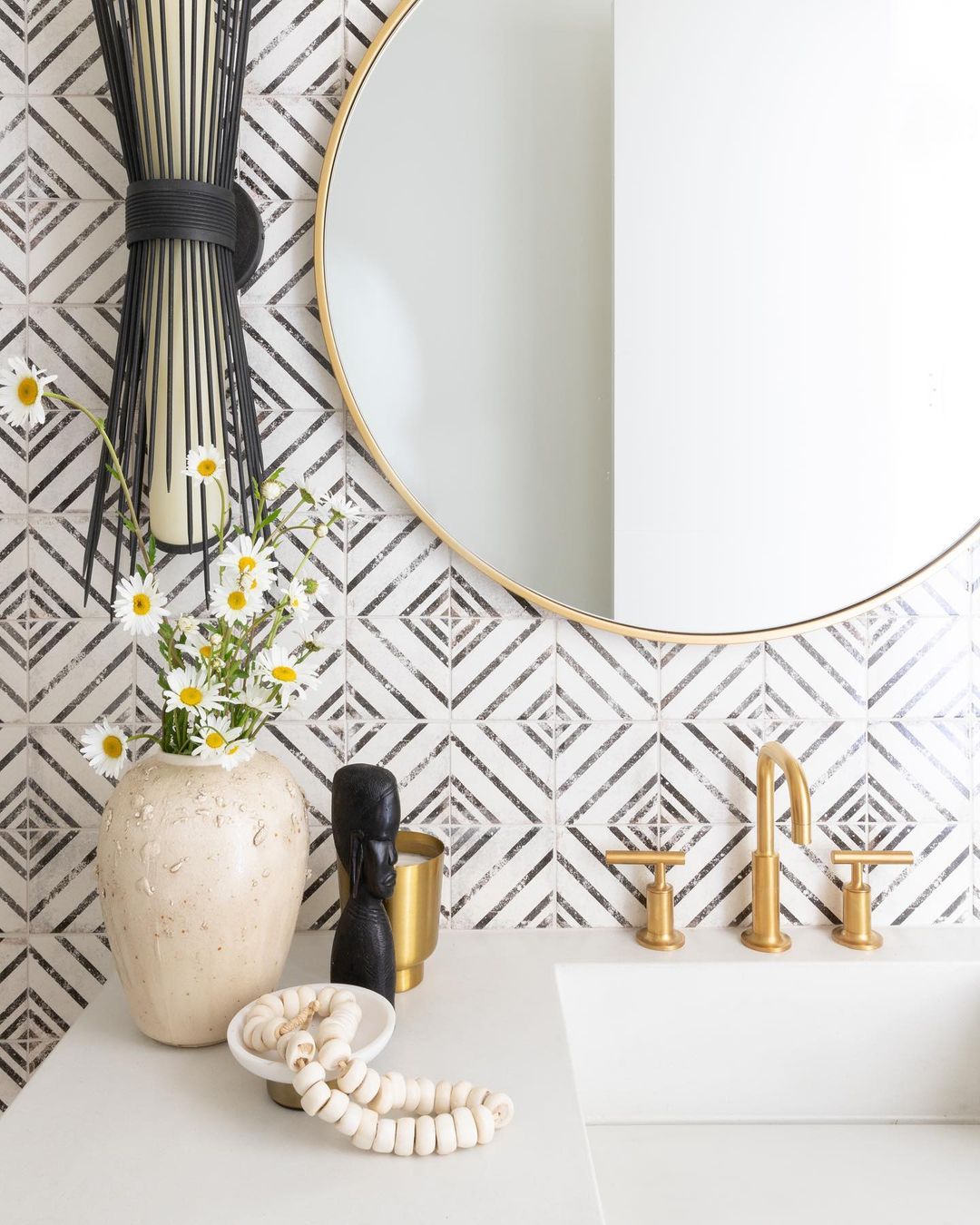 Use gold-embossed tiles to create an intricate and luxurious backsplash behind your vanity or bathtub. These tiles add texture and opulence, making your bathroom a visual delight.
Final Thoughts
The world of Black and Gold Bathroom Ideas is filled with sophisticated and creative ideas for your home. During this investigation, we've looked into the art of giving your bathroom a classic, luxurious feel. The combo of black and gold never goes out of style because it has a classic look that lasts.
From the classic beauty of black and gold marble to the sleek, modern style of monochromatic designs, there is a style for every taste and vision. Whether you choose strong contrasts or more subtle accents, a black and gold color scheme creates a balance of drama and elegance that will turn your bathroom into a real haven.
With the right furnishings, tiles, accessories, and design elements, your bathroom can become a place where every moment is filled with luxury and style. The gilded mirrors, fancy light fixtures, and textured wall coverings all add to a bathroom that not only meets your practical needs but also turns your daily tasks into moments of luxury.
So, whether you want to completely redo your bathroom or just make it look better, remember that black and gold are more than just colors; they're the keys to a world of elegance and classic beauty. Your home deserves a bathroom that not only meets your basic needs but also shows off your style and sense of luxury. Let these Black and Gold Bathroom Ideas inspire your vision and transform your home into a haven of enduring elegance and opulence.