Due to the skyrocketing prices of residential and commercial spaces, finding a property with decent access to open air and natural light has become a more challenging task. Thus, it should come as no surprise that more people are having windowless bathrooms in their buildings.
Without a doubt, a windowless bathroom can feel claustrophobic and gloomy at times, especially when it is not properly designed. However, If you have such a bathroom in your house, apartment, or office, you should not just give in to the situation!
Below, you will learn the many ways to improve your windowless bathroom so it can be one that suits your needs and make your days better.
Lighting Options for a Windowless Bathroom
There is one very important thing a windowless bathroom lacks: natural lighting! While it is impossible for the good ol' sunray to penetrate walls and reach the room, you have the option to add artificial lighting. Play around with different bulb colors and lighting setups and you should never experience a dark windowless bathroom again.
Overhead Lighting
Overhead lighting might be the most common kind of lighting found in homes, but it does a good job of making a space feel larger and brighter. The diffused light it produces helps in improving visibility within the space without hurting the eyes.
Task Lighting
If you don't fancy classic overhead lighting, then you choose to use task lighting for your bathroom. This kind of lighting is typically positioned to help us in doing a specific task, such as bathing, shaving, or doing makeup. That being said, you might need to install more than one task lighting in your bathroom.
Accent Lighting
As the name implies, the main goal of this kind of bathroom lighting is to give an accent. This explains why you will rarely see it as a main source of lighting in a bathroom, or any room in general. Instead, it functions more like a decoration that enhances the overall feel of the space.
Tips for Optimizing Lighting in a Windowless Bathroom
When you go to a home supply store, you will find an endless array of lighting options for your windowless bathroom. But, don't be overwhelmed just yet because the three tips below should help you figure out the best lighting setup for your bathing and hygiene needs.
Use LED bulbs for bright, energy-efficient lighting
Compared to traditional bulbs, LED lights are easier on the eye. They also do not emit excessive heat so you don't risk burning yourself or feeling increased temperature.
Avoid harsh or yellow-toned lighting
A yellow-toned bulb is the enemy of a light and airy bathroom! Instead, opt for a white-toned bulb because it will provide a brighter ambiance that helps your bathroom space to feel wider.
Add dimmer switches for adjustable lighting levels
While it is true that you want bright and sufficient lighting for your bathroom, there will be times when you want the bulbs to not be at their 100% brightness level. For situations where you need to be more relaxed, having dimmer switches can be a real lifesaver.
Using Color to Create a Spacious Feel
Paint (and wallpaper) remains a favorite tool for designers and remodelers to transform a room and take it to a new level. It has been proven over again that choosing the right hue can bring a significant difference to a bathroom, which is why it makes sense to make it a starting place in your remodeling journey.
Light and Neutral Colors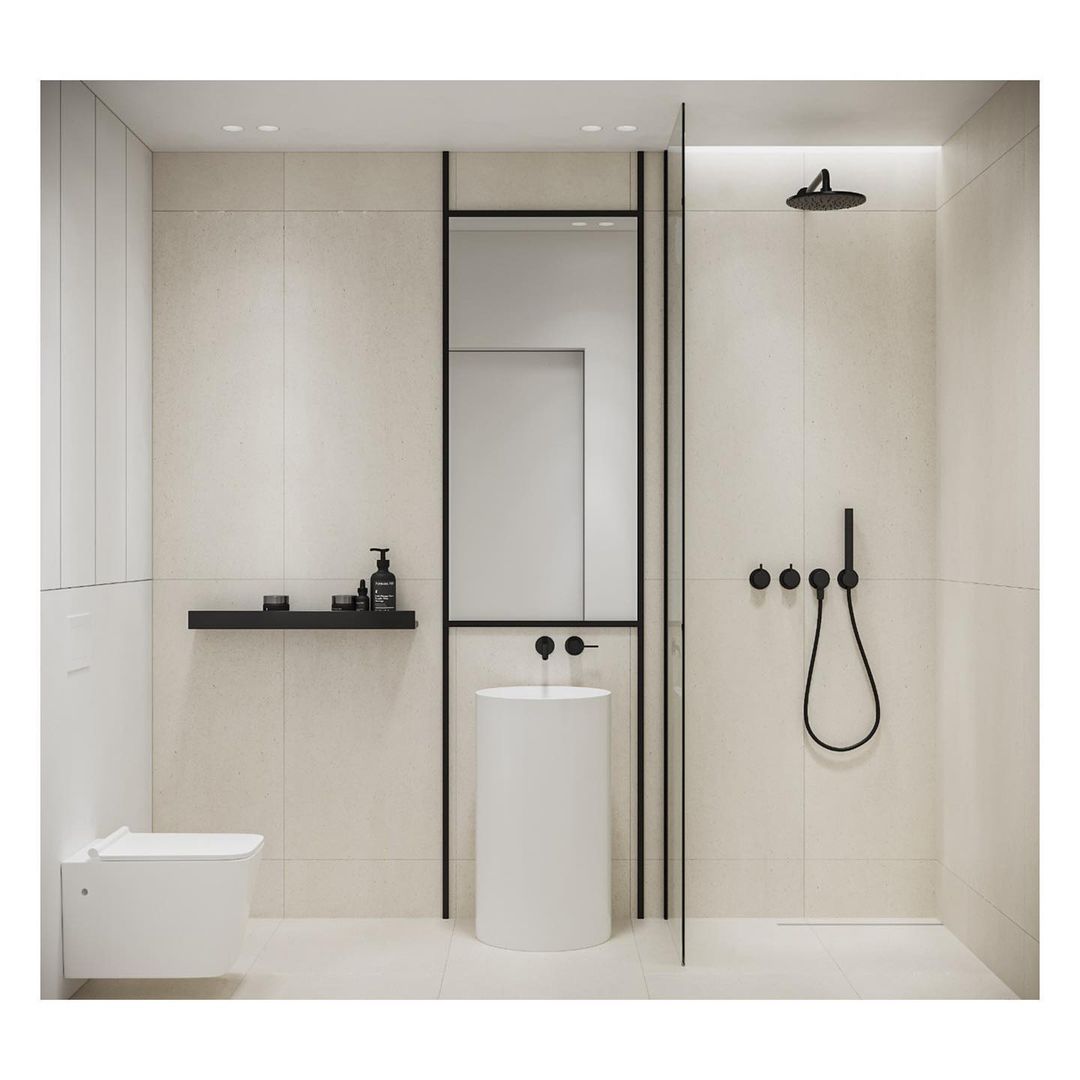 Light and neutral colors never fail to make a bathroom appear lighter and brighter because they do a great job of reflecting lights. On top of that, these colors are very versatile, providing you the chance to experiment with a lot of decor styles and ornamental pieces.
Cool Colors
If you think that neutral colors are too monotonous, then you can opt for cool colors. Many shades in the range of light blue and green are great at providing a calm and relaxing ambiance. Just make sure that the color matches the overall style of your bathroom.
Pastel Colors
You can use pastel colors the same way you use cool colors. Even so, they are more suitable if you want to be a little bit more playful and bring some kind of twist to your bathroom. These colors usually come in a wide array of shades, and you can even customize them to suit your taste.
Tips for Using Color in a Windowless Bathroom
The color of your bathroom plays a big role in reflecting the light, which is why you should be serious about it! Follow the tips below if you need to figure out what color works best for your bathroom.
Use light-colored tiles and paint
The wall color is not the only thing you should care about. Don't hesitate to change the colors of tiles and floors since they can also improve the look of your bathroom significantly.
Add pops of color with accessories (towels, rugs, etc.)
If you are afraid to experiment with the colors of your walls and tiles, then using colorful accessories is a safer way to add pop to your bathroom.
Consider a statement wall with wallpaper or a bold paint color
A statement is also a great way to improve the overall appearance of your bathroom. Just remember to carefully pick out a color or pattern because a statement wall will leave a big impact.
Maximizing Space with Mirrors
Using a mirror is a tried-and-true trick when it comes to making a bathroom feel larger. Obviously, besides the aesthetic benefits, a mirror also provides great functionalities in a bathroom.
Wall-Mounted Mirrors
A large, wall-mounted mirror never does a bad job of creating the illusion of expanded space. When combined with the right frame style, it might make put a smile on your face every time you look into it.
Medicine Cabinets with Mirrors
If functionality is your priority, then you should go for this kind of mirror.  It does not only reflect light but also offers you a decent amount of storage.
Full-Length Mirrors
For anyone who loves admiring their own self in the bathroom, this one is the best kind of mirror for them! Just make sure you install it appropriately so it will never fall off.
Tips for Using Mirrors in a Windowless Bathroom
Different mirrors create different kinds of illusions for your bathroom. Thus, you should remember the tips below so you don't spend your money on the wrong mirror.
Choose large mirrors to reflect more light
It's a common rule that the bigger the mirror the more light it will reflect. However, you must check if the size of the mirror is proportionate to the size of your bathroom.
Hang mirrors opposite light sources to maximize reflection
You should also pay attention to where you place your mirror. For it to be able to reflect the most amount of light, it must be placed opposite a light source.
Consider adding a mirrored backsplash or accent wall
If you want a unique way to maximize light reflection in your bathroom, then don't hold yourself from using mirrored backsplash tiles. Though you might not be able to clearly see yourself in them, these tiles make a great statement wall.
Storage Solutions for a Windowless Bathroom
Although using them has nothing to do with making your bathroom look brighter, storage furniture pieces can help you declutter your space. This will not only make the bathroom look tidy, but more convenient to use as well.
Shelves
Using shelves is a terrific way to add extra vertical storage spaces in your bathroom. While the objects on them are still visible, shelves can surely help you in freeing up floor space.
Cabinets
Cabinets are also a great way to add extra storage space. Other than that, they are able to make your bathroom look clutter-free. Still, you need to ensure that the cabinet color does not clash with the rest of the bathroom.
Baskets and Bins
This one is a suitable solution for people living in traditional or farm homes. Baskets and bins add a touch of nostalgia and they are available in a wide range of sizes.
Tips for Optimizing Storage in A Windowless Bathroom
All the solutions above not only provide homeowners with additional storage space but also give added aesthetic appeal. The three tips below should help you in getting the best storage solutions for your windowless bathroom.
Keep clutter to a minimum for a more open feel
Clutter will surely make a bathroom feel cramped. So, keep your clutter to a minimum amount if you want your bathroom to feel light and airy.
Choose storage options that match the color scheme for a cohesive look
Without a doubt, the color of your storage solutions also plays an important role. You might want to experiment with this factor since having the same color as the rest of the bathroom does not necessarily mean a good thing.
Use open shelving or glass-front cabinets to create the illusion of more space
If you have a very limited room space, it would be a better idea if you use an open storage solution. Not only it makes the room feel more airy, it is also easier to install and maintain.
Making the Most of a Challenging Space
A limited footprint and the absence of a window can be a real challenge when it comes to making a bathroom both comfortable and functional. But, if you have the right strategy at hand, that should not be an impossible task!
After all, you can experiment with a lot of things in your windowless bathroom decoration process, from choosing the right lighting to selecting the most functional accessories. Be open to the options and see what things work best for your situation.