Color is essential when it comes to your bathroom and vanity is the important color to recognize. It will create the mood in the room and act as the design element backdrop for the perfect bathroom where you can relax and soak away your stress. The design and color of your vanity will complete the image of the room so choose a paint color that works with your wants and needs and overall style. It doesn't matter whether your bathroom is coastal, modern, or industrial, there is a design color that will fit right in. Check out these popular bathroom vanity colors that are growing in 2023.
Popular Bathroom Vanity Colors
Matte Black
Matt black is popular especially in bathrooms. When it comes to your bathroom vanity colors whether it's the main bathroom or the ensuite painting the vanity matt black will draw attention to the vanity but also give a fresh and striking appearance to the room as it has done in the picture here. Matt black vanities give a modern edge, but it is a traditional color that works with so many designs. This popular bathroom vanity color is placed against the bright white wall with matt black lights next to the mirror which breaks up the all-white walls in the background.
In this picture we can see a designer vanity painted in matt black which gives you plenty of pleasing visual appeal. There are many reasons to choose matt black especially in a clean and tidy bathroom like this one. Matt black can hide smudges and water stains which is why it's a good choice for children and busy bathrooms. Matt black is super easy to maintain, and just requires a wipe down without special cleaning products.
If you keep up to date with the different bathroom vanity colors, then you are aware that matt black is the trend now. Matt black is so different and it's so simple. We are so used to seeing white and marbled bathroom vanity colors so it's nice to tone it down with matt black as they have done here. Even though it's not shiny it still stands out! Matt black paired with white walls and stainless-steel tapware still gives the bathroom a striking effect. Whatever colors you have in your bathroom matt black blends seamlessly with them all.
White
White bathroom vanity colors are perfect for those who have a small bathroom that lacks natural light. White vanities help to brighten the space and make light bounce around the room. An all-white bathroom including the vanity can help when selling your bathroom as people see it as a black canvas to create their own visualization. The black tapware complements the white vanity in this room. and give it a crisp atmosphere.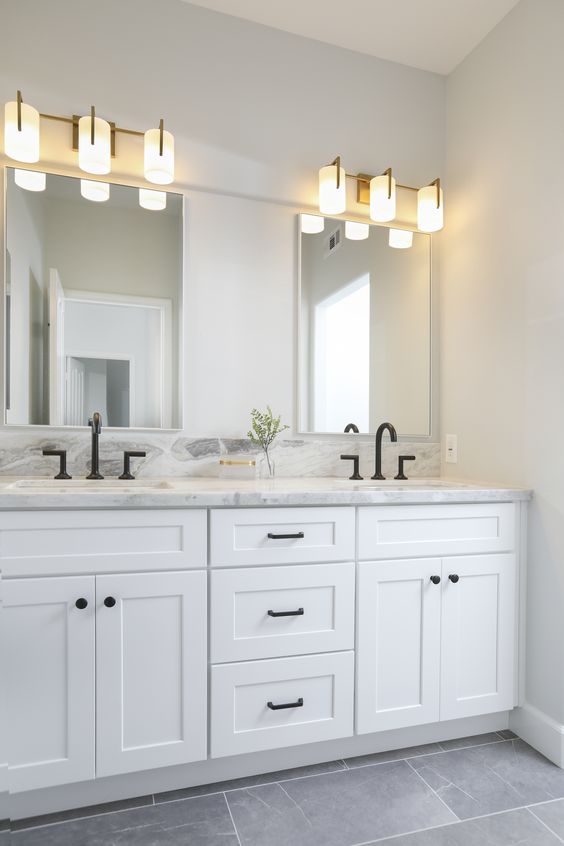 To some white is very dull and boring but it's perfect for those who like the minimalist style and prefer to have a bathroom that appears timeless in all its simplicity. Add the character and pops of colour to the bathroom via plants and door handles as they have done here. White vanities are often already made and on hand making it affordable and easier to get your hands on one with a shorter wait time.
White is a popular colour palette when it comes to bathroom vanity colors and its that way for a good reason. White allows for a crisp and clean look which is how people want their bathrooms to appear. White amplifies the window light in this room and the gold tapware softens the look and gives it a style that will fit in any style of bathroom. If you are thinking about white vanity it's a versatile and stunning addition that won't age over time.
Gray
Now many see gray as a miserable color, but it is actually a classic and timeless color. Gray is very easy on the eyes and works well with a variety of bathroom designs and décor pieces. You can dress gray up or down and add different features to create a dark, bright or warm look. Gray can have a way of setting the mood if you know how to use it. Add some colored décor to create a homely feel.
Gray is perfect in this bathroom and the eye-catching part about it is the fact it doesn't actually look like grey. With blue hues in the color, it comes between a blue and a gray and pairs well with golds, whites and browns which are all commonly found in bathrooms. Gray can look dull but here the shades that have been used make the bathroom take on a balanced and sophisticated look.
Gray is very versatile. It looks perfect in both contemporary and modern bathrooms and can even be incorporated into minimalist decor that boasts sharp lines and clean tones. In a toned-down bathroom this vanity is the perfect source for that mild pop of color that will stand out but not become an eyesore. Simple décor on the counter can keep the vanity as the standout point.
Dark Blue
Now dark blue, it is a vanity colour that is classical and will still look as good many years later. The blue compliments the white marble and clean backdrop. Navy blue vanities and cabinets can be incorporated into any bathroom design whether it be country, coastal or modern. It can be a good splash of colour without being over dramatic and allows for clever visual interest in the space.
It's essential to remember that dark blue bathroom vanity colors are a good investment. The rich deep blue will keep your bathroom in style and looking stylish for decades to come. Dark blue doesn't show water marks or dust and you can still gain the crisp look with white tiles and sink. Dark blue is easy to clean and doesn't need cleaning as often as other vanity colors do.
When dark blues are added to bathrooms, they offer a sense of color without being in the form of décor pieces. It adds character and visual interest and can make a room look sharper and cleaner right away. When paired with white it can make a room look bigger. A dark blue vanity gives the appearance of the vanity popping out to become the standpoint.
Soft Blues
Light blue bathrooms are not as popular as the dak blue shades but work well for coastal and country styled homes. The blue vanity is perfect for those who crave a timeless feel and want a classic feature in their bathroom. The soft blue vanity works well with white to add clean lines and a sleek look. Soft blue gives the room a warm and inviting feel.
Do you want a calm and serene feel to your bathroom? Do you crave that feeling when you hop into the tub for a soak or enjoy a hot shower? A blue vanity integrated gently into different styled bathrooms to form colour and character with the cold white feeling many bathrooms give. Light blue works perfect with marble and granite which is what many opt for when choosing a vanity top.
Do you like your bathroom to have the clean feeling each time you walk into it.? Light blue when paired with yellow gives the feel of spring in the air and feels more spacious and cleaner. It makes the room feel lighter, which is what helps to create the clean look. This blue catches your eye but also gives you a fresh feeling each time your eyes are drawn to it.
Earthy Colors
There is just something so different when a space like a bathroom is incorporated with earthy tones. It adds texture to the room by allowing natural materials and shades in. Whether your space is luxurious or just basic earthy colors it can still give you the warmth and relaxation every bathroom deserves to have. Earthy tones allow the room to feel natural like mother nature is bringing life into the room.
Earthy bathroom vanity colors can give your room a modern feel when you use the right palette of shades. This room is calm and relaxed but screams modern and updated the minute you walk inside. Earthy tones allow you to bring the outside inside just from the color you use on the vanity. Paired with white marble it can be dressed up or down all without overwhelming the room. Earthy tones are reds, browns, greens and grays.
Earth tones are perfect for those who have a soft spot for the environment and want a beautiful addition to their bathroom. The space is kept calm with dark tones that keep the room centered with color which is enough to be the focal point if you want to keep things to a minimum without décor pieces that don't pair well with earthy tones.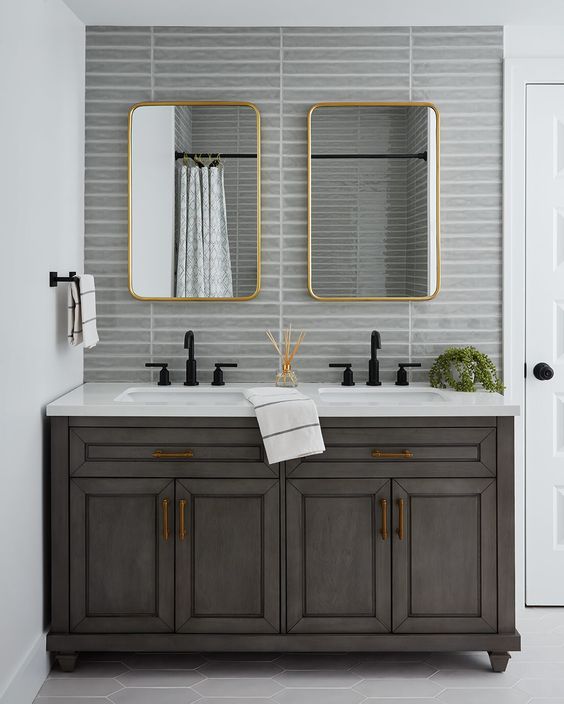 Wood
There are so many options out there for wood vanities. The different shades of brown and the textures in the wood offer a unique finish to the bathroom. You might opt for a light nude brown or a dark oak color that stands out and creates the illusion the vanity is bigger that what it is. Wood is versatile and durable which is perfect for those who have busy bathrooms. Wood is environmentally friendly and most often free from toxic materials. It also doesn't capture dust easily.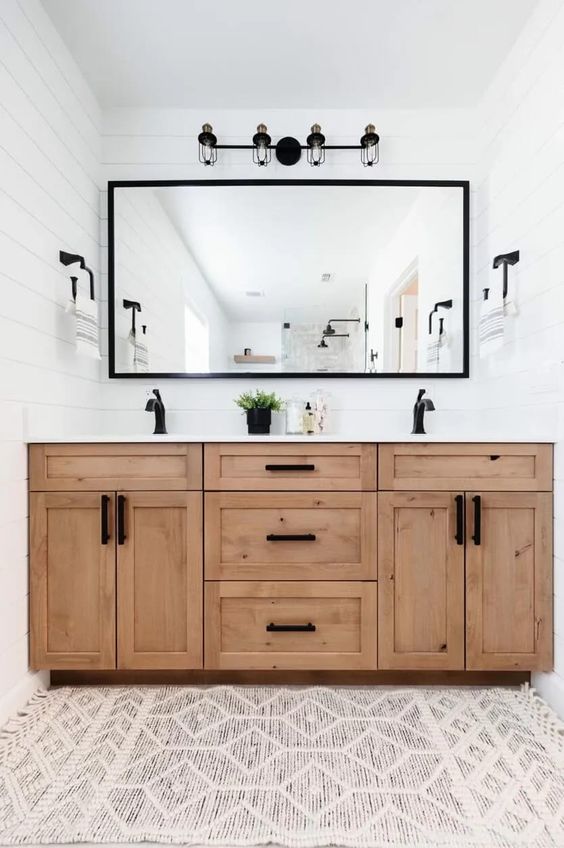 Wood bathroom vanity colour is the perfect way to add texture to the room. New wood you get clean lines or opt for reclaimed wood and go for a more uneven raw edge vanity. Wood is stylish, can be dressed up or down and can be simple and minimalist when needed. It's also easy to add different décor pieces that work in well with the wood for a warm feel to the room.
Wood bathroom vanity colors can come in different forms from solid wood to particle boards and laminex that just look like wood. Natural wood is water durable and won't rot if coated with the proper treatment. There is also no worry about corrosion or rust when dealing with solid wood and Laminex and is also durable when it comes to nicks and dents.
How to Choose The Right Bathroom Vanity Color?
If you want to reflect light and make the room appear bigger then opt for light bathroom vanity colors. If you have dark, pokey bathrooms light vanities are a must have to create some light and space.
If you need to break up a space, then consider going with bathroom vanity colors that contrast the colors of the wall and create a break.
If you want to add more space to the room, go with similar colors to help unify the overall space.
For bathrooms that reflect light it's important to choose pastel colors that are warm to make the cabinet stand out and appear larger. The pastel colors can be used with white vanity tops which will help to bring the cabinet closer to those in the room.
For a bathroom cabinet that looks like it is receding back into the bathroom giving a more spacious feel to the room cool colors are your best choice.
Conclusion
Choosing bathroom vanity colors can be difficult but if you think about the atmosphere you want in the room like relaxing, warm, spacious etc. You can work with that. Choose which colors work with the room rather than your home. The colors we have listed above are the ones that are trending right now and can give your room the look it deserves.