By remodeling your bathroom, you can improve your daily routine as well as add value to your home. Nevertheless, ignoring the latest trends may result in a workspace that is not as efficient for the current needs and will be required to be redesigned again very soon. The top bathroom design trends for 2023 are minimalist styles, bringing a more earthy feel to your home, natural lights and materials, how to make a statement using bold colors and patterns, or turning your bathroom into a spa-like oasis.
Nature-Inspired Retreats
Biophilic Design in Bathrooms
A specific term has been coined to describe the act of incorporating natural elements into the design of buildings. Designing a biophilic environment is based on the Greek word 'Bios', which translates to life, and Philia, which is the Greek word for love.
By incorporating natural elements into the home, therapeutic environments can be created that are pleasing to the eye and feel.  The materials you're looking for here should be organic and eco-friendly. Wood, bamboo, rattan, cotton, cork, and terracotta are good choices. They're great for bathrooms because they're water-resistant and can cope with the damp, humid environment in bathrooms.
Use of natural materials such as wood, stone, and plants
One of the simplest and most logical reasons for bringing nature inside can be achieved by adding a few plants. In addition to purifying the air, they give the hard surface a softer look and enhance the outdoor experience.
You can do this with pot plants, wall plants, or even outside plants that can be viewed through a window. Spider ferns, maidenhair ferns, and heartfelt philodendrons are good choices.
Incorporating natural lighting and views
If you want to create the ideal ambiance in your bathroom layout, using natural light is crucial. Several innovative and stunning ways can be incorporated into your bathroom to enhance its aesthetics and usability.
Perhaps the most effective method is to use the sunlight in a room, and it is free as well. Windows or skylights will be the only investment you have to make.
Minimalistic Elegance
Sleek and streamlined design
Modern minimalist styles are well tailored to bathrooms, where simple, practical features play an important role. With this streamlined style, you'll find sleek lines, minimalist decor, and neutral colors. The design of modern minimalist bathrooms emphasizes sleek elements.
Emphasis on simplicity and functionality
Small bathrooms benefit from minimalist designs. This style features sleek fixtures and a less-cluttered decor, which gives the room a feeling of spaciousness and openness.
Integration of minimalist fixtures and accessories
Create a modern minimalist bathroom by using wall-mounted fixtures that feature slim shapes. Replacing the bulky vanity with a smaller one. The walls can be painted bright white, and the finishes can be reflective, like chrome or nickel, to give the impression that the room is larger.
Statement Tiles and Patterns
Bold and eye-catching tile designs
Colorful patterns and vibrant colors give household surfaces a lot of personalities. It is often fashioned from terracotta, brick, and porcelain materials and is a trending tile distinguished by its bold designs, vibrant colors, and strong personality. These features make bathrooms stand out.
Geometric patterns and asymmetry
It is visually interesting to have patterns. No matter what kind of pattern you have, whether a floral or an abstract one, a pattern draws the eye and gives a room a sense of purpose. They serve as a foundation for the design. An asymmetrical pattern or geometric pattern will make your design feel contemporary.
Unique tile materials and finishes
Porcelain is appealing because it can be made to look like wood, natural stone, or brick and doesn't need maintenance. The minimalistic aesthetic of glass tiles is perfect for any project, whether for the floor or the wall. There are a wide variety of cement tiles available today, and they are available in an array of beautiful patterns and colors. In light of the tiles' porous nature, they can develop a patina over time, enhancing their appearance.
Spa-Like Luxury
Transforming the bathroom into a private oasis
Additionally, neutral shades of color and organic materials like quartz and white oak are also helpful in creating a spa-like atmosphere. It's all about floating these days. Adding a floating vanity to your bathroom will instantly add a sense of modernity to the space, unlike traditional vanities that sit on the floor.
Creating an oasis in your bathroom is easier than you think. No matter what form of art it is, whether it is a framed print, a photo, or an entirely different piece, hanging it up can make a big difference.
High-end fixtures and fittings
Choosing bathroom fittings and finishes means you don't have to spend a lot on the whole room to have it look high-quality. The best way to get the most bang for your buck is to make a few smart choices.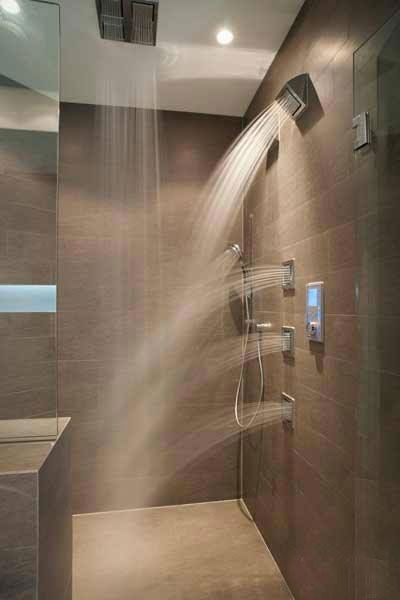 Select a statement piece or two. If you prefer to soak in style, consider a freestanding bath or a stone basin with a beautiful design. You can keep the fittings simple and inexpensive, highlighting the showpieces. Adding a luxurious, tiled shower with a walk-in door and multiple shower heads enhances the luxurious feel of your ensuite.
Soothing color palettes and lighting
Pale blues and pastel tones are the trends. By choosing pastel colors, you can create a soothing, relaxing bathroom. An onyx-framed large mirror is illuminated from behind, lending the room a warm glow. Dark blue has become a popular color on Instagram, but soft colors work best for a relaxing space.
Smart Technology Integration
Automation and smart controls for convenience
In the middle of the night, don't stumble into the bathroom. Virtual assistants can help you, and there is no doubt their use is becoming more common among busy individuals. Smart and voice-activated controls mean you don't have to touch the mirror or lights with wet or dirty hands.
Voice-activated features and smart mirrors
There are several smart bathroom mirrors on the market capable of transforming into tablets in addition to being used as mirrors, making it perfect for a person always traveling. Voice control can be used to operate these smart gadgets, and hand gestures can be used, too, with tons of apps to choose from.
Energy-efficient solutions
Dual flush toilets come standard on all new toilets, saving thousands of liters each year. In addition, approximately 25% of the energy used in a home goes towards heating water. The installation of an advanced, environmentally friendly hot water heater will make your bathroom more environmentally friendly than an electric heater.
Freestanding Tubs and Statement Showers
Focus on standalone tubs as a centerpiece
Lines, shapes, and angles with geometrical patterns are the hallmarks of modern bathtub design. With the ability to stand out from the crowd, adding a modern freestanding bathtub is an excellent way to enhance the look of your bathroom. The addition of a freestanding bathtub to your room instantly adds character to your bathroom and enhances its artistic and sophisticated look. In addition, the modern tub should be paired with shiny chrome bathroom accessories to create a particularly sophisticated appearance.
Luxurious rain showers and multi-function showerheads
A wall-mounted showerhead is no longer necessary with this complete shower system, which offers a dual shower experience with a rain shower overhead and a handheld shower. With the 2-way diverter, the water can be directed either to the handheld or rain shower.
Innovative shower enclosures and open-concept designs
In order to construct a bathroom that is both functional and visually appealing, it is necessary to make clever use of space to incorporate all the features that are desired! Open-concept bathrooms offer much more than a place for cleaning and relaxing at the end of a hectic day. It gives the appearance of a bright and airy overall design — compared to a walk-in shower with a low curb or none at all, creating an airy, bright appearance.
Warm and Cozy Accents
Introduction of warm tones and textures
Are you experiencing a bit of a chill in your bathroom? Is the room a bit out of date? Somewhere between sleek modern works of art and homey country decor, there's a bathroom design that is both contemporary and trendy, yet warm and inviting at the same time. Use warm colors like ochre, rust, olive green, and reds.
Soft and plush bathroom rugs and mats
Yes, rugs can go in the bathroom. Despite the considerations that come with moist spaces, rugs make wonderful bathroom additions and create a welcoming atmosphere. The same as a bathmat, but in a more stylish way. Apart from providing a comfortable spot for the feet, it adds color, style, and material, enhancing any decor.
Accent lighting and candles for a cozy ambiance
These are used to highlight features in a room by highlighting a particular point of interest. In contrast to functional lights, these are primarily decorative. Lighted wall niches, recessed lighting, and hanging lights serve as accent lights. It is also a good idea to use led mirrors to get light that is functional but also nice to look at.
Sustainability and Eco-Friendly Solutions
Use of eco-friendly materials and products
Eco-friendly materials like porcelain, wood, bamboo, steel, and concrete make your bathroom more eco-friendly! Using these building materials in your bathroom can give it a unique look and feel. You can use them for flooring and recycled tiling. Natural linen hand towels and rattan baskets are good for natural decor.
Water-saving fixtures and low-flow technology
Appliances and fixtures that use less water, in conjunction with water conservation, are cost-effective and contribute to preserving our water reserves. We are seeing more love going into the environment in 2023, and it's only going to grow bigger as more people are trying their best to conserve water.
Energy-efficient lighting and ventilation options
The economic benefits of LED lighting are enormous. One of the biggest benefits of LED lighting is that it is extremely durable and has a 25-year lifespan, along with the fact that they also come in different colors, light, bright white or warm.
Conclusion
As a general rule, remodeling your bathroom can enhance the value of your home and increase its appeal to buyers, helping you to raise your asking price and speed up the sale of your home. No matter what your plans are for the future, enhancing your home's value is a smart move.
With lighting upgrades to energy-efficient showerheads and toilets, your bathroom can be made more energy-efficient in many ways. As a result, not only will the environment benefit, but you will also save money on utility bills and, in the long run, save a lot of money. Materials can also be chosen to be more environmentally friendly and sustainable.
On the other hand, a lack of knowledge about current design trends may result in an area with fewer functional features and require an update within the next few years.. For example, the top bathroom design trends for 2023 are minimalist styles, bringing a more earthy feel to your home, like natural lights and materials, how to make a statement using bold colors and patterns, or turning your bathroom into a spa-like oasis.