"Looking to Spruce Up Your Bathroom? Why Not Start with the Perfect Rug!"
Are you sick of having to walk on cold, hard floors every time you go to the bathroom? Want to give your bathroom a cozy, new look without spending a lot of money? If so, adding the right mat is an easy and effective way to improve the comfort and style of your bathroom.
Bathroom rugs not only give your feet a soft place to land, but they can also ad to the overall look of your area. Also, they provide a soft and comfortable surface for your feet, enhancing overall comfort and warmth. They also help prevent slips and falls on wet bathroom floors, ensuring safety. Lastly, bathroom rugs add style and personality, enhancing the decor and ambiance of the space.
In this blog, we're excited to show you a great trove of ideas for bathroom rugs that will make you want to change up your bathroom. We have everything from luxurious spa-inspired retreats to bright and fun patterns for kids, as well as eco-friendly options and vintage beauty. We have unique ideas for everyone, whether you want a modern, minimalist look or a bohemian-chic atmosphere.
How to Choose the Perfect Bathroom Rug
Selecting the perfect bathroom rug is a vital decision that can significantly impact the comfort and aesthetics of your space. Begin by measuring your bathroom to determine the ideal rug size that fits well without overwhelming the area. Pay attention to materials such as cotton, microfiber, or memory foam, as they offer a winning combination of softness, water absorption, and durability. Moreover, prioritize safety by opting for rugs with non-slip backing, ensuring a secure footing on wet surfaces.
To infuse your bathroom with style, choose rugs that harmonize with the existing decor in terms of colors and patterns. A well-chosen rug can add a delightful touch of personality and cohesion to the overall design. Additionally, consider practicality by selecting machine-washable or easy-to-clean options, making it effortless to maintain the rug's freshness and longevity. By following these guidelines, you can confidently choose the perfect bathroom rug that not only enhances comfort but also elevates the overall appeal of your private oasis.
15+ Bathroom Rug Ideas
Wondering how to choose the perfect rug that complements your style? Explore our curated collection of 11 bathroom rug ideas for inspiration!
1.Bohemian Style Rug
Inject a boho-chic vibe into your bathroom decor with these eclectic bathroom rugs. Bursting with bold patterns and rich colors, these rugs complement bohemian-inspired interiors perfectly. Create a captivating and artistic atmosphere that celebrates free-spirited individuality and creativity.
2.Colorful Playful Rugs
Turn your bathroom into a vibrant and playful wonderland with our collection of colorful and lively rugs. Bursting with hues and patterns, these rugs add a touch of joy and energy to your space.
3.Textured Treats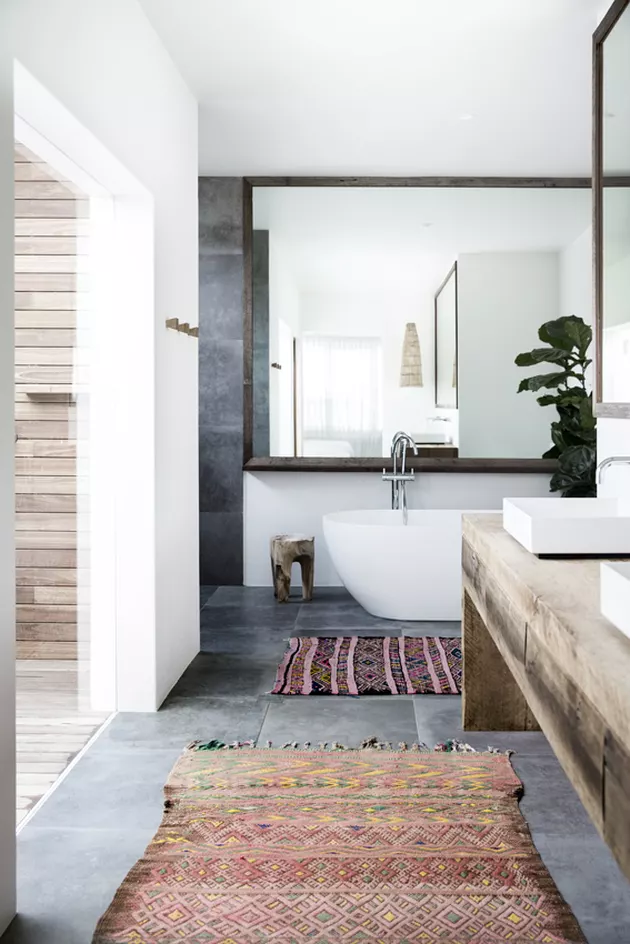 Adding textured rugs to your bathroom that are also enjoyable to walk on will take the overall sensory experience to a new level. These rugs offer a variety of different tactile sensations, from shaggy and fluffy to braided and woven, and they bring a certain allure to the area they are placed in. Indulge your senses while basking in the opulent comfort that these ideas for textured bathroom rugs have to offer.
4.Geometric Design
Using carpets with geometric patterns in which the patterns are bold and the shapes themselves are eye-catching is a great way to give your bathroom a more modern feel. Your area will have a sense of modernity and refinement thanks to the use of geometric elements, which will also make a statement about your appreciation for design and innovation. Whether they are comprised of hexagons, triangles, or chevron patterns, geometric carpets provide a pleasing equilibrium between creative freedom and organized patterning.
5.Minimalist Design Rug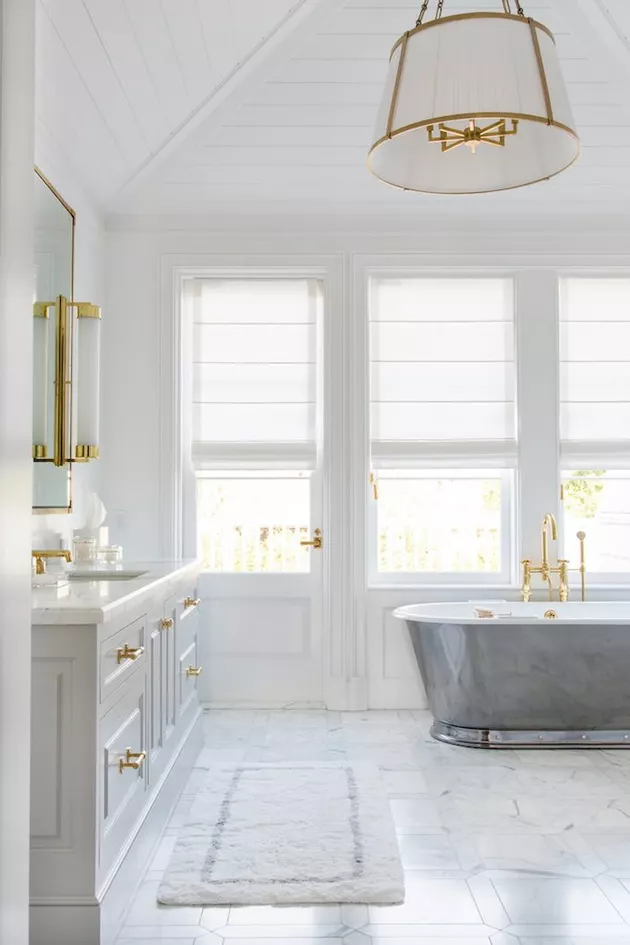 For those who appreciate the beauty of minimalism, our selection of monochromatic bathroom rugs is the perfect fit. Featuring clean lines and subtle hues, these rugs effortlessly blend into contemporary bathroom designs. Minimalism doesn't mean sacrificing comfort—our monochrome rugs are still soft and cozy, making them the ideal addition to your sleek and sophisticated bathroom sanctuary.
6.Vintage Rugs
Capture the essence of bygone eras with vintage-inspired bathroom rugs that exude timeless charm. Whether it's a classic floral pattern or an Art Deco design, these rugs harken back to the elegance of yesteryears. Choose from an array of faded or distressed finishes to add an authentic vintage touch to your bathroom decor. Step back in time while enjoying modern comfort with these delightful bathroom rug ideas.
7.Eco-Friendly Rugs
Homeowners who care about the environment and want eco-friendly bathroom rugs will find a variety of beautiful choices in our collection that are both eco-friendly and stylish. Made from recycled materials or natural fibers, these rugs not only help the earth but also add a touch of natural beauty to your bathroom.
8.Cozy Farmhouse Style Rug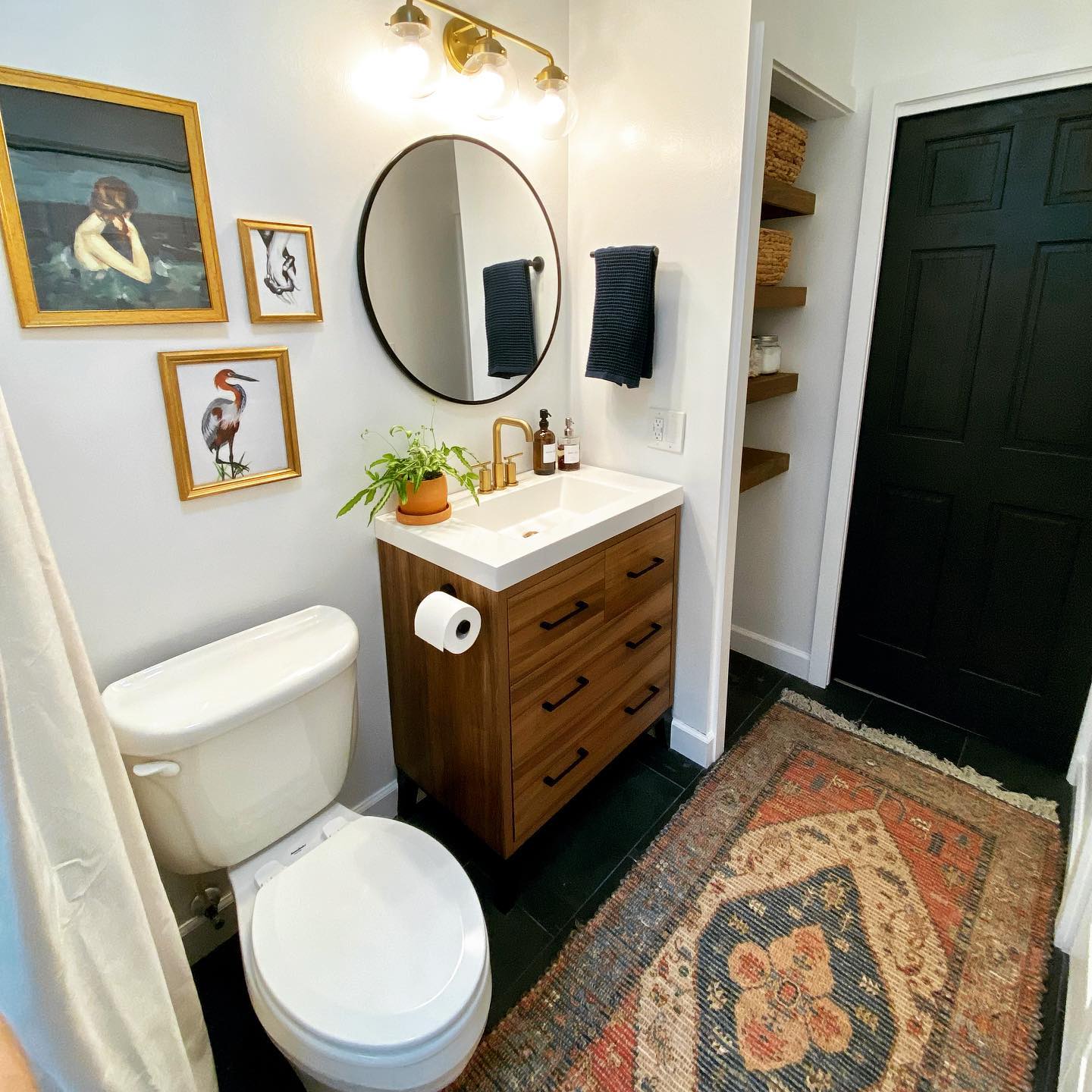 Rustic-style rugs can turn your bathroom into a cozy country retreat. The warmth and simplicity of these rugs make the room feel like home. Choose natural materials like jute or cotton to match the look of a home and enjoy the great mix of tradition and comfort.
9.Classic & Comfortable Bathroom Rug
Step into classic comfort with our timeless bathroom rug. This simple yet inviting piece offers a cozy retreat for your feet after a refreshing bath or shower. Its classic design and understated elegance add a touch of sophistication to your bathroom decor.
10.Customizable Rugs
Express your unique style and individuality with customizable bathroom rugs. Whether you prefer monogrammed initials or bespoke designs, these rugs offer an opportunity to add a personal touch to your bathroom. Create a truly one-of-a-kind space that reflects your personality and taste, making your bathroom an extension of your identity.
11.Pet Friendly Rugs
Pet-friendly bathroom rugs are a game-changer for people who live with pets. These rugs are made of materials that are strong and don't stain easily, so they can easily handle pet paws and mistakes. Whether you have cats, dogs, or other pets with fur, these rugs are a useful way to keep your bathroom looking good and keep your pets comfortable.