Are you tired of your bathroom's old look and ready for a change? You're lucky, then! In this blog, let us talk about 27 amazing ways in updating a bathroom. These ideas will spark your imagination and take your remodeling job to new heights.
Adding a secret tank to your bathroom can make it look much better and make it work better. By hiding the toilet tank in the wall, you give the room a clean, simple look, free up space, and make it easier to clean. It also lowers noise when flushing, makes better use of water, and adds a modern touch that makes your bathroom feel better overall.
2. Utilizing Vertical Space With Wall-Mounted Shelves Or Cabinets
Optimizing vertical space in your bathroom with wall-mounted shelves or cabinets is a clever solution. It not only adds storage capacity for toiletries and towels but also keeps the floor clear, making the room feel more spacious and organized. Additionally, it brings a stylish and functional element to the overall design of your bathroom.
3. Adding Storage Baskets Or Bins For A Clutter-Free Look
By adding boxes or bins for storage, you can make your bathroom look less cluttered and more organized. These useful additions can help you keep your room clean and make it work better.
4. Incorporating Natural Materials Like Wood Or Stone Accents
Incorporating natural materials like wood or stone accents adds an earthy and organic touch to your space. It creates a warm and inviting atmosphere while bringing a sense of harmony and natural beauty to your surroundings.
5. Using Natural Fiber Rugs Or Mats For A Textured Feel
Texture can be added to a room with the help of rugs and mats made from natural fibers. These eco-friendly choices not only improve the room's aesthetic, but also make it more pleasant to spend time there by giving your feet a soft place to land.
6. Installing A High-Tech Shower System With Adjustable Features
Installing a high-tech shower system with adjustable features allows you to personalize your shower experience. With options like adjustable water pressure, temperature control, and massage settings, you can transform your daily routine into a luxurious and customized indulgence.
7. Use Textured Tile On The Shower Floor
Shower floors tiled with different textures are not only visually appealing but also functional. The textured surface adds visual interest and prevents slipping, making the shower a safer place for everyone while also looking great.
8. Include A Window In The Bathroom
A bathroom window lets in light and air from outside and creates a sense of tranquility and relaxation. Not only does it make the room seem and feel better lit, but it also makes it feel more open and revitalized.
9. Add a Recessed Medicine Cabinet
Adding a recessed medicine cabinet to your bathroom maximizes storage space while maintaining a sleek and streamlined look. It provides a discreet and organized solution for storing toiletries, medications, and other essentials, keeping your bathroom clutter-free and functional.
10. Improve the Lighting
Bathroom lighting improves functionality and attractiveness. Well-placed vanity lights and ceiling lighting may lighten the space, decrease shadows, and provide a welcome atmosphere for grooming.
11. Opt for Heated Flooring
Heated bathroom floors are luxurious and it warms the floor, especially in winter, creating a nice ambiance. Heated floors can also reduce moisture and mold growth.
12. Carefully Consider Countertop Material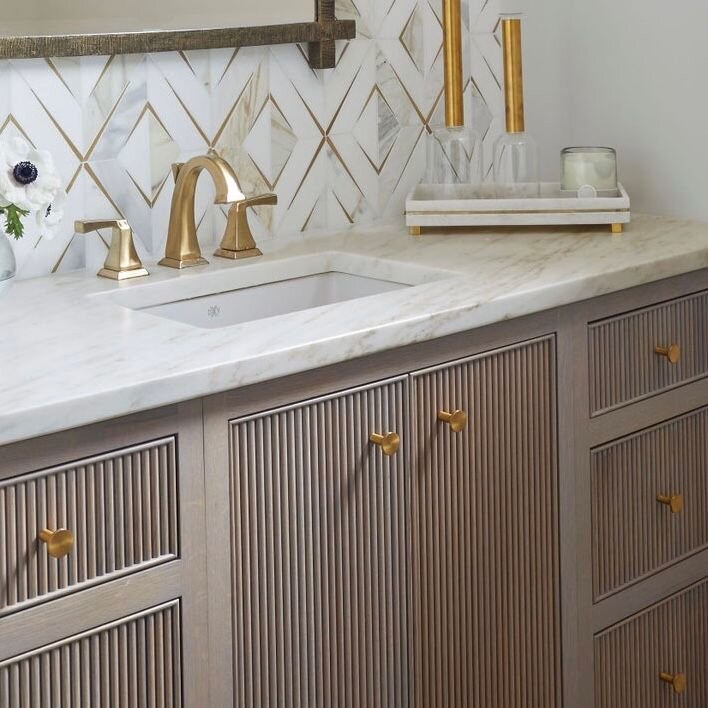 Your bathroom countertop material affects aesthetics and function. Quartz, granite, marble, and concrete can make gorgeous and useful bathroom surfaces.
13. Prioritize Ventilation
Bathroom ventilation is vital for air quality and moisture control. Ventilation reduces humidity, odors, and mold and mildew, making your bathroom healthier and more comfortable.
14. Don't Forget About Storage
Bathroom design should include storage. Organize toiletries, towels, and other basics with cabinets, shelves, or wall-mounted organizers. Storage keeps your bathroom tidy and effective.
15. Choose Accessories Wisely
Select items like towel racks, soap dispensers, and toothbrush holders that complement the style of your bathroom while serving a practical purpose. Thoughtfully chosen accessories can add personality and cohesiveness to your bathroom design.
16. Hang Bathroom Wallpaper
Bathroom wallpaper adds color, pattern, and texture. Choose bathroom-specific moisture-resistant choices for durability. Wallpaper can make your bathroom beautiful.
17. Replace Light Fixtures
The bathroom will look much more modern if you replace the old light fixtures with new ones. Whether you're going for a modern, classic, or eclectic look, make sure your light fixtures reflect that. Changing the light fixtures in your bathroom can give it a more modern look and increase the amount of light coming in.
18. Add Vintage Charm
Antique mirrors, clawfoot tubs, and retro-inspired fixtures give your bathroom vintage appeal. These classic touches give your bathroom a warm, nostalgic feel.
19. Use Faux Candles
Create a relaxing and spa-like atmosphere in your bathroom by using faux candles. These flameless alternatives provide soft, flickering light without the risk of fire hazards. They add a soothing and cozy ambiance, perfect for unwinding after a long day.
20. Paint Your Bathroom With Vibrant Color
Inject vibrancy into your bathroom by painting it with bold and vibrant colors. Choose hues that reflect your personal style and create a lively and energetic atmosphere. A splash of vibrant color can instantly uplift the space and add a cheerful and inviting vibe.
21. Create a Bathroom with Soothing Neutral Colors
Colors that are neutral provide a relaxing bathroom. To unwind, choose beige, ivory, or light gray. Neutral hues can set the stage for other bathroom items.
22. Upgrading To A Modern Sink And Faucet
Modern bathroom sinks and faucets add style and functionality. Sleek and contemporary designs increase the look and offer touchless operation, water-saving solutions, and better durability, making your everyday routines more efficient and pleasurable.
23. Replacing The Showerhead With A Luxurious Option
Upgrade your shower with a beautiful showerhead. For spa-like luxury, choose a rain, multi-function, or high-pressure showerhead. Upgrading your showerhead makes your daily showers more luxurious.
24. Swapping Out Dated Cabinet Hardware For Stylish Alternatives
Upgrade your bathroom cabinet hardware. Handles, knobs, and pulls should match your style, whether modern or vintage.
25. Installing Energy-Efficient Led Lighting
To save energy and money, install bathroom LED lights. LED lights stay long, illuminate clearly, and come in a variety of forms and color temperatures.
26. Adding Ambient Lighting For A Cozy And Relaxing Atmosphere
Add ambient lighting to your bathroom to create a cozy and relaxing atmosphere. Install dimmable wall sconces, pendant lights, or even a chandelier to provide soft and warm lighting. The gentle glow of ambient lighting can transform your bathroom into a tranquil sanctuary for unwinding and pampering yourself.
27. Incorporating Smart Mirrors With Built-In Lighting And Bluetooth Speakers
Smart mirrors with built-in lighting and Bluetooth speakers make for a modern and easy bathroom. These smart mirrors have adjustable lighting for grooming, built-in speakers for music or podcasts, and Bluetooth connectivity for smooth device integration, making your daily routine more fun and efficient.
Conclusion
Incorporating these 27 bathroom improvement ideas into your next remodel can transform your space into a functional, stylish, and inviting oasis. From lighting to storage, each idea adds value and enhances your overall bathroom experience.