A bathroom accent wall is a great way to change the way your bathroom looks and feels. It draws attention to the area and gives it personality, style, and visual interest. Whether you like tiles, wallpaper, wood, or something else, a feature wall can make a big difference. Designs can be simple and understated or bright and colorful.
In this blog, you can find the right accent wall to improve the look of your bathroom and make it a unique oasis that shows your personal style.
1. Herringbone Tile Accent Wall
With herringbone tiles, you can make a stylish and beautiful accent wall in your bathroom. By putting the square tiles in a diagonal pattern, the area has more depth and dimension.
2. Coastal-inspired Shiplap
Embrace the coastal charm with a shiplap accent wall in your bathroom. The white horizontal planks evoke a beach house aesthetic, creating a light and airy atmosphere. This timeless design choice pairs well with nautical-themed accessories and natural textures, offering a refreshing and inviting vibe.
3. Classic Subway Tiles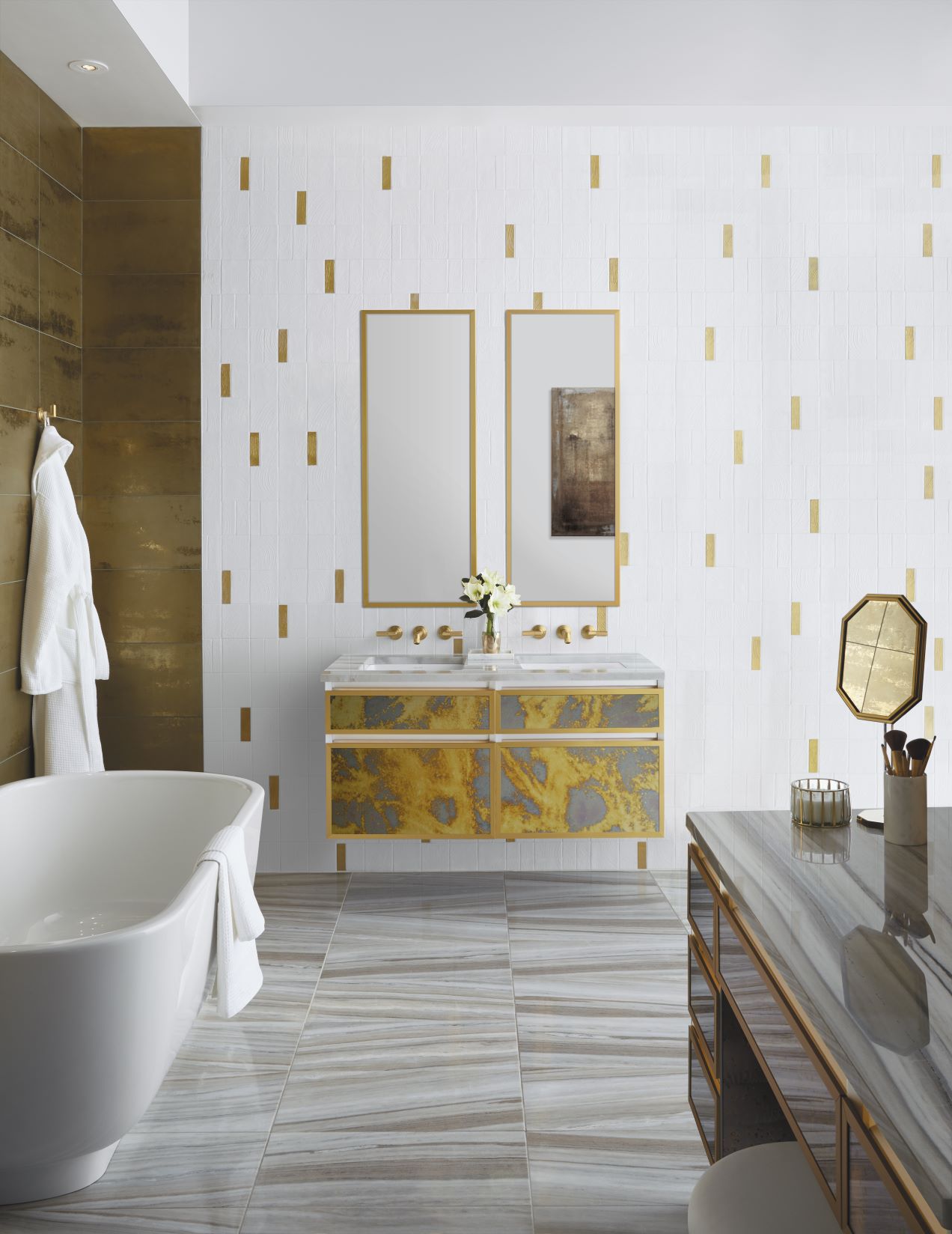 Timeless and versatile, classic subway tiles make for an elegant bathroom accent wall. Their clean and simple lines add a touch of sophistication, while the glossy finish reflects light, making the space appear brighter and more spacious.
4. Painted Wall
A creative painted wall in the bathroom is a versatile and creative choice that can instantly transform the space.
5. Industrial Brick
Add an industrial touch to your bathroom with a brick wall. These rugged and textured tiles mimic the look of exposed brick, adding a raw and edgy aesthetic to your space
Pair it with metallic fixtures, concrete elements, and minimalistic accessories for a modern and stylish bathroom that exudes urban sophistication.
6. Rustic Wood Planks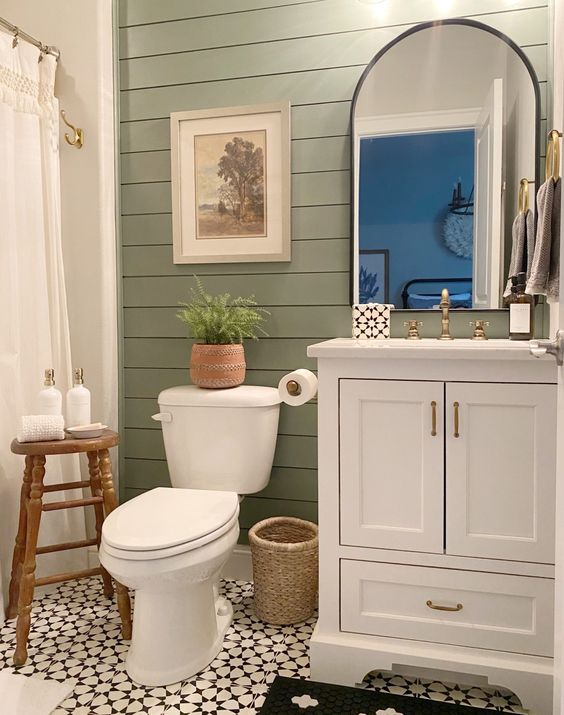 This accent wall in the bathroom is made of wood which gives the room a touch of country charm. The natural grain designs and earthy colors make for a warm and inviting atmosphere, perfect for a cozy and relaxing bathroom retreat.
7. Abstract Painted Wall
Unleash your creativity with an abstract painted accent wall in your bathroom. Unique patterns, and a mix of colors create a visually captivating and artistic focal point. This personalized design choice adds a touch of individuality and personality, making your bathroom truly one-of-a-kind.
8. Different Color Paint Bathroom Accent Wall
Embrace nature-inspired hues with an earthy green accent wall in your bathroom. This color choice brings a sense of harmony and freshness, reminiscent of lush forests and calming landscapes. It pairs beautifully with wooden accents and botanical elements, creating a soothing and rejuvenating atmosphere.
10. Nature-inspired Floral Wallpaper
With flower wallpaper that looks like nature, you can bring the beauty of the outdoors inside. The soft flowers and lush plants in your bathroom make it feel whimsical and sweet. The soft colors and intricate features make you feel calm and peaceful, which is just what you need after a long day.
11. Vibrant Mosaic Tiles Accent Wall
Infuse your bathroom with color and energy by incorporating vibrant mosaic tiles into an accent wall. Bold patterns and a mix of hues create a visually striking focal point. This lively design choice adds a playful and cheerful atmosphere, transforming your bathroom into a vibrant oasis.
12. Striking Tiles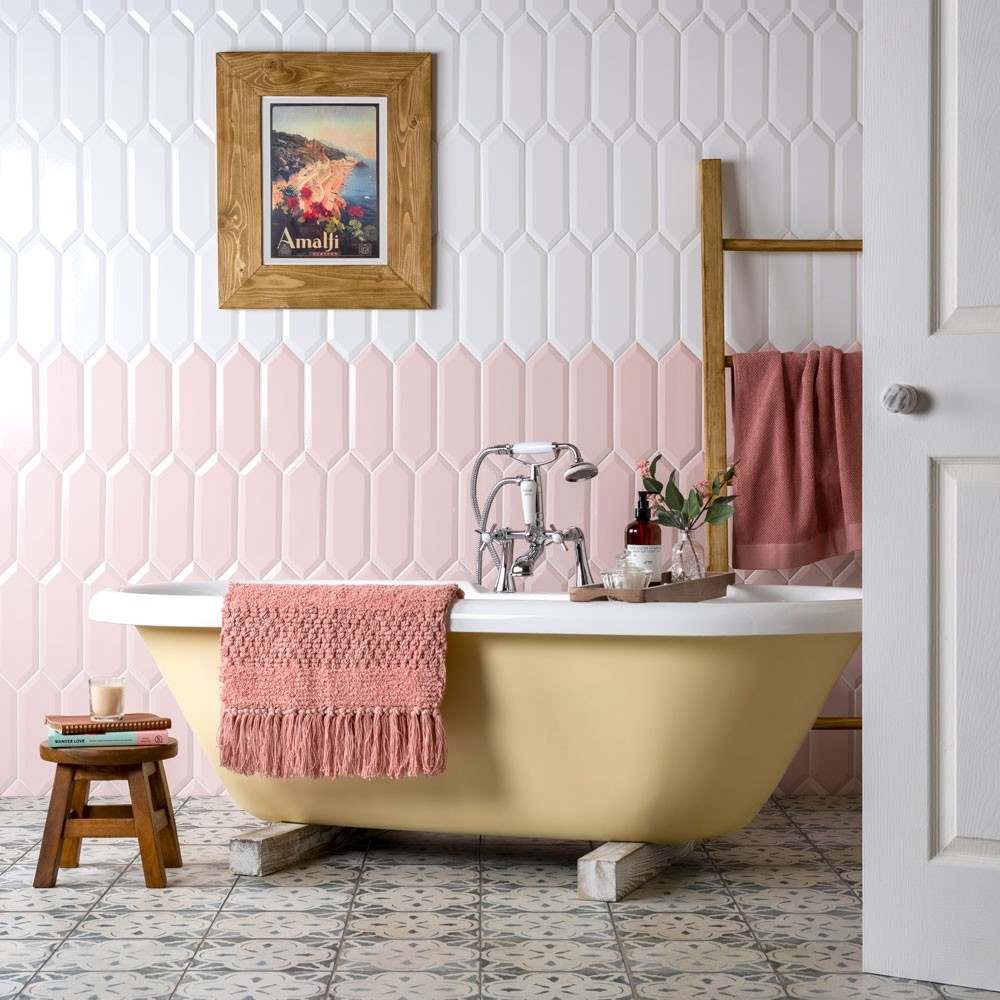 Make a bold statement with striking shape and color tiles on your bathroom accent wall. The unique shape creates a visually captivating focal point, while the interlocking pattern adds a sense of movement and dynamism. This modern and geometric design choice exudes contemporary style and sophistication.
13. Subtle Stone Texture
Create a serene and spa-like ambiance with a subtle stone texture accent wall. Soft hues and a smooth surface emulate the tranquility of natural stone, while adding a touch of sophistication to your bathroom. This minimalist design choice complements various decor styles effortlessly.
14. Elegant Marble Accent Wall
Elevate your bathroom with an elegant marble accent wall. The luxurious veining and polished surface exude opulence and sophistication. This timeless design choice complements both traditional and contemporary styles, creating a sense of grandeur and refinement in your bathroom.
15. Mirrored Wall
This accent wall can make your bathroom look fancier and brighter. The surface's ability to bounce light makes it look like the room is bigger than it is. This sleek and modern design choice adds a touch of luxury and grace, making your bathroom feel like a sophisticated retreat.
16. Textured Grasscloth
Embrace natural textures with a grasscloth accent wall in your bathroom. The woven fibers bring warmth and depth to the space, adding a touch of organic beauty. This earthy design choice pairs well with natural materials and neutral colors, creating a soothing and inviting ambiance.
17. Metallic Accent Wall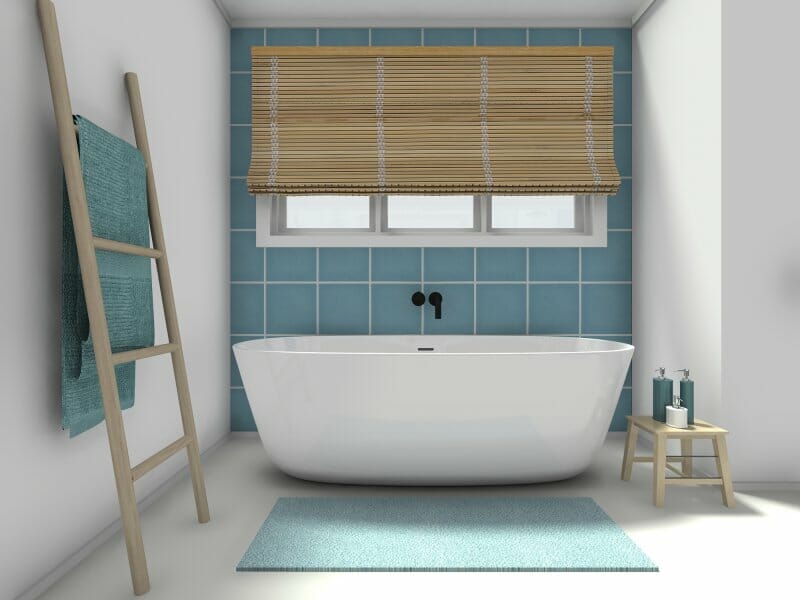 Adding metallic details to an accent wall in your bathroom will give it a touch of glam. Gold, silver, or copper elements that shimmer and shine make the room feel rich and luxurious. This modern design choice goes well with sleek features and simple decor, which makes the room look better as a whole.
18. Artistic Ceramic Tiles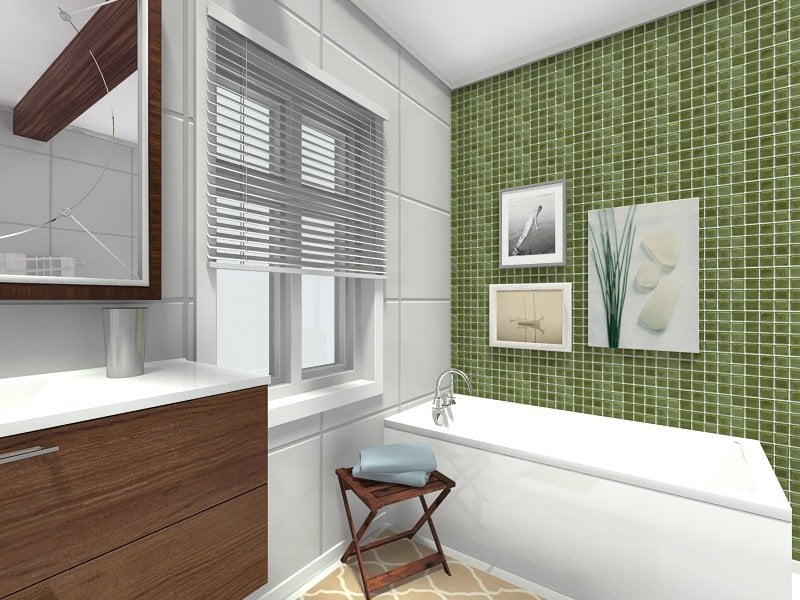 Transform your bathroom into an art gallery with artistic ceramic tiles on an accent wall. Intricate hand-painted designs, abstract patterns, or mosaic compositions can turn your bathroom into a work of art. This unique design choice showcases creativity and craftsmanship, making your bathroom a visual delight.
19. Geometric Tile Accent Walls
Infuse your bathroom with a modern and geometric aesthetic by incorporating geometric tiles into an accent wall. Hexagons, triangles, or other angular shapes arranged in an intriguing pattern create a visually captivating focal point. Play with colors, textures, and finishes to add depth and visual interest, making your bathroom a contemporary and stylish sanctuary.
20. Mosaic Tile Accent Wall
With a mosaic tile accent wall, you can give your bathroom a touch of artistic charm. Choose small, colorful tiles in different sizes and put them together to make a beautiful mosaic. With the complex patterns and bright colors, your bathroom will be a lively and beautiful place to relax.