Looking to give your bathroom a stylish makeover without spending a fortune? Wondering how to transform your space with budget-friendly bathroom tiles? Look no further!
In this blog post, we've got you covered with 14 bathroom tile ideas that will breathe new life into your bathroom without breaking the bank. Whether you're a fan of classic subway tiles or intrigued by trendy geometric patterns, we have budget-friendly options that will suit your taste and elevate your space
Get ready to explore a world of creative and affordable tile solutions that will inspire you to create a chic and updated bathroom design.
Importance of Appealing Bathroom Tiles for a Bathroom Makeover
Bathroom tiles play a crucial role in enhancing the design and overall appeal of any bathroom space. Firstly, they serve as a foundational element that sets the tone for the entire design. The right choice of tiles can create a sense of harmony, elegance, or modernity, depending on the desired aesthetic.
Additionally, tiles offer a wide range of colors, patterns, and textures, enabling endless creative possibilities to match any style preference. From classic subway tiles to intricate mosaics or contemporary large-format tiles, they add visual interest and personality to the space.
Furthermore, tiles are durable, water-resistant, and easy to clean, ensuring longevity while maintaining a fresh and inviting atmosphere, making them indispensable in bathroom design.
12 Stunning Bathroom Tiles for a Budget Friendly Bathroom Makeover
Discover 14 stunning bathroom tiles that promise to transform your space without breaking the bank. From peel-and-stick wonders to classic subway tiles, these budget-friendly options offer both style and affordability. Elevate your bathroom with these captivating tile ideas and enjoy a fabulous makeover on a budget.
1.Classic Subway Tiles
Embrace the classic beauty that comes from using subway tiles. Due to the fact that they are easy to install and very inexpensive, they are an excellent option for renovating a bathroom on a shoestring budget. Experimenting with different grout colors can lend a one-of-a-kind air to the overall look of your design.
2.Creative Painted Tiles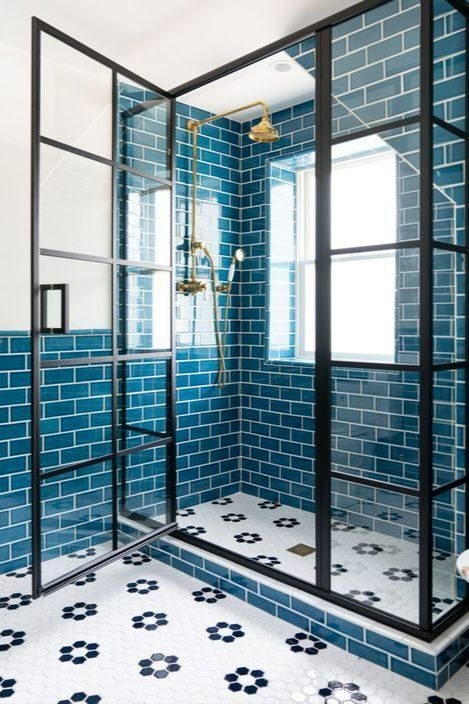 Paint is an easy and inexpensive way to update the look of your current tiles. You can transform simple tiles into eye-catching decorations that represent your personal style by exercising your creative side and adding hand-painted patterns or stenciled designs.
3.The Monochrome Magic
A color scheme that is monochromatic can be both fashionable and budget-friendly at the same time. Select tiles that are reasonably priced and come in a variety of tones of the same color to get an elegant and well-coordinated appearance without breaking the bank.
4.Go with Terrazzo Tiles
Terrazzo tiles have seen something of a renaissance, but the cost of this time-honored material can be prohibitive. Choose porcelain or ceramic tiles that have a terrazzo-like pattern if you're on a tight budget, as these options are more cost-effective than their natural stone counterparts.
5.Go Bold with Geometric Patterns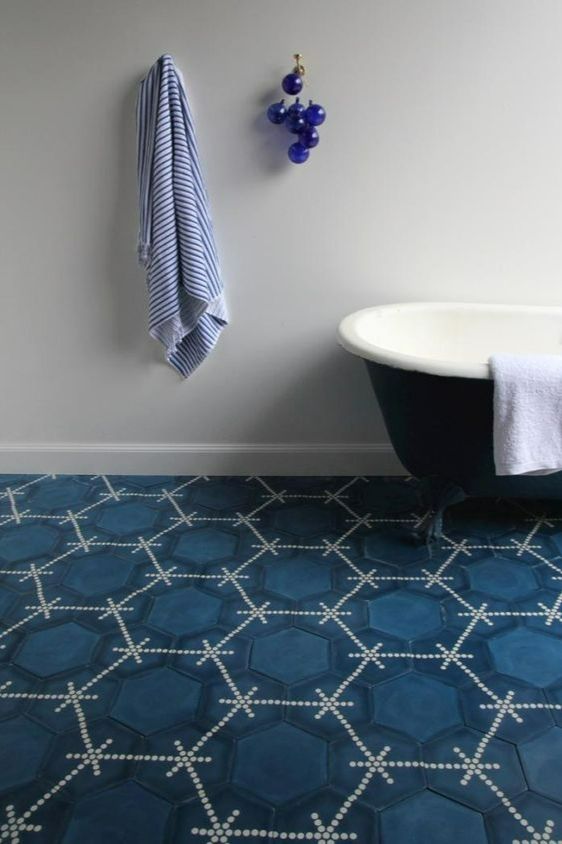 Consider the use of geometric tiles in your bathroom; they can provide a touch of originality without breaking the bank. Your room can be given a fashionable and artistic vibe with the help of forms like hexagons, diamonds, and other shapes without breaking your budget.
6.Affordable Elegance with Porcelain
Tiles made of porcelain can be purchased at a fraction of the price of more expensive materials like marble and wood while still retaining the appearance of those materials. If you want to eliminate the appearance of grout lines and create an upscale look without the upscale price tag, large-format tiles are the way to go.
7.Peel and Stick Tiles
Peel-and-stick tiles are simple to install, are inexpensive, and can completely remodel your bathroom. These amazing self-adhesive pieces are available in a wide range of designs and hues, making it possible for you to create a gorgeous aesthetic without breaking the bank.
8.The Charm of Mosaic Accents
Accents can be added to your bathroom design without breaking the bank if you use mosaic tiles. Create a gorgeous focal point or border for your space by combining these tiles with larger tiles that are more inexpensive. This will add both flair and appeal to your room.
9.Gorgeous Glass Mosaics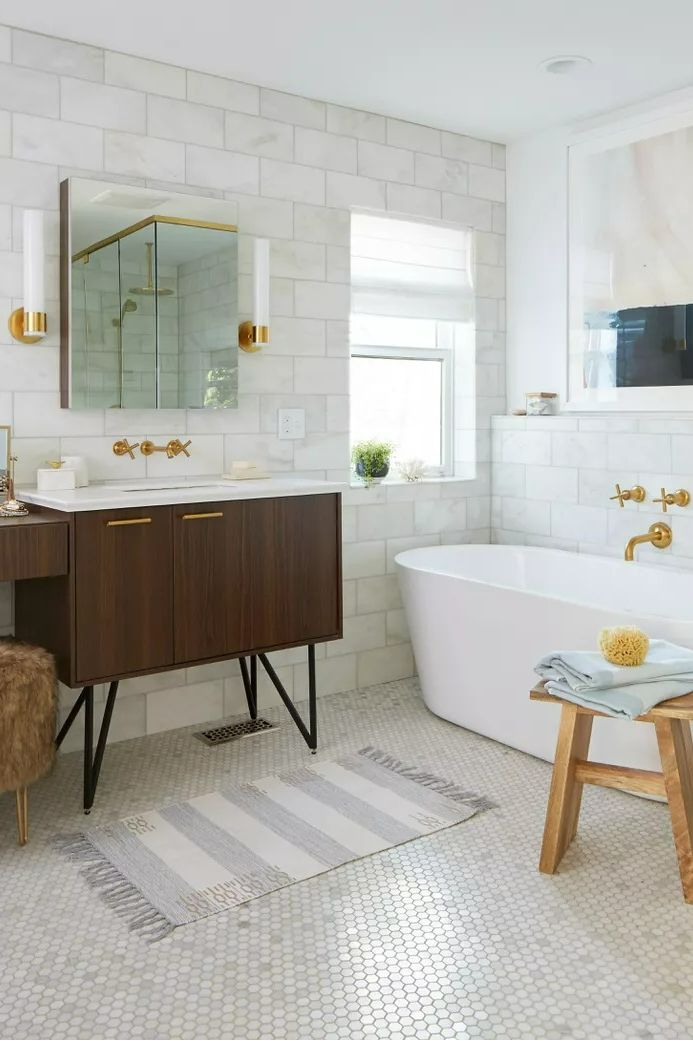 Mosaic tiles made of glass provide an air of sophistication without the high price tag. The light that is reflected off of these inexpensive yet exquisite trinkets creates an atmosphere that is bright and airy. You may use them as accents or cover entire walls to create a stunning point of focus that takes the beauty of your bathroom to the next level.
10.Bold & Beautiful Borders
Utilize daring borders to draw more attention to tiles that are easy on the wallet. You can instantly infuse your bathroom with character and charm by framing your shower, bathtub, or mirror with contrasting colors or patterns. This won't put a strain on your budget at all.
11.Shades of Gray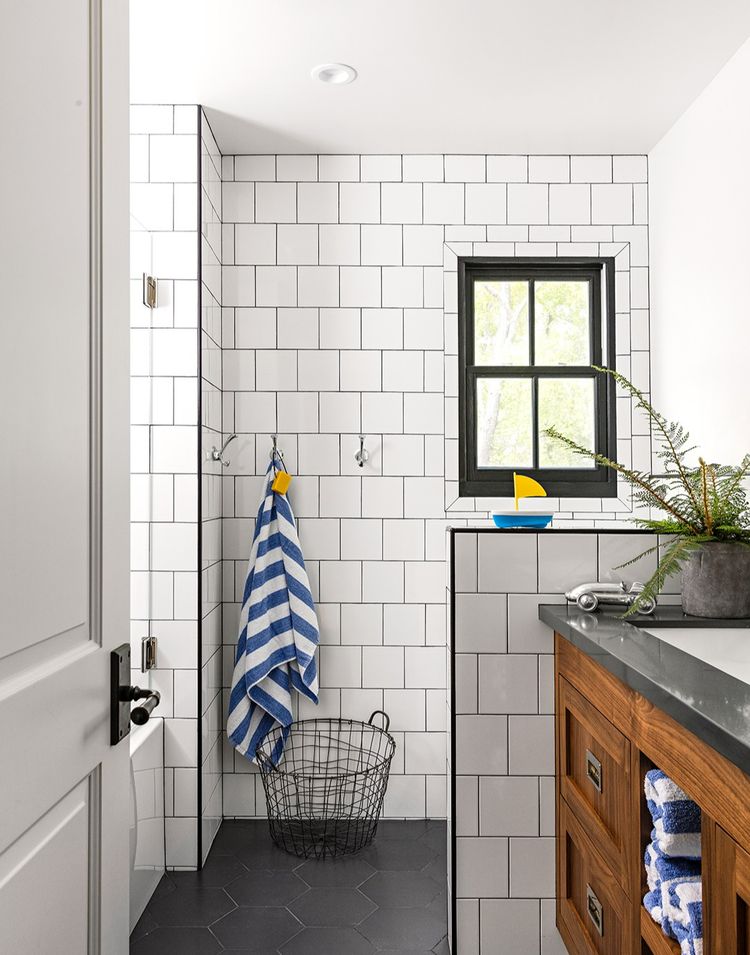 Choose to work with a monochromatic color scheme consisting primarily of different tones of gray. Gray tiles are not only adaptable and inexpensive, but they also produce an air of refined sophistication and mellowness. If you want to give your bathroom more depth and intrigue without breaking the bank, try combining tiles of varying sizes and textures.
12.Hexagon Haven
The ageless beauty of hexagonal tiles is complemented by the fact that they are available in cost-effective materials like as ceramic and vinyl. You may give your newly remodeled bathroom a touch of elegance and refinement by arranging these elements in eye-catching patterns, such as honeycombs or flower-like motifs.
13.White Subway Splendor
Stick to the tried and true classic with white subway tiles. Their simple elegance and affordable price make them a top choice for budget-friendly bathroom makeovers. Experiment with grout colors to tailor the look to your desired level of flair.
14.Stylish Symmetry: Herringbone Patterns
Create a striking visual impact with herringbone-patterned tiles. Whether in classic subway format or larger planks, this budget-friendly design adds sophistication and allure to your bathroom, showcasing a well-arranged, geometrically pleasing layout.