Is it time to turn your lavatory into something more chic? Stylish wallpapers are the perfect way to give your bathroom an air of class and refinement.
To help you update your bathroom, we've compiled a list of the 11 best wallpaper options available right now. These wallpapers will add character and style to your bathroom, whether you choose a pattern with bright colors and patterns or something more tranquil and inspired by nature. The latest wallpaper designs will take your bathroom from drab to dazzling, so say by to boring paint and hello to a world of imagination.
What are Bathroom Wallpapers?
Bathroom wallpapers are beautiful wall coverings made with the bathroom environment in mind. They are an attractive substitute for the more commonplace paint and tile, both of which they complement.
Wallpapers designed specifically for use in bathrooms are made from materials that are impervious to water and will not peel or fade in the high humidity found there. A variety of colors, patterns, and textures allow them to complement a wide variety of decor choices. Bathroom wallpapers provide homeowners with a blank canvas upon which to unleash their imaginations and turn their bathrooms into relaxing and stylish spaces.
Bathroom Wallpaper Ideas
Find bathroom wallpaper ideas that will change the look of your area. These bathroom wallpaper ideas will give your bathroom walls some style and character.
1.Minimalist Elegance
Create a serene and uncluttered bathroom oasis with minimalist wallpapers. Clean lines, monochromatic palettes, and simple geometric patterns will embody the essence of minimalism, offering a calming and sophisticated atmosphere.
2.Nature Bathroom Wallpaper
Wallpapers depicting lush forests, tropical flora, or relaxing beach landscapes can help you get lost in the peace and quiet of nature while you're at your computer. Your bathroom will have a more relaxing atmosphere as a result of these designs that were inspired by nature. You will feel as though you have brought the outside inside for a revitalizing experience.
3.Abstract Artistry
Abstract wallpapers that capture the mind are a great way to show your love of art. Splashes of color, big shapes, and intricate swirls make a background for your bathroom that is interesting to look at. With these wallpapers, you can show off your unique style and imagination, turning your bathroom into a real work of art that people will talk about and admire.
4.Whimsical Wonderland
Inject a sense of playfulness and imagination into your bathroom with whimsical wallpapers that capture the essence of a fairytale wonderland. Dreamy forests, magical creatures, or celestial skies will create a fantastical escape in your bathroom, sparking joy and wonder for both kids and adults alike.
5.Modern Geometrical Wallpaper
Give your bathroom a modern, on-trend look by putting up geometric walls with bold, eye-catching patterns. Whether you like monotone geometric prints or bright geometric shapes, these wallpapers will bring a new and exciting energy into your bathroom.
6.Timeless Damask Elegance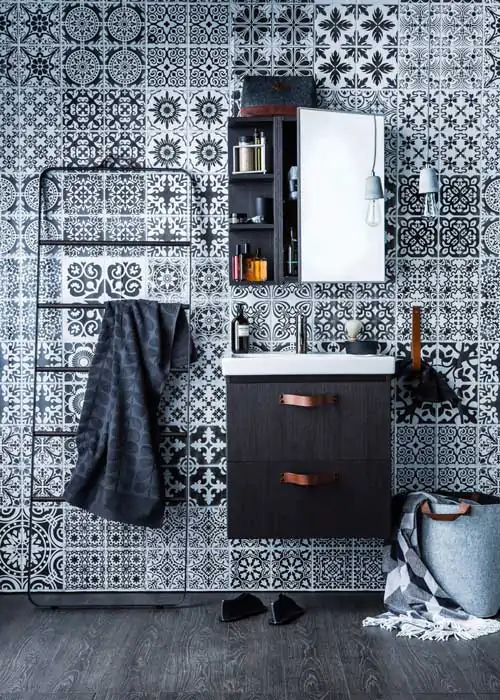 Indulge in the allure of timeless elegance with damask wallpapers that exude sophistication and luxury. The intricate and ornate patterns, often in rich colors or subtle hues, will add a touch of opulence to your bathroom decor. Whether your style is classic or contemporary, damask wallpapers effortlessly blend into various design themes, creating a refined and sumptuous ambiance that stands the test of time.
7.Art Deco Allure
Step into the opulent and glamorous world of the Art Deco era with wallpapers featuring bold geometric patterns, elegant curves, and lavish ornamentation. These wallpapers exude a sense of vintage allure and Hollywood glamour, transporting your bathroom to a bygone era of sophistication and luxury.
8.Bold Botanicals
Make a statement with oversized botanical wallpapers that feature large-scale prints of leaves or flowers. These bold and eye-catching designs add drama and a refreshing vibe to your bathroom, creating a stunning focal point that brings nature's beauty indoors.
9.Zen Zenith
Create a Zen-inspired sanctuary with wallpapers that showcase Japanese-inspired motifs like cherry blossoms, bamboo, or serene Zen gardens. These designs promote a harmonious and balanced atmosphere, encouraging a sense of peace and relaxation in your bathroom.
10.Contemporary Watercolor
Use watercolor wallpapers with soft washes of color or bright splashes to add an artistic touch to your bathroom. The organic and fluid patterns give a sense of movement and visual interest, making your bathroom a place that is expressive and interesting to look at.
11.Glamorous Metallics
Metallic walls that shimmer and shine will make your bathroom look more glamorous. Accents in silver, gold, or rose gold add a touch of luxury and wealth to your space, giving it a chic and glamorous feel. These walls look good with a wide range of design styles, from Art Deco to modern glam. They will give your bathroom a touch of luxury.
Why Choose To Use Bathroom Wallpapers?
Learn to explore why bathroom wallpapers are an excellent choice for elevating your bathroom decor to a whole new level of style and functionality. Here are 5 reasons why it's great to use a bathroom wallpaper for your latest bathroom makeover!
1.Versatile Designs
Bathroom wallpapers come in a wide range of designs and textures, so you can use your imagination and make the room fit your own tastes.
2.Moisture Resistance
Specially made wallpapers that are resistant to moisture can survive the high humidity levels in bathrooms without peeling or fading. This makes sure that the beauty of the wallpaper lasts for a long time.
3.Easy to Install
Bathroom wallpaper is easy to put up, so it's a good choice for anyone who wants to make their bathroom look better in a short amount of time.
4.Cost-effective
Wallpapers are a cheaper way to improve the look of your bathroom than installing a lot of tiles or having a custom paint job done.
5.Quick Changes
If you like to change your decor often, wallpaper is an easy way to update the look of your bathroom without doing big renovations. It also gives you a lot of design options.